A Dallas travel guide – sizzling barbecues and laid-back outdoor living in the Texan heartland
A Dallas travel guide – sizzling barbecues and laid-back outdoor living in the Texan heartland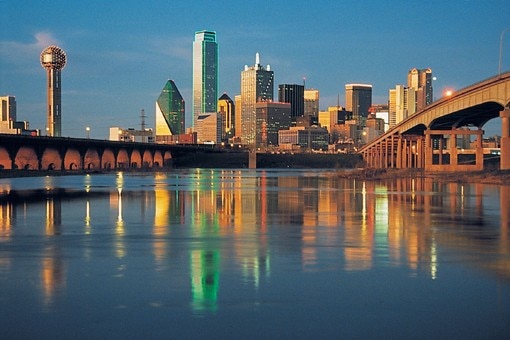 Take a Dallas vacation to uncover an intoxicating mix of museums, leafy parks and gardens, and funky and fashionable neighborhoods. Book a Dallas hotel and discover your own magical experience in the Big D.
Get your bearings
The Trinity River weaves its way through the center of Dallas, flowing southeast past the glitzy West End Historic District and Downtown's gleaming towers toward Oak Cliff and Bishop Arts District. Main and Commerce Streets stretch out northeast from downtown to the museums and sculpture displays of the Dallas Arts District. Art galleries and jazz clubs cluster on Elm and Main Streets in nearby Deep Ellum. North of downtown, McKinney Avenue's chic restaurants and shops highlight Uptown. To the east, Greenville Avenue hosts funky boutiques, buzzing nightclubs and bohemian restaurants.


Museum and culture
Ponder the Picasso and Mondrian canvases in the Dallas Museum of Art, or the rare Japanese scrolls and screens in the first floor galleries at Trammell & Margaret Crow Collection of Asian Art. Walk among Rodin and Matisse sculptures in the garden at the Nasher Sculpture Center, or peek inside a bank Bonnie and Clyde robbed at re-created 19th-century Dallas Heritage Village. John F Kennedy's assassination in Dallas is memorialized at the Sixth Floor Museum at Dealey Plaza, overlooking the infamous grassy knoll. The museum even preserves the spot where Lee Harvey Oswald crouched.


Savvy shopping
Shopping is a social activity and a favorite pastime among Dallasites – and they do it in style. Dress your best to visit couture boutiques like Jimmy Choo and Prada at the outdoor Highland Park Village or in the light-filled atrium in the Galleria. Hipsters head to Greenville Avenue and Deep Ellum, with their dizzying array of funky antique shops, art galleries and vintage clothing stores. A visit to Dallas wouldn't be complete without stopping at the flagship Neiman Marcus, where high-end retail reigns supreme.
Getting outside
Outdoor enthusiasts of all kinds frequent the many parks and lakes in and around Dallas. Bucolic White Rock Lake draws cyclists and pedestrians to its leafy 12-mile loop that traces its bank. The nearby Dallas Arboretum & Botanical Garden provides genteel, lush gardens and walkways for peaceful strolls. Golfers can tee off on the grassy rolling hills at Bear Creek Golf Club, while inline skaters can roll down the Katy Trail, as it winds through artsy Oak Park. Southeast of downtown, hiking paths lead through the wooded confines of Great Trinity Forest.


Dining in the Big D
Dallas loves its meat, and succulent steaks and off-the-bone barbecue can be found all over town. The town has plenty of sophisticated palates to please as well. Flake off forkfuls of miso-marinated Alaskan halibut in a chandeliered downtown dining room or dig into a plate of Spanish paella and a margarita at a cozy Mexican joint. Stop in a stylish Greenville Avenue trattoria for stuffed mushrooms and gnocchi, or fill a picnic basket with cheeses, fruits and breads from the Farmers Market and find a shady spot along White Rock Lake.
Discover
Find your perfect holiday in Dallas
From 850 hotels.