Top 10 food and drink things to do in Paris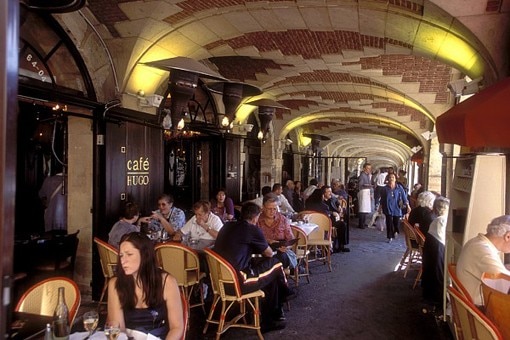 Choosing where to eat in a city that's celebrated for dining can be difficult. Book a Paris hotel and make your selection easy with these top 10 food and drink things to do in Paris.
Modern French cuisine at Les Ombres
The location has wow factor and the French cooking is inventive at Quai Branly Museum's rooftop restaurant Les Ombres. The Eiffel Tower casts shadows over the glass canopy, and lights up on the hour at night. Feast your eyes on the food too, with a five-course gourmet tasting menu.

27 Quai Branly


Marais café culture
Relaxing at a Marais café is one of the top 10 food and drink things to do in Paris. Snare an outdoor table at Les Philosophes, a corner café that's ideal for people-watching, and settle in with a carafe of red wine, grilled tomato tart and creamy slice of cheesecake.

28 rue Vieille du Temple, Marais


Left Bank food market
While meandering along the Left Bank's cobbled streets, indulge your senses at the Rue Mouffetard food market. An array of outdoor stalls sell fruit and vegetables, foie gras, wine and cheese, under striped canopies and lights. Enjoy the spoils at Place de la Contrescarpe, the Left Bank's prettiest square, just up the street.


Café Marly under the Louvre arcades
After admiring the Mona Lisa at the Louvre Museum, break for lunch at elegant Café Marly, overlooking the Louvre pyramid under the covered arcades of Cour Napoléon. Order a seafood cocktail and sesame tuna from the simple menu and drink in those views.

93 rue de Rivoli


La Tartine wine bar
Step back to the 1920s at La Tartine, the epitome of an old-style Parisian wine bar. The mirror-lined walls, frosted chandeliers and marble-topped bar at this Marais old faithful ooze atmosphere, and the range of wines is extensive.

24 rue de Rivoli


Bofinger brasserie in Bastille
Near boutique Paris hotels and Marais bars, and dating back to 1860, Bofinger brasserie serves a traditional Alsatian menu of seafood platters and pigs' trotters. Dining on padded leather banquettes lit by brass chandeliers, under the acclaimed Art Nouveau stained-glass dome, it's a belle époque experience.

5–7 rue de la Bastille


Café at the Orsay Museum
If you need any reminder that the Orsay Museum used to be a train station, make your way to the café on the mezzanine floor. The soaring walls retain the original cast-iron engineering, pierced by a massive clock with views over Paris to Montmartre. Light salads and sandwiches provide sustenance for more gallery browsing.

1 rue de la Légion d'Honneur
Dinner in a Montmartre windmill
Le Moulin de la Galette restaurant is housed in one of Montmartre's few surviving windmills, painted by Renoir, Lautrec and Van Gogh. Inside, the atmosphere is low lit and romantic, and the menu of French standards includes garlic butter escargots and spring lamb with vegetables.

83 rue Lepic, Montmartre


Pack a picnic
Food tastes finer enjoyed in the open air, so buy some picnic provisions and head to Buttes-Chaumont Park. Visit a street market or the food section of a large store like Monoprix or Bon Marché to stock up on baguettes, cheeses, pastries and salads.


French chansons at Au Limonaire
Book a table for dinner at intimate Au Limonaire or just turn up on the night to hear traditional French chansons. On a backstreet near the Grands Boulevards metro, this wine bar is tiny but the cabaret you'll experience is authentic.

18 Cité Bergère