Top 10 things to do with your family in Baltimore
Top 10 things to do with your family in Baltimore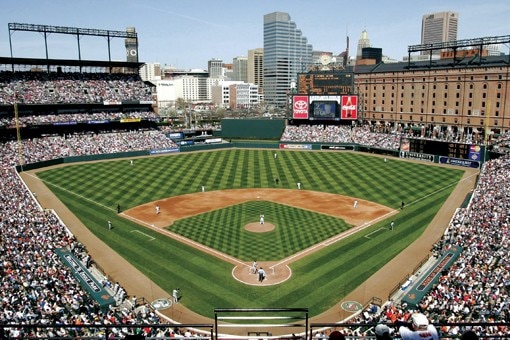 Baltimore is packed with family-friendly activities, from watching dolphins to exploring the Inner Harbor. Whatever your kids are into, there's tons of fun for families in Baltimore.
Fishy encounters at the National Aquarium
Start very early to avoid the crowds at this massive multistory aquarium and go straight to the Marine Mammal Pavilion to see the dolphins. Then look for other aquatic wonders from as far away as the Australian wilds and from as close as the local Chesapeake Bay.

Pier 3, Inner Harbor 21202


Catch a fly ball at Camden Yards
With its low, distinctive red-brick façade, Oriole Park at Camden Yards is worth visiting as a historic site in its own right. It also offers superb views of the city once you're inside. Seating is unusually comfortable, plus there's great pit-smoked barbecue. And, oh yes, baseball. The Babe Ruth Birthplace Museum is also on the premises.

333 W. Camden St. 21201


Go to the Top of the World
Nothing makes a little person feel big like standing at the tallest point in Baltimore: the Top of the World Trade Center. After a long elevator ride to the 27th floor, you'll get totally uninterrupted, 360-degree views of the city.

401 E. Pratt St. 21202


Embrace your inner scientist at Maryland Science Museum
Hands-on exhibits make science accessible to everyone at the Maryland Science Museum. Highlights include live animals, an IMAX movie theater, a planetarium, a jungle gym and a pit where young archaeologists can dig for (faux) dinosaur bones.

601 Light St. 21230


Boat around the Inner Harbor
What better way to explore the harbor than by one of the small boats you can rent? To burn off some energy, try the dragon-styled paddleboats with bicycle-like pedals. For relaxation, opt for the electric-motor version.

Paddle Boat Dock, 301 E. Pratt St. 21202

All Aboard! The B&O Railroad Museum
Train buffs will thrill at the Baltimore & Oriental Railroad Museum, dubbed the "birthplace of American railroading." Climb through old locomotives, cabooses and passenger cars. Or, during warm months, ride on a pint-sized diesel engine.

901 W. Pratt St. 21223


Get up close with polar bears at Maryland Zoo
The open habitats at this popular zoo make it easy for small visitors to see animals face-to-face, even polar bears via an underwater, see-through tunnel. Kids may also want to pet farm animals or take a pony ride.

1876 Mansion House Drive, Druid Hill Park 21217
Kids can do it all at Port Discovery
Let the kids cook at a classic Maryland diner, fly a virtual plane, sleuth to solve a mystery or play soccer on an indoor field at this children's museum. Sensation Station is geared for the smallest visitors, babies and toddlers, with a ball pit.

35 Market Place 21202


Big ships at Baltimore Maritime Museum
Located in the Inner Harbor and marked by a red lighthouse, the Baltimore Maritime Museum is where to head to board and explore vessels ranging from a tall-masted frigate to a submarine.

Pier 1, 301 E. Pratt St. 21202


Shop and Eat at Harborplace
The glass shopping complex Harborplace has great views of the bay and a tempting array of shops, great for Charm City souvenirs. The kids will go for the fast food, though, including Johnny Rockets for 1950s-style burgers and shakes.

200 E. Pratt St. 21202
Discover
Find your perfect holiday in Baltimore
From 180 hotels.