Shanghai Food and Dining Guide - Restaurants, where to eat, and more
Shanghai Food and Dining Guide - Restaurants, where to eat, and more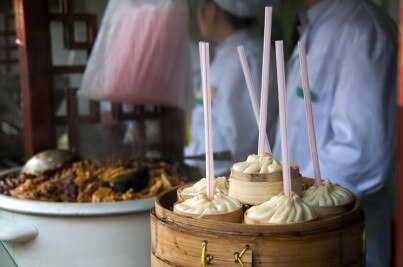 Shanghai has undergone a culinary renaissance in the last decade, and many food critics now insist it's the best place to dine out in China. As a result, the dining scene has really taken off and there are more restaurants in Shanghai than ever before.
Many of the best restaurants are in top-end hotels found across Pudong and the Bund. These atmospheric venues feature excellent service and usually serve high-end international fusion or gourmet Chinese fare.

But there's just as much excitement at the street level, where affordable, privately-run establishments serve what's likely to be the best Chinese food visitors have ever tasted. These are the best places to try the hairy crab, a signature (but seasonal) Shanghai dish available from October to early December.


Nanjing Road
Nanjing Road is Shanghai's commercial hub and offers a dazzling selection of local and international eateries. Options span food courts in shopping malls, well-known international franchises (like the Hard Rock Café ) and modern Chinese (particularly Cantonese) eateries.


The Bund
With views over the Huanpu River, the international restaurants on the Bund are some of Shanghai's most exclusive. Some of the best are tucked into colonial enclaves and housed in Art Deco or neoclassical buildings. Expect the caliber of service and presentation to live up to the high prices levied here.


Pudong
Opposite the Bund, Pudong offers its own view of the river. This is where you'll find five-star hotel restaurants with world-class chefs who specialize in everything from Chinese delicacies and fusion cuisine to flawless continental fare.


French Concession
The French Concession is synonymous with its café and pub scene. There's a distinctly Parisian atmosphere here that attracts a formidable expatriate following. Diners can alternate between fine dining in restored heritage houses and splurging at Xin Tiandi Restaurant Mall, a dazzling pedestrian mall that hosts a daunting number of excellent eateries.
Shanghai restaurants
M on The Bund
Zhongshan Dong Yi Lu 5, The Bund, Huangpu District
Phone: +86 21 6350 9988
This is a long-time favorite in Shanghai, praised for elegant Art Deco dé cor and a rotating menu that changes with the seasons. The view over the Bund is best from the outdoor terrace.

Fu 1088
Zhenning Lu 375, Changning District
Phone: +86 21 5239 7878

Housed in a three-story mansion, this classy restaurant serves exquisite Chinese cuisine in spectacular environs. Diners are sequestered into one of 17 intimate dining rooms, each of which is adorned with period furniture and chandeliers.

Jade on 36
Fucheng Lu 33, Shangri-La Hotel, Pudong
Phone: +86 21 6882 8888
The Shangri-La houses five of the best restaurants in Shanghai, but this exclusive establishment stands above the rest. The cuisine is inventive and evocative,
featuring six- to eight-dish set menus. Located on the 36th floor, the views from this restaurant are unrivaled.

Find more information about Shanghai and hotels in the area:
Shanghai hotels | China hotels
Discover
Find your perfect holiday in Shanghai
From 1400 hotels.