Hangzhou Travel Guide - Your destination overview of Hangzhou, China
Hangzhou Travel Guide - Your destination overview of Hangzhou, China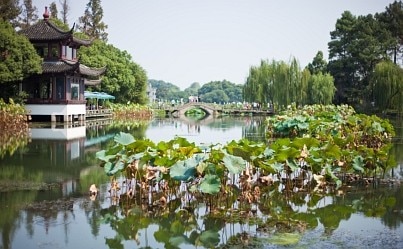 A mere 100 miles from Shanghai, it's something of a surprise that Hangzhou has been able to maintain its own distinct identity in the face of its neighbor's rapid success. But that's just what this city has done, adding just the right mix of modernity to balance 2,000 years of history and tradition.
Marco Polo is said to have ventured here. He went so far as to call Hangzhou "the finest and the noblest" city in the world. To this day, it boasts a lovely collection of classical gardens and towering pagodas that are admittedly charming. Simple afternoon walks are a lovely way to take in the surroundings.

The central point of Hangzhou is West Lake, with its islets, pagodas and historic waterfront restaurants. Solitary Hill rests in the midst of the water and hosts a famous restaurant that serves exceptional local cuisine. Throughout history, this proud islet has housed three different emperors.

Hangzhou is also well-known for Longjing tea, the most popular green tea in China. It's grown on local plantations, harvested by hand and processed as it has been for millennia.

Beyond Hangzhou's legendary image is a smart Chinese city that has remained relevant in 21st century China. It is home to modern shopping complexes, Western-style restaurants and a burgeoning music scene that lights up the after-hours district.


West Lake
The defining landmark of Hangzhou, West Lake is flanked with picturesque temples, tea shops and gardens. To the south is a world-class golf course, to the east a cosmopolitan district and to the north a university. West of the lake are green hills that serve as the perfect backdrop for cycling or walking tours.


Jianggan
This district is across Tiesha River. The area between Jainggan and West Lake is filled with the hotels, restaurants and shops that make up the city's leading commercial district.
Gongshu
North of the lake is Gongshu district, with a bustling university planted between them. This is a secondary entertainment area with plenty of shops and restaurants as well as a few hotels.


Dragon Well Tea Fields
These tea fields are found to the west of the lake. This is where much of the country's green tea is grown before it's dried in traditional ovens. Longjing means 'dragon well', and takes its name after the local hot springs. Many outdoor attractions are found in this area, which is in many ways a district of its own.

Find more information about Hangzhou and hotels in the area:
Hangzhou hotels | China hotels
Discover
Find your perfect holiday in Hangzhou
From 720 hotels.