Chongqing Entertainment Guide - For fun, recreation, and relaxation
Chongqing Entertainment Guide - For fun, recreation, and relaxation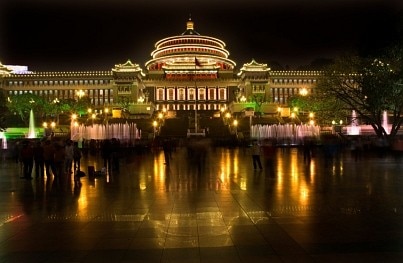 Chongqing is alive with activity but it is fairly low on the scale when it comes to nightlife and bar-hopping. Locals are shopping mad and will break up retail frenzies with stops at cinema multiplexes or outdoor performances of dance, music and theater.
The natural attraction of the Yangtze River with the nearby Three Gorges Dam and various other maritime pursuits is a good option for many visitors who want to escape the hustle and bustle of downtown. Floating restaurants and quaint old junk boats are ever-popular.

The history of Chongqing is rich and varied and tours of the homes of famous Chinese political figures and national heroes run seven days a week. Museums and places like the Great Hall of the People are splendid entertainments spots with their spectacular exteriors, ornate interiors and sweeping parks and garden spaces.


Three Gorges Dam
Cruising down the Yangtze to see the Three Gorges and the Three Gorges Dam is one of the highlights of a trip to China, so it really is the essential experience out of Chongqing. Some cruises can last a week or more, and levels of comfort run from basic to luxurious.


Historical homes
Zhao Enlai's residence and Chiang Kai-shek's military headquarters are two of the venerable old homes in historically-rich Chongqing. All are now well-preserved museums and most come with multi-lingual audio tours and signage. There are bus tours available that shuttle visitors around all the historical homes in one day.


Amusement parks
Chongqing has a unique approach to amusement parks. Foreign Street with its Australian bar, unnecessarily large novelty public restroom and an upside down house was designed as a tourist park, but it is not the only bizarre fun park in town. Just south of Jiefangbei is a multi-media space that specializes in cinema and digital entertainment.


Shopping
Chongqing is a city of commerce. First-time visitors may be taken aback by the gigantic retail scale here and the enthusiasm with which the locals approach buying and selling. The main shopping precincts of Chongqing can be dauntingly crowded on weekends.


Nightlife
Chongqing is not the nightlife capital of China. While there are plenty of places to grab a beer, the nightclub scene is sporadic and sparse and recently, an element of sleaze has crept in with professional bar girls luring unsuspecting visitors into gigantic bar fines. Jiefangbei has plenty of underground arcades with small bars.
Discover
Find your perfect holiday in Chongqing
From 270 hotels.