Chongqing Food and Dining Guide - Restaurants, where to eat, and more
Chongqing Food and Dining Guide - Restaurants, where to eat, and more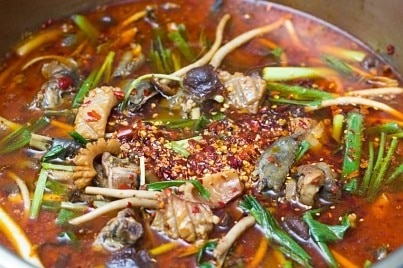 The legendary Chinese hot pot was invented in Chongqing. Originally developed as a warming tool against the freezing Chongqing winters, steaming hot pots are now enjoyed all over the world but visitors to Chongqing may get a kick out of delving into a hot pot right here at the original source.
Locals have no hesitation in huddling around a hot pot and most restaurants will have plenty of hot pot options on their menus. When the ubiquitous hot pot wears out its welcome, Sichuan cooking is another local highlight. Hot and spicy, Sichuan cooking comes into its own in the warmer months.

Plenty of international dining options can be found in Chongqing, particularly in the busier retail areas of the city. The standard fast food chains are all here, but so are plenty of fine dining places. Fusion cuisine and even gastro pubs are making in roads on the Chongqing dining scene.


Jiefangbei
Jiefangbei houses thousands of dining options. Everything from international fast food chains, to sushi train shops and hot pot buffets are here. Also, the fine dining restaurants of the five-star hotels here provide superb food and great service.


Floating restaurants
All along the river, but particularly at the main pier where Three Gorges Dam tours depart from, are brightly lit boats that offer lunch and dinner experiences afloat. While the quality of the food is decidedly mixed and the floating restaurant scene is geared primarily to tourist groups, some good options can be found.


Foreign Street
Lots of international dining options can be found here, including several novelty places like Australian style Outback pubs and Irish themed outfits. While some of the restaurants here are strictly for entertainment purposes, there are some excellent fine dining options available too.


Chongqing restaurants
18 Stairs Teahouse
Zhongxing Lu, off Chang Jiang
Regularly acclaimed as one of the best tea houses in all of China, this rickety three-storey wonder is hard to find and has no telephone but it tops off its collection of woodcarvings, bird cages and bamboo bridges with a little river running right through the center of the ground floor.

Xiao Tian E (Cygnet Hot Pot Palace)
6th Floor, New Chongqing Square
Phone: +86 23 6372 3999
There may be an infinite selection of hot pot restaurants in Chongqing but this cavernous place is favored by locals and frequented by a great many tour groups. Visitors may like to source their own favorite hot pot, but this place is a good starting point.


Fish Eating Sheep
Zhujiang Garden Gate, Zhiguang Avenue
Phone: +86 23 6375 8653
Cheap prices are one of the highlights of this legendary place that specializes in three dishes. Fish eating sheep was invented by the Yuan Dynasty emperor Hubilie, while Lazhilian was named by Marco Polo when he passed through town. Ziyang chicken is the other specialty dish of this odd little place.

Find more information about Chongqing and hotels in the area:
Chongqing hotels | China hotels
Discover
Find your perfect holiday in Chongqing
From 290 hotels.