A guide to the flavors of Paris – where to eat in the city of romance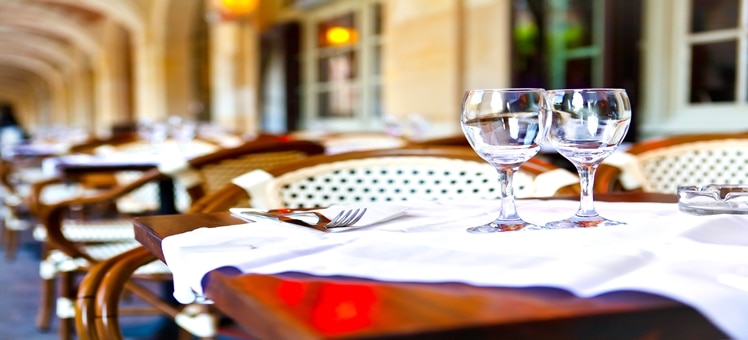 'Lunch kills half of Paris, supper the other half' (Charles de Montesquieu). Paris is a paradise for food lovers where eating is by no means a necessity but a way of life. The French national passion for creating exceptional cuisine is evidenced by large congregations sampling delectable delights in the copious clusters of bistros, brassieres, cafes and restaurant that line every cobbled street.
French cuisine is more than often carb heavy, bathed in rich sauces, enhanced with luxurious ingredients and not ideal for those watching the waste line. Famous tradition dishes include classics such as Coq au vin (chicken in red wine, herb and garlic sauce), Moules mariniere (mussels in wine, garlic and herbs) and Escargots a la Bourguignonne (snails with butter, garlic and parsley). Not to mention the excess of Parisian patisseries cooking up a variety of infamous delectable delights.
Eiffel Tower to St-Germain-des-Prés
The restaurants that line the quiet streets around the Eiffel Tower are home to a variety of high-end restaurants however they do tend to be a little expensive. The left bank particularly around St Germain has the greatest concentration of restaurants in all of Paris. You will find there is an abundance of bistros, cafes and outdoor cafes serving commendable traditional French delicacies. Try Le Petit St-Benoit to discover century old recipes and fruity house wines.
•
Petit St-Benoit
, 4 Rue St Benoit 75006. Tel: +33 1 42 60 27 92
The Latin Quarters and the Islands
A multi-ethnic district, the Latin quarters boasts a variety of cultured cuisine. If you're on a budget or just fancy something quick, on the go, investigate the streets at the back of the Cluny Museum. Here you will find an abundance of cheap fast food joints, sushi, bakeries, Greek and Turkish cuisine, and 'authentic French' delights. For any vegan/vegetarians try Les Quatre et Une Saveurs, a simplistic restaurant serving delicious macrobiotic reasonably priced food, in prime Pantheon location. Top tip - cross over to the tranquil Ile St Louis to take your pick of gourmet bistros, skip dessert and join the queue at Berthillion for the best ice cream in town.
•
Les Quartre et Une Saveurs
, 72 Rue Cardinal Lemoine, 75005. Tel: +33 01 43 26 88 80•
Berthillion
, Rue Saint Louis en I'lle 75004. Tel: +33 1 43 54 31 61
The Louvre to the Arc de Triomphe
The area of Western Paris is typically filled with sophisticated culinary expertise and grandeur fine dining options. Champs Elysées also entertains a plethora of chain alternatives such as Subway and McDonalds, ideal for those who despise paying 10 Euro per espresso in the chic star-studded Le Fouquet's cafe. Feeling extravagant? If you have a sweet tooth look out for the prestigious Ladurée bakery for one of their mouth-watering macaroons rumour has it they were invented here. Stop of for a light lunch or a glass of vino tinto at Cafe Marley, charmingly situated in the courtyard of the Louvre, overlooking the iconic glass pyramid.
•
Fouquets café
, 99 Avenue des Champs Elysées, 75008. Tel: +33 1 47 23 70 60•
Ladurée Bakery
, 75 Avenue des Champs-Elysées, 75008. Tel: +33 1 40 75 08 75•
Cafe Marley
, 93 Rue de Rivoli 75001. Tel: +33 1 49 26 06 60
Le Marais and Bastille
The pace of life in Marais is slow and laid back, a perfect invitation to sit back, relax and enjoy a diverse selection of tasty treats. You will be spoilt for choice with the abundance of chic cafes, bohemian bistros and enticing bakeries in the Marias quarters. For something a little different, investigate Rue de Rosier in search of kosher delis and bakeries where you will find a variety of Jewish specialities. To the East lie the lively streets of the trendy Bastille district, boasting an assortment of multi ethnic restaurants, bustling bars and friendly cafes. If you feel like going further afield head along canal St Martin to explore some of Paris's best-hidden gourmet delights.
Montmartre
Although celebrated for its unique Parisian atmosphere, it is no hot spot for eateries and restaurants. However, this area is known for its affordable African restaurants, serving dished such as mafe (meat in peanut sauce). Try the gorgeous soul kitchen nestled at the bottom of Montmarte steps for reasonably priced, homemade, organic, local food. For a fine dining experience visit the infamous 19th centaury Grande mason, Beauvilliers offering a selection of traditional gourmet specialities, albeit at an expenses. It's worth putting in some research or going on recommendations to steer clear of any tourist traps. Fancy an afternoon treat look out for Rose Bakery on Rues de Martyrs full of vegetarian and vegan delights, try the infamous green tea cake, it's delicious.
•
Soul Kitchen
, 33 Rue Lamarck 75018. Tel: +33 1 71 37 99 95•
Beauvilliers
, 52 Rue Lamarck, 75018. Tel: +33 1 42 54 54 42•
Rose Bakery
, 46 Rue des Martyrs, 75009. Tel: +33 1 42 82 12 80
Discover
Find your perfect holiday in Paris
From 4380 hotels.