What to see and do – a guide to Rio's top attractions and landmarks
What to see and do – a guide to Rio's top attractions and landmarks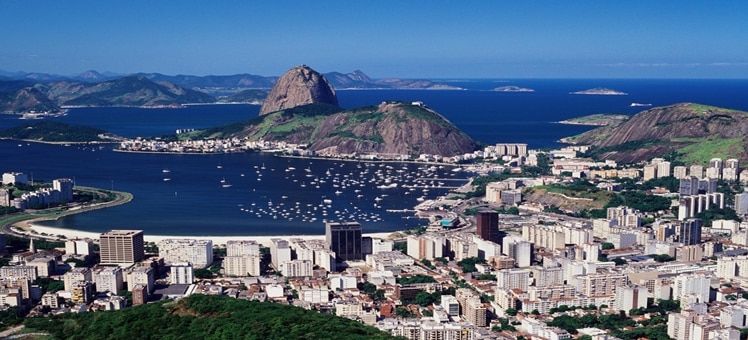 Sun, sea and sexy beaches – exactly what you'll find in Rio, surrounded by superb natural views, salsa schools and shopping malls. Rio de Janeiro is divided into zones, districts and neighborhoods, each of them offering something different to both locals and tourists. With the opportunity to hang-glide, hike mountains and relax on cable car rides, Rio is perfect for those looking to appreciate the wildlife. Anyone who loves the water will be spoilt for choice with surfing, scuba diving and plenty of sports available along most of the beach fronts. When the sun goes down the city comes alive with music venues, samba shows and nightclubs with a venue for all tastes.
South Zone
Here you'll find Copacabana, Ipanema and Barra beaches where you can party, sunbathe and sip cocktails all day long. One of the world's most recognized landmarks still remains as the Christ the Redeemer Statue, at the top of Corcovado Mountain and don't miss the stunning sights from Sugar Loaf Mountain, which you can climb or see by cable car. There are numerous tours available, for the single travelers to explore the best parts of the city. Take your pick from over 23 museums in this area, whether you're interested in art, religion or the history of Brazil there's plenty to discover. For a fun night out, To Nem Ai Bar and Restaurant attracts locals and tourists into a relaxed atmosphere serving beers and cocktails until the early hours.
North Zone
Why not spend a day discovering Rio Zoo, Quinta da Boa Vista Park and the National Museum which can be easily reached on the metro. The zoo homes over 2000 animals and Quinta da Boa Vista was the stunning palace and gardens of the Royal family until 1889. Or football fans can walk around the Maracana Stadium, seating over 80,000 people and the main stage for football, cultural and music events. If you like a work out, attend a samba class at one of the local schools, or hike 382 stone steps to the Nossa Senhor da Penha Catholic shrine, one of the country's most important centers for pilgrimage.
West Zone
Comprised of over 40 neighborhoods, it is the least populated district in Rio and the fastest growing with a mixture of favelas, mansions and other developments. Visit any of the beaches for a game of volleyball or take part in the intense water-sports available, although Barra Beach is more relaxing and less crowded. The West Zone is most commonly known for its breath-taking scenery, nature trails and farms which you can see through the Pedra Brance State Park. If you're looking for some family fun, this district is crammed full of bowling alleys, cinemas and go-kart tracks, making it perfect for a family day out. If you're not having an early night, The Buetco Original is a 50s Rock n Roll bar, with happy hour from 4-7.30pm.
Central Zone
Churches are plentiful in the Central Zone, each with their own history. Church of Our Lady of Carmo da Antiga Se has recently been restored and is used for significant weddings and masses, hear Gregorian chants in the Sao Bento Monastery or visit Brazil's most beautiful Sanctuary, Church of Our Lady of Sallette. The National Museum is one of the country's most important and displays exhibitions of Brazil's indigenous people, highlights of the republican system and the Portuguese Maritime system. Museu da Imagem e do Som contains a collection of cinema images and music recordings by some of Rio's favorite musicians and also has a small cinema. The central zone is where you will find shopping malls, street performers and concert halls, and where people of all classes come together to work, trade and enjoy life.
Discover
Find your perfect holiday in Rio de Janeiro
From 1520 hotels.