Sicily shopping guide – where to shop and what to buy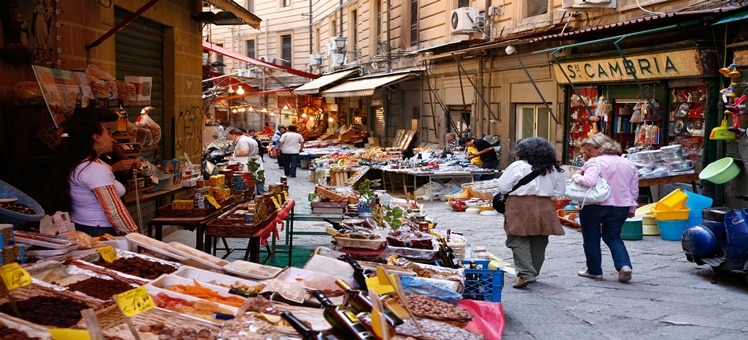 Italy is renowned for its shopping and the sunny south is no exception. Perhaps not on a par with the exclusive shopping experiences offered in Florence and Rome, however, Sicily caters for its own market in abundance. With a good blend of shopping malls, boutiques, street markets and craft stalls, shopping in Sicily is undoubtedly a cultural experience. Here is somewhere you can soak up the relaxed southern Italian vibe as you peruse through a colorful selection of leather bags, brand name clothes and local crafts.
Palermo
The bustling capital of Sicily, Palermo is rife with luxurious shopping opportunities. Here you will discover some of the most exclusive designer names, from Armani to Versace, dotted all around the Viale della Libertà and Via Roma - Palermo's main shopping street. Other than international brand names, however, Palermo is filled with local artisans producing interesting wares. Glistening ceramics, colorful fruit platters and embroidered tablecloths can all be found here, housed in antique shops and craftsmen studios. Head to Via Maqueda to discover some of these hidden local treasures.
Ragusa
Famed for a traditional embroidery technique known as sfilatosiciliano, Ragusa is a great place to purchase interesting local buys. Shops lined with tables displaying delicately woven fabrics, tablecloths, linens and towels can be discovered from one street to the next. Home to many rural farmhouses selling their own produce too, you'll also find many locals stocking up on their homemade preserves, meats and cheeses in Ragusa.
Sicilian markets
With open market stalls sprinkled all around the island, hidden between Baroque buildings and ancient architecture, streetside trading is a particularly popular way to shop in Sicily.Peruse through a varied selection of bric-a-brac, handicraft items, ceramics and artisan food and you'll easily find yourself losing a few hours. For a popular local flea market, wander over to the Piazza Trinità in Mascalucia - held on the second week of every month. Alternatively, head over to Recanati in Giardini-Naxos, where a local market is held every Saturday, or the Pescheria market in Catania to soak up the lively Sicilian ambiance. Another local favorite is Il Capo market in Palermo, a more traditional offering than the tourist trap of Vucciria.
Sicily shopping tips
Food is a huge part of the local culture and Sicilians are renowned for their sweet tooth's. Cakes, pastries and candied fruit can be found in all shapes, colors and sizes, glistening in the window displays of abundant cake shops and patisseries. While shopping, make sure totakethe time to refuel in one of these cake shops. For a local favorite, order two of the Sicilian classics - a cannolo, a deep-fried pastry filled with sweet ricotta and candied fruit, and a cassata, a sponge cake decorated with a candied fruit and marzipan shell – delicious!
Discover
Find your perfect holiday in Palermo
From 910 hotels.