Where to eat in British Columbia – a drinking and dining guide
Where to eat in British Columbia – a drinking and dining guide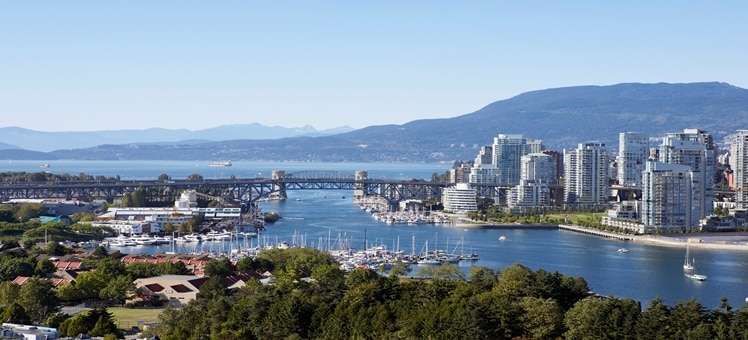 British Columbia is a foodie haven. From local farmer's markets selling artisan produce to rolling vineyards with abundant crop, drinking and dining is a cultural experience in this Canadian province. Offering a mix of Pacific Northwest cuisine blended seamlessly with global gastronomy, a relaxed and cosmopolitan attitude to dining is ever-present. Take a culinary tour around the province or simply dine in a local restaurant or casual eatery to soak up this slow food sensation.
Victoria
Perched on the southern tip of Vancouver Island, the capital of British Columbia has a lot to offer its visitors in terms of dining. With a cozy home-away-from-home feel amongst atmospheric mountainous backdrops, here you will uncover a thriving culinary scene. Head to Brasserie L'Ecole to savor an inviting selection of Parisian-style dishes or wander along to Deep Cove Chalet to enjoy panoramic waterfront dining with a lengthy complementary wine list.
•
Brasserie L'Ecole
, 1715 Government St, Victoria, BC V8W 1Z4. Tel: +1 250 475 6260•
Deep Cove Chalet
, 11190 Chalet Rd, North Saanich, BC V8L 5M1. Tel: +1 250 656 3541
Vancouver
From innovative bistros to swanky downtown dining spots, Vancouver keeps gastronomes on their tip-toes with all the latest food trends. Head to Granville Island Market, Chinatown and Lonsdale Quay to bask in an abundant range of bustling restaurants and market wares. Alternatively, indulge in two fine dining favorites by visiting Hawksworth - voted Restaurant of the Year for 2013 - and Vij's - an upscale Indian restaurant run by a dynamic husband and wife team.
•
Hawksworth
, 801 W Georgia St, Vancouver, BC V6C 1P7. Tel: +1 604 673 7000•
Vij's
, 1480 W 11th Avenue, Vancouver, BC V6H 1L1. Tel: +1 604 736 6664
Kamloops
Home to a lively downtown district filled with coffee houses, juice bars and trendy pizzerias, Kamloops is another popular dining spot in British Columbia. With a casual and hipster vibe - not to mention a rich offering of contemporary cuisine – this downtown area is a great place to watch the world go by. For a sampling of some of the best Mexican food in the area, wander over to Quilas Mexican Restaurant to enjoy their delicious selection of tacos and chimichangas.
•
Quilas Mexican Restaurant
, 330 Victoria Street, Kamloops, BC V2C 2A5. Tel: +1 778 471 6364.
Whistler
Legendary for its untarnished slopes and idyllic ski resort, Whistler is somewhat of a gastronomic destination too. Suitable for breakfast, lunch, dinner and après ski dining, restaurants here offer a multitude of cuisines as well as dining options. Oozing a rustic alpine charm, cozy dining spots are characterized by roaring fires and gourmet eats. Also overlooking sweeping mountaintop vistas, the views are almost as unforgettable as the food. For one of the best mountain restaurants, visit Steep's Grill - neatly nestled in Roundhouse Lodge on Whistler Mountain. Alternatively, for for a charismatic après-ski spot, swing by the Mallard Lounge to enjoy some winter warmers.
•
Steep's Grill
, 4545 Blackcomb Way, Whistler, BC V0N 1B4. Tel: +1 604-905-2379•
The Mallard Lounge
, 4599 Chateau Blvd, Whistler, BC V0N 1B4. Tel: +1 604 938 8000
Kelowna
Known for its ample sprinkling of farms, vineyards and orchards, unsurprisingly, Kelowna has been nicknamed the 'Napa of the North'. Forming an essential part of the Okanagan Valley, Kelowna is home to wide range of winery restaurants serving locally produced wines. Complementing this fruitful output, the city can also boast a booming dining scene. From bohemian cafes to casual bistros, elegant bars to ethnic restaurants, Kelowna has it all. For innovative dishes that showcase the flavors of the Okanagan region, make sure to visit Ricardo's Mediterranean Kitchen.
•
Ricardo's Mediterranean Kitchen
, 415 Commonwealth Rd, Kelowna, BC V4V 2M4. Tel: +1 250 766 6810
Discover
Find your perfect holiday in Vancouver
From 350 hotels.