A Bulgaria shopping guide – where to go and what to buy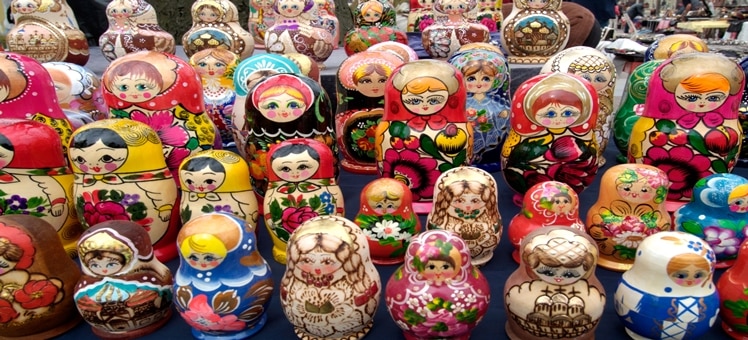 From the renowned fresh fruit and vegetables to local wine, cheese and yogurt, the produce market is a Bulgarian institution. Find bustling examples up and down the country, from the giant maze of Zhenski Pazar in Sofia to the bazaar at Sozopol on the Black Sea Coast. If you're after souvenirs, stick to the hidden boutiques and handicraft stores that can be found throughout the streets of Sofia and in the Samovodska Charshia Complex of Veliko Tarnovo.
Shopping streets in Sofia
The capital offers some of the most diverse shopping areas in the country, scattered with quirky craft shops and hidden luxury boutiques. One of the most popular streets to explore is Vitoshka – a spacious and pedestrianized boulevard lined with classy shops and restaurants. Even more upmarket is Saborna Street, home to exclusive luxury brands and designer clothing stores. For a more down-to-earth and local experience, try Graf Ignatiev or Tsar Shishman Street; this small yet vibrant part of town features tiny shops selling perfume, cosmetics and handmade jewelry and clothes.
Zhenski Pazar, Sofia
If you tire of the regular shops and boutiques in Sofia, head to the huge outdoor Zhenski Pazar at Stefan Stambolov Boulevard – it's the biggest and most famous market in the city. It's also called the Ladies' Market, but this doesn't mean the gents aren't welcome too! A particularly lively and boisterous affair, the Zhenski Pazar is best to visit at the weekends, selling Bulgarian specialties such as nuts, honey, dried fruits, fresh meat and more. Don't forget to sample some of the delicious local yogurt here too. Aside from locally grown produce, look out for the fine Bulgarian pottery that makes a perfect souvenir.
Veliko Tarnovo
The Old Town of Veliko Tarnovo is a warren of narrow cobbled streets and splashes of pastel walls. Here you can find small shops and boutiques selling trinkets and souvenirs – there are even a couple of hidden designer stores. The market square of Samovodska Charshia is another highlight, with tiny bakeries, bookstores, and shops displaying traditional handicrafts such as handmade jewelry, wooden carvings and typical Bulgarian ceramics. If wandering the streets isn't your thing and fancy a more chilled indoor browse, head to out of town shopping center Central Mall, stocked with both local and international fashion brands.
Black Sea Coast
Bulgaria's coastal towns and resorts all offer different shopping experiences. In the south, Sozopol's bazaar is the place to pick up rose oil perfumes and soaps, Russian handicrafts and fresh fish from the harbor. You can also wander the backstreets here to browse lace and embroideries – these are sewn by local women who hang them outside their house to sell. Further north, the UNESCO World Heritage Site of medieval Nessebar is a great spot to pick up souvenirs. Wander through the ancient Byzantine monuments and down steep cobbled streets displaying everything from handcrafted pottery to original artworks.
Shopping tips
As always, keep your wits about you and your valuables concealed when browsing busy markets – pickpockets often work these crowded areas and it's good to be aware of this. In the main shopping streets, look out for the pink-colored shops that sell Bulgarian rose oil; this is the perfect choice of souvenir if you're looking for good quality yet unusual cosmetics.
Discover
Find your perfect holiday in Sofia
From 340 hotels.