Where to stay in Colombia – a guide to the top districts across the country
Where to stay in Colombia – a guide to the top districts across the country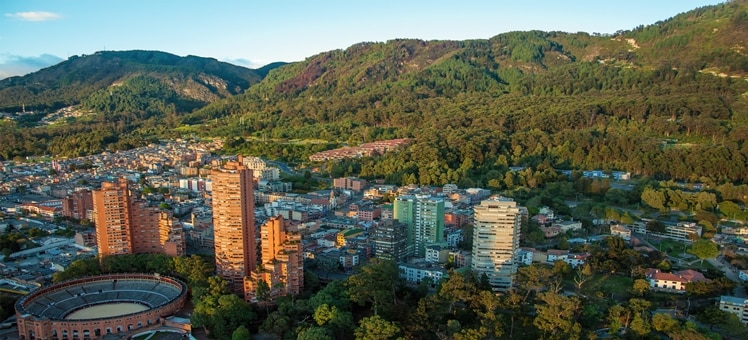 With its sheer diversity of landscapes and huge, thriving cities, whatever you're looking for, Colombia can provide. For salsa-dancing urbanites, Cali's downtown is full of lively hotels; the historic districts of Bogotá and Cartagena, meanwhile, offer romantic haciendas.
For an all-inclusive beach getaway, there's cosmopolitan San Andres, while Barichara offers charming guesthouses on the edge of a wilderness. Then there is the sleek luxury of Medellín's modern hotels. The question is: where will you choose?
La Candelaria, Bogotá
Bogotá's central historic district offers the perfect base for exploring the city. The main museums, plazas and churches are located here, amid networks of cobbled streets. There are some large, modern hotels in the vicinity, but the guesthouses and hostels in charming, pastel-yellow haciendas have more character. Their hardwood floors, dark beams and rustic rooms suit this romantic area.
La Macarena, Bogotá
La Macarena is an arty, creative hub, home to musicians, artists and intellectuals. It's bursting with trendy modern art galleries, independent boutiques and cafes, which act as centers for eclectic crowds to gather and converse over Colombian coffee. There's a mix of loft apartments, guesthouses and international hotels nearby, and the historic center is an easy walk away.
El Poblado, Medellín
El Poblado, just south of Medellín's downtown, offers a safe and tranquil place to stay, still within easy reach of the main sights. As one of Medellín's more exclusive districts, there is a range of mid-range to luxury hotels, as well as a few boutique hostels. Trendy Parque Lleras offers plenty of bars and gourmet restaurants, and there are several shopping malls in the area.
Walled City, Cartagena
If you stayed anywhere else in Cartagena, you'd be missing out. It's impossible to get enough of the architecture, and staying in one of the sunshine-yellow colonial houses allows you to soak up the atmosphere, day and night. The area is full of superb restaurants and is perfect for romantic walks. Hotels tend to offer boutique luxury, with surprisingly low prices.
San Andres
Escape the mainland and find a beach retreat on the San Andres Island. Your days will be filled with snorkelling and swimming in the Caribbean, while restaurants, bars and clubs come to life at night. Accommodation options are extensive and convenient, with all amenities provided. Large hotel complexes are the obvious choice, but there are smaller guesthouses dotted around the place as well.
Zona Rosa, Cali
La Sexta, one of the main avenues running through Cali's Zona Rosa, is where it all happens. In the day, there are historic churches and museums to explore; by night, the area jumps to salsa rhythms. For a real taste of Cali, it's the best place to be based. There are plenty of hotels, ranging from budget to luxury, boutique to chain.
Barichara, Santander
Within the desert landscape north of Bogotá, Barichara is a town from a bygone era. Its name means 'place of rest' and in amongst its protected stone buildings, that's what you'll find. It's an escape from urban Colombia: here, you'll stay in a charming guesthouse with a view of the seemingly endless mountains - a natural playground for hiking, rafting and paragliding.
Discover
Find your perfect holiday in Bogotá
From 940 hotels.