48 hours in Rio de Janeiro - see the sights of Brazil's busy heart in a weekend
48 hours in Rio de Janeiro - see the sights of Brazil's busy heart in a weekend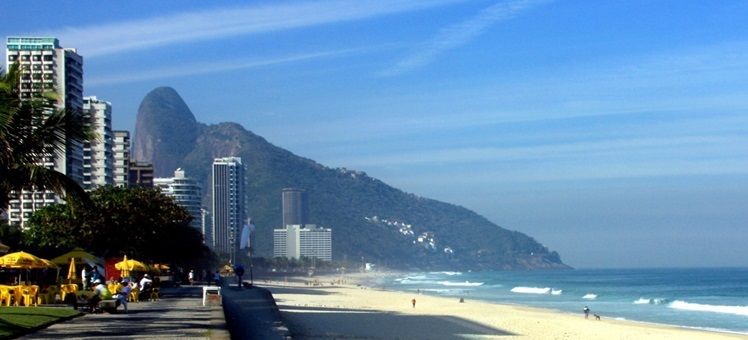 Rio de Janeiro is enormous and one of the liveliest cities in the world. It's no mean feat to squeeze everything in to one weekend, but it's possible. This itinerary will help you see the biggest and best sights in Rio, as well as some more peaceful spots for when you need a break from the hectic streets.
Friday
5 p.m. – International flights to Rio arrive at Galeão airport, about 13 miles to the north of the city. Taxis are always available at the airport, but you may need to haggle with the drivers. A taxi ride will cost you around R$60 (USD$18) to Copacabana, but can be more when the traffic is bad. A bus ride into town will be much cheaper: the recently inaugurated BRT buses will take you to the bus terminal in the middle of town for R$3, and there are several other "premium" bus services to choose from.
7 p.m. – Tourists in Rio generally stay in the south of the city, in the more recently developed areas of town near the beaches. Once you've checked in, go and see some of the attractions in this part of town. The Jardim Botanico, is a nice quiet way to ease your way into the lively atmosphere of Rio. There are all manner of weird and wonderful jungle trees and plants from all over South America to see, as well as everything from monkeys to peaceful ponds and fountains. Parque Lage is another beautiful nature spot, nestled beneath the Cristo at the foot of Corcovado Mountain.
9 p.m. – As the most affluent part of Rio, the southern strip is home to some of the city's finest restaurants. After your refreshing strolls in the parks, wander down to Rua Dias Ferreira. This street is home to many of Rio's most prestigious eateries, including Zuka. This trendy spot is really lively on a Friday night, so remember to make a reservation. As home to the largest Japanese expat community in the world, Rio has also become known for its sushi. If there's no space at Zuka, the fantastic Sushi Leblon across the street is just as good.
Saturday
9 a.m. – Start your Saturday with a browse through local wares at the market on Praca Quince, right in the heart of downtown Rio. From here there's plenty of things to see on foot. The Paco Imperial, the modest colonial office which the city grew from is on the south side of the square, and the Iglesia de nossa Senhora da Candelaria is just around the corner. Both give a fascinating insight into the early history of the city.
1 p.m. – Continue your walk through the center of town to the famous Confiteria Colombo, an elegant colonial-style café where you can stop for a luxurious hot chocolate and a pastry.
3 p.m. – You can't leave Brazil without taking in a game of soccer. Catch the metro a couple of stops from the magnificent Central do Brazil station to the historic Maracana, which has become much more tourist friendly since its redesign for the 2014 World Cup. If it isn't soccer season, get a cab in the other direction into the Santa Teresa district for a walk around. This part of town gives you a taste of old Rio, steep hills and winding bumpy streets lined with cafes and shops - stop and enjoy the view with a café com leite at Bar do Gomez.
6 p.m. – Brazilian barbeque is world famous, and there are no shortage of places to try it in Rio, but Porcao Rio's central location and fabulous view make it the ideal place to experience your first churrasco.
9 p.m. – If you're still able to walk after your all-you-can-eat meat feast, head to the Lapa district to drink and dance in the heart of Rio's nightlife.
Sunday
9 a.m. – Today you'll need a big breakfast to prepare yourself for Rio's two highest spots, so head to Da Casa da Tata to fuel up. This locals' favorite does a great line in pao de quijo, the cheese-filled bread balls that are a traditional Brazilian favorite.
11 a.m. – Don't linger at breakfast too long, no matter how tempting it may be, as it's worth getting on the trail up to the Cristo Redentor before it gets too hot or crowded. If you don't feel up to the hike, you can get a train all the way to the top, or a cab to the car park and take a shuttle bus from there.
1 p.m. – It wouldn't be a trip to Rio without a visit to the beach. First have a bite to eat with a gorgeous view of the sea at the Arpoador Inn, then load up on sunscreen and hit the sand. Copacabana & Ipanema are the best known beaches in Rio (and perhaps the world), but can get crowded. Barra da Tijuca, just a couple of miles down the coast, has much quieter beaches and is easily accessible by taxi.
5 p.m. – Next, make your way east to Urca, from where you can catch the cable car to the top of Sugarloaf Mountain (Pao de Acucar). From the summit you can end your stay in Rio enjoying the legendary view over the city and Guanabara Bay in the late afternoon sun.
If you have more time…
There is a lot to see in Rio, and 48 hours doesn't give you much scope for exploring outside the heart of the city, but if you find yourself with an extra day or two there's tons of local places to check out. The nearby city of Petropolis is a favorite getaway spot for native Cariocas, and is the perfect place to go to cool off for the day. Nearer still is Niteroi, just a short ferry ride across the bay, from where you can get fantastic views of Rio.
The boat to Niteroi leaves from the docks in downtown Rio just around the corner from the Centro Cultural Banco do Brasil, a fantastic art museum with dependably fresh and interesting exhibitions on constant rotation. The enormous nearby Biblioteca Real is situated in a beautiful building and is certainly worth a visit even if you can't read a word of Portuguese.
Other cultural highlights include the Museu da Republica, a must-see for anyone interested in Rio's fascinating and often thrilling history; the delightful Municipal Theater; and the Rio Scenarium, the perfect place to go and see some samba.
If you want to enjoy Brazil's beaches but want a bit of peace and quiet, Grumari Beach is just over an hour down the coast from Copacabana and is in a natural park, meaning unspoiled beaches in a wonderful setting. Take a picnic and enjoy.
Location/contact details:
Day one
Jardim Botânico do Rio de Janeiro
Rua Jardim Botânico, 1008 - Jardim Botânico, Rio de Janeiro - RJ, 22460-030, Brazil
(21) 3874-1808
Parque Lage
R. Jardim Botânico, 414 - Jardim Botânico, Rio de Janeiro - RJ, 22461-000, Brazil
(21) 3257-1800
Zuka
Rua Dias Ferreira, 233B - Leblon, Rio de Janeiro - RJ, 22431-050, Brazil
(21) 3205-7154
Sushi Leblon
Rua Dias Ferreira, 256 - Leblon, Rio de Janeiro - RJ, 22431-050, Brazil
(21) 2512-7830
Day two
Paço Imperial
Praça Quinze de Novembro, 48 - Centro, Rio de Janeiro - RJ, 20010-010, Brazil
(21) 2533-4359
Igreja de Nossa Senhora da Candelária
Praça Pio X, s/n - Centro, Rio de Janeiro - RJ, 20040-020, Brazil
(21) 2233-2324
Confeitaria Colombo
Rua Gonçalves Dias, 32 - Centro, Rio de Janeiro - RJ, 20050-030, Brazil
(21) 2505-1500
Central do Brasil
Edifício D. Pedro II - Praça Cristiano Otoni, s/n - Centro, Rio de Janeiro - RJ, 20221-250, Brazil
(21) 2334-5891
Maracanã
Avenida Presidente Castelo Branco, s/n - Maracanã, Rio de Janeiro - RJ, 20271-130, Brazil
0800 062 7222
Bar Do Gomez
Rua Áurea, 26 - Santa Teresa, Rio de Janeiro - RJ, 20240-130, Brazil
(21) 2232-0822
Porcão Rio's
Avenida Henrique - s/n, Rio de Janeiro - RJ, Brazil
Day three
Da Casa da Tata
Rua Professor Manoel Ferreira, 89, Lojas N e O - Gávea, Rio de Janeiro - RJ, 22451-030, Brazil
(21) 2511-0947
Arpoador Inn
Rua Francisco Otaviano, 177 - Ipanema, Rio de Janeiro - RJ, 22080-040, Brazil
(21) 2523-0060
Other tips
Rio Scenarium
Rua do Lavradio, 20 - Centro, Rio de Janeiro - RJ, 20230-070, Brazil
(21) 3147-9000
Centro Cultural Banco do Brasil
Rua Primeiro de Março, 66 - Centro, Rio de Janeiro - RJ, 20010-000, Brazil
(21) 3808-2020
Biblioteca Real
Rio de Janeiro, State of Rio de Janeiro, Brazil
(21) 2221-3138
Museu da República
Rua do Catete, 153 - Catete, Rio de Janeiro - RJ, 22220-000, Brazil
(21) 2127-0324
Municipal Theater of Rio de Janeiro
Praça Floriano, S/N - Centro, Rio de Janeiro - RJ, 20031-050, Brazil
www.theatromunicipal.rj.gov.br
(21) 2332-9191
Discover
Find your perfect holiday in Rio de Janeiro
From 1600 hotels.