Family-Friendly Newport - The Beaches, The Breakers, and the Boats
Family-Friendly Newport - The Beaches, The Breakers, and the Boats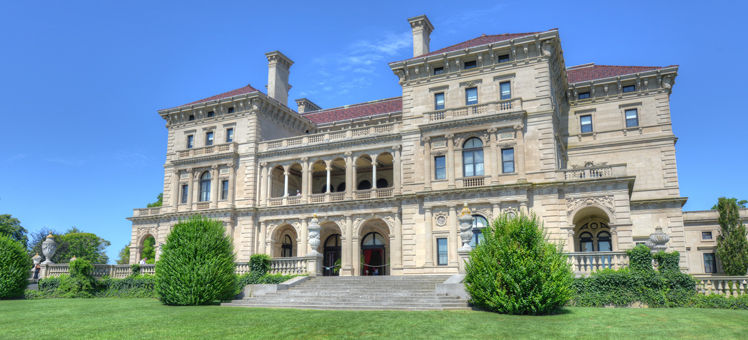 Compact, walkable, and flanked by the sparkling Atlantic Ocean, Newport is the ideal destination for a relaxing family vacation. Whether you want to step back in time to explore the area's history as a summer hideaway for the rich and famous, or encounter Rhode Island's wildlife firsthand, Newport offers a range of options for a family trip that's as active, or as restful, as you like.
Low-key and lively beaches
From sleepy stretches of sand with no distractions from the ocean's natural beauty to vibrant summer playgrounds with an array of activities, Newport's beaches offer your kids the chance to do as much - or as little - as they choose. Extending from Newport into neighbouring Middletown, the area's public beaches offer clean and clear expanses of ocean, perfect for swimming.
Easton's Beach
Easton's Beach, known locally as First Beach, is a lively 0.75-mile stretch of sand with a carousel. Kids can paddle in the surf, build sandcastles, or enjoy the playground, and the beach plays host to live performances.
175 Memorial Blvd., Newport 02840Tel: +1 401 845 5810
Easton's Beach website
Gooseberry Beach
With its secluded yet central position, tucked away in a quiet cove a mile from the Historic District, Gooseberry Beach is a favorite with families. The gentle surf makes it an ideal place for kids to swim.
130 Ocean Ave., Newport 02840. Tel: +1 401 847 3958
Take a stroll
Newport is a cinch to explore on foot, even if you have young kids or a stroller in tow. Older children and teens will love scrambling over rocks on the area's more demanding trails, while families with young children can walk the gentler paths, which still offer stunning views.
Cliff Walk
Cliff Walk begins at Easton's Beach and winds along the coast for 3.5 miles, offering sweeping ocean views. Some sections are challenging, but start the walk from the Bailey's Beach end and enjoy a paved, stroller-friendly stretch.
175 Memorial Blvd, Newport 02840. Tel: +1 401 845 5810
Cliff Walk website
Lavish mansions
Most of Newport's grandest Gilded Age mansions are located in or near the Bellevue Avenue Historic District. These opulent homes - which their owners referred to as "cottages" - are steeped in the history of the railroad era, and help to tell the story of the making of modern America.
The Breakers
This palatial 1895 mansion was the summer residence of the Vanderbilt family. The house is brought to life in the on-site museum by eyewitness accounts and fascinating artifacts, and there's even an audio tour designed just for children.
44 Ochre Point Ave., Newport 02840. Tel: +1 401 847 1000
The Breakers website
Tours and trips
When the kids are tired of walking, you can hop on a historic open-top trolley and see the sights of Newport in style. Itineraries are flexible, taking in the Historic District and the coastline. Alternatively, take a boat tour, or charter your own vessel for the day and see as much of the coast as you want from the perfect vantage point.
Save The Bay Seal Watch Tours
Do your children love animals? October through April, your family can take a seal-watching cruise in Narragansett Bay. Experienced guides provide context on the area's environmental issues and help kids spot shy seals. Children under 3 sail for free.
142 Long Wharf, Newport 02840. Tel: +1 401 324 6020
Save The Bay Seal Watch Tours website
Viking Tours
Take an instructive and engaging tour through Newport's history, all from the comfort of a vintage-style open-top trolley or, if you prefer, a more modern vehicle. Private charters are available.
Tel: +1 401 847 6921
Viking Tours website
Family-friendly eats
Newport has no shortage of dining options, so whether you're planning to treat the family to a refined meal or enjoy a quick snack, you're bound to find the perfect place. For dessert, why not cool off with a sundae or a healthy frozen yogurt in one of downtown's tempting ice cream parlors?
Willy's Burger Bar
Enjoy a fun and relaxed family meal at this casual spot, which offers kid-friendly favorites like hot dogs. Adults will be won over by the juicy burgers and extensive wine list, and you can eat outdoors in the summer.
599 Thames St., Newport 02840. Tel: +1 401 841 8898
Willy's Burger Bar website
Discover
Find your perfect holiday in Newport
From 100 hotels.