Green Chili and Craft Beer - Where to Eat in Breckenridge
Green Chili and Craft Beer - Where to Eat in Breckenridge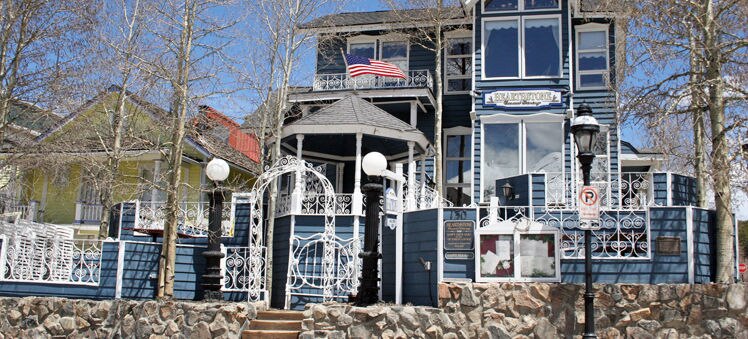 Breckenridge is a town flush with restaurants offering a variety of palate-pleasing dishes. After your alpine hike, have a farm-to-table meal or pair a pint of craft beer with a buffalo burger. A day on the slopes should always end with après-ski, and there are plenty of places to choose from up and down the mountain.
Typical dishes
Green chilies are almost sacred in colourado cuisine, so be sure they top your burger at least once. To eat like a local, look for menus with seasonal and sustainable ingredients.
Breckenridge Historic District
Breck's Historic District is a goldmine of culinary options, from fine dining to casual saloons. In the heart of town you'll find Hearthstone, a restored Victorian house that serves elegantly plated, farm-fresh delicacies. For something more casual, but equally wholesome, stop by Amazing Grace. This natural foods grocery with a popular deli serves soup, sandwiches, and salads in the relaxed atmosphere of a restored 1880's home.
Arts District
Breck's creative spirit is most evident in the small but growing Arts District. After finding inspiration in an open studio or an art class on the area's 1-acre campus, you can discover innovative menus within a few blocks. For a true taste of colourado, don't miss Relish, where the menu of locally inspired dishes like pistachio-crusted ruby red trout changes with the season. Le Petit Paris Bistro, with classic French dishes like boeuf bourguignon and rabbit cooked in mustard, is bound to bring out the artist in you.
Downtown dining
More culinary discoveries await just beyond the centrally located Historic and Arts districts. At Breckenridge Brewery & Pub you can order a pint of Avalanche Ale to go with your Quandary Style Elk Burger. Although you're nowhere near the ocean, at Southridge Seafood Grill you might as well be. Grilled Nova Scotia salmon and Hawaiian albacore tuna are always good bets on the "things that swim" menu.
The Peaks
The only way to end a perfect day on the mountain is with après-ski. When you glide off Peak 7 slopes you can stop at Sevens Restaurant inside the Grand Lodge, popular for both the view and the family-friendly menu. Skiing Peak 8? The sports-inspired T-Bar has small plates and craft beer ready for you. If you want a truly memorable meal on the mountain, sign up for a starlight dinner, which starts with a moonlit sleigh ride and ends with a gourmet meal at TenMile Station.
Discover
Find your perfect holiday in Breckenridge
From 1030 hotels.