Where to Eat in Kelowna - Winery Restaurants, Local Cafés, and Authentic World Cuisine
Where to Eat in Kelowna - Winery Restaurants, Local Cafés, and Authentic World Cuisine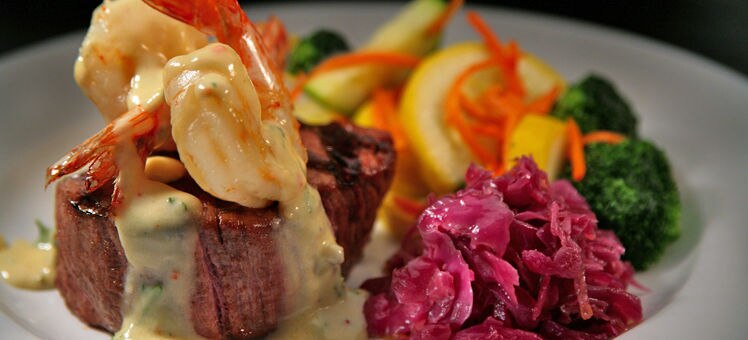 Kelowna's status as a wine-growing hub means local vintages feature prominently on many menus. But you don't have to be a wine connoisseur to enjoy the food here. You can get your morning off to a great start at one of the city's popular breakfast joints, or simply kick back at a local café. Kelowna offers everything from sophisticated world cuisine to hearty fast food.
Typical dishes
Comfort food with a locavore twist is popular in Kelowna, like steaks, burgers, and gourmet sandwiches made using fresh Okanagan Valley ingredients. Healthy options are also widely available, including vegetarian, gluten-free, and organic dishes.
Downtown Kelowna
Kelowna city centre is packed with restaurants and bars, including a number of patios for enjoying a cold beer or classic cocktail on a hot summer's evening. Bouchons Bistro, a 5-minute walk from Waterfront Park, offers sophisticated French cuisine, including desserts like lavender soufflé. At RauDZ, you'll often find people queuing for a table thanks to dishes like handmade parmesan gnocchi in tomato tapenade.
Southeast Kelowna
This part of the city is known for estate homes, world-class golf resorts, and excellent wineries. At Harvest Golf Club, chef Michael Miller turns out exciting dishes using fresh Okanagan Valley ingredients, like scallop and prawn penne in basil pesto cream. The restaurant has a tranquil, casual ambience and is open for breakfast, lunch, and dinner. A 2-minute drive away is Bunkhouse Bar & Grill - just the place if you're craving Cajun fish tacos or a classic French dip sandwich.
South Pandosy
Three kilometers from downtown Kelowna is South Pandosy, a residential neighbourhood with its own mid-length golf club and lakefront hotels. Head to Marmalade Cat Café for gourmet sandwiches, like roast chicken breast with cranberry sauce, honey mustard, and a side of "cat" coleslaw. It's best known for its Sunday brunch, which includes oatmeal-crusted French toast with blueberry maple syrup. A 6-minute walk from here takes you to Hansen's Classic Pizza, the perfect spot when you're looking for a pie with a difference - like the Philly Cheese Steak with ranch sauce, sirloin steak, onions, peppers, and tomatoes.
Southwest Mission
Southwest Mission is a picturesque community a 20-minute drive from downtown Kelowna. Here you'll find Pyramid Summerhill Winery, where organic and biodynamic wines are created using a geometric pyramid cellar. Onsite restaurant Sunset Organic Bistro offers elaborate dishes like risotto with truffle oil, arugula, and pecorino cheese alongside bistro staples like steak and frites. A 6-minute drive away is CedarCreek's Vineyard Terrace Restaurant, an open-air eatery executing upscale dishes like prosciutto salad and saffron bouillabaisse.
Discover
Find your perfect holiday in Kelowna
From 120 hotels.