Family Fun in Harrogate and the Yorkshire Dales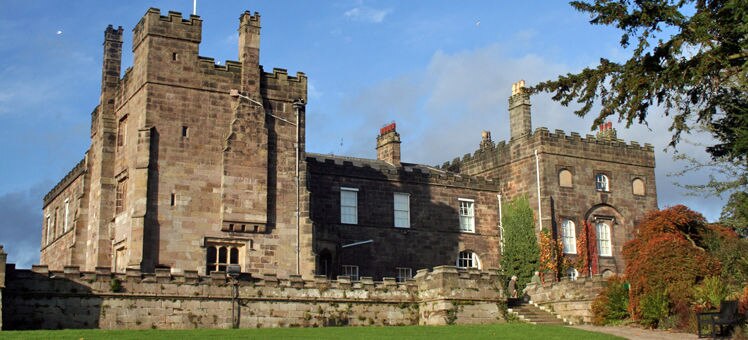 Families will find plenty of activities in and around Harrogate to keep children of all ages happy. For younger kids, there are play areas in city parks and gardens with slides, swings, and climbing frames. Active older children will enjoy outdoor activities like cycling and zip lines. Indoor attractions include museums such as the Royal Pump Room Museum. Historic buildings like Ripley Castle offer guided tours tailor-made for younger visitors.
Central Harrogate
Families with children will find lots to see and do in central Harrogate. The Royal Pump Room Museum, with its displays of old-fashioned shop interiors, toys, and dolls will intrigue children who are used to 21st-century shopping. Valley Gardens, the city centre's largest park, offers a variety of activities for kids.
Valley Gardens Play Area
Children can clamber over climbing frames and enjoy swings and slides at the Valley Gardens Play Area. There's a paddling pool for toddlers, while older kids and teens can play tennis and pitch and putt. A pavilion sells refreshments.
Royal Parade, Harrogate HG1 2SZTel: +44 1423 500600
Valley Gardens Play Area website
Royal Pump Room Museum
This Victorian building contains an eclectic collection of strange 19th-century therapeutic equipment, toys, playthings, and treasures from ancient Egyptian tombs.
Crown Place, Harrogate HG21 2RY. Tel: +44 1423 556188
Royal Pump Room Museum website
Adventures in Ripon
Ripon's top family attraction, Newby Hall, is a grand 18th-century manor with activities and exhibits designed to please young visitors. More than 300 red, fallow, and sika deer roam in the deer park at Studley Royal. Families can take a wildlife-watching guided walk in the woods to see mighty red deer stags and - in summer - newborn fawns. Nearby, Lightwater Valley is an exciting theme park.
Newby Hall Adventure Gardens
In the grounds of Newby Hall you'll find swings, a zip line, and climbing frames. The whole family can hop aboard the miniature train and take a paddle boat on the pond. A collection of doll houses will delight all.
Newby Hall, Ripon, Harrogate HG4 5AE. Tel: +44 845 4504068
Newby Hall Adventure Gardens website
Lightwater Valley Theme Park
Lightwater Valley offers multiple thrills and spills to occupy the family all day. The park boasts Europe's longest roller coaster, as well as water rides such as Wild Water Rapids and Falls Of Terror.
North Stainley, Ripon, Harrogate HG4 4PG. Tel: +44 871 720 0011
Lightwater Valley Theme Park website
Mystery and history
One of the more outlandish family attractions in the Harrogate region is just outside Knaresborough, 4 miles east of Harrogate. The Petrifying Well, with its seemingly magical power to turn toys and other objects to stone, has to be seen to be believed. At Knaresborough Castle, you can try on English Civil War costumes, explore a scary dungeon, and play computer games set in the 14th century.
The Petrifying Well
Children will be amazed to discover that anything immersed in the mineral-rich waters of the Petrifying Well at Mother Shipton's Cave acquires a rocky coating. That includes teddy bears, and you can buy petrified teddies in the gift shop.
Mother Shipton's Cave, Prophecy Lodge, High Bridge, Knaresborough, Harrogate HG5 8DD. Tel: +44 1423 556188
The Petrifying Well website
Family-friendly Wensleydale
To get a taste of rural life near Harrogate, take the family to Wensleydale. This sweep of farmland and valley is just 30 minutes from the city centre, but it's a different world, where cattle graze and lambs leap. You can bottle-feed newborn lambs, calves, and piglets (and meet their owners) at places like Big Sheep & Little Cow. There are thrills for older kids nearby, at Camp Hill Estate.
Big Sheep & Little Cow Farm Attraction
City kids will love meeting baby animals at this farm, which also has an indoor adventure play area.
Bedale DL8 1AW. Tel: +44 1677 422125
Big Sheep & Little Cow Farm Attraction website
Camp Hill Estate
Camp Hill Estate offers families thrilling activities such as zip wires, a rope obstacle course in the treetops, and quad bike rides.
Camp Hill, Kirklington, Bedale DL8 2LS. Tel: +44 845 567788
Camp Hill Estate website
Steaming through the Dales
There are few better ways for the family to see the picturesque scenery of the Dales than from a historic steam train. Take a ride from Bolton Abbey - a 30-minute drive from Harrogate - to catch a train drawn by one of the Embsay and Bolton Abbey Steam Railway's vintage locomotives.
Embsay & Bolton Abbey Steam Railway
From the 19th-century station at Bolton Abbey, steam trains take just 15 minutes to choo-choo to Embsay - not an epic journey, but a fun one. At Bolton Abbey, children can also ride the Hambleton Valley Miniature Railway.
Bolton Abbey Station, Bolton Abbey BD23 6AF. Tel: +44 1756 710614
Embsay & Bolton Abbey Steam Railway website