Happy Hours and Fireworks - Ocean City Nightlife
Happy Hours and Fireworks - Ocean City Nightlife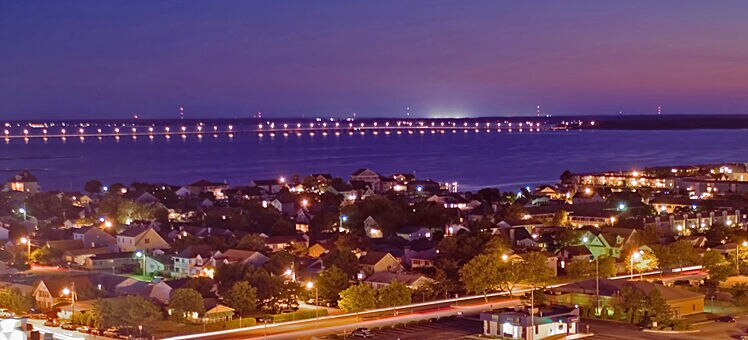 A night out in Ocean City can start before sunset, as many restaurants and bars entice customers in with music Happy Hour specials and live music. A seafood dinner might the main event of the evening, or kick off a long night of fun - convenient city buses make bar-hopping safe and easy. Town-sponsored evening beach events draw families to the sand for music, fireworks, and friendly competitions.
Boardwalk Bash
The Ocean City boardwalk buzzes all day long, but the pace picks up as the sun goes down. You can start an epic bar-crawl here, or just pick a place you like and sit out on the patio, people-watching over a cold brew. The promenade fills up as families come out for an after-dinner stroll, and live performers and DJs provide an eclectic soundtrack to the action, though you can always choose your own music at a karaoke theme night.
Backshore Brewing Company
Small-batch beers change frequently, and hip moonshine cocktails complement a trendy pizza menu of locally sourced ingredients.
913 Atlantic Avenue, Ocean City, Maryland 21842Tel: +1 410 289 0008
Backshore Brewing Company website
Brass Balls Saloon
The kitschy Brass Balls Saloon has been a boardwalk institution since 1980, serving popular house cocktails like the Dragon My Balls and hosting rowdy karaoke nights.
1105 Atlantic Avenue, Ocean City, Maryland 21842. Tel: +1 410 289 0069
Brass Balls Saloon website
Coastal Highway Crawl
The many bars along Coastal Highway are like a string of parallel worlds. You can go for a Caribbean vibe with reggae and fruity cocktails one night, and an uptown mix of jazz and martinis the next. Some places keep music in the background for lounging and easy listening, others turn up the funk and fill up the dancefloor. You can laugh the night away in a comedy club, or romance your partner over cocktails in a quiet corner.
Skye Bar
In such a casual beach resort, Skye Bar gives you a rare excuse to dress up. The classy rooftop restaurant serves grilled steaks and fresh seafood until late, and live music keeps the energy levels up.
6601 Coastal Highway, Ocean City, Maryland 21842. Tel: +1 410 723 6762
Skye Bar website
Waves of Laughter Comedy Club
With content appropriate for ages 16 and up, Waves of Laughter puts a comedy spin on traditional dinner theatre. You can crack up at the jokes while tucking into the seafood buffet, or just go for drinks and the show.
9100 Coastal Highway, Ocean City, Maryland 21842. Tel: +1 410 723 4242
Waves of Laughter Comedy Club website
Bayside Bar Hopping
Ocean City's bayside watering holes capitalize on their sunset views, with long Happy Hours and outdoor dining on waterfront decks. You can arrive by car, bus, or even private boat, with free docking usually available for customers. The fun goes on into the small hours with live bands and DJs creating a summery, beach-party atmosphere.
Seacrets
This bayside resort calls itself Jamaica, USA. With multiple outdoor stages, bar tables in the water, and a playground of floating rafts, the evening entertainment starts early and runs very late.
117 West 49th Street, Ocean City, Maryland 21842. Tel: +1 410 524 4900
Seacrets website
BJ's on the Water
This 30-year bayside mainstay is a great spot for live music, with a big, busy dancefloor. The TVs are usually tuned to sports channels, and the large open deck fills up for Wednesday's extended Happy Hour.
75th Street and the Bay, Ocean City, Maryland, 21842. Tel: +1 410 524 7575
BJ's on the Water website
After-dark amusements
In Ocean City, you can enjoy a rousing night on the town without setting foot in a bar. Through the summer season the boardwalk rides, lighted miniature golf courses, and water parks stay open well into the evening. You can hear tales of local shipwrecks and hauntings on an Ocean City Ghost Walk or let yourself be fooled by master tricksters at a magic show.
Dickens on the Road Magic at the Beach
Skilled magicians practice their illusions on delighted crowds at the Holiday Inn Oceanfront - with plenty of audience participation.
6600 Coastal Highway, Ocean City Maryland, 21842. Tel: +1 410 524 1600
Dickens on the Road Magic at the Beach website