From City Walls to Contemporary Theatre - Enjoying Arts & Culture in Exeter
From City Walls to Contemporary Theatre - Enjoying Arts & Culture in Exeter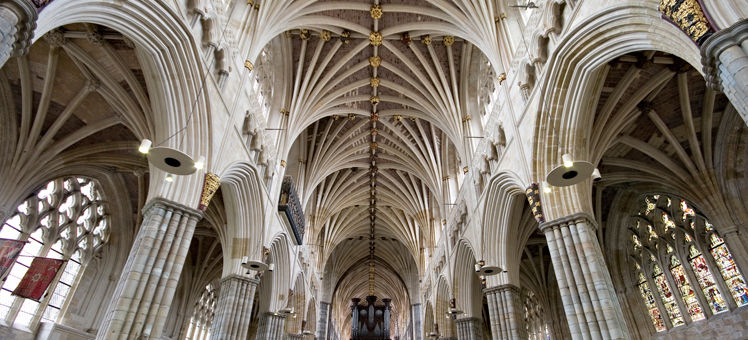 Exeter's millennial existence is evident in its arts and culture. While you'll find plenty of sophisticated ways to indulge in history, the city's reverence for the fine arts is not exclusively subject to the past. There are numerous expressions of modern culture here, especially if you're willing to explore the city beyond its downtown area.
Historic sites and ruins
There really is no escaping history in Exeter. Prominent reminders of the city's past are available to explore at every turn, from remnants of William the Conqueror's campaign through Britain to century-old Gothic places of worship. You'll find most of Exeter's heritage sites clustered around downtown. If you make your way to the Topsham neighbourhood, you'll encounter old buildings and artifacts from its heyday as a strong, independent seaport.
Exeter Cathedral
This massive house of worship has been holding services every Sunday since it was completed around 1400. Its ornate, vaulted ceiling is the longest in the country.
1 The Cloisters, Exeter EX1 1HSTel: +44 1392 285983
Exeter Cathedral website
The City Wall Trail
Exeter's city wall was originally erected by the Romans nearly 2,000 years ago. Over two-thirds of the structure is still intact, and a self-guided tour of the remains can be completed in about 2 hours.
Civic Centre, Paris St., Exeter EX1 9SA. Tel: +44 1392 265203
The City Wall Trail website
Exeter's museum scene
The stellar job that Exeter has done in preserving its landmark buildings extends to an intriguing museum scene. You'll find an abundance of regional and global artifacts in a number of downtown spaces, including some edifices that qualify as museum pieces in their own right. In some venues, traditional objects share exhibition space with modern pieces and contemporary themes.
Royal Albert Memorial Museum
Regional artwork, antiquities from across the globe, and rotating exhibits can be enjoyed within this massive Gothic Revivalist-style museum.
Queen St., Exeter EX4 3RX. Tel: +44 1392 265858
Royal Albert Memorial Museum website
The Bill Douglas Cinema Museum
Located on the University of Exeter, this museum is home to over 75,000 items connected to moving pictures, graphic art, and photography. The collection ranges from manuscripts that date back to the 17th century, to sheet music from classic Hollywood films.
Prince of Wales Rd., Exeter EX4 4SB. Tel: +44 1392 724321
The Bill Douglas Cinema Museum website
The performing arts
Exeter's diverse arts scene makes it easy for you to find a live performance to match your tastes. Most venues play host to different genres, from classical opera to modern dance. The city also welcomes national touring troupes to its various stages, and there is a thriving local theatre scene that keeps the cultural ante high.
Exeter Northcott Theatre
Located at the University of Exeter, this venue rotates family-friendly and contemporary theatrical productions, operatic performances, and dance revues throughout the year.
University of Exeter, Stocker Rd., Exeter EX4 4QB. Tel: +44 1392 493493
Exeter Northcott Theatre website
Barnfield Theatre
You can catch a live theatre performance or a musical act at this intimate downtown venue, which was originally built in 1890. If you show up early, enjoy a pre-show cocktail at the Barnfield Bar.
Barnfield Rd., Exeter EX1 1SN. Tel: +44 1392 270891
Barnfield Theatre website
Art galleries in Exeter
The majority of the city's art heritage is displayed within numerous museums, where you'll see works from historic masters and thought-provoking pieces from modern talent. If you explore downtown, you'll encounter several commercial galleries featuring contemporary and local artists. The Exeter Craft Festival takes place every year in the summer, bringing in dozens of local artisans and artists to Cathedral Green.
Spacex
This contemporary gallery specializes in cutting-edge art. The rotation of exhibits here range from classic mediums like painting and sculpture to more modern forms of expression, such as film and installation.
45 Preston St., Exeter EX1 1DF. Tel: +44 1392 431786
Spacex website
Exeter Craft Festival
A yearly, outdoor event that mixes craft, art, entertainment, and local food on verdant parkland near the cathedral.
Tel: + 44 1392 219050
Exeter Craft Festival website