Discovering Benidorm - Vibrant Tourist Hub on the Costa Blanca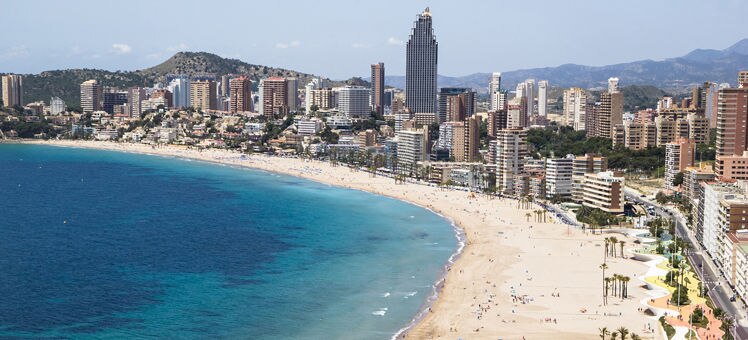 A 1956 shift in urban planning turned the once-tranquil fishing town of Benidorm into the vertical beach resort it is today. With its iconic skyline overlooking the Mediterranean and privileged climate, this Costa Blanca tourist hub attracts hordes of package vacationers every summer. Yet those willing to scratch beneath the surface will soon discover that Benidorm offers much more than golden beaches and a vibrant nightlife.
Beaches and coves
Most of the city's resorts stand tall on Benidorm's 2 main beaches; the bustling Playa de Levante with its seaside boardwalk, and Playa de Poniente, just south of the marina. Between these 2 stretches of sand lies a hidden treasure, the small cove of Cala de Mal Pas, under the Mediterranean lookout Balcón al Mar, and just steps from Benidorm's Old Town. For crystal-clear waters and relaxed snorkeling expeditions, head northeast to smaller Cala La Almadrava and Cala del Tío Ximo, hidden coves of fine sand and rocks at the foot of the Serra Gelada mountains.
Sports and recreation
Benidorm's climate and topography make for a true haven for sports lovers. From golfing on picture-perfect courses overlooking the Mediterranean, to scuba diving in the clear waters enclosing the Benidorm Island, there are sports options for everyone. The mountains surrounding the city offer travellers hiking and cycling routes far from the buzzing crowds. However, the region's crown jewel is the turquoise water that laps its coastline: sailing, snorkeling and scuba diving are but a few of the countless water sports that tourists can enjoy in and around the city.
City of lights
Benidorm's impressive skyline awakens at night, when the city's renowned club scene welcomes travellers in search of all-night partying. From English pubs to techno dance clubs, a lot of Benidorm's nightlife happens along the main beach of Playa de Levante. Those in search of dinner and entertainment will also find they have a wide range of options, from a medieval feast complete with live jests to variety entertainment with a set menu at the Benidorm Palace.
Desafío Medieval Dinner Show, Camino Viejo de Altea, s/n, 03581 Benidorm; Tel: +34 902 995 426; Website: Desafío Medieval Dinner Show

Benidorm Palace, Avenida Doctor Severo Ochoa 13 03503, Benidorm; Tel: +34 96 585 1660; Website: Benidorm Palace
Fun for the family
The area surrounding Benidorm is well known for its great array of theme parks. The popular Terra Mítica features shows and rides inspired by 3 of the greatest civilizations ever to rise around the Mediterranean: Rome, Greece, and Egypt. Nature lovers can come face to face with a wide range of species from across the globe in Terra Natura; a sprawling park that recreates animals' natural habitats. For travellers looking to splash the day away, there are countless water parks with slides and rides for the whole family.
Terra Mítica, Partida del Moralet s/n, 03502 Benidorm; Tel: +34 902 02 02 20; Website: Terra Mítica

Terra Natura, Foia del Verdader 1, 03502 Benidorm; Tel: +34 96 607 27 70; Website: Terra Natura
Exploring the Marina Baixa
Benidorm lies in the heart of the Marina Baixa region in southern Alicante, a perfect location for discovering colourful seaside towns such as La Vila Joiosa (or, "the joyous village") and mountaintop medieval enclaves like Castell de Guadalest, situated 24km west of Benidorm and home to an 11th-century Moorish fortification. At just over an hour's drive from Benidorm, visitors travelling during the last weeks of April should not miss Alcoi, a town known for its Moros y Cristianos (literally, "Moors and Christians") festivities commemorating the battles that took place throughout the region between the 8th and 15th centuries.