A Guide to Sedona - Home of Natural Beauty and Luxury Spas
A Guide to Sedona - Home of Natural Beauty and Luxury Spas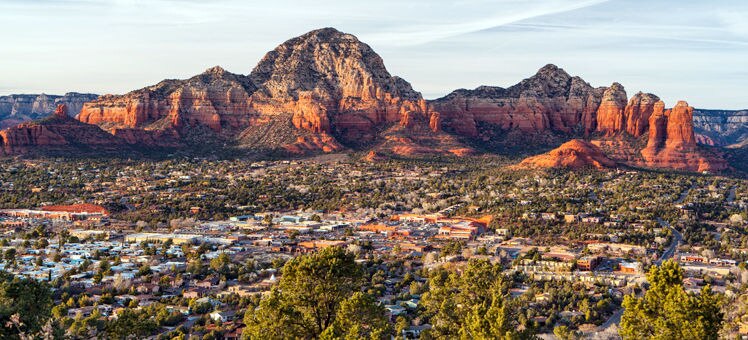 Located 29 miles south of Flagstaff in the high desert of Arizona, Sedona is set amidst majestic red rock mountains under expansive blue skies. Known as a spiritual centre and energetic vortex, it is also a place for adventurous pursuits like hiking, rock climbing, and mountain biking, as well as self-indulgent escapes at world-class spas, golf courses, and fine restaurants.
Hiking, running, mountain biking
Sedona is a small desert town surrounded by the Coconino National Forest. With over 200 miles of trails, all offering stunning, photo-ready views, nature begs you to get out and explore. Among the most popular trails are Devil's Bridge, a steep climb to a large natural stone arch; Llama Trail, a loop trail with great views of Bell Rock, Courthouse Butte, and Cathedral Rock; West Fork, a shady trek along a babbling creek; and Slide Rock, a great place for picnicking and a trip down a natural water slide. Be prepared to get wet.
The Hike House, 431 State Route 179, Sedona, AZ 86338; Tel: +1 928 282 5820; Website: The Hike House

Absolute Bikes, 6101 Highway 179, Suite D, Sedona, AZ 86351; Tel: +1 928 284 1242; Website: Absolute Bikes
Off-road tours
If you'd like the locals to show you the city's best spots, Sedona has many guided tours. Horseback tours at M Diamond Ranch range from an hour-long excursion to a full evening experience that includes a ride, a real cowboy cookout, and live entertainment. ATV, Jeep, and Hummer tours take you far into the backcountry to explore ancient wall paintings and glimpse magnificent rock formations close up. If you want a little more adrenaline in your adventure, Sedona Offroad Adventures offers the Red Rock Rattler, a white-knuckle ride up and over the rugged rock trails of the western canyon.
M Diamond Ranch, 3255 Forest Service Rd 618, Rimrock, AZ 86335; Tel: +1 928 300 6466; Website: M Diamond Ranch

Sedona Offroad Adventures, 320 N. State Route 89A, Suite T, Sedona, AZ 86336; Tel: +1 928 282 6656; Website: Sedona Offroad Adventures
Verde Valley Wine Trail
For those whose thirst for adventure is particularly thirsty, be sure to check out the Verde Valley Wine Trail. The Verde Valley, just southwest of Sedona, has proven to have ideal conditions for growing high-quality, intensely flavored grapes perfect for winemaking. There are 5 wineries along the trail, all with distinct settings and diverse wines. Simple wine tasting tours are available, but great grapes aren't all the Verde Valley has to offer. Select tours combine wine tasting with activities such as a scenic train ride or river kayaking.
Sedona Adventure Tours, 1034 North Main Street, Cottonwood, AZ 86326; Tel: +1 928 204 6440; Website: Sedona Adventure Tours

Verde Valley Wine Trail, 1010 South Main Street, Cottonwood, AZ 86362; Tel: +1 928 634 7593; Website: Verde Valley Wine Trail
Facials, massages, and healing
Sedona's sprawling mountainous beauty means red rocks, green cacti, and blue skies are a quintessential part of every traveller's experience. But the city also possesses a refined side that can be equally rejuvenating and fulfilling. More than 20 spas ranging from simple to posh will cater to your every indulgent whim, from facials and massages to full-body Ayurvedic healing treatments using indigenous materials and local plants. Whether you're alone, with a friend, or accompanied by a loved one, allow yourself the luxury of sinking into your own breath and letting everything else slip away.
A Spa For You, 30 Kayenta Ct, Suite 1, Sedona, AZ 86336; Tel: +1 928 282 3895; Website: A Spa For You

Sedona's New Day Spa, 3004 W. State Route 89A, Sedona, AZ 86336; Tel: +1 928 282 7502; Website: Sedona's New Day Spa
Discover
Find your perfect holiday in Sedona
From 100 hotels.