Shop Santa Monica - Designer Chic, Vintage Vogue, and Farm-Fresh Foods
Shop Santa Monica - Designer Chic, Vintage Vogue, and Farm-Fresh Foods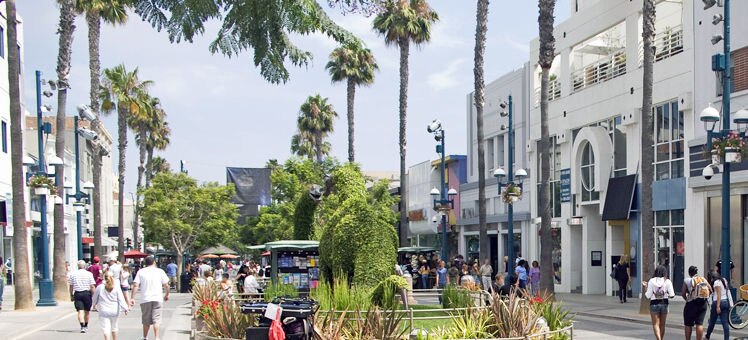 Santa Monica's gorgeous coastline may be its primary draw, but it also lures visitors with its vast array of shopping options. Alfresco malls allow you to soak up the sun as you drop some cash, while elegant boutiques and cool vintage shops will lend your wardrobe an enviable dash of California cool. Hungry for fresh treats? Foodies will flip for the city's various local farmers markets.
Open-air shopping malls
Santa Monica is an idyllic beachside retreat, which makes spending time indoors feel like a sin - even if it's for the love of shopping. Thankfully, the city has reconciled the 2 elements with open-air shopping malls that satisfy your need for sun and pretty new things. Santa Monica Place is a swanky alfresco mall with luxury destinations such as Bloomingdale's and Nordstrom, as well as a rooftop dining deck. The pedestrian-only Third Street Promenade offers 3 blocks of upscale boutiques and outlet shops, as well as restaurants, cafés, and street entertainers.
Santa Monica Place, 395 Santa Monica Place, Santa Monica 90401; Tel: +1 310 260 8333; Website: Santa Monica Place

Third Street Promenade, Third Street, Santa Monica 90401; Website: Third Street Promenade
Montana Avenue boutiques
Take Beverly Hills' Rodeo Drive, add a healthy dose of laid-back ease, and you've got Montana Avenue. A 10-block stretch of road that runs along the breathtaking coastline, this retail hub houses the outposts of coveted Californian labels like Michael Stars and Splendid, as well as beauty destinations, restaurants, and boutique fitness studios. If you're looking to pick up some epicurean treats to take home, you'll also find a Whole Foods Market and the gourmet Andrew's Cheese Shop, which stocks a top-notch selection of wines, beers, meats, chocolates, and yes, many varieties of cheese.
Michael Stars, 1233 Montana Avenue, Santa Monica 90403; Tel: +1 310 260 5558; Website: Michael Stars

Andrew's Cheese Shop, 728 Montana Avenue, Santa Monica 90403; Tel: +1 310 393 3308; Website: Andrew's Cheese Shop
Vintage and consignment stores
California style is celebrated for its unique ability to strike the sweet spot between boho ease and polished sophistication. Equal parts vintage finds and designer goods, it's an aesthetic that is best achieved by scouring Santa Monica's vintage and consignment shops. Stores like Wasteland carry a perfectly curated assortment of vintage and independent designer goods that are as precious for their labels - think Chanel - as their original appeal. If you're in the market for current fashions, designer consignment stores like Haute Seconds stock labels such as Louis Vuitton, Jimmy Choo, and Lanvin at discounted prices.
Wasteland, 1330 4th Street, Santa Monica 90401; Tel: +1 310 395 2620; Website: Wasteland

Haute Seconds, 2721 Wilshire Blvd, Santa Monica 90403; Tel: +1 310 828 6500; Website: Haute Seconds
Farmers markets
Sometimes the travel memories that stay with you the longest are those that involve food. In Santa Monica, this is especially true when you're eating fresh local items that are bursting with natural flavor. There's no better place to get a fix of farm-fresh food than one of the city's farmers markets. The Sunday Main Street Farmers Market features local produce and artisanal treats, as well as live entertainment and fun, kid-friendly activities.
Discover
Find your perfect holiday in Santa Monica
From 30 hotels.