A City Guide to Kelowna - From World-Class Wineries to Adventurous Water Sports
A City Guide to Kelowna - From World-Class Wineries to Adventurous Water Sports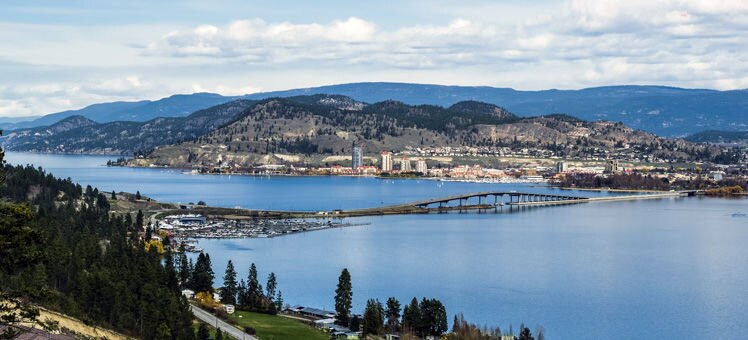 Kelowna is in pristine Okanagan Valley, within easy reach of mountains, lakes, forests, beaches, and orchards. In one day, you can enjoy some of the best golf in Canada, head out for a wine tasting, then relax with a walk on the beach. Or enjoy skiing and snowboarding followed by an après-ski craft beer and comforting pub grub.
Touring picturesque wineries
The mountain air, sun-drenched slopes, and clear lakes make Okanagan Valley perfect for the grapes used to produce Kelowna's world-class wines. At Okanagan Villa Estate's Vibrant Vine Tasting Room, you'll not only enjoy award-winning wine but also experience a fascinating 3D art installation. After a glass or two, you can wander around the lush gardens, full of fragrant flowers and trees. At Frequency Winery, you'll be shown how sound frequencies affect wine during an impressive show in which art, science, and winemaking collide.
Okanagan Villa Estate Winery, 3240 Pooley Rd, Kelowna V1W 4A5; Tel: +1 778 478 4153; Website: Okanagan Villa Estate Winery

Frequency Winery, 2261 Garner Road, Kelowna V1E 1EP; Tel: +1 250 212 3248; Website: Frequency Winery
Scenic golfing
Kelowna has some of the best weather for golfing in Canada and its idyllic scenery is an added attraction for players who like to putt with a view. Gallagher's Canyon takes you to the very edge of its namesake while playing an award-winning championship golf course, surrounded by vineyards and orchards. The Okanagan Golf Club was created by Nicklaus Designs, a world-renowned golf architecture team - so be prepared to be dazzled and challenged by the dramatic terrain.
Unspoiled adventure parks
One of the premier destinations in Canada for unspoiled natural beauty, Kelowna offers plenty of park recreation and outdoor fun. Head to Knox Mountain Park for bird-watching, hiking, and biking across over 750 acres of pristine land. Myra Canyon Adventure Park offers many activities including climbing, zip lining, and mountain-bike trails. You can hike over 18 trestle bridges once used by steam trains on the Kettle Valley Railway line, built in the early 1900s.
Beaches and water sports
Kelowna is a water lover's haven with something for everyone, from beach relaxation to adrenaline-pumping adventure. There are many outlets for buying and renting sports equipment, including all the gear you'd need for paddleboarding, kayaking, and canoeing. If you'd rather stay dry, you can sit back and relax on a restaurant patio or take a stroll along the boardwalk. The sand is soft at Gyro Beach - perfect for taking advantage of the surrounding beach volleyball courts, playgrounds, and picnic benches.
Gardens and orchards in Kelowna
Nature lovers will enjoy Kelowna's numerous lush gardens and orchards. The city is twinned with Kasugai in Japan, a relationship celebrated at Kasugai Gardens, a tranquil spot with koi-filled ponds, winding paths, and a cascading waterfall. Or check out Okanagan Lavender & Herb Farm for a fascinating tour in a fragrant setting, plus hands-on experience with their essential oils and massage products. They also offer fun scavenger hunts for little ones.
Discover
Find your perfect holiday in Kelowna
From 120 hotels.