Shopping Sorrento - Artisanal Goods and Lemon Liqueur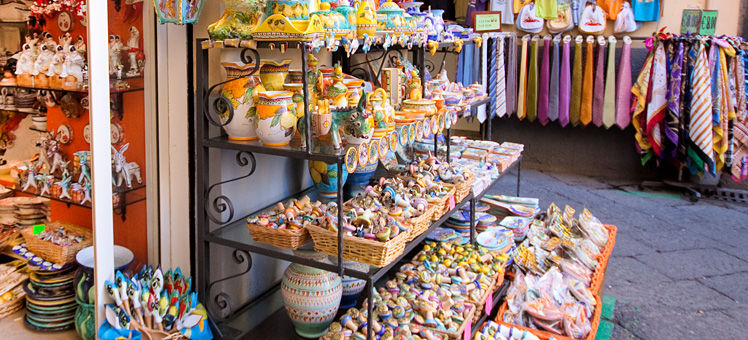 You may head to Sorrento with the intention of spending all your time admiring stunning vistas and scoffing pizza, but you'll soon find that many shops selling artisanal goods will lure your eyes away from the landscape and into their windows. You'll find colourful ceramics, intricate intarsia - or wood inlay - furniture, butter-soft leather goods, and beautiful handcrafted bottles of local limoncello.
Signature intarsia woodwork
From large-scale and elaborate pieces like the doors of the renaissance-era Duomo di Sorrento cathedral, to smaller objets d'art such as jewelry boxes with simple postmodern designs, intarsia is Sorrento's artisanal calling card. This intricate process, in which different varieties and colours of wood are inlaid to create eye-popping scenes, is seen all over the city. You can head to Stinga Tarsia to pick up a modernist paperweight, or visit the shop of the Museo Bottega della Tarsia Lignea to see more traditional examples. The exhibitions inside display intarsia craftwork from the 17th to 20th centuries.
Stinga Tarsia, Via Luigi de Maio 16, Sorrento 80067; Tel: +39 81 878 1130; Website: Stinga Tarsia

Museo Bottega della Tarsia Lignea, Via San Nicola 28, Sorrento 80067; Tel: +39 81 877 1942; Website: Museo Bottega della Tarsia Lignea
Ceramics shopping
This area of Italy is renowned for ceramics. While the crux of local production resides in the towns of Vietri and Positano, Sorrento also hosts artisans skilled in the thick and vibrantly painted pottery that is indicative of the region. Often portraying images of nature and especially lemons, these pieces are brightly rendered in colours that borrow from the Mediterranean landscape; blue, yellow, green, and red. You can pick up a decorative plate to hang on your kitchen wall, or order a set of dishes that can be shipped directly to your home.
Leather goods in Sorrento
If you're one to swoon at the heady smell of leather, you may want to pack some smelling salts as you walk the streets of Sorrento. As testament to this city's dedication to artisanal crafts, the streets of the historic city centre are filled with shops selling handmade leather bags, wallets, shoes, and belts. At Mary Shop, you'll find walls of colourful leather handbags and luggage, with belts and slippers interspersed throughout, while Milfur di Luciano Soldatini sells leather clothing.
Mary Shop, Via San Cesareo 56, Sorrento 80067; Tel: +39 81 807 5827; Website: Mary Shop

Milfur di Luciano Soldatini, Via Degli Archi 12, Sorrento 80067; Tel: +39 81 877 2831; Website: Milfur di Luciano Soldatini
The local Limoncello
A popular lemon liqueur that's native to the Gulf of Naples, limoncello. is a mainstay in bars, restaurants, and local homes. The liqueur is made from the zest of the aptly named Sorrento lemon, which is noted for being large, thick skinned, and very aromatic. You'll find plenty of stores on Corso Italia in the city centre selling limoncello in a variety of pretty, hand-painted bottles, which can make beautiful vases after the contents have been consumed. If the drink isn't your thing, you can also buy limoncello-flavored chocolates, candies, honey, and olive oil.
Limonoro, Via S. Cesareo 49, Sorrento 80067; Tel: +39 81 878 5348; Website: Limonoro