From Castles to Cathedrals, Cycles to Kayaks - Things to do in Exeter
From Castles to Cathedrals, Cycles to Kayaks - Things to do in Exeter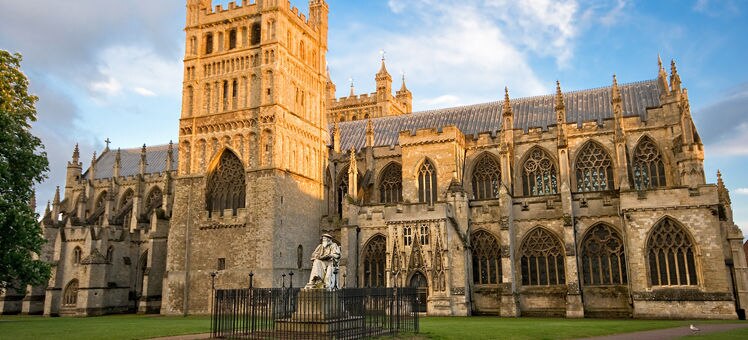 Exeter is an ideal place for history buffs and outdoor enthusiasts. The downtown area is packed with centuries-old buildings, landmarks, and ruins, while the Exe River offers much to those who like to play on the water. Outdoor bliss can also be enjoyed on land, whether you're cycling through protected marshes, or strolling down bustling neighbourhood streets.
Castles and churches
Exeter's compact city centre is anchored by neighbourhoods dubbed "Castle Quarter" and "Cathedral Quarter." These areas live up to their nicknames, as they're home to some of the city's oldest and most breathtaking structures. Exeter Castle was built by William the Conqueror during his siege of Britain, and its outdoor courtyard and adjacent gardens are popular places for peaceful strolls. At the 900 year-old Exeter Cathedral, you'll have a chance to go inside and see medieval Gothic architecture before ascending to the roof for a panoramic view of the city.
Exeter Castle, Castle St., Exeter EX4 3PU; Tel: +44 7786 178983; Website: Exeter Castle

Exeter Cathedral, 1 The Cloisters, Exeter EX1 1HS; Tel: +44 1392 285983; Website: Exeter Cathedral
Outdoor fun in Exeter
The River Exe runs along Exeter's western border. The waterway and the adjacent Exe Estuary marshland has long been prime playground for thrill-seeking travellers. Kayak Hub Exeter rents canoes and kayaks if you want to paddle around the river, or you can arrange for them to take you on a guided tour of the waterway. If you prefer to stay on land, a bike rental from Saddles & Paddles will enable you to easily check out indigenous foliage, as well as geese, lapwings, and other migrating birds found along the Exe Estuary Trail.
Take an Exeter Tour
Exeter has been around for over 2,000 years - and has plenty of stories to tell. You'll have ample opportunity to dig into Exeter's rich history and assorted tales by taking one of numerous guided tours. Most of them are offered for free by Red Coat Guided Tours, and range from walking amongst ancient city walls to exploring ghostly legends. Others, such as Exeter's Underground Passage tour, feature interactive exhibits and multimedia presentations.
The Jurassic Coast
England's first natural World Heritage Site is about a 2-hour drive away from Exeter. Roughly 185 million years' worth of geological history, incessant folding limestone cliffs, and dramatic rock formations can be discovered along 95 miles of coastline stretching from East Devon to Dorset. The area is home to several interesting museums like the Sidmouth Museum, where well-preserved fossils are on display. You can also drop by coastal venues like the Charmouth Heritage Coast Centre, and hunt for prehistoric rocks and fossils on your own.
Historic Quayside and Topsham
Just outside the city centre, Quayside and Topsham provide a relaxed ambiance. You can begin exploring Quayside by spotting wildlife and watching a milling session at the old Cricklepit Mill, then finish your visit rummaging around antique stores. If you head further south to Topsham, you'll find a several critically acclaimed restaurants as well as Topsham Museum, home to several artifacts related to the sea and "Gone With the Wind" star Vivien Leigh.