Historic Character with Modern Convenience - Where to Stay in Exeter
Historic Character with Modern Convenience - Where to Stay in Exeter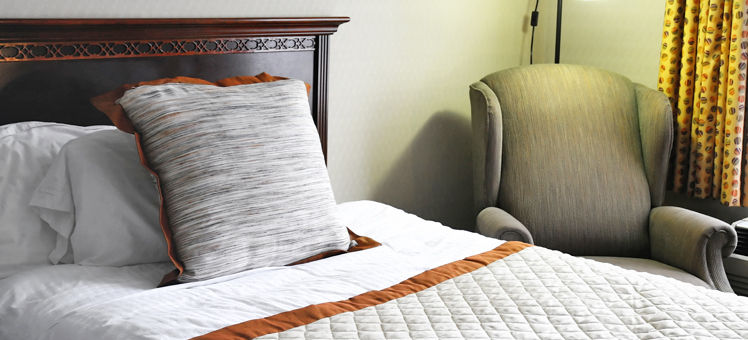 A great deal of Exeter's accommodation is designed to blend in with the city's stately, historic architecture. The majority of hotels are located in and around the downtown area, where its most cherished attractions and best shopping are concentrated. You'll also find clusters of tempting options in waterfront neighbourhoods along the River Exe.
Downtown
If you want to be within walking distance of Exeter's numerous historic points of interest, staying in its compact city centre is for you. Iconic places like Exeter Cathedral, Exeter City Walls, and Rougemont Gardens are all within a 15-minute walk from the heart of downtown, so you'll be able to easily put together a jam-packed agenda. You'll also amble past most of Exeter's main cultural venues and prime shopping hubs during the course of your day.
You can expect to see several independent properties designed to fit in with Exeter's historic architectural character. There are also a few bed-and-breakfasts housed in Victorian and Georgian-style buildings. Some of the more upscale hotels feature high-end dining options.
Topsham
This southern section of Exeter used to a bustling port, and its unique maritime vibe and 17th-century, Dutch-style architecture helps it retain a bit of an independent feel. Its location along the River Exe and the Exe Estuary makes it a prime place to stay if you're planning on doing outdoor and river-based activities. The area has also developed a strong reputation for being an exciting dining destination.
You'll primarily find boutique hotels that play on the building's history - including some that were once pubs. Most hotels tap into the neighbourhood food scene by hosting restaurants whose offerings range from pub grub to fine dining. Amenities like free WiFi and flat-screen TVs can also be enjoyed.
Exmouth
You will be a little less than 12 miles from Exeter if you stay at this port town located at the mouth of the River Exe. This waterfront city has long been considered a seasonal tourist destination in its own right, especially for those that want to partake in seafaring activities like sailing and jet skiing. If you don't feel like driving, a train ride from Exmouth will get you to downtown Exeter in about 30 minutes.
Most hotels are within 4 blocks of the shoreline. There are a few bed-and- breakfasts sprinkled among a mix of familiar cost-effective chains and boutique options. You'll find essential perks such as free WiFi, and some spots offer breakfast included to help you start your day.
Search for Exmouth hotels