31 Best Things to Do in Siem Reap
What is Siem Reap Most Famous For?
The best things to do in Siem Reap shows that there's more to this quaint town besides visiting the iconic Angkor Wat temple ruins. As Cambodia's unofficial tourism capital, Siem Reap boasts hundreds of natural and manmade attractions such as breathtaking temples, well-preserved colonial buildings, unique museums, cultural theme parks, expansive lakes and verdant mountains.
History buffs will delight in the many well-preserved stone carvings found at Buddhist and Hindu temples while nature lovers can enjoy a wide range of activities, such as hiking, bird-watching, picnicking and swimming. For experiencing the local lifestyle, there's a wide range of cultural dances and traditional performances within central Siem Reap.
What are the best things to do in Siem Reap?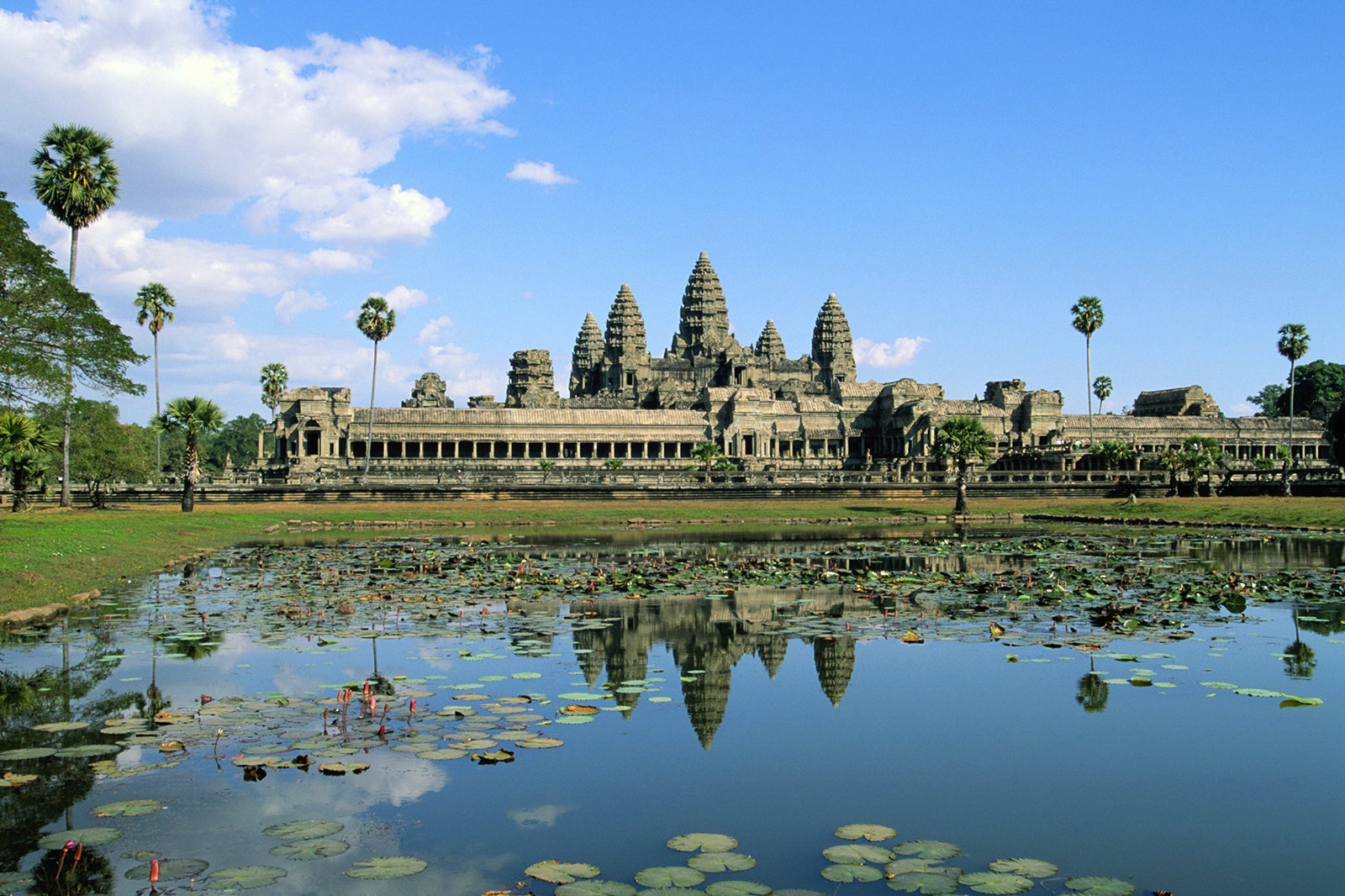 Angkor Archaeological Park
Angkor Archaeological Park is where you can find Siem Reap's iconic Angkor Wat as well as 50 Hindu and Buddhist temple sites that were constructed between the 9th and 12th centuries. Representing the pinnacle of ancient Khmer architecture, art and civilization, this park was once the largest pre-industrial city in the world and was listed as a UNESCO World Heritage site in 1992.
Another prominent sight here is the Terrace of the Elephants, a striking 300-metre-long wall decorated with fine sculptures of elephants, garudas, a 5-headed horse, Khmer dancers and warriors. Visitors looking to explore the entirety of Angkor Archaeological Park are encouraged to purchase the multi-day passes as there are so many sightseeing opportunities here.
Location: Siem Reap, Cambodia
Open: Daily from 5am to 6pm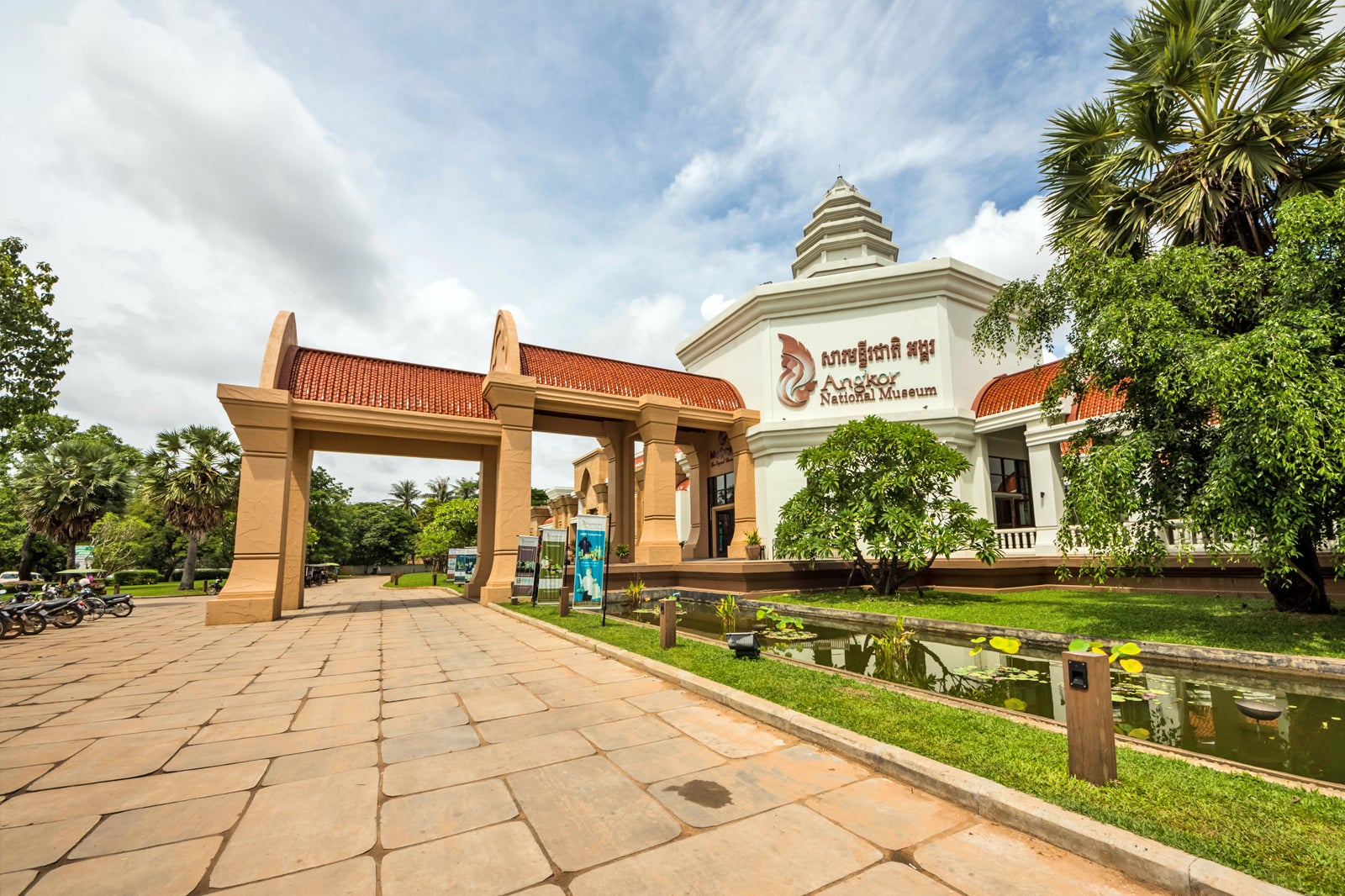 Angkor National Museum houses 1,000 artefacts from the ancient Khmer empire. Located along Charles de Gaulle Boulevard, the expansive museum is divided into 8 galleries that are themed by era, religion and royalty. Displays include relics from the pre-Angkorian periods of the great Khmer kings Funan and Chenla, Angkor Wat, Angkor Thom, stone pallets with ancient Khmer and Sanskrit inscriptions, as well as traditional costumes of former kings, queens, warriors, and Apsara dancers.
Visitors are advised to visit the Angkor National Museum prior to the temple site as there are many touchscreen displays, videos and informative commentary on the Khmer civilisation and the majesty of Angkor, helping you to better understand the amazing temple ruins.
Location: 968 Charles de Gaulle Blvd, Siem Reap, Cambodia
Open: Daily from 8.30am to 6.30pm
Phone: +855 63 63 966 601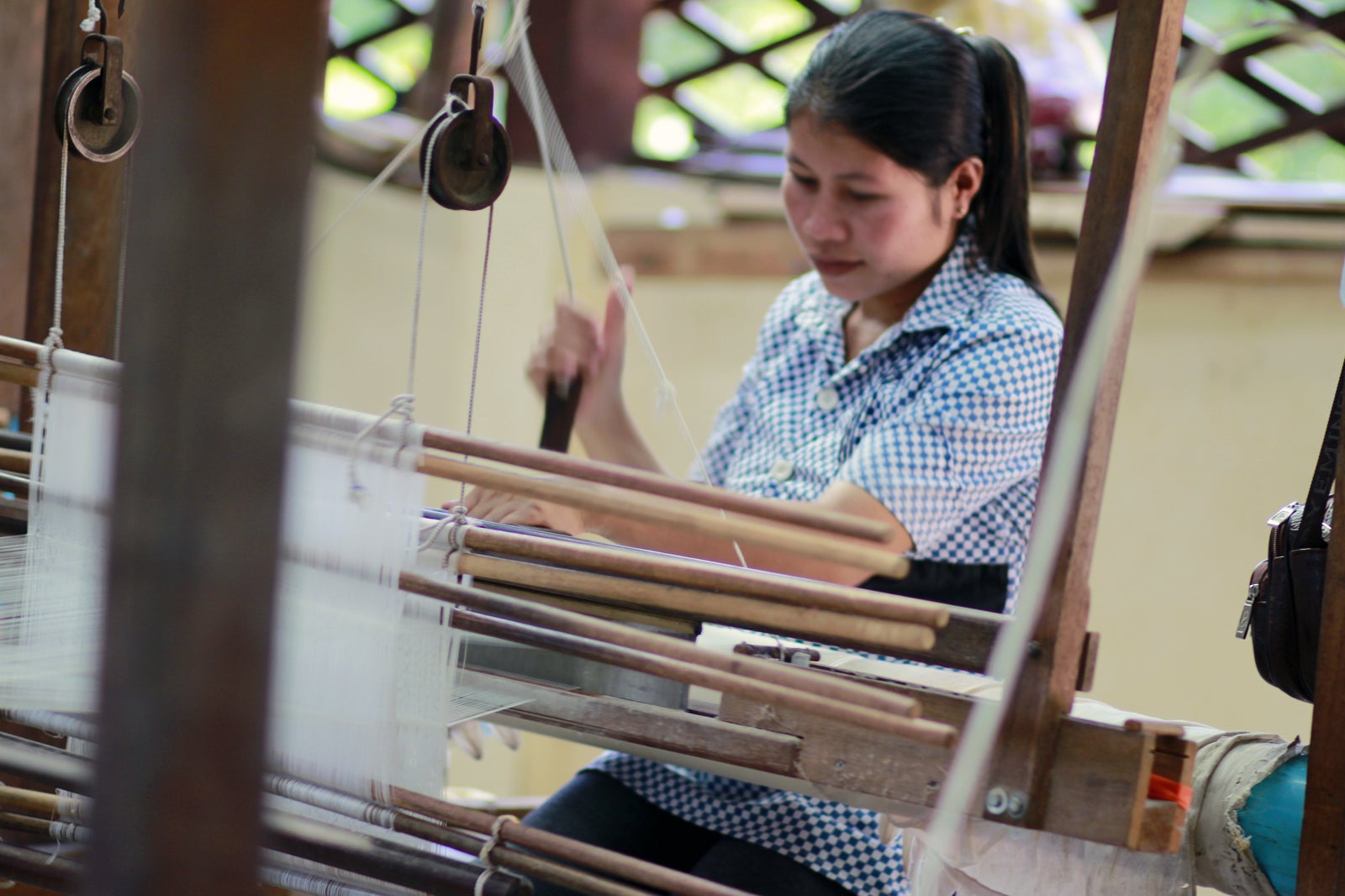 Artisans d'Angkor Silk Farm was established by Artisans d'Angkor, a charitable business in Siem Reap, which aims for the revival and perpetuation of traditional sericulture in Cambodia. They provide training in silk production and use the silk created in their products.
A very interesting and informative guided tour of the farm includes all aspects of silk farming and production, from the raising of the silkworms to dying the silk to weaving the final product. Their free shuttle bus usually leaves at 8.30am and 1.30pm from Artisans d'Angkor in Siem Reap. The entire tour takes about 2 hours.
Location: Highway No. 6, Puok District, Cambodia
Open: Daily from 8am to 5pm
Phone: +855 63 963 330
photo by Piseth1 (CC BY-SA 3.0) modified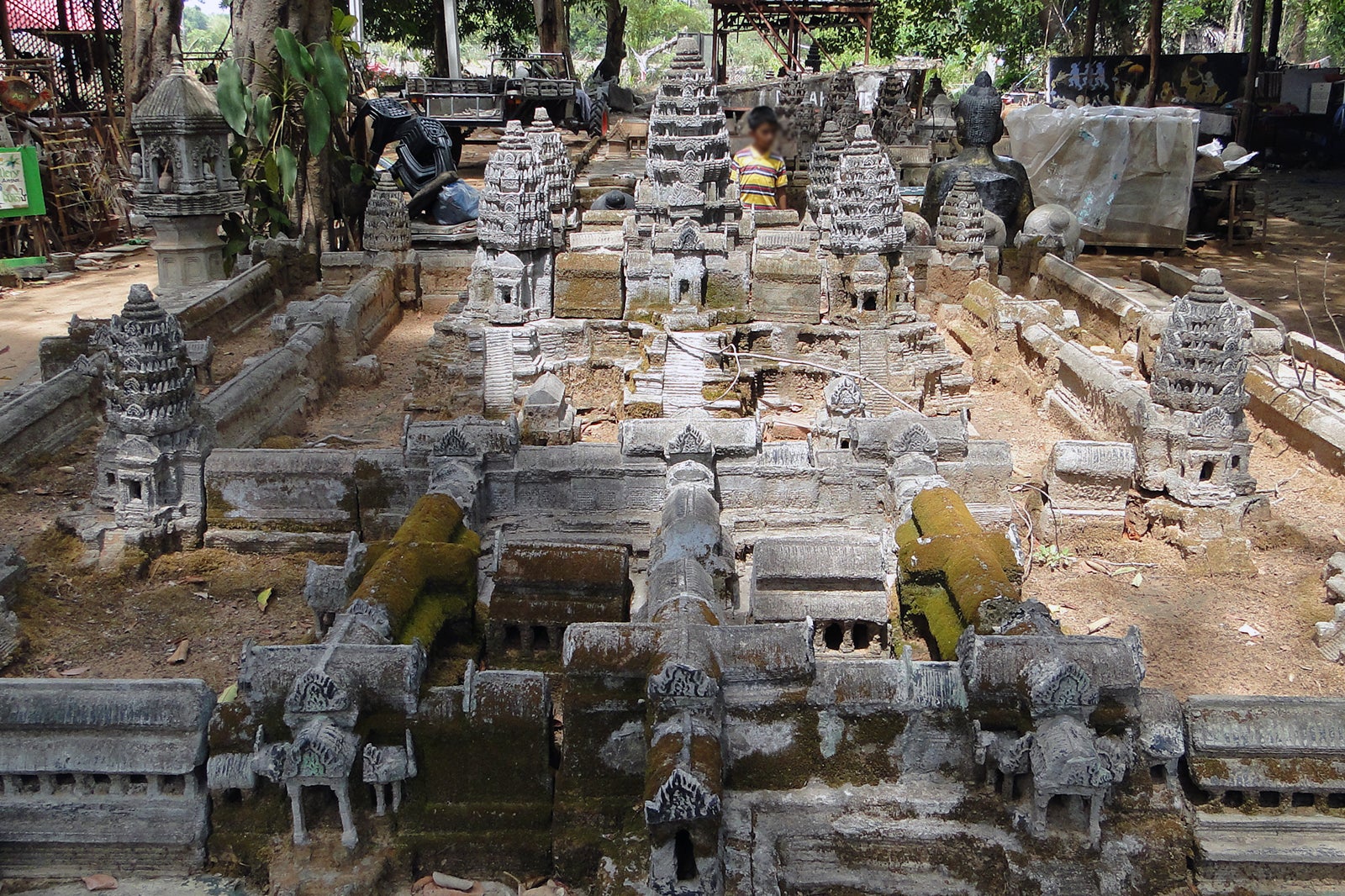 You can admire miniature replicas of Angkor's temples in this small museum in Siem Reap. Constructed in 1994 and 1995 by Dy Proeung, you can see that a lot of time and effort went into creating the miniature of Angkor Wat, Banteay Srey and other ancient temples.
Although it's quite small, it's worth a look for the effort that went into creating the detailed miniatures. The artist in charge doesn't speak much English, but he will passionately show you around. The entrance fee is US$1.50. The museum is open 24 hours.
Location: Siem Reap, Cambodia
Phone: +855 87 267 253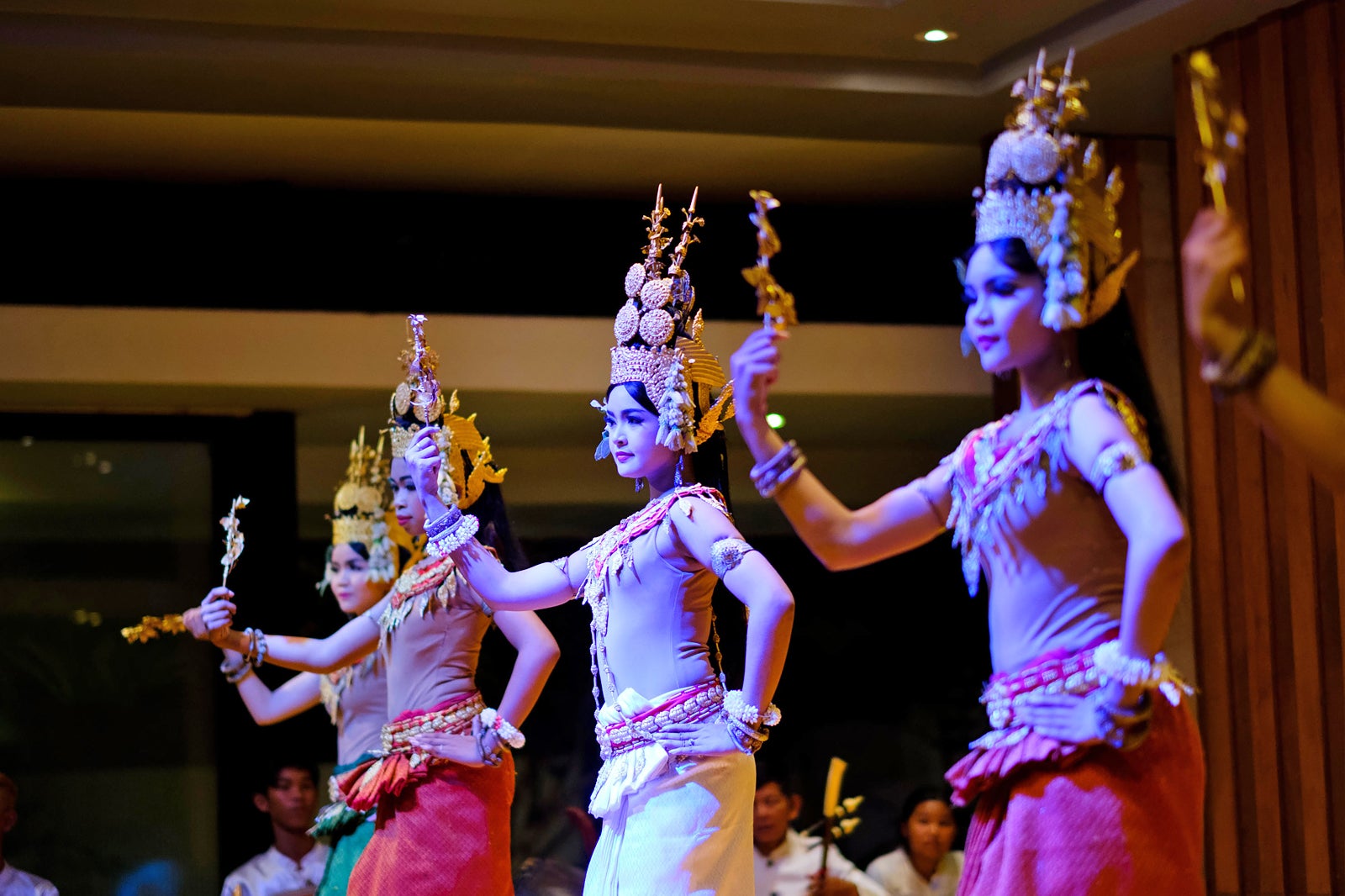 Apsaras dance and dinner shows in Siem Reap
Several restaurants and hotels in Siem Reap present Apsara dance shows, and Apsara dance dinner shows are included in many tours. Shows durations average around 2 hours.
Most shows include the 4 genres of traditional Khmer dance: Apsara Dance, Masked Dance, Shadow Theatre, and Folk Dance. These are abbreviated dances for tourists, and unfortunately there's usually little or no explanation as to the origin and meaning of the dances as they are performed. They are still interesting and worthwhile seeing, though. Among the few venues showing these dances are Apsara Terrace at Raffles Grand Hotel d'Angkor, Apsara Theatre & Restaurant at the Angkor Village Hotel in Wat Bo Village, and Koulen Restaurant on Sivutha Street.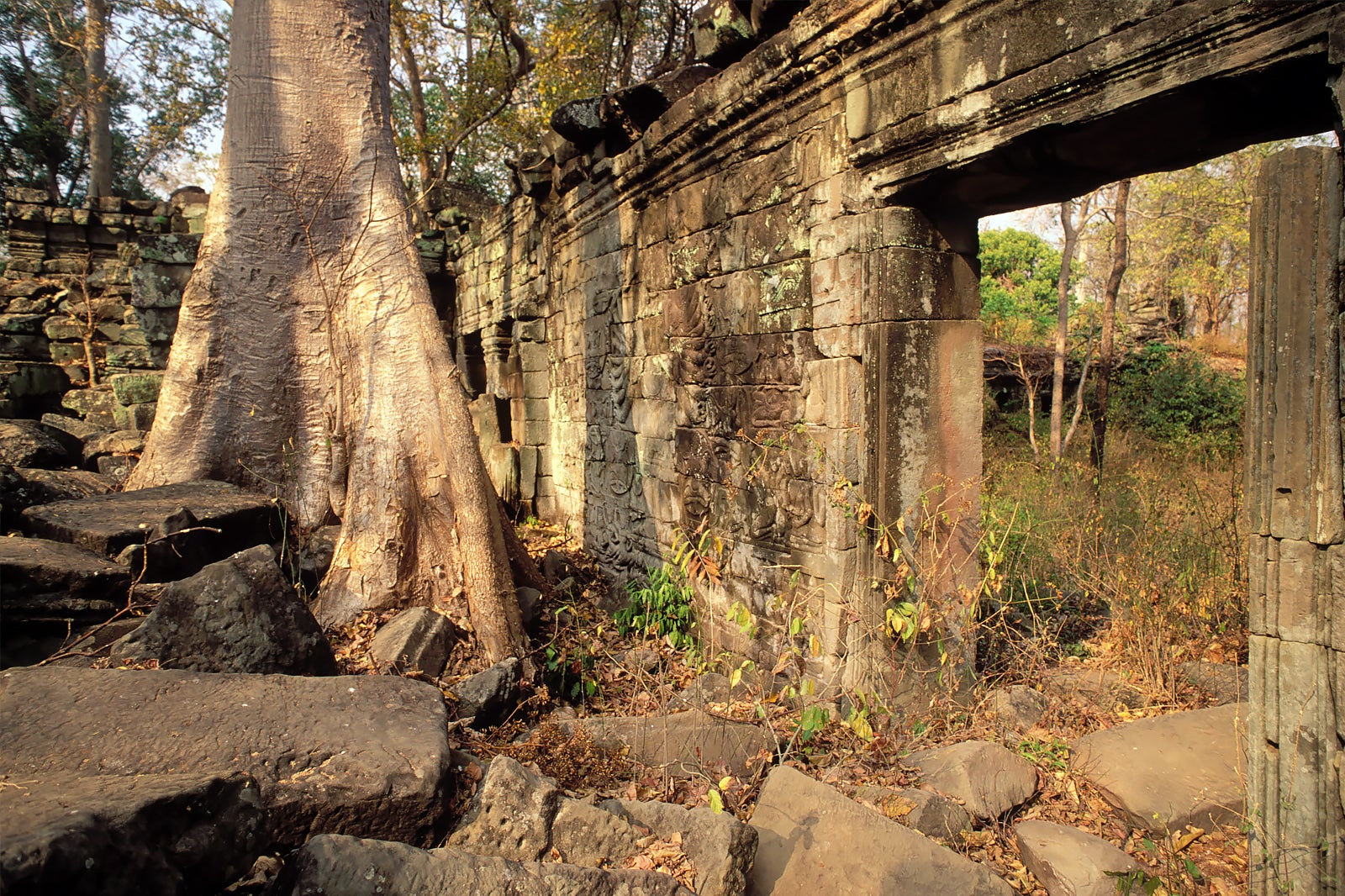 Banteay Chhmar is slightly far to reach from Siem Reap, which simply means it's also very lightly touristed. The temple site was built under the reign of King Jayavarman VII during his monumental building programme and is dedicated to his son, who died in battle fighting the Cham. You can see various Khmer and Cham battle scenes shown in the many bas-reliefs here.
Location: Thma Puok District, Banteay Meanchey, Cambodia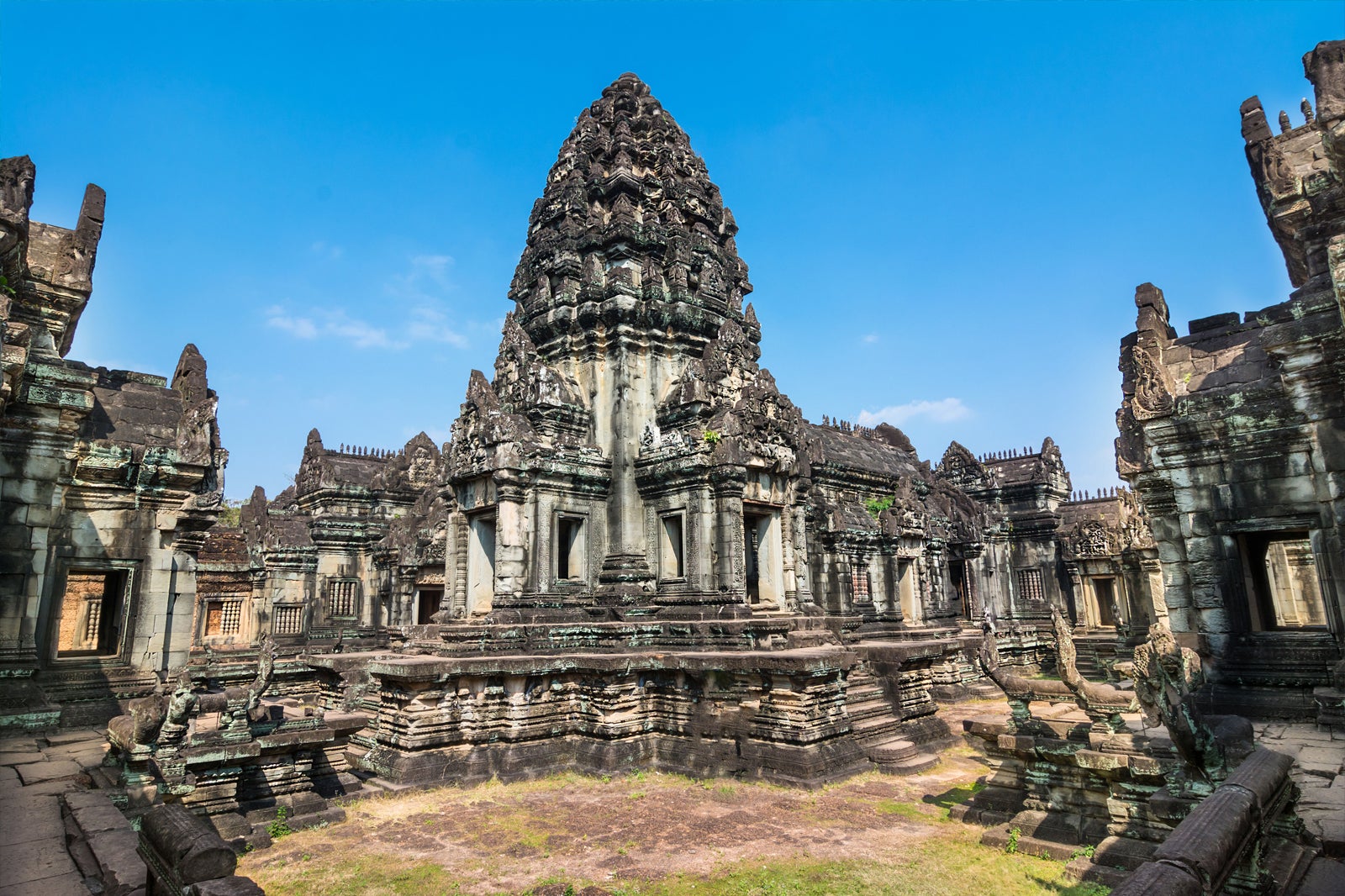 Banteay Samre is a large, relatively low-rise temple built in the distinctive Angkor Wat-style of construction and art. It was built around the same time as Angkor Wat, and the influence can be seen in the towers and railings which strongly resemble those of its more famous cousin.
The temple also resembles the ancient Khmer temple of Phimai in Thailand. Most of the bas-relief carvings are in very good condition. The temple has been extensively restored by archaeologists by completely taking it apart and then reconstructing it.
Location: Siem Reap, Cambodia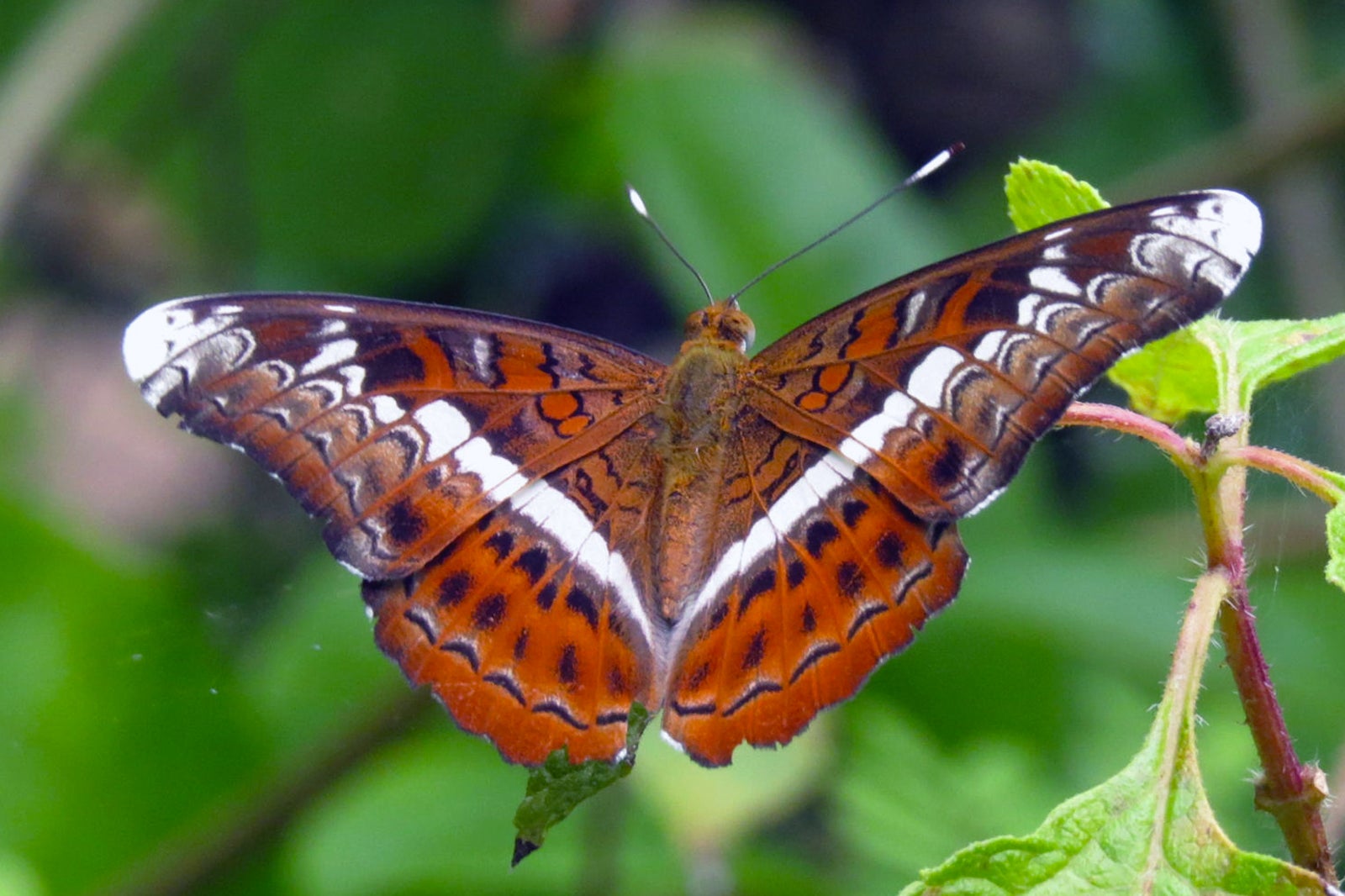 Banteay Srey Butterfly Centre in Siem Reap
Banteay Srey Butterfly Centre (BBC) is one of the most visited tourist spots in the country and has one of the largest butterfly exhibitions in Southeast Asia. A visit to Banteay Srey Butterfly Centre is a great way to take a short break from the temple tours and spend some time in spectacular surroundings filled with rare and vivid butterflies.
The butterfly park is situated about 25 km from Siem Reap, and serves as a project with a difference. The centre also contributes to the welfare of the community by training local people to rear butterflies for sale locally and abroad.
Location: Banteay Srei, Cambodia
Open: Daily from 9am to 5pm
Phone: +855 97 852 7852
photo by D. Gordon E. Robertson (CC BY-SA 3.0) modified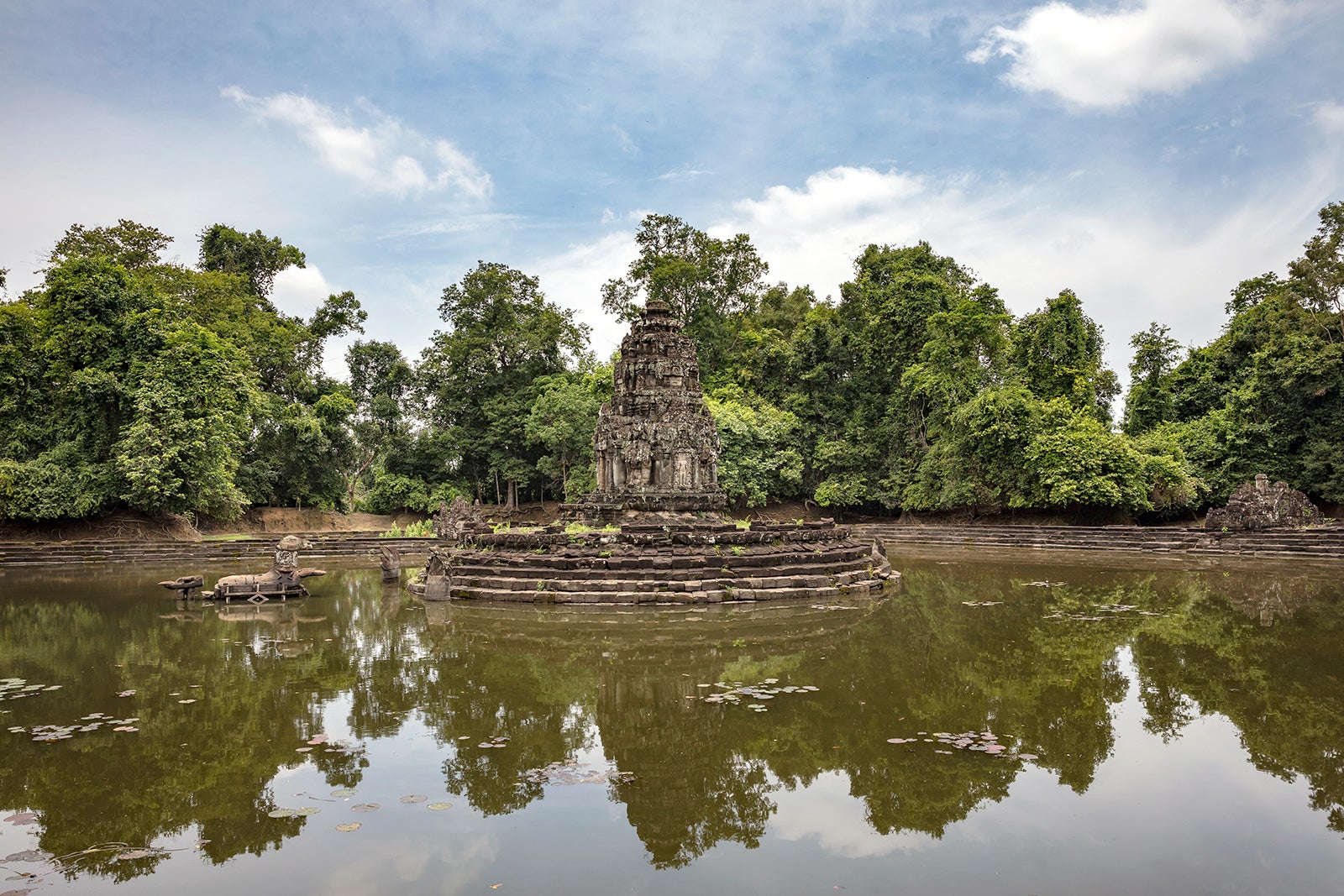 Baray Lakes and The Mebon Temples
The huge Baray lakes are among the most remarkable aspects of Angkor. They are immense ancient rectangular artificial reservoirs, with the 2 largest to the east and west of Angkor Thom. The East Baray is 14 sq km wide, while the West Baray is 16 sq km.
It had been assumed they were used for agriculture irrigation, but some scholars now say that the main purpose of the Barays was religious and ceremonial. There is a stone temple called a Mebon on an island in the middle of each lake. No matter what their original purpose was, they are truly amazing feats of engineering.
Location: Siem Reap, Cambodia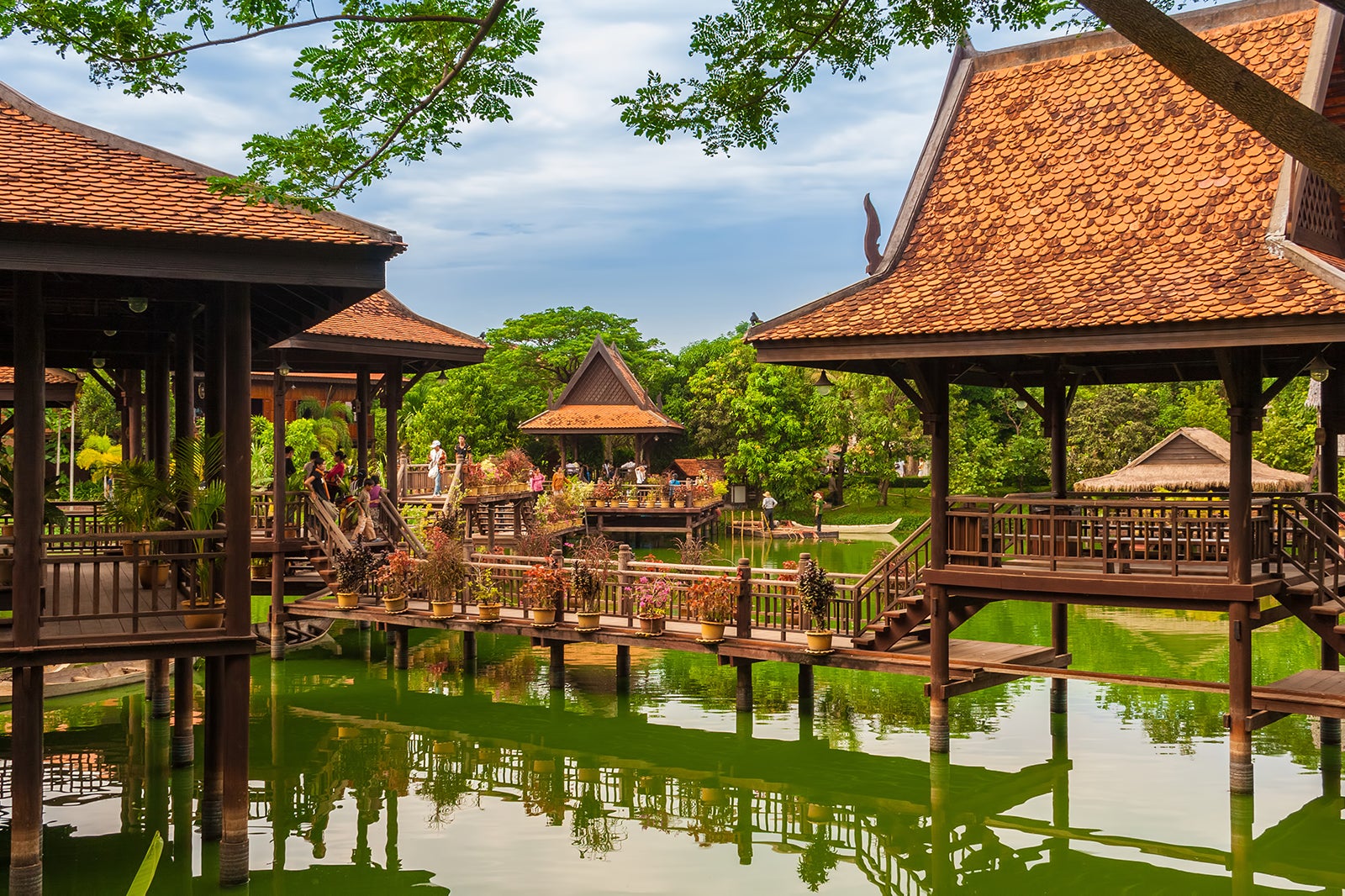 Cambodia Cultural Village
Cambodia Cultural Village is a 21-hectare theme park in Siem Reap that showcases the traditional Cambodian way of life and the local customs and practices of the various ethnic groups in the country.
The park first opened to the public in late 2003. It's now home to more than 10 villages, showing off the different cultures and characteristics of 19 Cambodian races. The shows include Apsara dances, traditional wedding ceremonies and circus acts.
Location: National Highway No. 6, Siem Reap, Cambodia
Open: Daily from 9am to 9pm
Phone: +855 63 963 098
Cambodia Landmine Museum in Siem Reap
The Landmine Museum represents an agonising window into the realism of the country's land mine situation. During Cambodia's 3-decade-long conflict, approximately 6 million land mines were planted in the nation.
This museum was founded in 1997 by Aki Ra, with the objective of making the country safe through the removal of mines from wherever he could find them. Aki Ra was forced to work as a mine layer by the Khmer Rouge, planting land mines from an age as young as 5. Now he is working to remove them, and set up the museum to both showcase his efforts and educate visitors on the dangers faced every day by Cambodians.
Location: Angkor Wat Archeological Park, Siem Reap, Cambodia
Open: Daily from 7.30am to 5.30pm
Phone: +855 15 674 163
photo by Rodney Evans/AusAID (CC BY 2.0) modified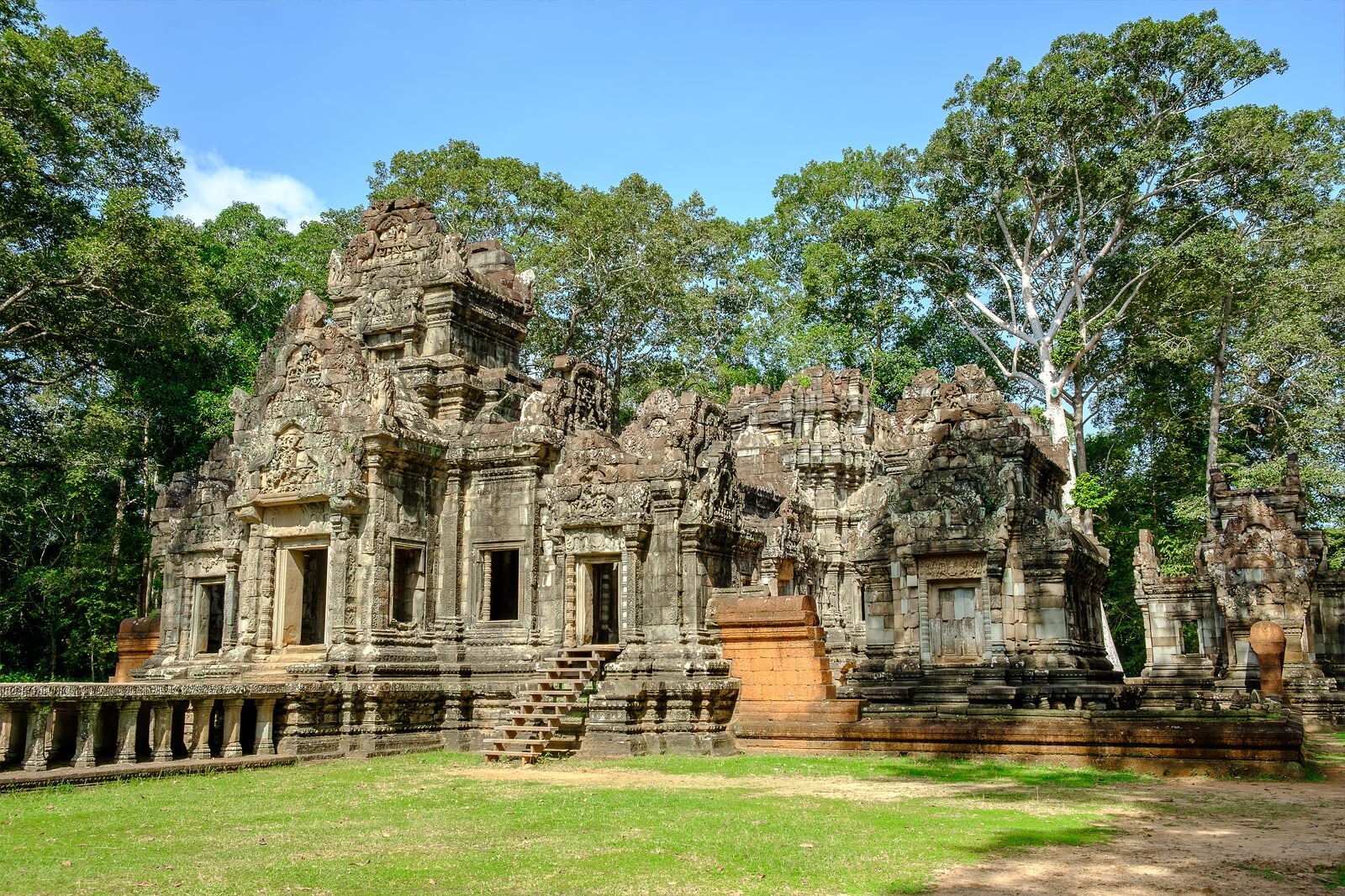 Chao Say Tevoda is a smallish, graceful Hindu temple built by King Suryavarman II between AD1120 and 1150. It has a central sanctuary, 2 libraries and 4 gopuras which are at the 4 cardinal points of the compass.
To the north is Thommanon Temple, which has a similar design and floor plan to Chau Say Tevoda. Centuries of wars, neglect, and the natural elements have taken their toll, and Chao Say Tevoda was in very bad shape. In 2000, restoration of the temple began and was completed in 2009. The restoration included newly manufactured sections which are not of equal artistic quality to the original sections, but visitor can still see the temple as it was originally constructed.
Location: Angkor Archaeological Park, Siem Reap, Cambodia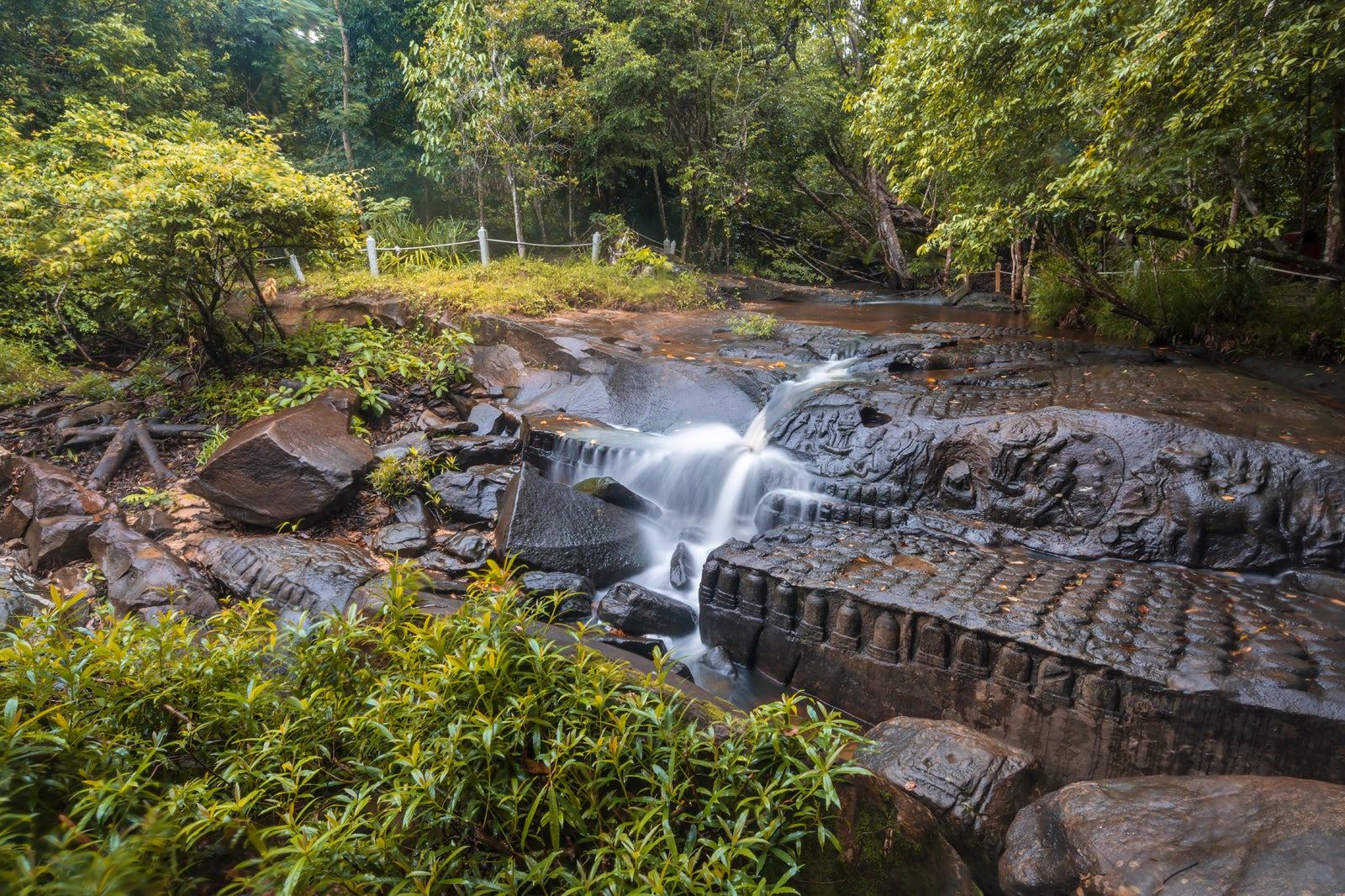 Kbal Spean is the famous river of a 1,000 lingas at Phnom Kulen. These lingas (phallic symbols) were evidently carved into the bedrock of the river so they could 'fertilise' the waters flowing to the fields of Angkor.
You can also find carvings of Buddha and Buddhist images in the rocks that were carved at a later date than the lingas. It's a fairly easy 45-minute walk uphill though the woods to get to the river.
Location: Banteay Srei, Cambodia
Open: Monday–Saturday from 8am to 5.30pm
Families
History
Photo
Budget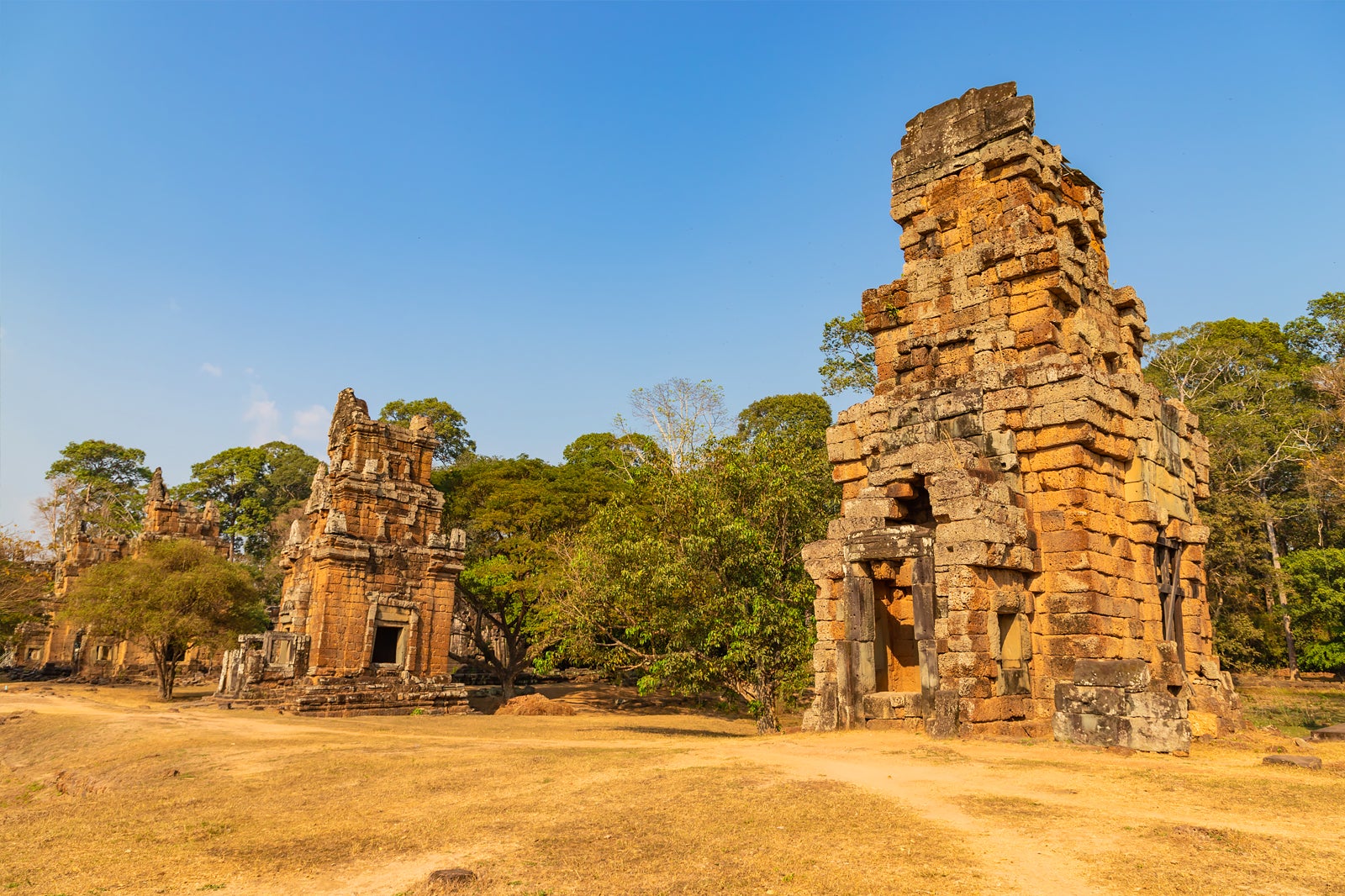 The North Khleangs is a collection of rectangular, sandstone buildings near Angkor Thom. One Khleang lies east of the Terrace of the Elephants, and the other is east of the Terrace of the Leper King. The North Khleang was constructed from wood by King Rajendravarman II and was later reconstructed in stone by King Jayavarman V. The North Khleang also has well-preserved carvings.
'Khleang' means 'storeroom' but it's not likely that they were actually used for that purpose. It's not known exactly what their function was, but carved inscriptions indicate that they may have been used for ceremonial purposes, or as accommodation for visiting dignitaries.
Location: Siem Reap, Cambodia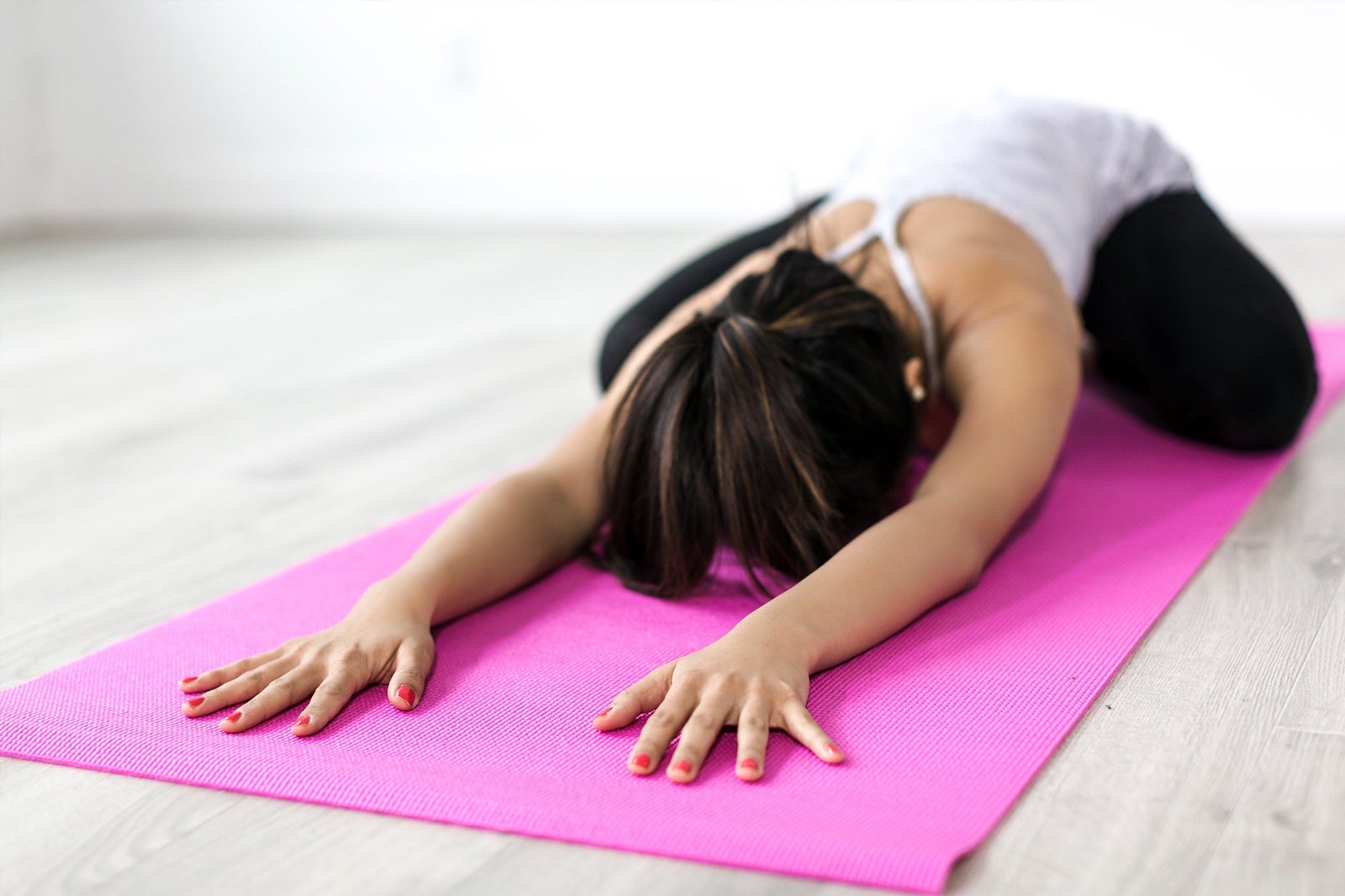 Peace Café is a great place to try Hatha Yoga, where classes are offered every Monday, Wednesday and Sunday. The times for the Monday and Wednesday classes are from 5.30pm to 7pm and Sunday classes are from 9am to 10.30am. There is a fee for the classes, and students must bring their own mats.
Location: #115, Trail Village, Boeung Daun Pa Village, Sangkat Slor Kram 17251, Siem Reap, Cambodia
Open: Daily from 7.30am to 9pm
Phone: +855 63 965 210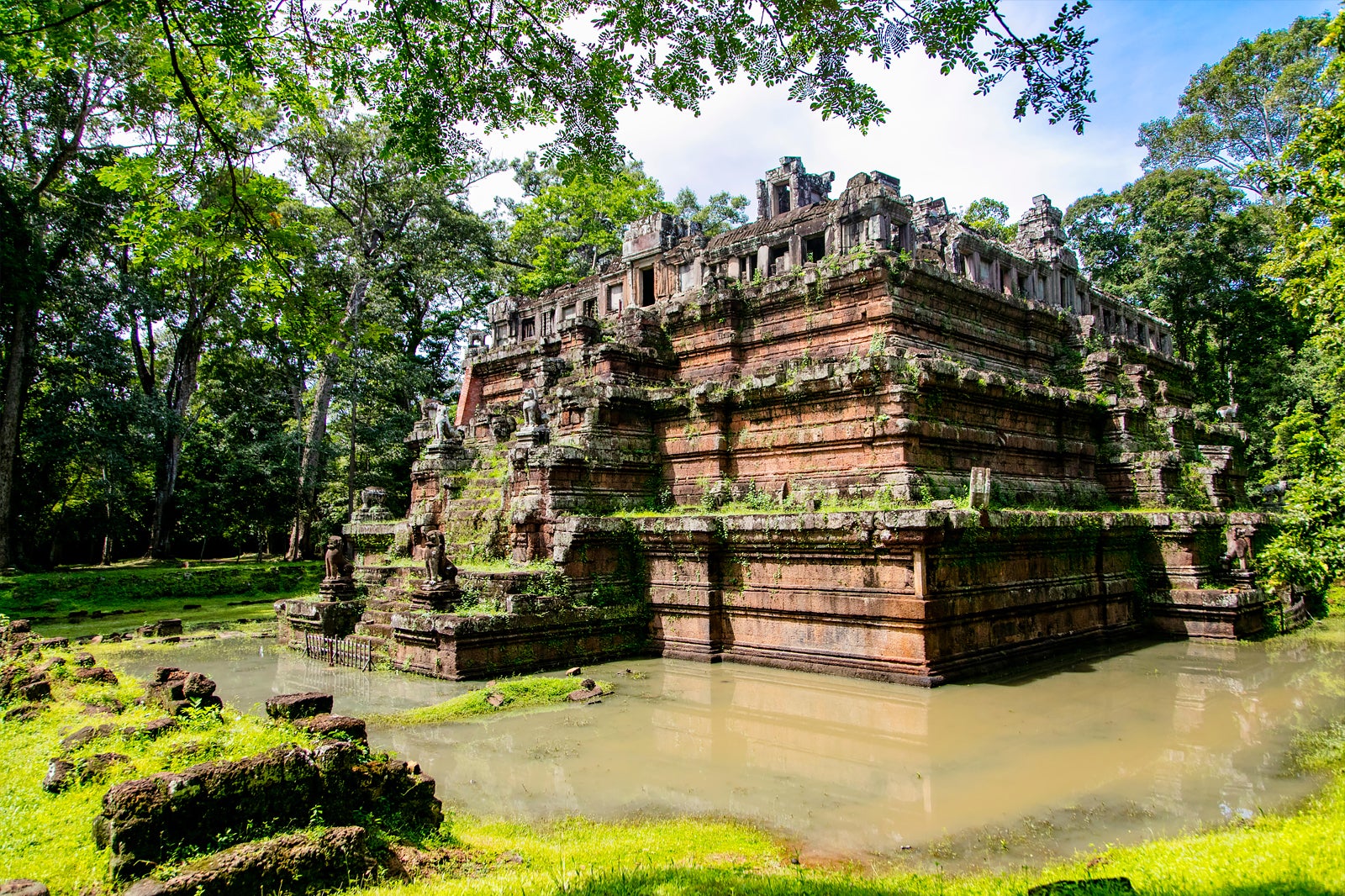 Phimeanakas is a large, tiered pyramid of laterite and sandstone construction, and is the tallest climbable temple in Angkor Thom. From the top, it offers a good view of the surrounding area.
The stairway on the western (back) side of the temple affords the easiest way to climb to the top. Unfortunately, there's an absence of carvings, and this may make it uninteresting for some. It's still an impressive structure, and well worth exploring.
Location: Royal Palace, Angkor Thom, Siem Reap, Cambodia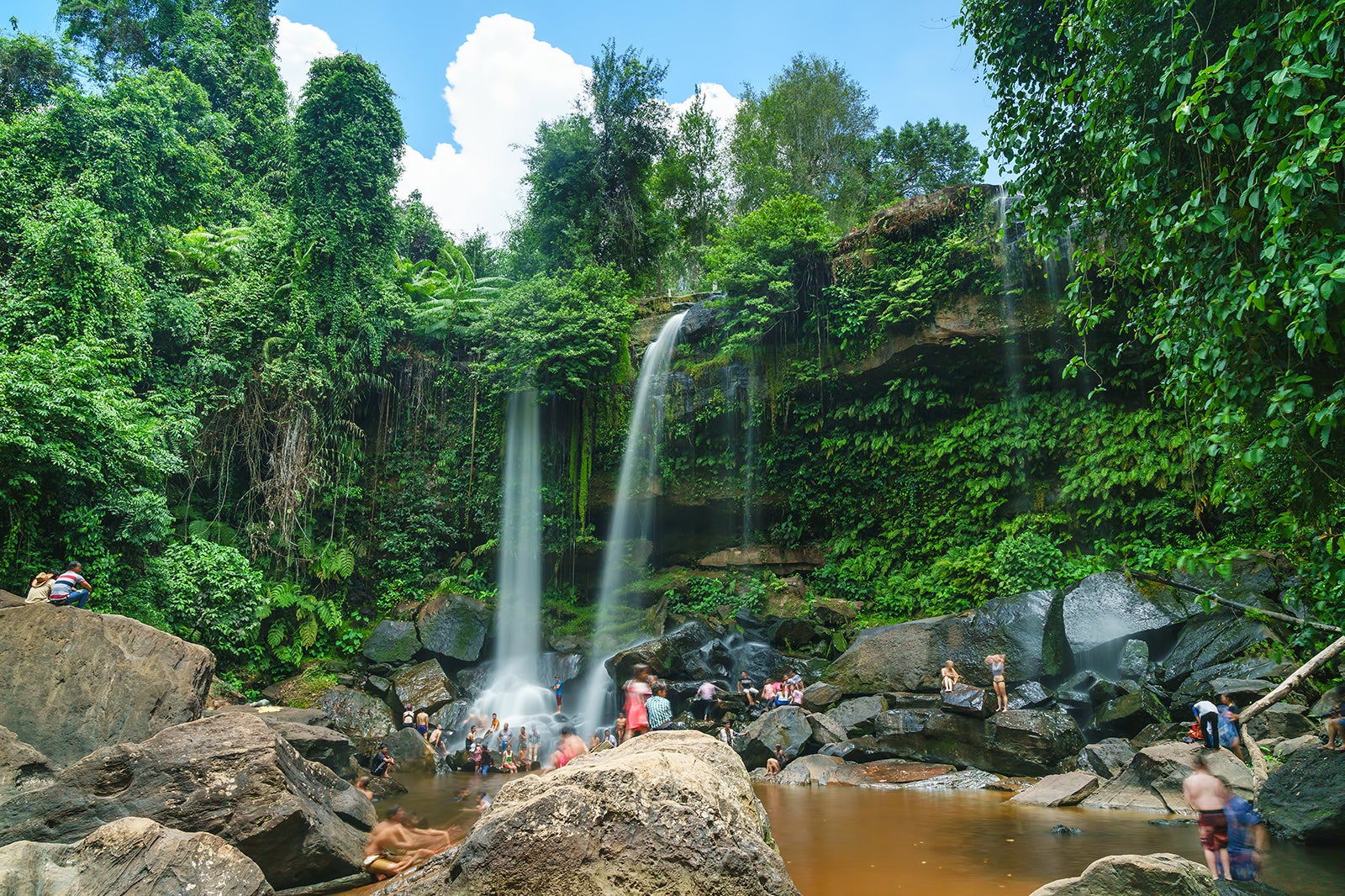 Phnom Kulen National Park
Phnom Kulen National Park, about 45 km north of Siem Reap, is believed to be the nation's most sacred mountain. The top of Kulen Mountain has over 55 ancient temple ruins while the summit houses a 16th-century Buddhist pagoda and an 8-metre-long sandstone statue of a reclining Buddha.
The admission fee is about US$20 per person and, while it's a steep price compared to Angkor Archaeological Park, visitors can access the 2 impressive waterfalls that form the focal point of Phnom Kulen. Featuring multi-tiered rocks and cascading waters, the waterfalls are great for swimming, picnicking, and memorable photo opportunities.
Location: Siem Reap, Cambodia
Couples
Families
History
Photo
Adventure
Group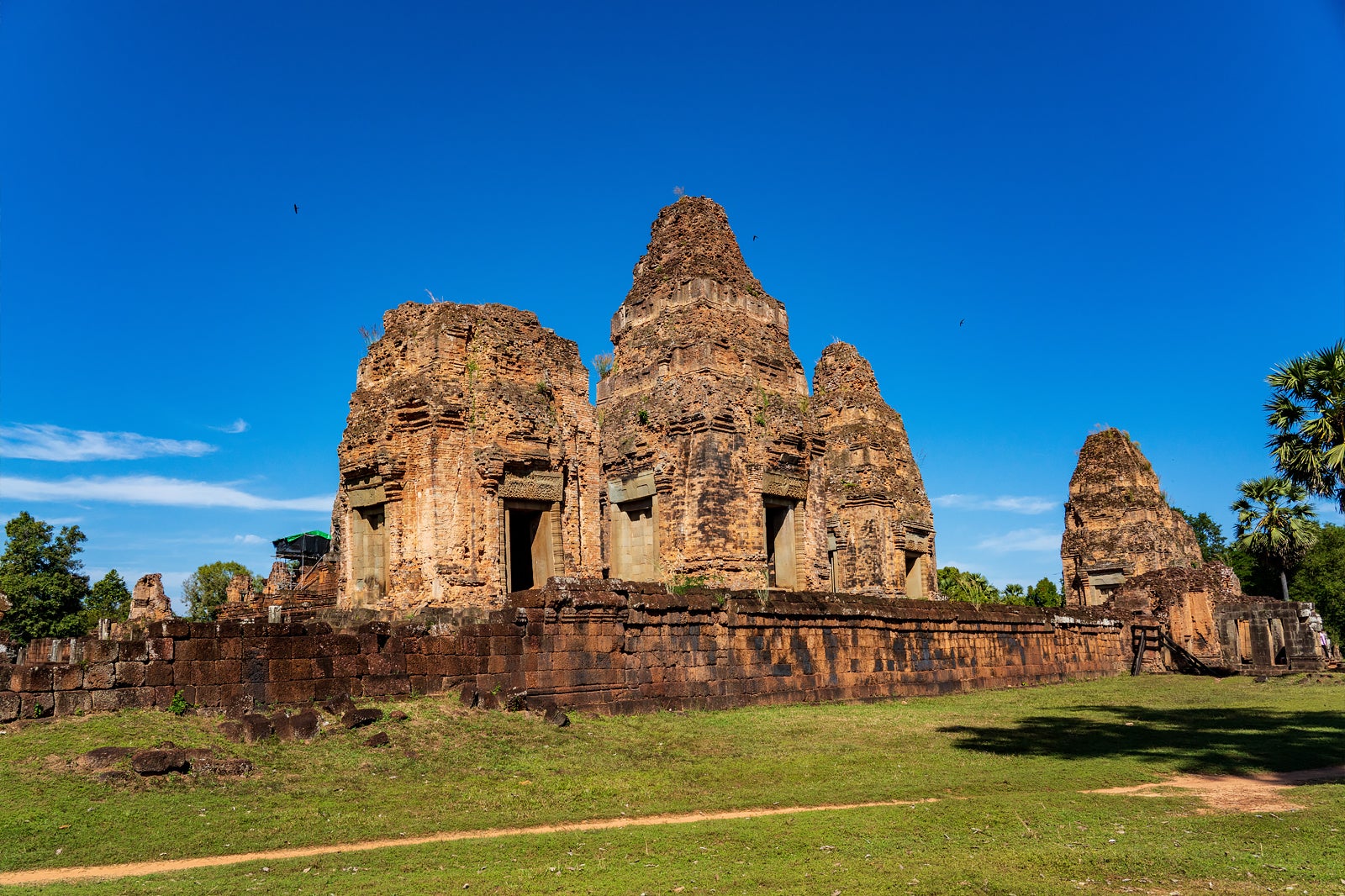 Pre Rup is a large temple-mountain which contains well-preserved carvings of fine detail. This architecturally and artistically excellent temple is located just south of the East Baray and is similar in construction to the East Mebon, which was built a few years earlier. The false doors on the upper level are of especially excellent quality.
Location: Angkor Archaeological Park, Siem Reap, Cambodia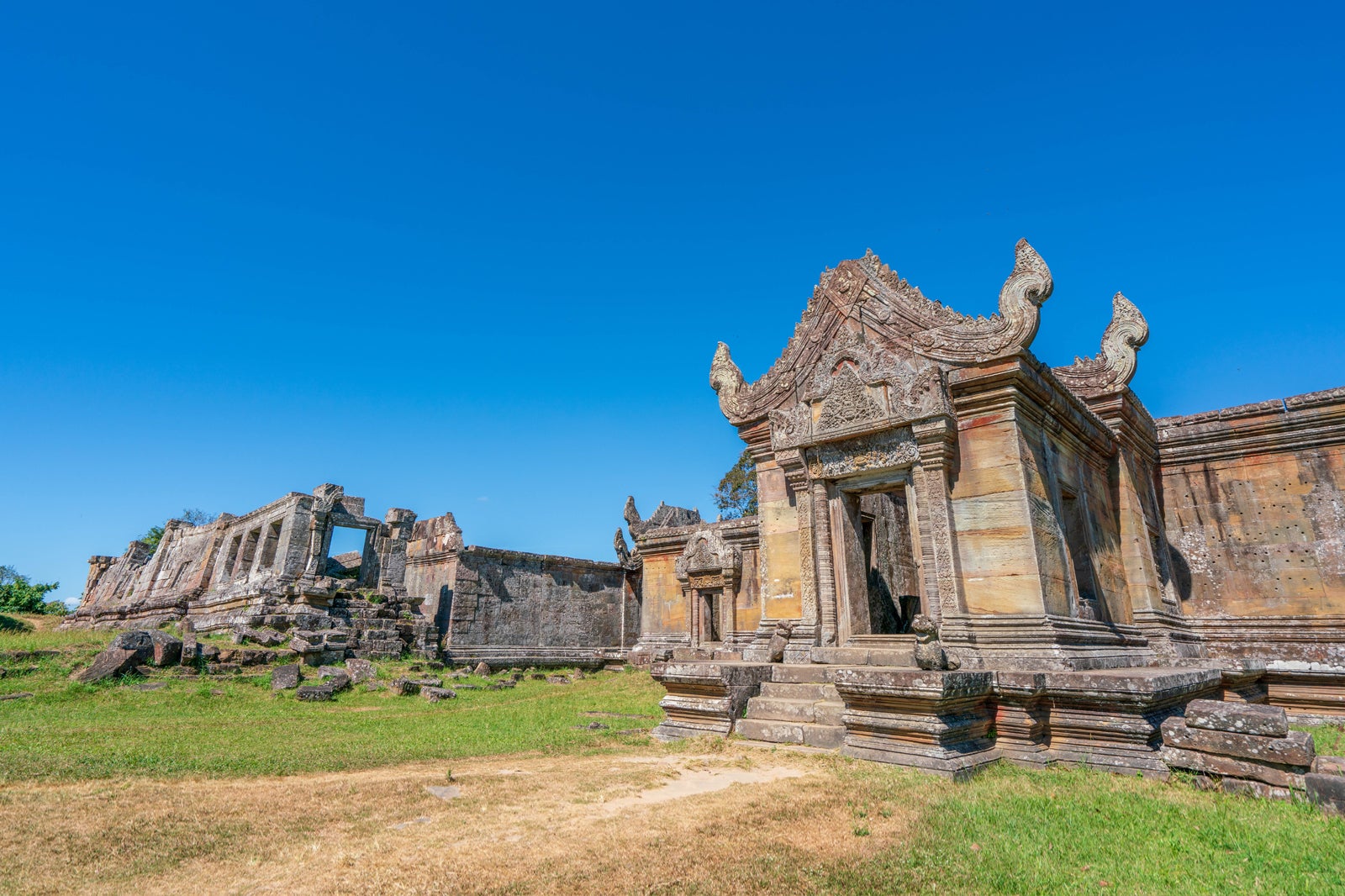 The fabulous Preah Vihear Temple is one of the more far-flung temple sites of Angkor. You'll need to travel over 100 km north-east of Angkor, to the Thai border, to reach it. Preah Vihear Temple (or Prasat Phra Viharn) dates back to the beginning of the 11th century. It dominates the plain from its prominent position in the Dangrek Mountains at an altitude of more than 700 metres and was returned to Cambodia by a ruling of the International Court of Justice in The Hague in 1963 (it was previously in Thailand).
Location: Kantuot, Cambodia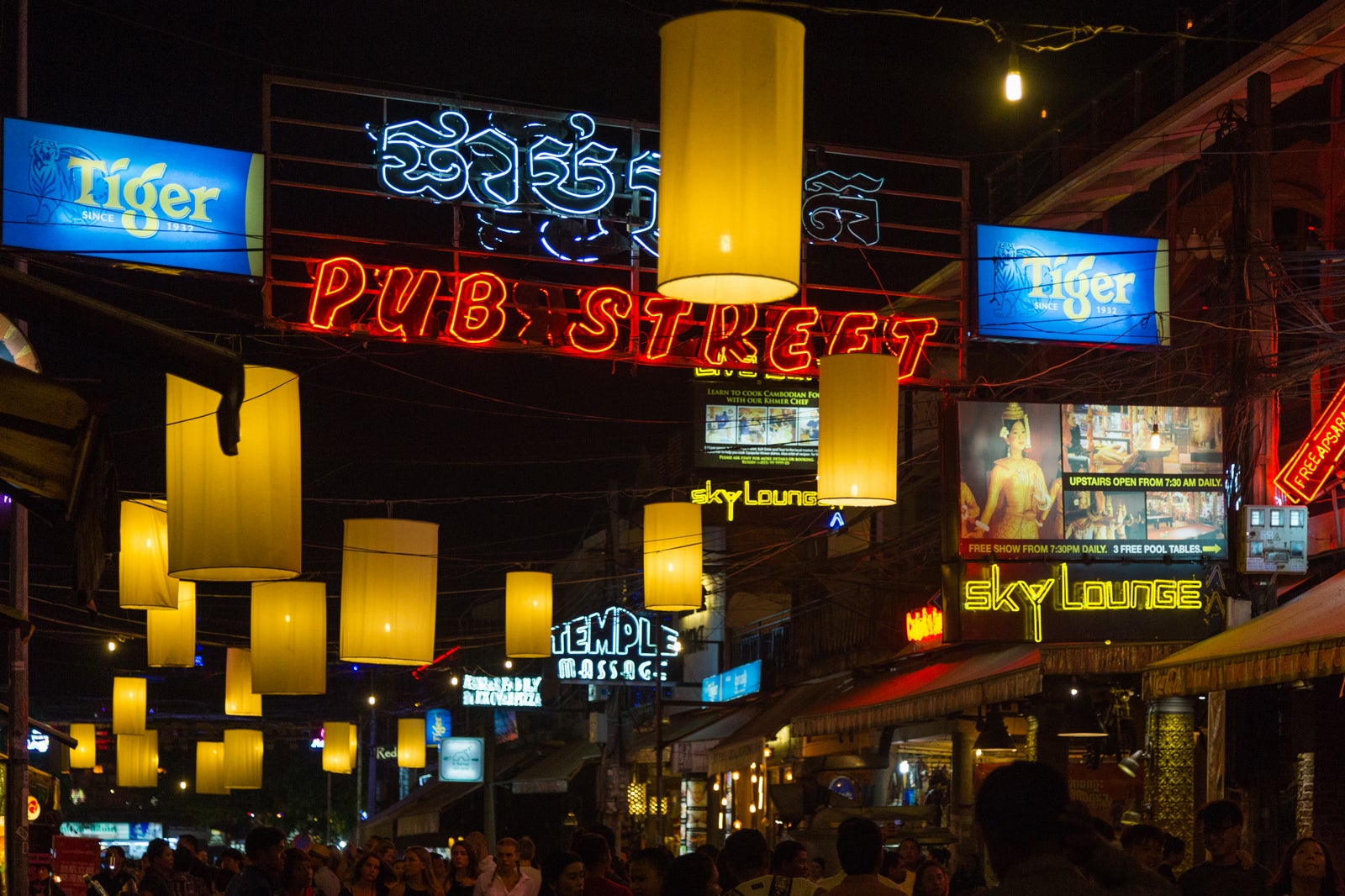 Pub Street is a brash and colourful road that's lined with iconic bars, clubs and restaurants in Siem Reap. It's such a popular attraction almost certainly for the US$0.50 draught beers that most of the bars offer. You can even find more bars along the nearby Alley West and The Lane.
On Pub Street, you'll also find quaint cafés, souvenir shops, art galleries and more, making it more than just a bustling nightlife hub. Pub Street gets busy from soon after 5pm when it's closed to vehicles and becomes a pedestrianised zone. The party only stops at about 4am the next morning.
Location: Street 08, Siem Reap, Cambodia
photo by Marcin Konsek (CC BY-SA 4.0) modified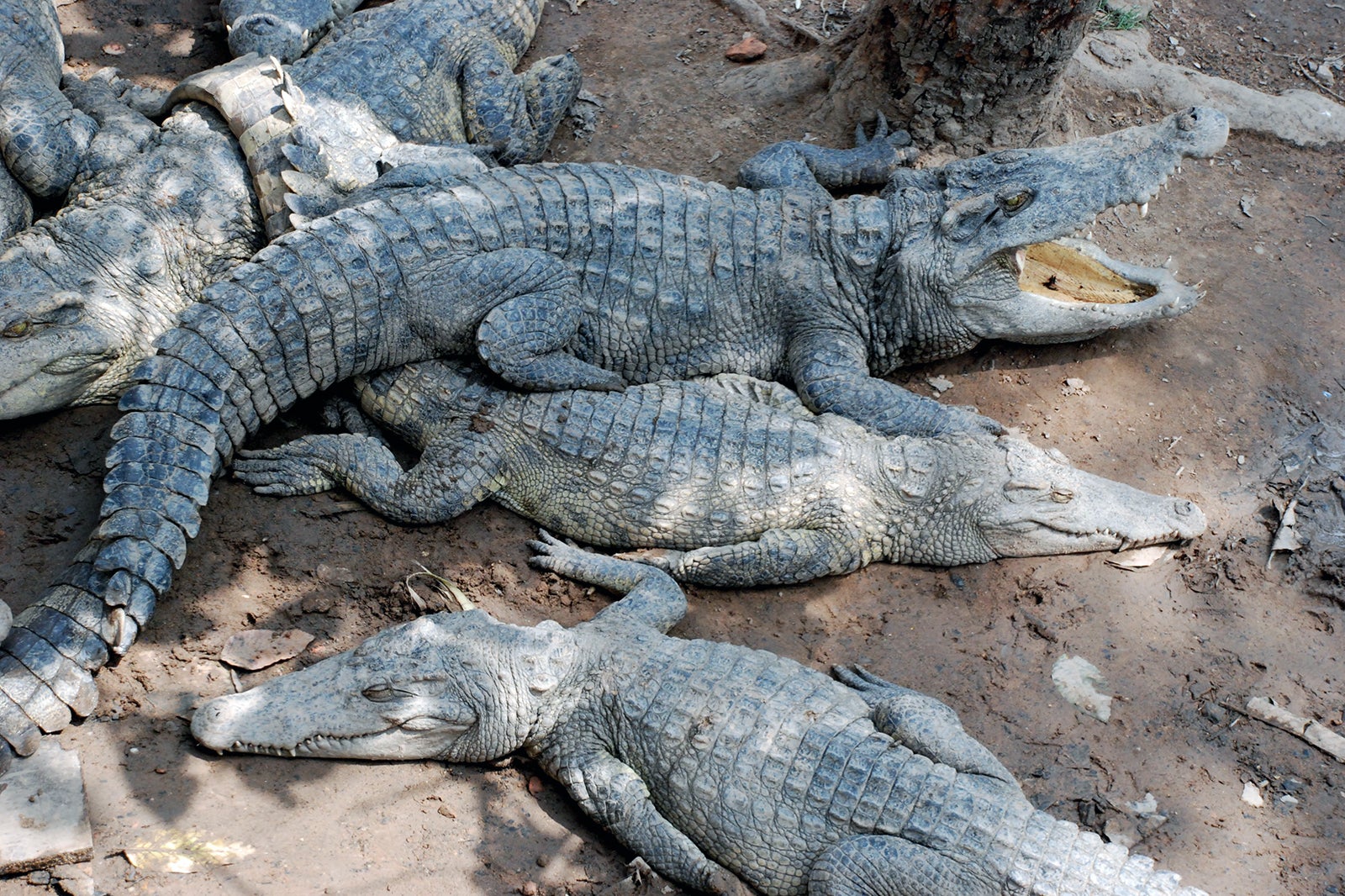 Siem Reap Crocodile Farm is a commercial crocodile farm that's open to the public. They have over 1,000 South China crocodiles, ranging in age from 1 year to 50 years old. They also have a store selling leather handbags, wallets, belts, etc. made from crocodile, stingrays, and snakeskin.
Note that this is not a zoo, and the crocodiles are raised solely for their high-grade leather (their meat is considered a delicacy, too). Entry costs about US$0.50 for Cambodians and US$3 for foreigners.
Location: Road 63 to Tonle Sap Lake, Siem Reap, Cambodia
Open: Daily from 7am to 7pm
photo by Damien @ Flickr (CC BY 2.0) modified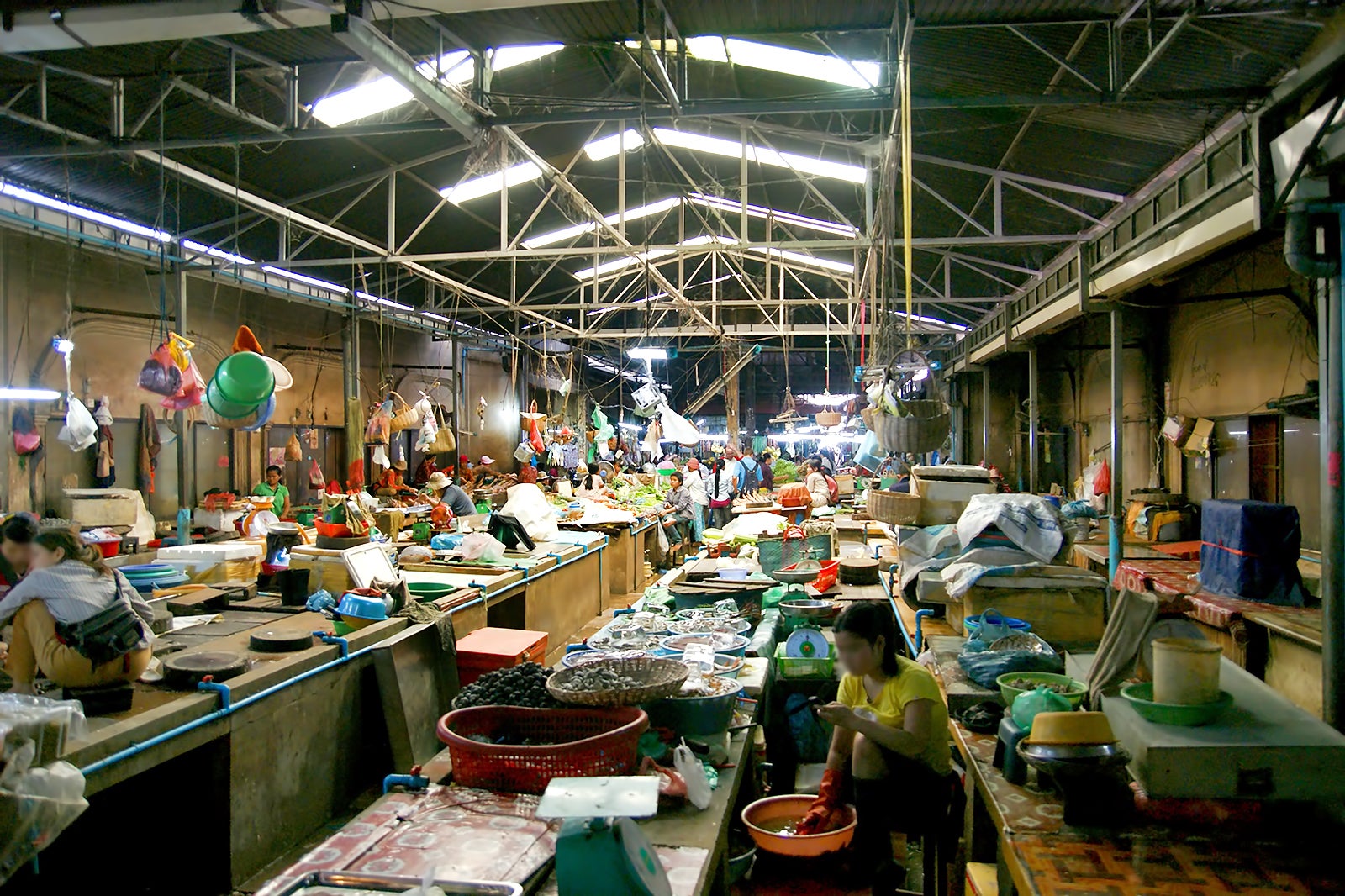 Visiting the Old Market – known locally as Psar Chas – is among the most popular things to do in Siem Reap town itself. The covered structure is centrally located, just west of the Siem Reap River, and it's as popular with locals as it is with tourists.
At its heart is a fresh market, selling a pungent combination of produce, seafood, meat and spices. Around that is an eclectic selection of souvenir stalls, with good prices for interesting curios. On the periphery of the market there are many good budget restaurants serving mostly Khmer dishes.
Location: 2 Thnou St, Siem Reap, Cambodia
Open: Daily from 7am to 8pm
photo by Allie_Caulfield (CC BY 2.0) modified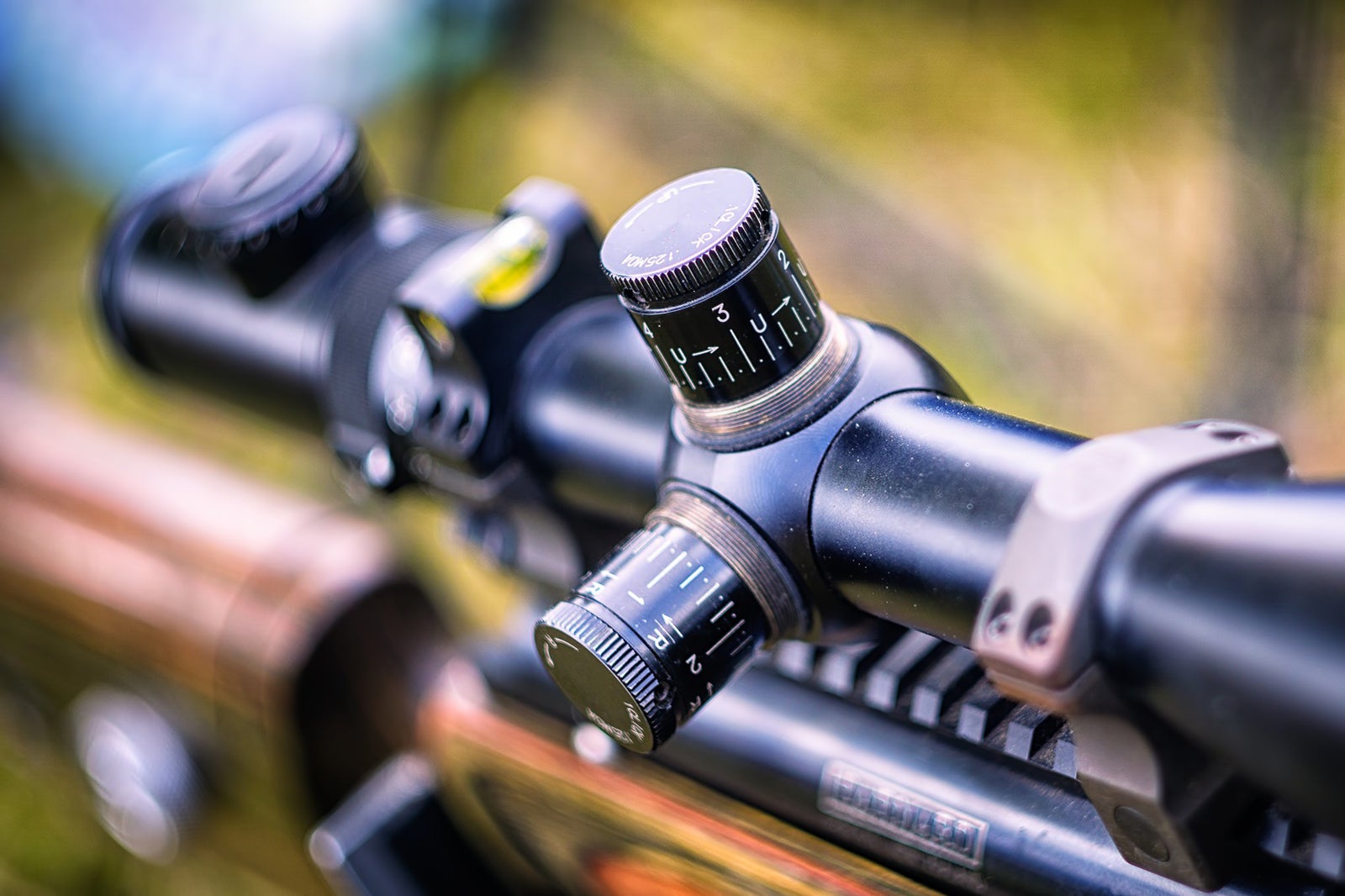 Siem Reap Shooting Range is where you can enjoy a thrilling experience of shooting real firearms during your visit to this historical town. Located outside downtown Siem Reap, this outdoor shooting range can accommodate up to 20 people at a time and features numerous paper target at distances as far as 25 metres.
Choose from a wide range of rifles, machine guns, and handguns, including AK47s, M16s, M60s and .38 revolvers. The price varies according to the weapon and number of bullets you've chosen. The most popular option is the AK47, which costs US$50 to fire a full magazine of 30 bullets.
Location: National Road 6, Brasat Bakong, Siem Reap, Cambodia
Open: Daily from 6am to 6.30pm
Phone: +855 78 777 908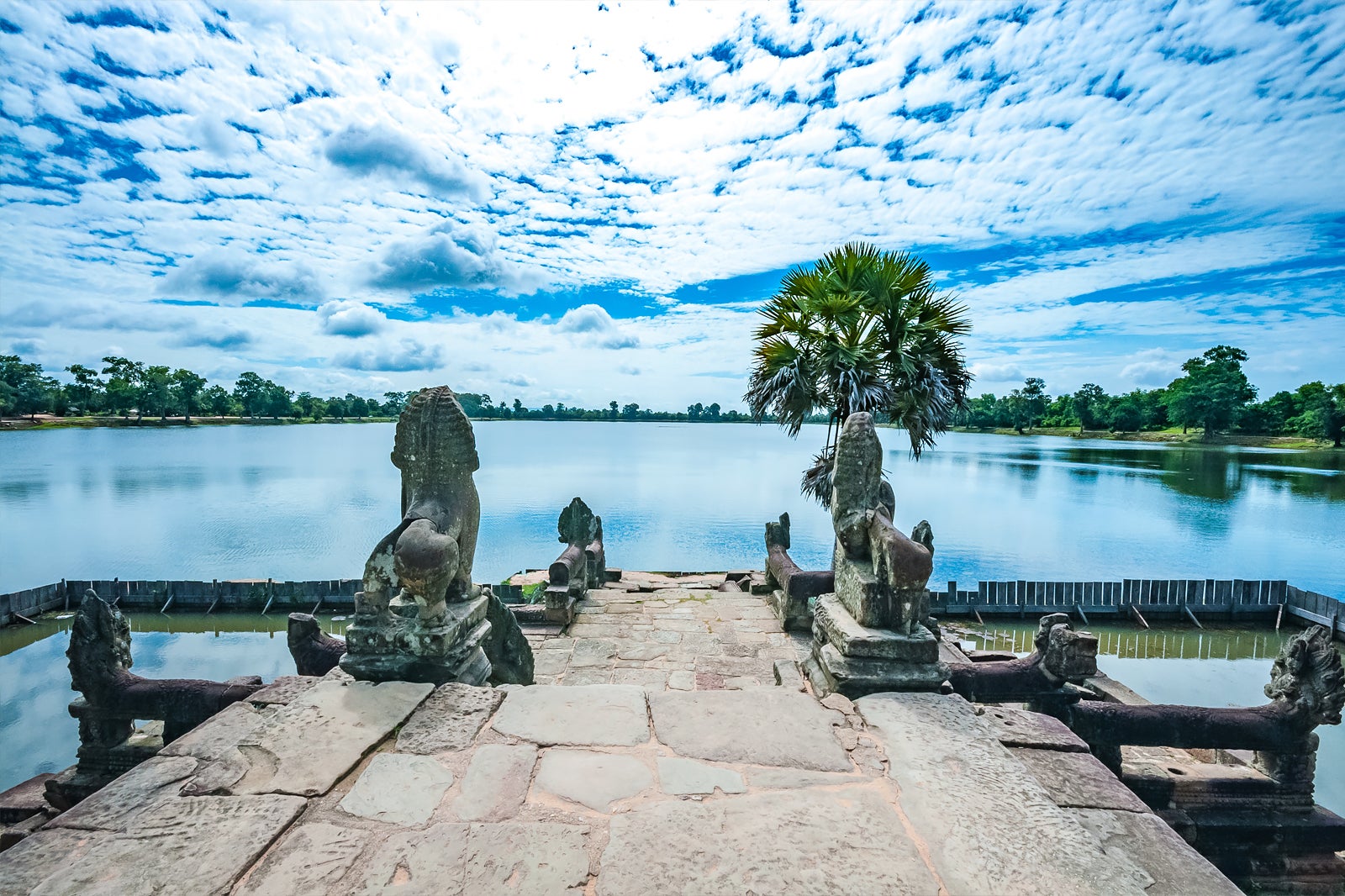 Srah Srang is a small but quite picturesque Baray (ancient reservoir) located to the east of Banteay Kdei. It was designed and constructed in the same manner as Pre Rup and was remodelled in the 12th century by King Jayavarman VII as part of his building programme. There are landings at different levels on the western part of the Baray, and they are decorated with nagas and guardian lions.
In the dry season, when the water level is low, the remnants of a mebon or temple can be seen in the middle of the reservoir just sticking out above the water. Srah Srang is used as an alternate sunrise viewing location and is much less crowded than Angkor Wat.
Location: Siem Reap, Cambodia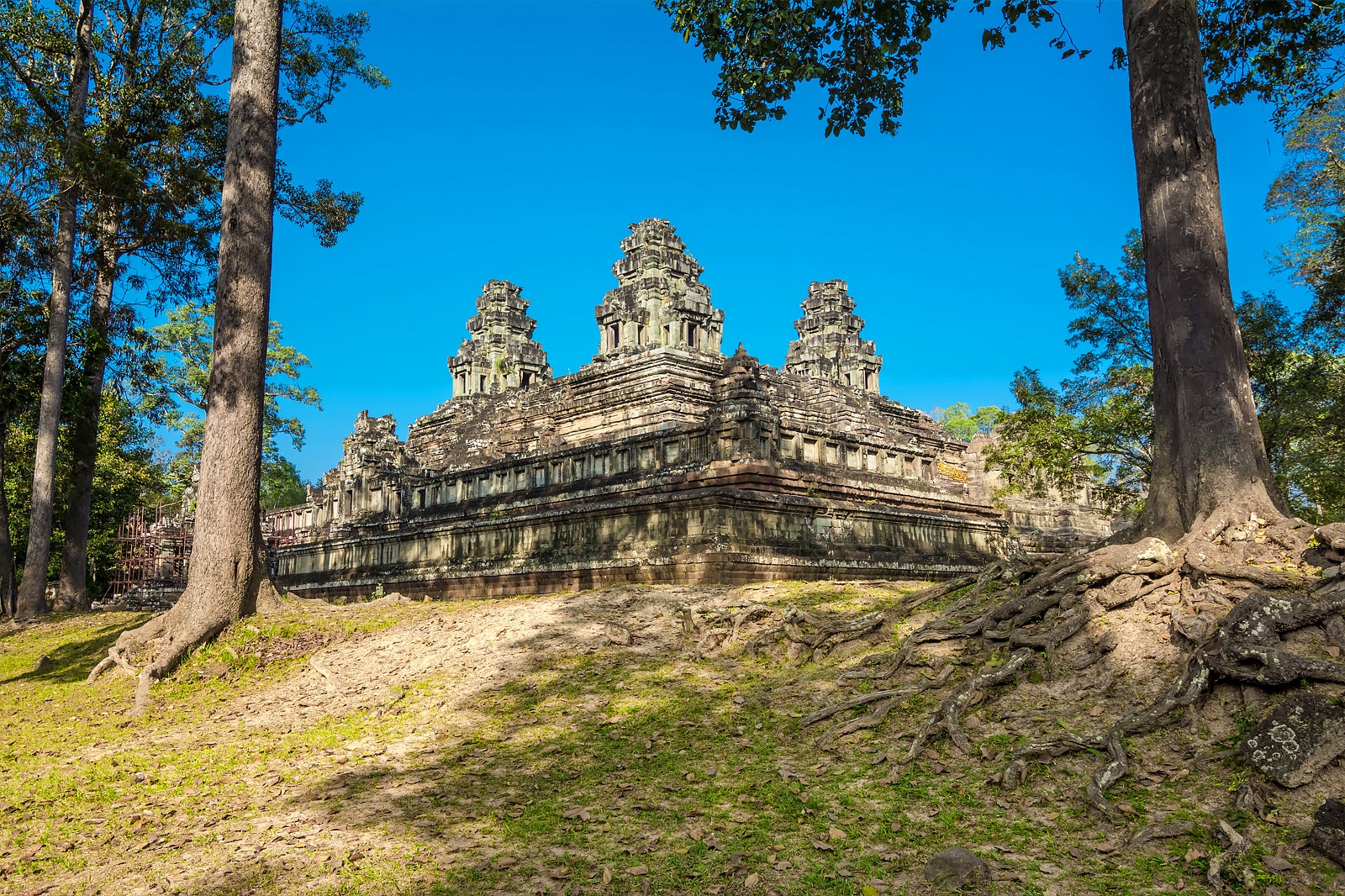 Ta Keo is a large temple-mountain style structure, constructed from huge sandstone blocks. It was built by 3 different kings: Jayavarman V, Jayaviravarman, and Suryavarman I. When Jayavarman V started the temple, it was his state temple but, unlike other state temples, it was built outside of the main capital area.
The temple is dedicated to the Hindu god Shiva, and seems to have been topped with golden towers, as it was known in ancient times as the mountain with golden peaks.
Location: Angkor Archaeological Park, Siem Reap, Cambodia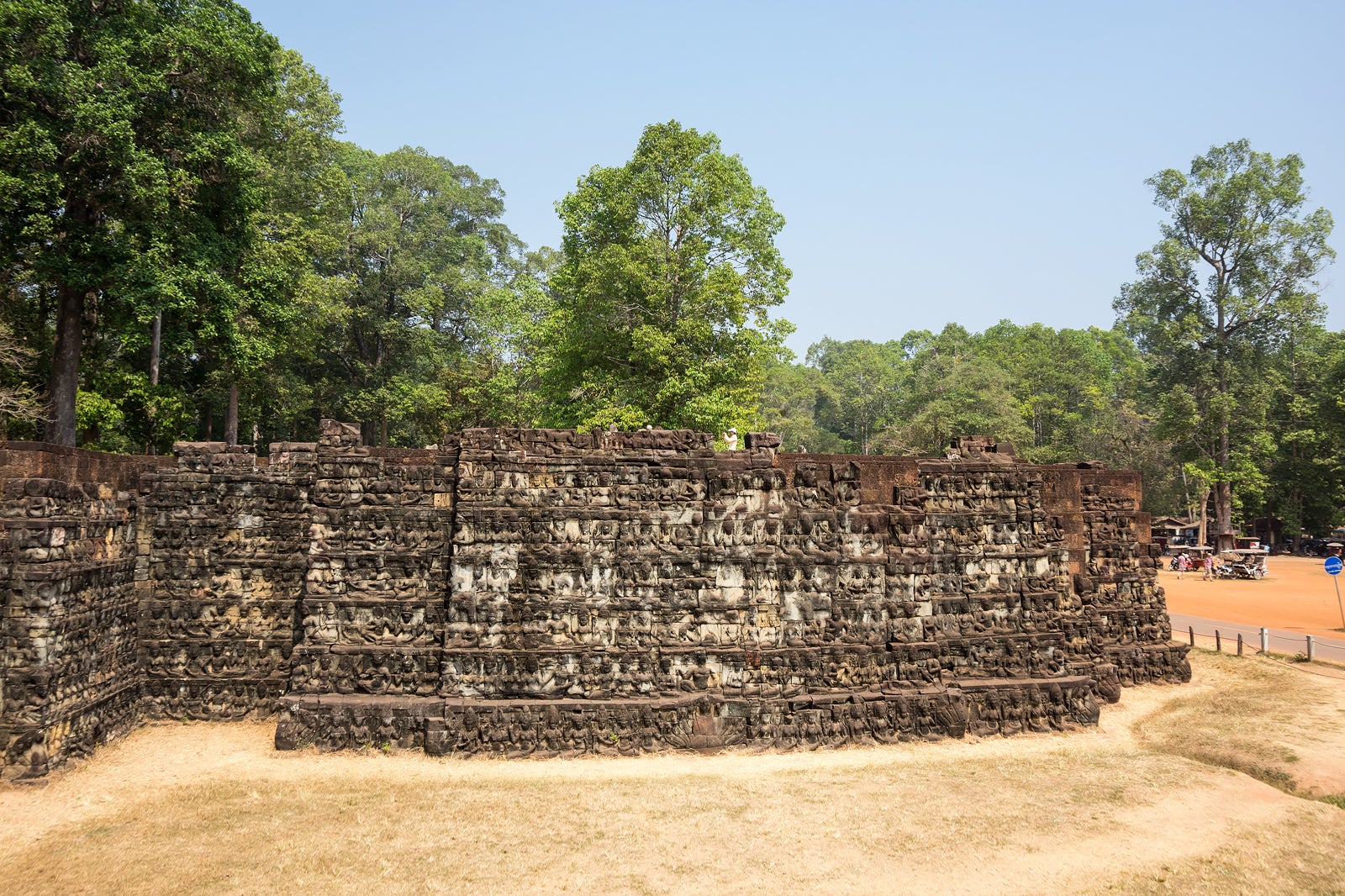 Terrace of the Leper King
The Terrace of the Leper King features carved nagas, demons and other mythical beings. You can find it at the north end of the Terrace of Elephants. The inner wall was built first and the outer wall was added later, covering the inner wall. Archaeologists excavated the inner wall in the late 1990s.
Location: Siem Reap, Cambodia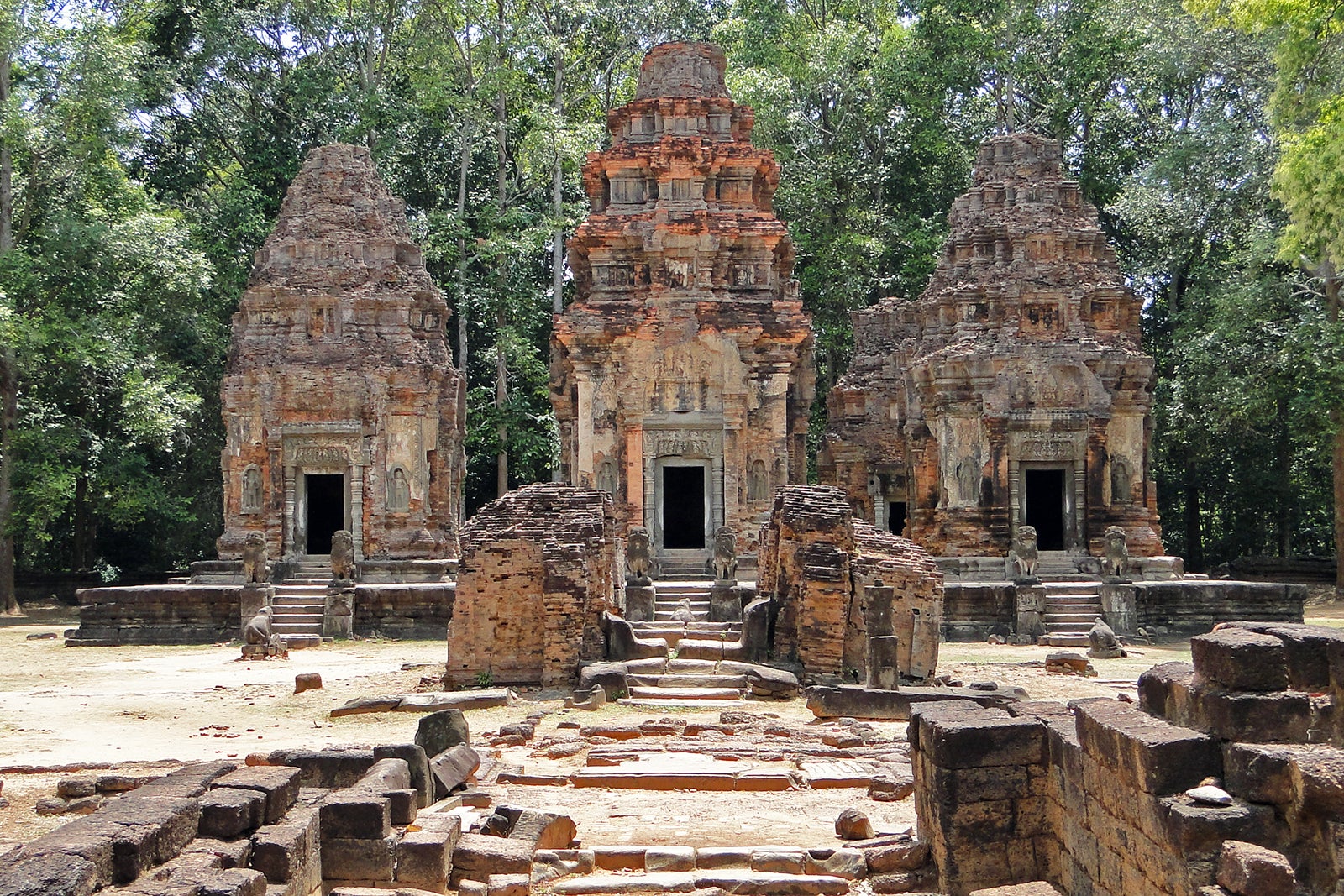 The Roluos Group of Temples is the 9th-century group of temples named for the nearby town of Roluos. The site lies east of Siem Reap, along National Highway No. 6.
This group of ancient structures are what remains of Hariharalaya, the first important capital of the Khmer Empire. It was the Khmer capital for more than 70 years, under 4 kings.
Location: Siem Reap, Cambodia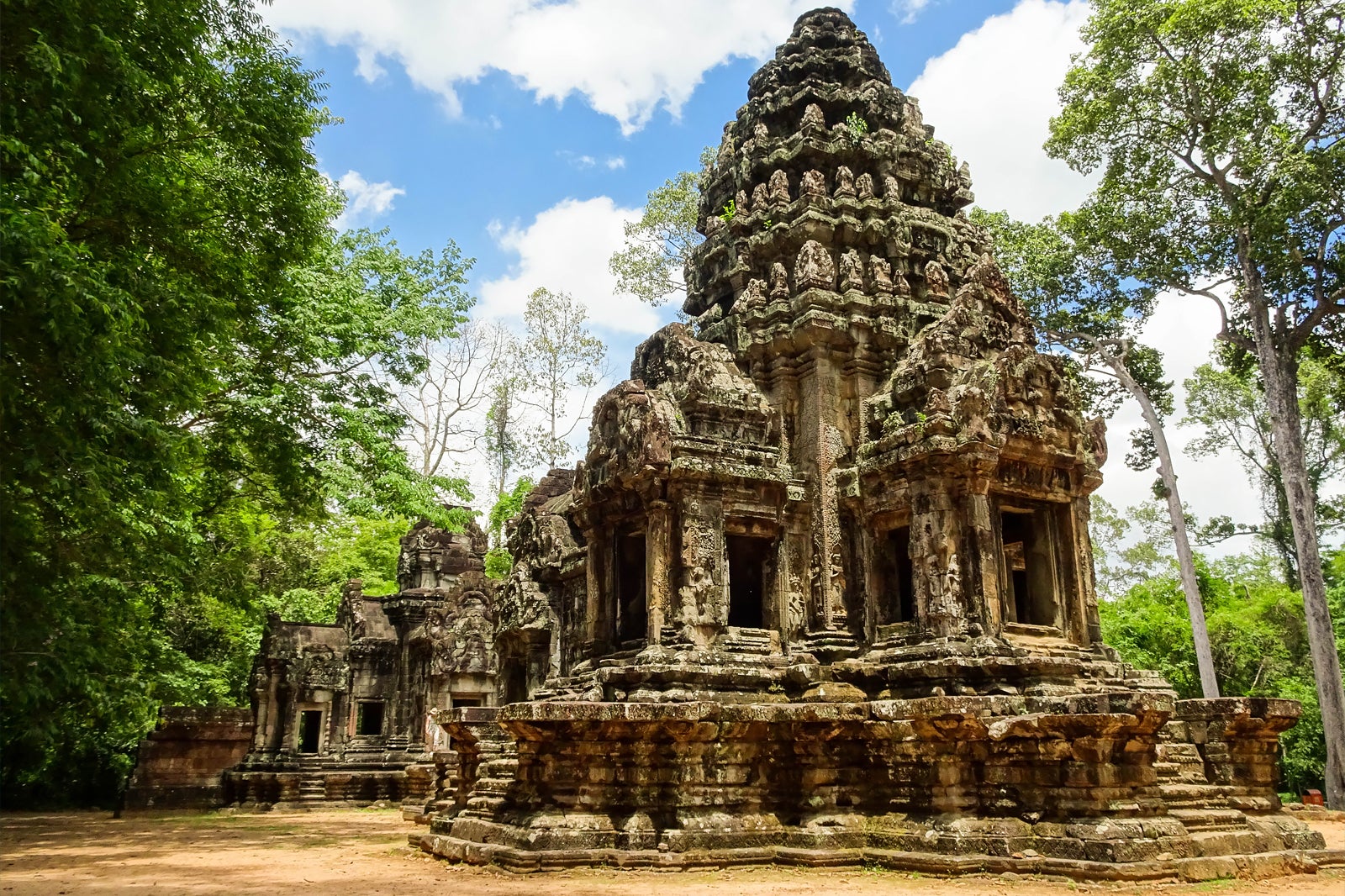 Thommanon is a small, pretty-looking temple, constructed about the same time as Angkor Wat. Due to an extensive restoration in the 1960s, it remains in relatively excellent condition today.
The Angkor Wat style of architecture is evident in the temple's towers and carvings. The many carvings of Thommanon are also in very good condition, and in the rainy season, the colour of the wet sandstone makes them really stand out, offering good photographic opportunities.
Location: Siem Reap, Cambodia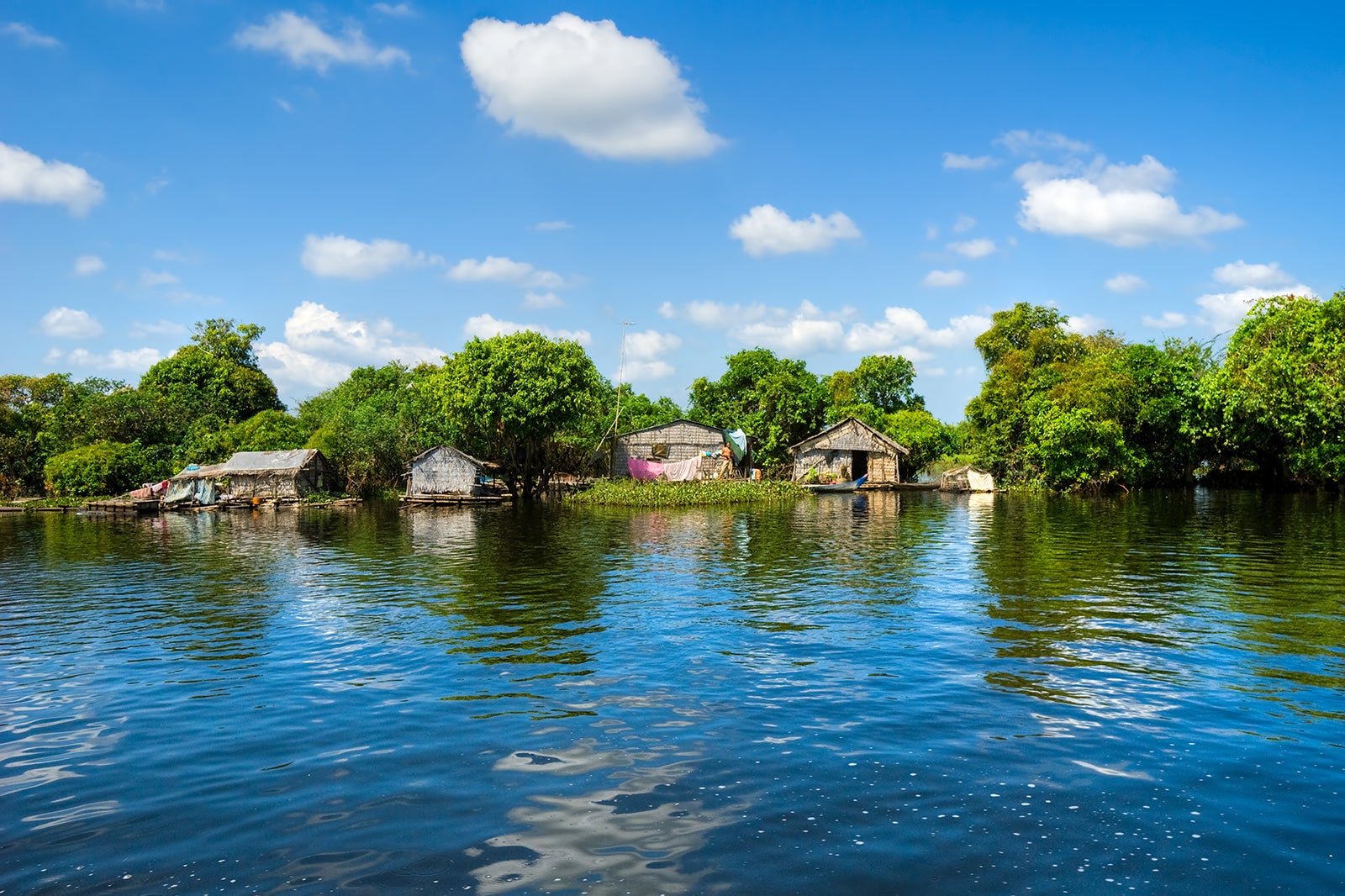 Tonlé Sap Lake is the largest freshwater lake in Southeast Asia, making it an important natural resource for the local population in terms of fishing and wetlands. There are over 300 species of freshwater fishes, snakes, crocodiles, tortoises, and otters as well as 100 varieties of water birds such as storks and pelicans.
The best time to visit is during the wet season (between June and November), when you can spot and photograph traditional floating villages around the expansive lake. Another must-visit at Tonlé Sap Lake is Prek Toal Biosphere Reserve, where you can enjoy a guided boat tour through the marshes and lake for about US$129. The lake is about 15 km south of Siem Reap.
Location: Siem Reap, Cambodia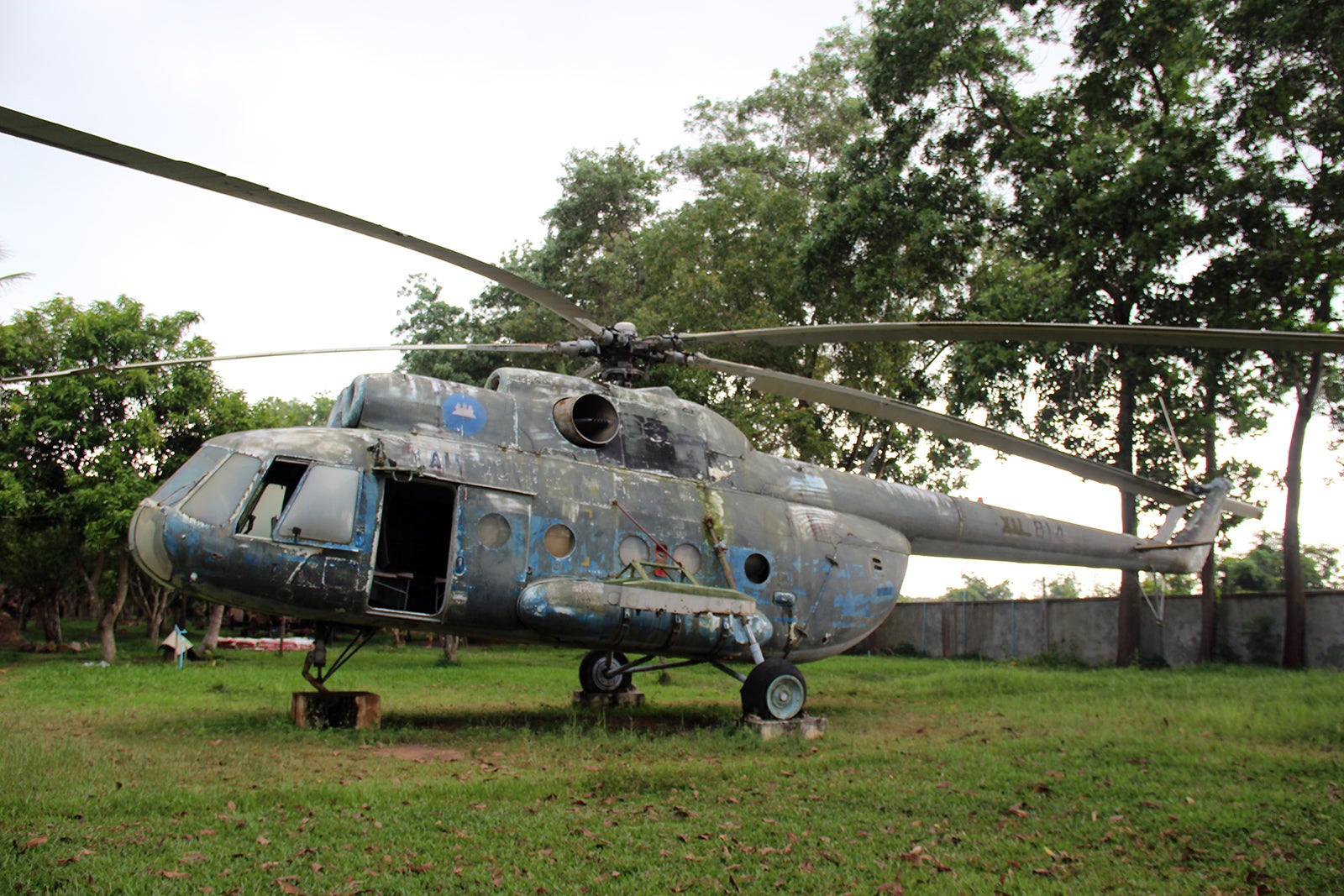 War Museum Cambodia features outdoor displays of old, rusted and broken-down military hardware taken from the battlefield. Equipment on display includes old tanks, artillery pieces, rocket launchers, anti-aircraft guns, small arms, mines and bombs.
There's also an old Shenyang J-6 jet fighter, an XU-814 Mil Mi-8T helicopter, and other military hardware in various conditions. The entrance fee is about US$5 per person, which includes a free guide who can help you learn about the history, explaining about the different mines and weapons, tell personal war stories, and let you hold some of the small arms like M16s, AK47s and rocket-propelled grenades.
Location: Siem Reap, Cambodia
Open: Daily from 8am to 5.30pm
Phone: +855 97 457 8666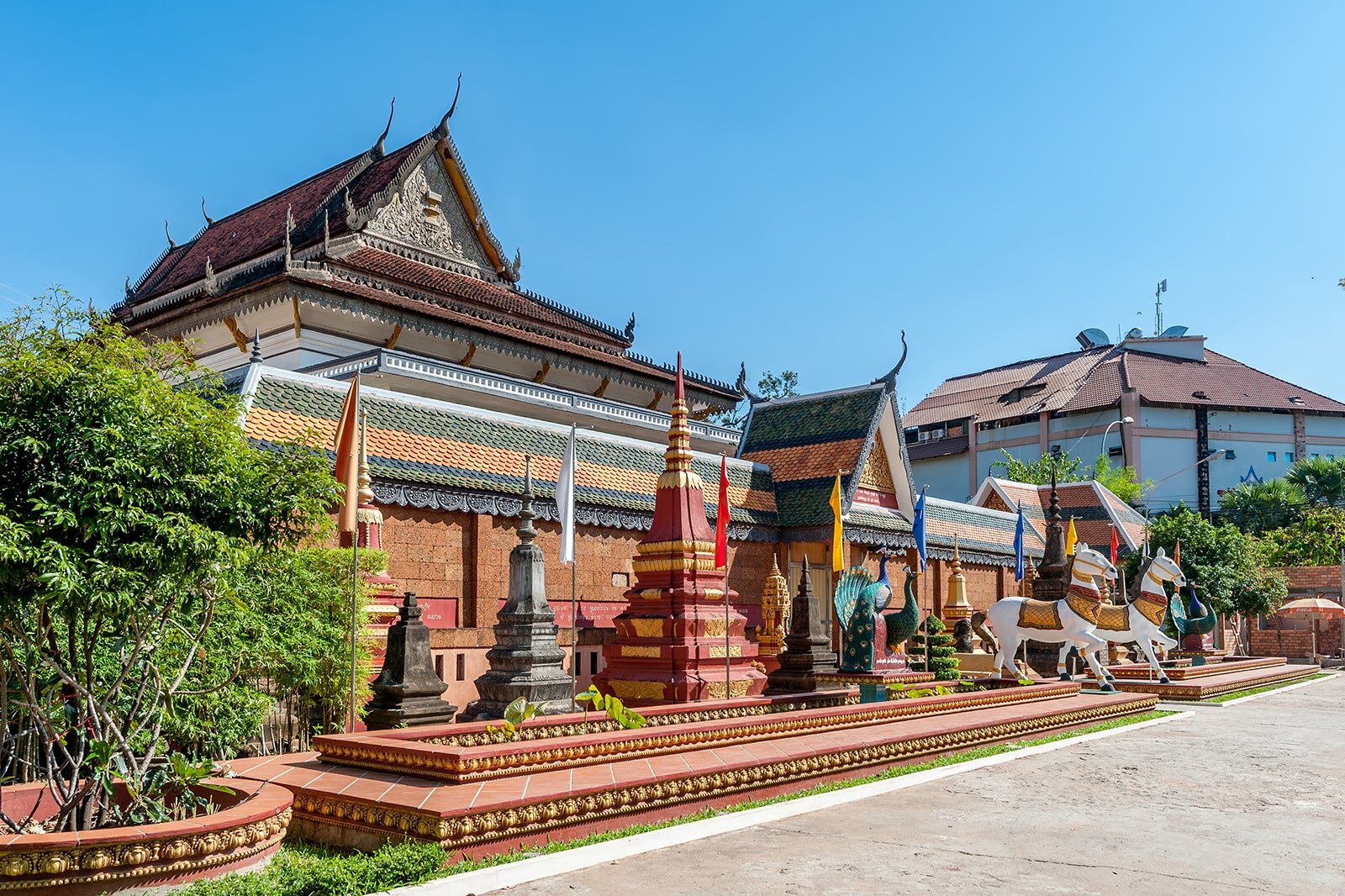 Wat Damnak Pagoda, set along Wat Bo Road, was originally a royal palace during the reign of King Sisowath. Today, it houses a school, 2 charities, and a sewing academy for young local women within its grounds.
The establishment is most popular for housing the Centre for Khmer Studies, an extensive library filled with over 11,000 books, journals, encyclopaedias, directories, maps, guidebooks and daily national newspapers in English, French and Khmer languages. Offering a tranquil retreat from the bustling town centre, you can enjoy some reading or stroll along the verdant garden courtyard here.
Location: Wat Bo Road, Siem Reap, Cambodia
Open: Daily from 8am to 5.30pm
Couples
Families
History
Photo
Budget