10 Best Beaches in England
England's Beaches Are Surprisingly Beautiful (In the Right Weather)
England is blessed with thousands of miles of coastline and hundreds of beaches. The best beaches in England are comprised of a diverse collection of sandy coves in every region of the country and covering any niche: seclusion, family-friendly fun, regular surf swells, or simply a stretch of soft golden sand to relax on.
England's best beaches are scattered across the country and, in the peak of summer, can go head to head with any of Europe's sunnier climates. For peace of mind, all of the beaches on this list have been granted the Blue Flag award for their cleanliness and environmental management.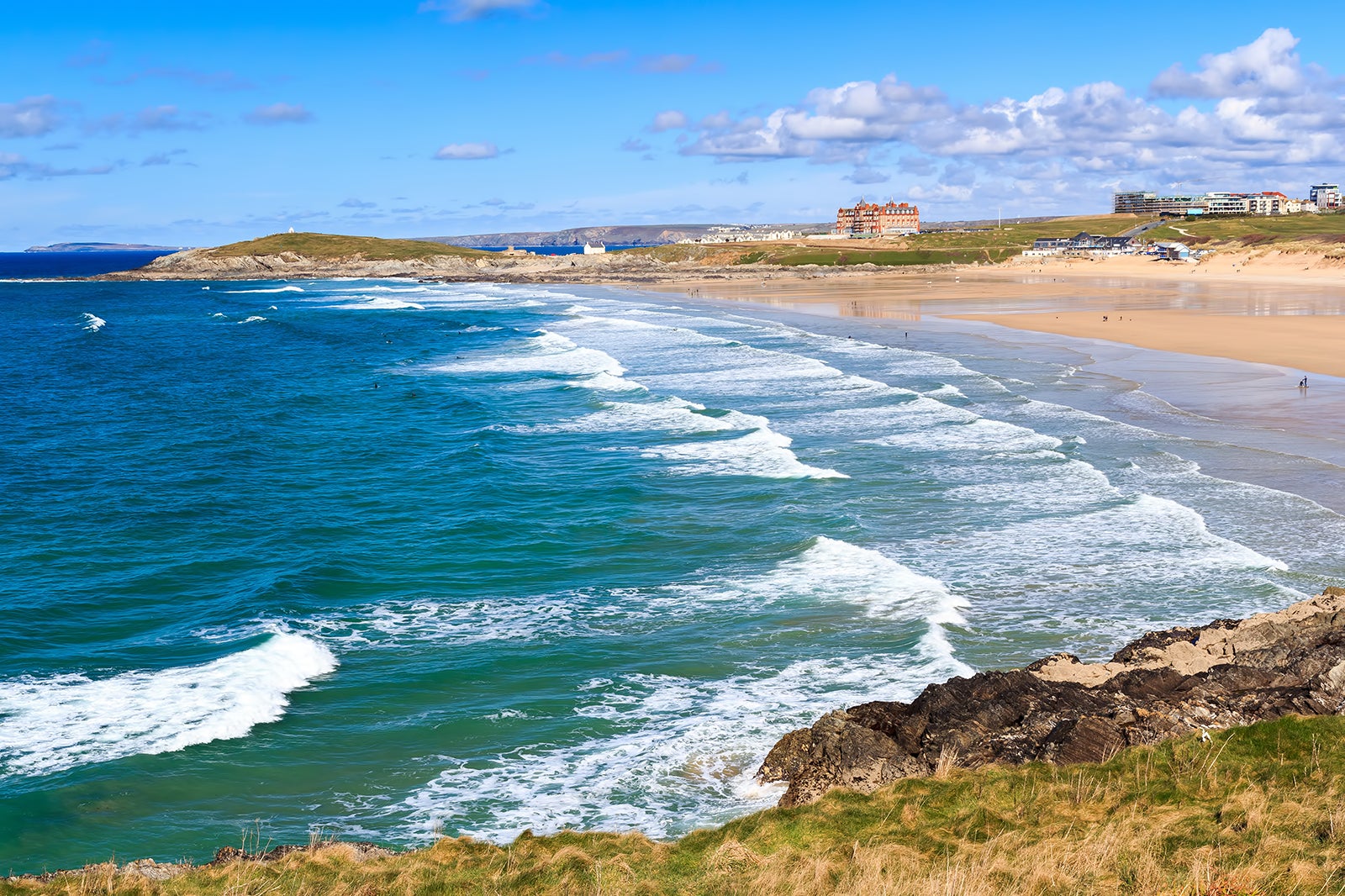 Known as the best beach in England for surfing, Fistral Beach feels secluded and peaceful, yet it's only a few miles from popular seaside town, Newquay. This beach is blessed with soft sand and rugged hills. The swells are surprisingly strong at times – which attracts plenty of weekend surfers – but there's a lifeguard tower for peace of mind.
A collection of restaurants and bars at the far end of Fistral Beach makes for a fun place for a meal and a few beers. The Headland Hotel and Spa has an especially good view, looking down on the beach.
Couples
Photo
Budget
Adventure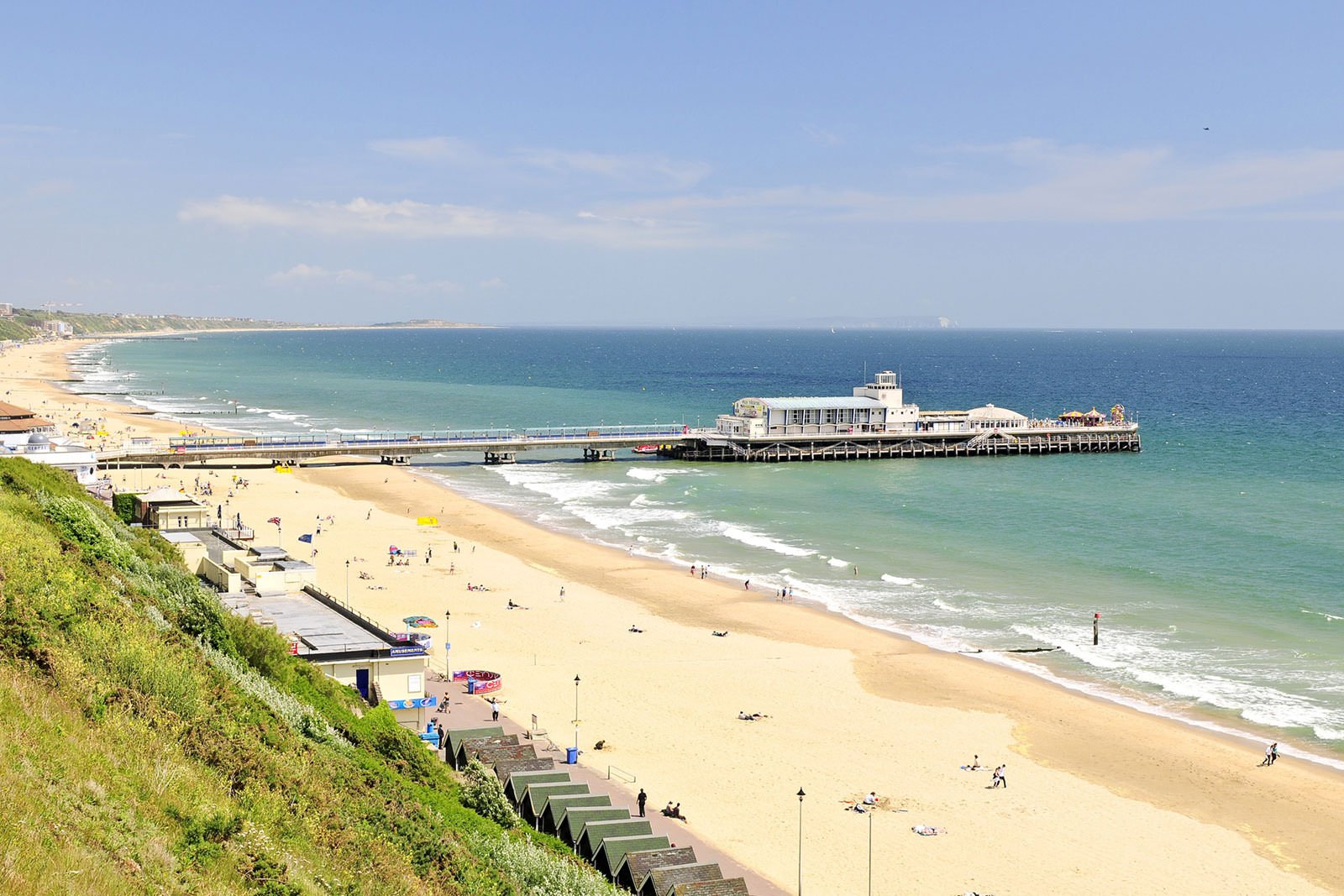 Bournemouth has one of the finest beaches in England, with wide and soft golden sands stretching for 7 award-winning miles. The English Channel isn't known for its warmth, but Bournemouth is fortunate enough to have a microclimate creating some of the warmest waters around the UK.
There are plenty of beach activities to try, including kayaking and paddle boarding, and Bournemouth Pier hosts innovative amusements like a zip line and a climbing wall. The result is a fun and attractive beach resort with a lively pulse.
Couples
Families
Photo
Budget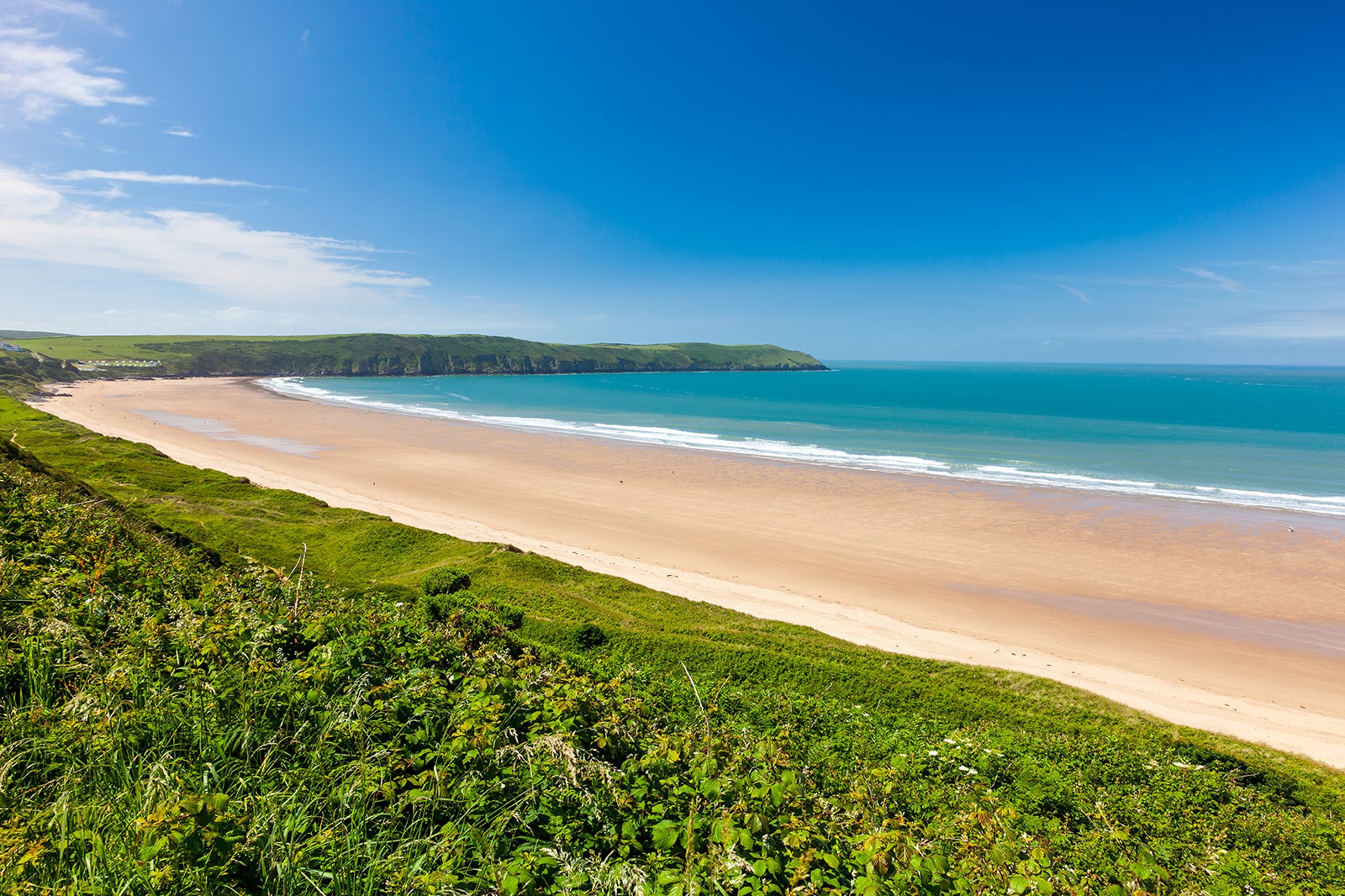 Woolacombe Beach is incredibly wide, giving you an endless view of sand and sky at low tide. It's popular with families, surfers, and there's a separate section of the beach for dog walkers. In summer, it's a lively beach, and there are plenty of facilities, including changing rooms, lifeguards, restaurants, ice cream vans, and even bouncy castles.
The town is built on the lush hillside that surrounds the beach, giving it a quaint vibe. A walk along the coast to the next headland reveals more rugged coves, like Combesgate Beach and Grunta Beach, which are fun to explore.
Couples
Families
Photo
Budget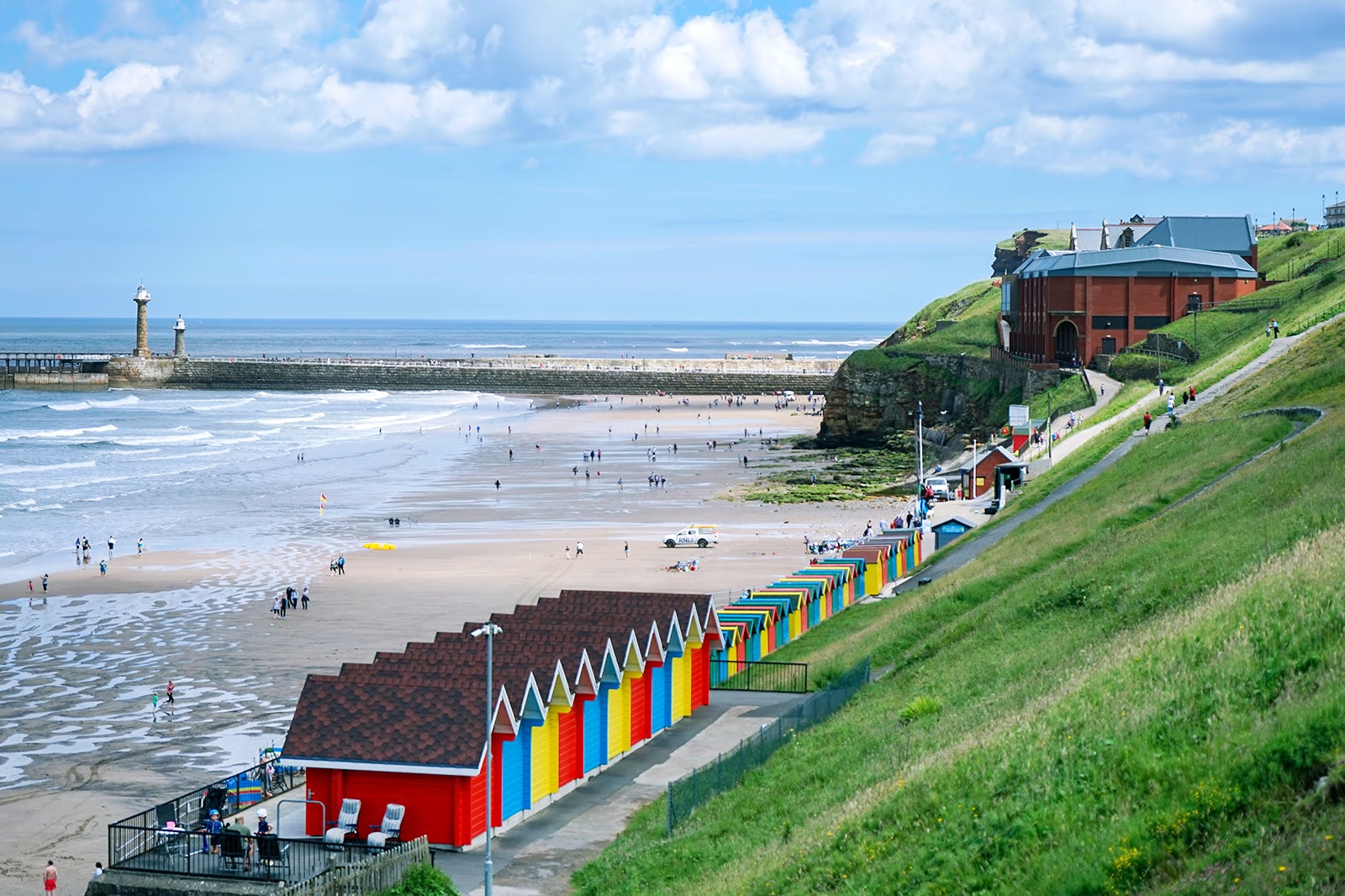 Whitby is an interesting seaside town with quayside arcades, beautiful scenery, and some of the finest fish and chips in the country. It may be quite a small place, clinging to the coast on the edge of the North Yorkshire Moors, but the village is full of character.
You can visit throughout the year, but the North Sea can be mighty chilly in anything but peak summer. The village of Sandsend, right at the end of Whitby Beach, is one of the more popular places to sit in the sun. You'll find the usual traditional British beach experiences in and around Whitby during the summer months, like donkey rides, ice cream vans, and colourful beach huts. It's also a good beach for surfing, kite flying and fossil hunting.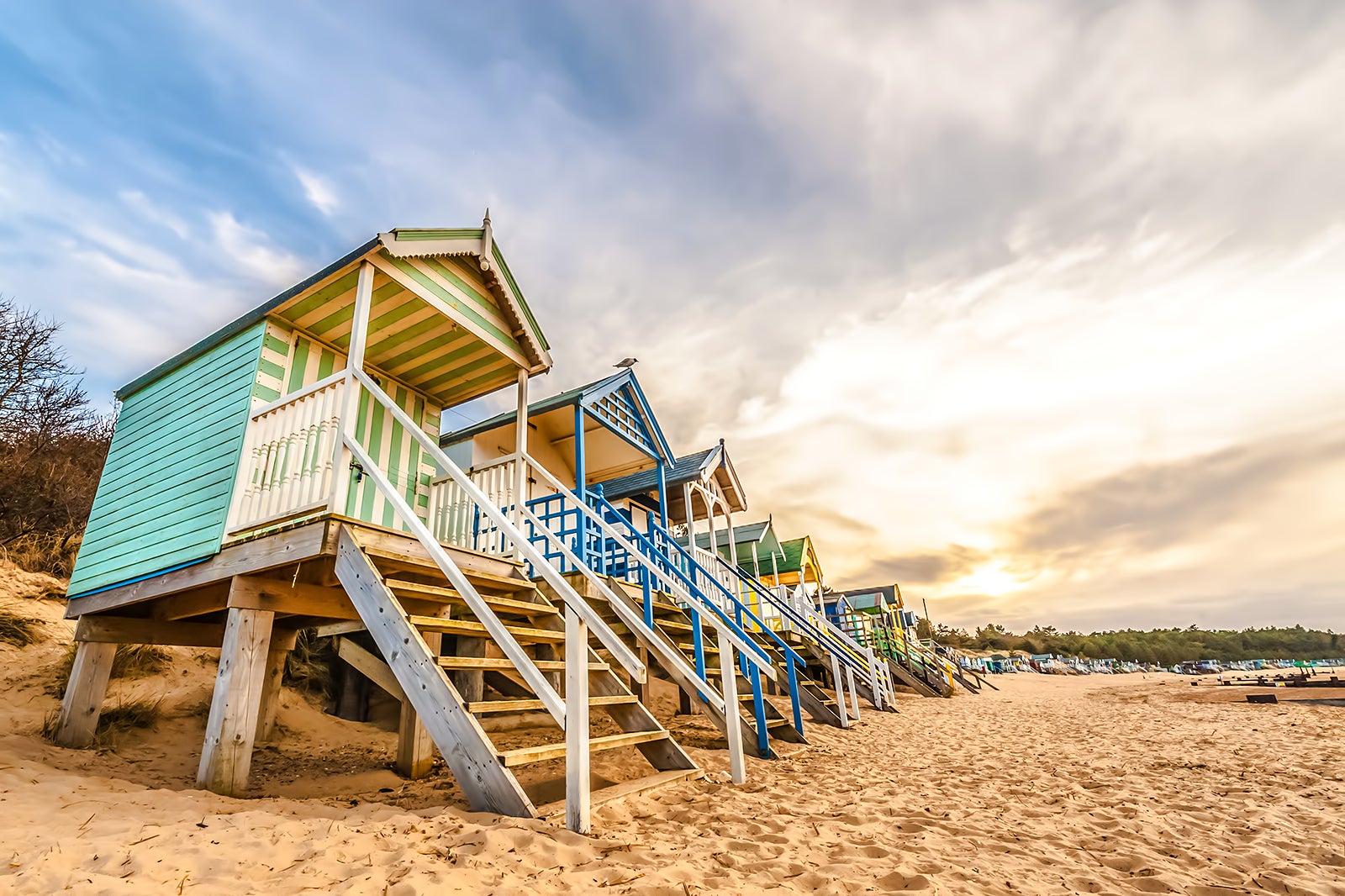 Wells-next-the-Sea Beach
Norfolk
This spacious crescent beach in Norfolk is backed by tall pine trees and a row of beach huts. It's incredibly pretty on a summer's day and has a bird sanctuary behind it that you can hear the chirps and squawks of birds all day. The North Sea is known to be a bit chilly, but its fine for a brisk paddle.
The town still has a working fishing harbour, with plenty of restaurants serving the local fish and crabs brought in by the community. The actual town of Well-next-the-Sea has many period buildings if you fancy a few hours away from the sand. This is a great beach for couples looking for a relaxing break with a bit of history and culture thrown in.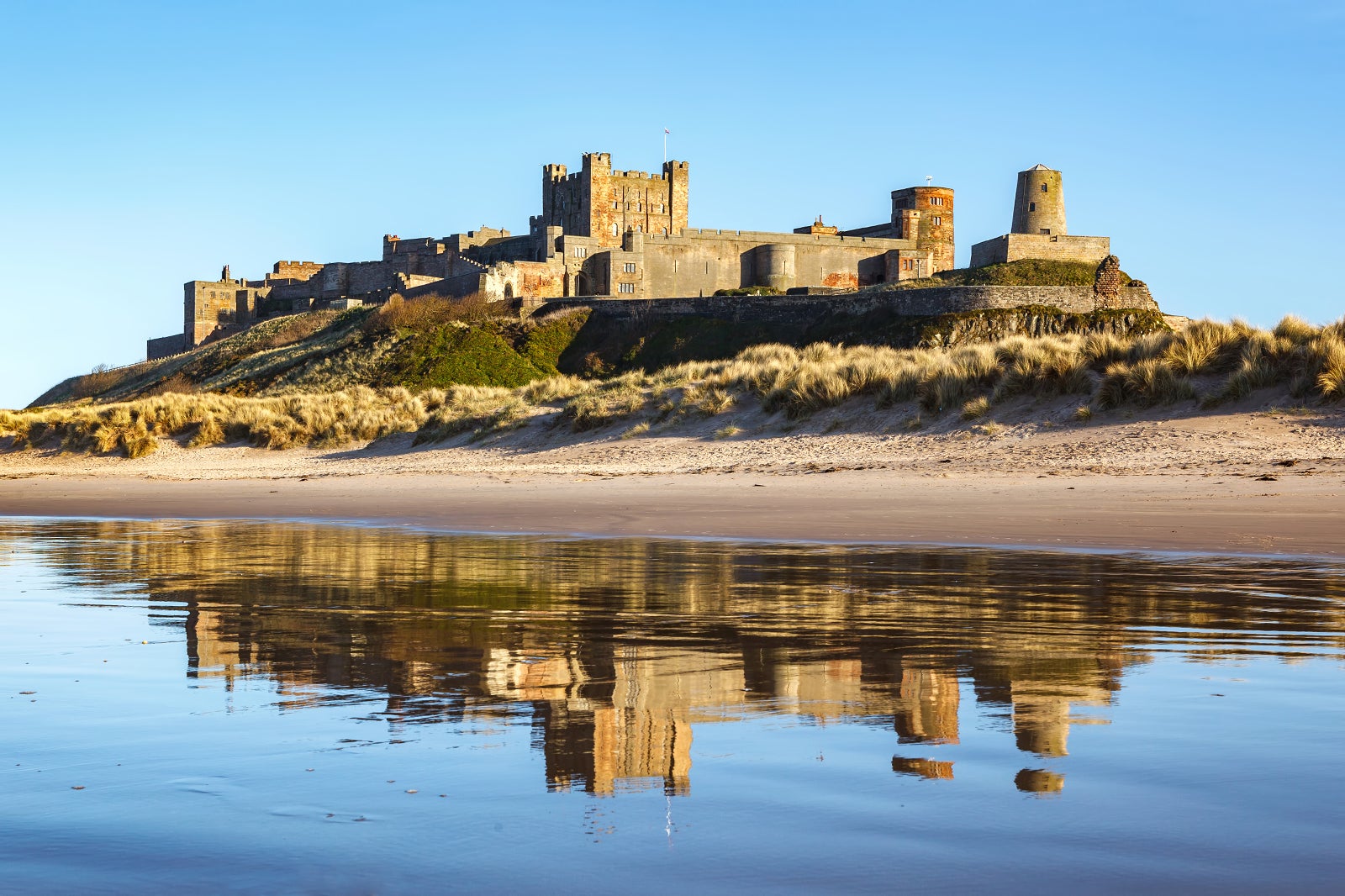 Bamburgh Castle Beach
Northumberland
Overlooked by an imposing Norman-era castle, Bamburgh Beach is a rugged and iconic stretch of coast in northern England. Ideal for long, seaside walks, this is a place to escape the modern world. Located 20 miles south of the Scottish border, the North Sea here is often chilly, but you can still have a quick paddle in the summer months. The wind really whips in off the coast, making it a popular spot for surfing.
As well as lounging on the beach, a tour around Bamburgh Castle is fun for all ages, with thrilling tales of Viking invasion and Scottish rebellions.
Couples
Families
Budget
Adventure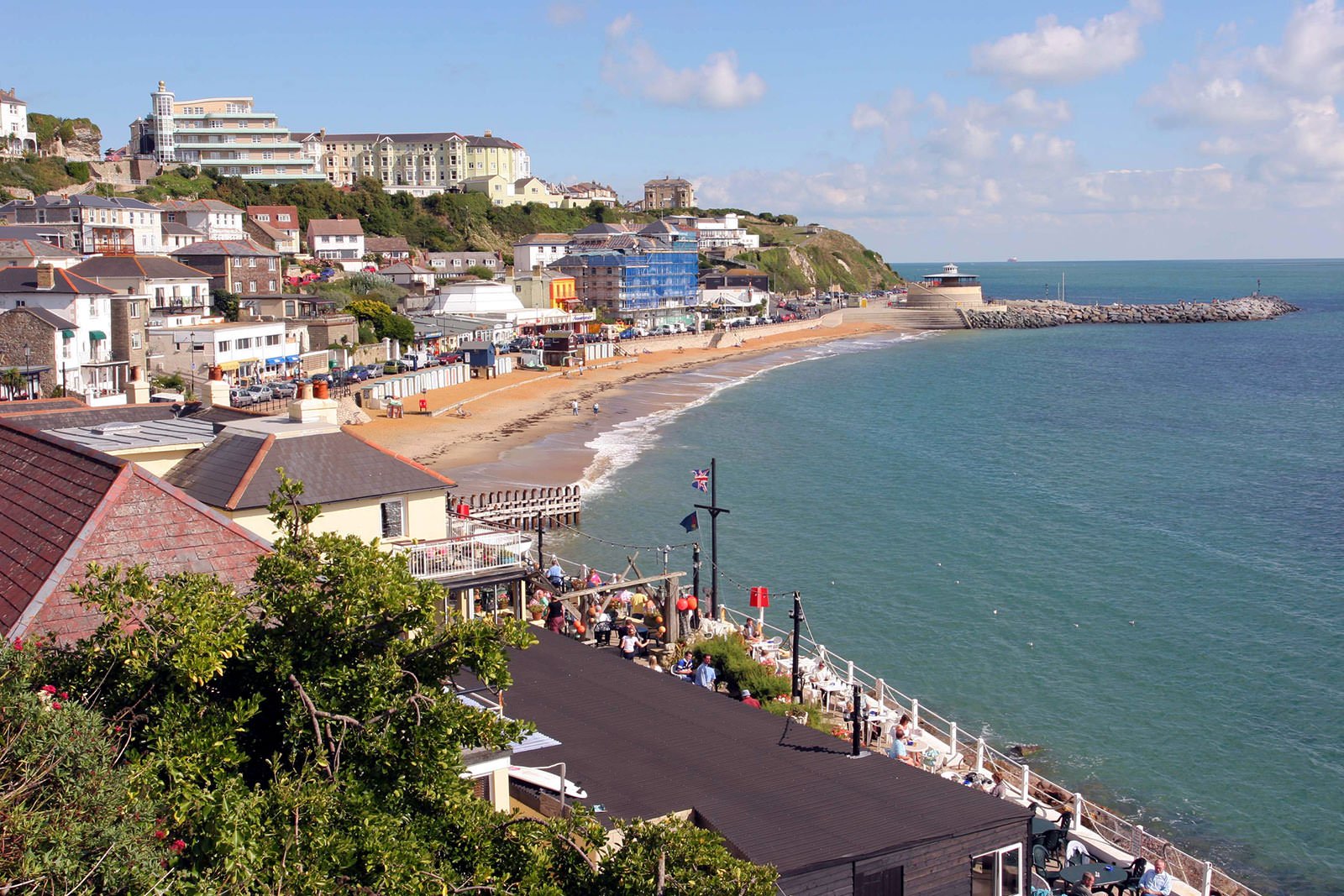 Ventnor Beach
Isle of Wight
With 17 Blue Flag beaches and over 50 miles of coastline, the Isle of Wight is not short of great beaches. This southern island just off the coast of Portsmouth is a great destination for a beach holiday, and at only 23 miles wide, you can easily jump from one sandy bay to the next.
As we're forced to choose one beach, we have chosen Ventnor Beach because of its combination of soft sand, rolling waves, and family attractions. You'll find plenty of shops and amusements with a touch of nostalgia for how things used to be. The Victorian-era town along the beach has plenty of hotels and B&Bs with sea views.
Couples
Families
Photo
Budget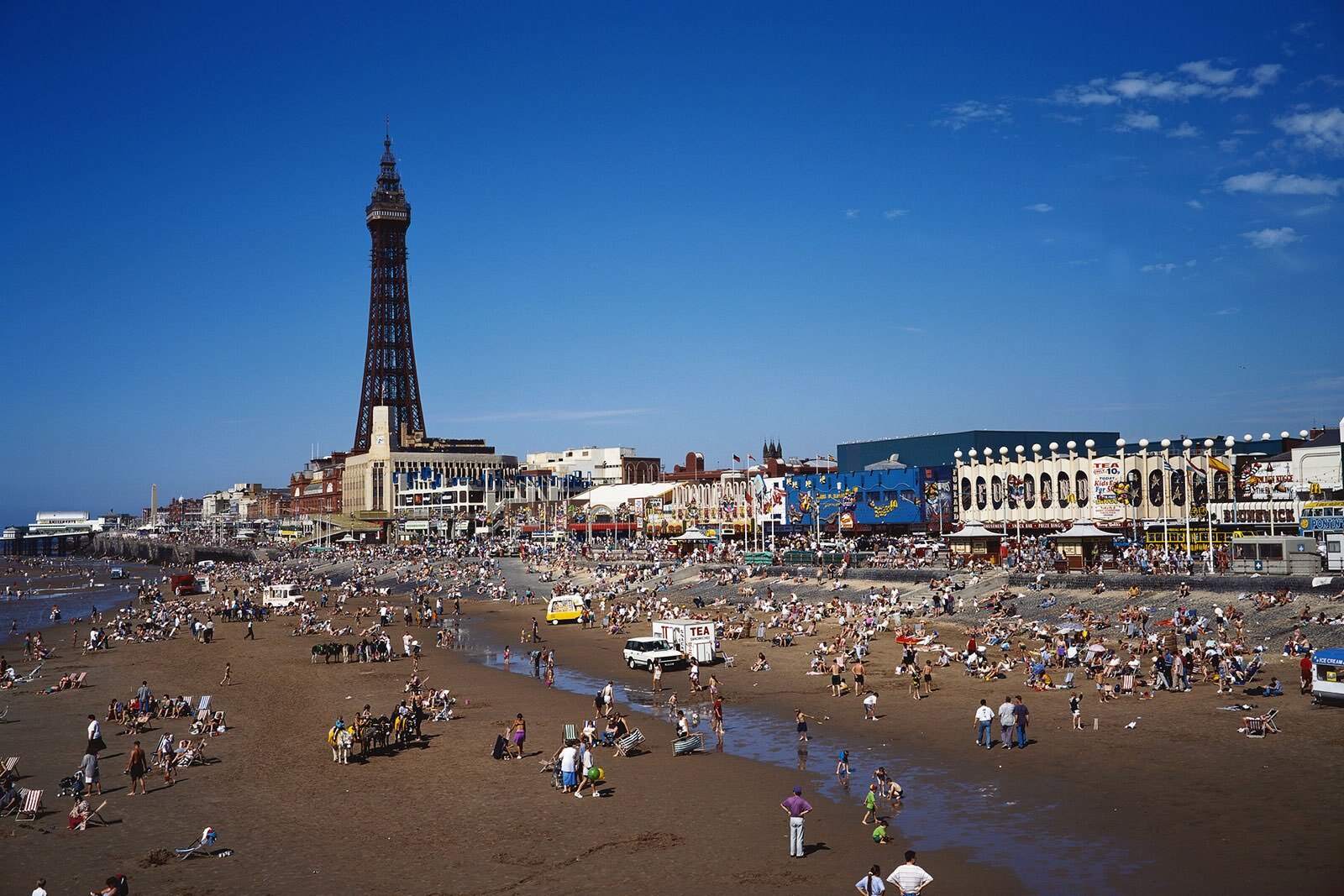 Blackpool Beach
Lancashire
Blackpool's mostly shingle beach isn't the prettiest in England, but it certainly ranks high as a fun trip to the seaside with lots of attractions. Blackpool Pier is one of the best in the country, with Blackpool Tower and Pleasure Beach amusement park ensuring there never need be a dull moment.
The donkey rides, flashing arcade games, and cabaret shows haven't really changed in a generation, and there's something charming about that. Once the sun sets, Blackpool becomes a beacon for bachelor parties, who party late into the night.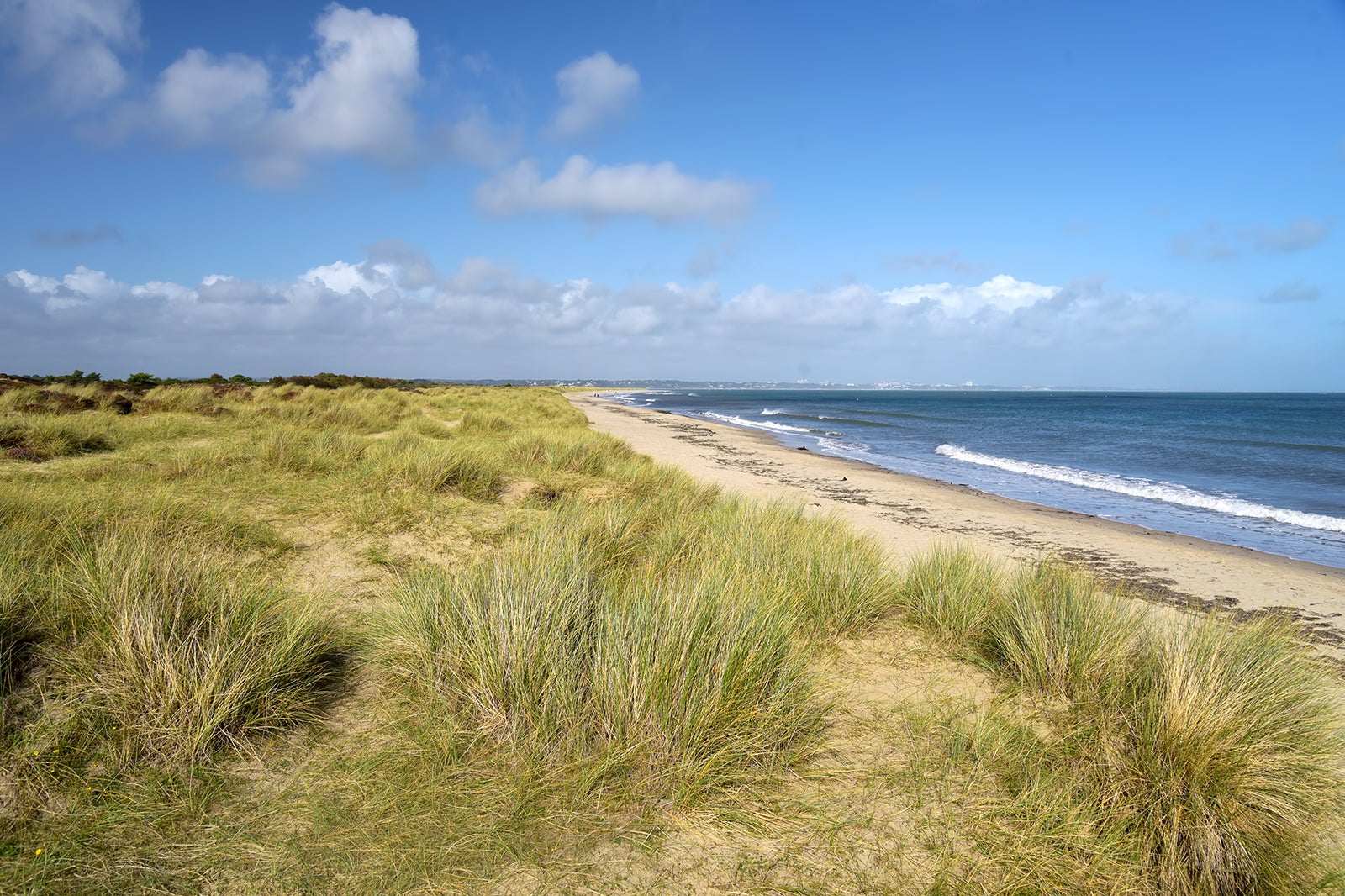 If you're looking to get back to basics, Studland Bay in Dorset is worth the long journey across the Hartland Moors. Protected by the National Trust, this sheltered crescent of sand is one of the prettiest in England.
The beach runs for 4 miles, north to south, so it's able to accommodate plenty of different types of visitor. It's home to sailing clubs at its southern end, a nudist section at its secluded northern end, and soft, golden sand for relaxing in the middle section. The South West Coast Path runs along the beach, so it's a popular spot for ramblers, too.
Studland Bay is only 8 miles along the coast from Bournemouth, but you will need to take a ferry across a small strait, which adds to the journey time.
Couples
Families
Budget
Adventure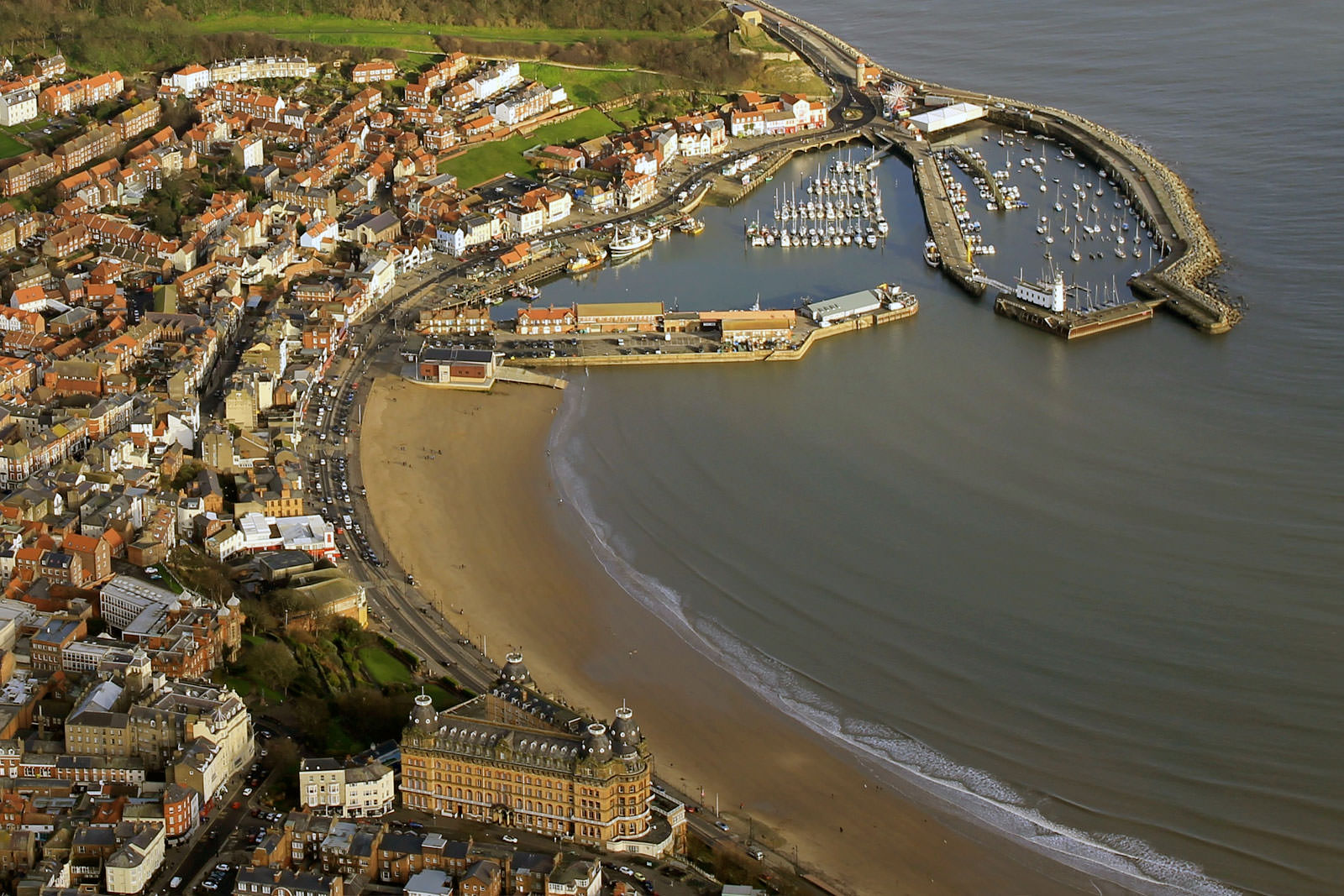 South Bay Beach
Scarborough, Yorkshire
South Bay Beach in Scarborough is one of northern England's most popular beaches thanks to its soft sand, amusement arcades, donkey rides and the imposing Grand Hotel looking down from the cliff tops. You can still ride the historical cliff lifts down to the beach from the hotel, like a Victorian-era holidaymaker.
On a sunny summer day, South Bay Beach can be as busy and fun as any Mediterranean beach, though the North Sea is a few degrees colder. The historical harbour has been at the heart of Scarborough for centuries. The fishermen still bring in their fresh catches every day, so it's no surprise that the harbour is also a hub of excellent seafood restaurants.
Couples
Families
Photo
Budget