Salford Quays in Manchester
Explore a Wild World of Water Adventure, Museums and Culture
Salford Quays, also called The Quays, is the former site of the Salford Docks and today offers a wide range of cultural activities, sports, water adventures and history. It's famed for several landmarks, including a performing arts venue, a storied sports franchise, a war museum, and a vast property used for events and festivals in the creative fields, especially media organizations.
Here you can enjoy shopping at large outlet malls and restaurants and visit a multiplex cinema. You can take in a variety of sporting events, get on a cruise ship along the waterways, and have a whole world of adventure. You can visit historic manor houses, see a world-class art gallery and see a building featured inside an iconic album cover. Whether you're on a family vacation, travelling in a large group or on a quiet, romantic holiday for 2, you're sure to find something thrilling and enticing in Salford Quays.
Salford Quays in Manchester - one of the highlights of 10 Best Things to Do in Manchester (Read all about Manchester here)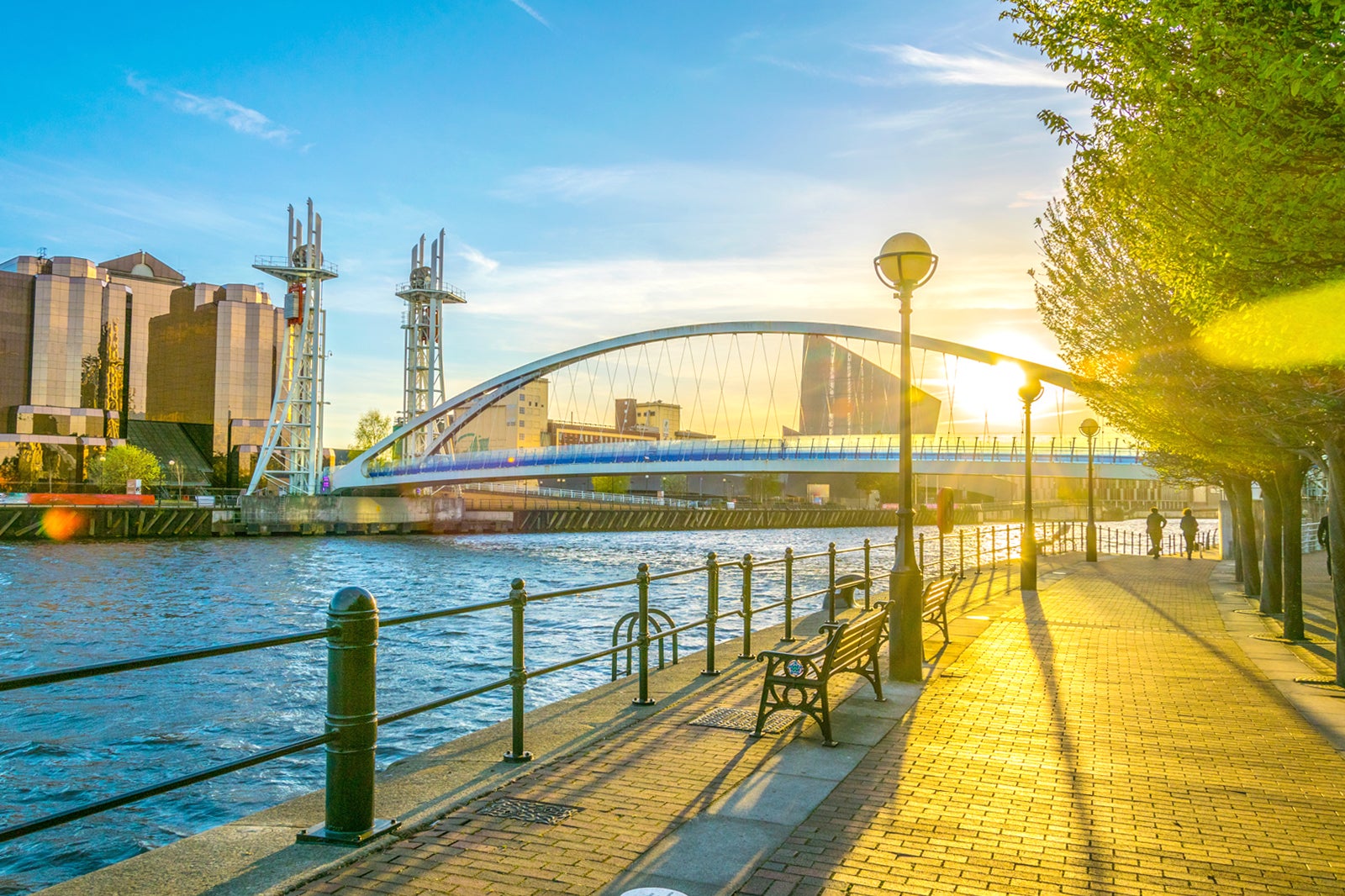 Highlights of Salford Quays
Start your trip a few minutes outside Salford Quays proper by foot and visit Ordsall Hall, a Tudor mansion that dates from the 15th to 17th centuries. After this, go ultramodern and check out MediaCityUK. This 200-acre site was built for media companies and for use by the University of Salford, with the BBC being a primary tenant. Next, head to The Lowry, whose 3 theatres exhibit musicals, dances, plays, music, stand-up comedy and other acts all year.
Next on your Salford Quays travels, head to the Salford Museum & Art Gallery, which maps local history and exhibits Victorian art, or the Imperial War Museum, which shows off a 13-pounder World War I field gun, a U.S. Marine Corps Harrier jet and a Soviet T-34 tank, among other artefacts. Just a few minutes away, check out the Salford Lads' Club, which was featured inside The Smiths' album 'The Queen is Dead'.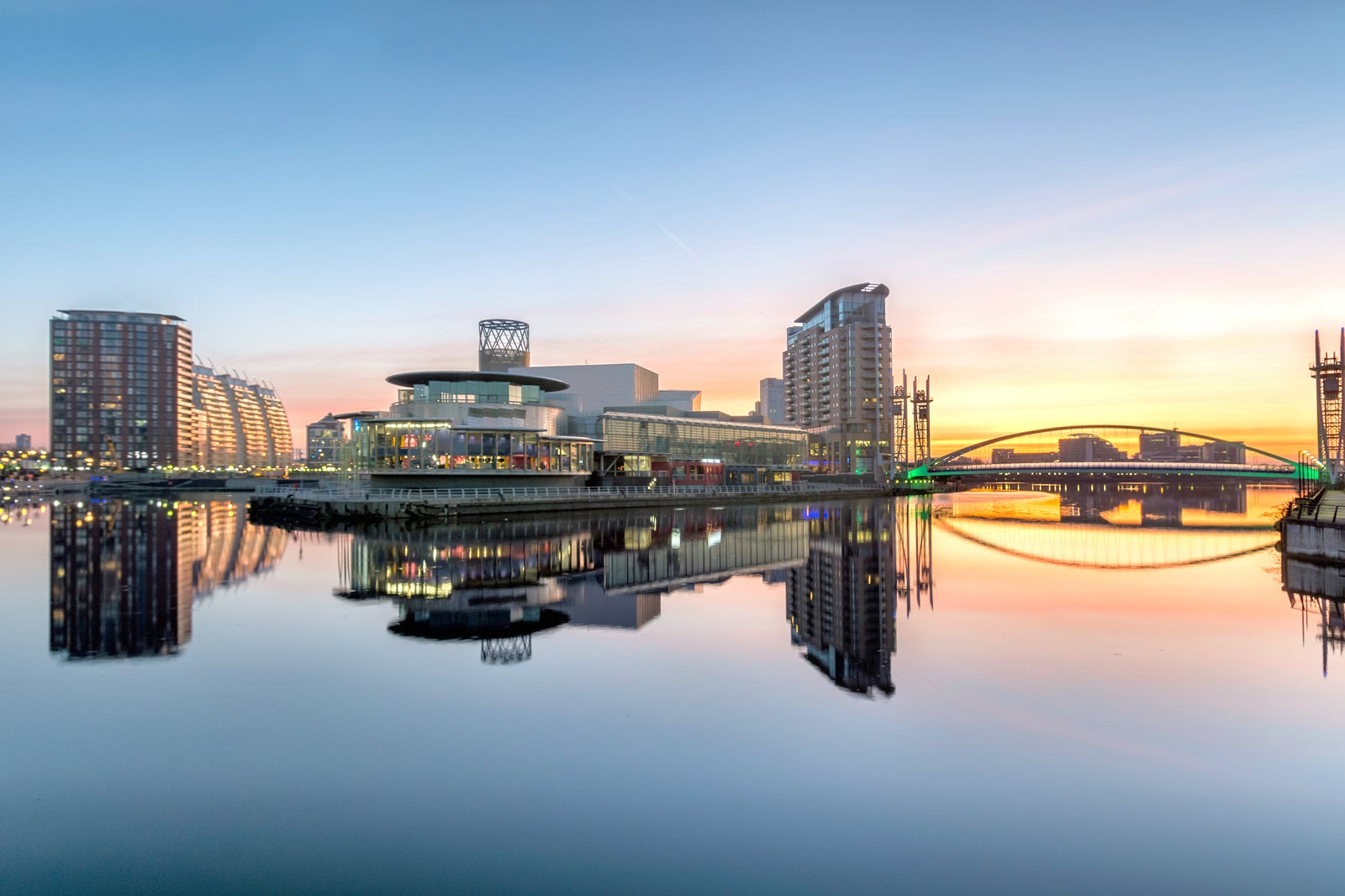 History of Salford Quays
Salford Quays began life as the Salford Docks in 1894, one of 2 docks that made up the Manchester Docks. They remained popular through the 1970s but closed in 1982 due to increased regulations for seafaring vessels. After this, the area was the subject of one of the largest urban regeneration projects in the United Kingdom during the '80s and was revitalised as a commercial and cultural area. The waters were cleaned and fish introduced to help aerate.
An internal waterway network of roads and bridges was built during the late '80s with a promenade added along the waterfront. A hotel, cinema, housing, and other cultural institutions sprung up nearby. The Lowry, originally called the Salford Quays Centre for the Performing Arts, opened in the 1990s. Today, the area is home to the Manchester United Football Club, whose stadium is within the Old Trafford section.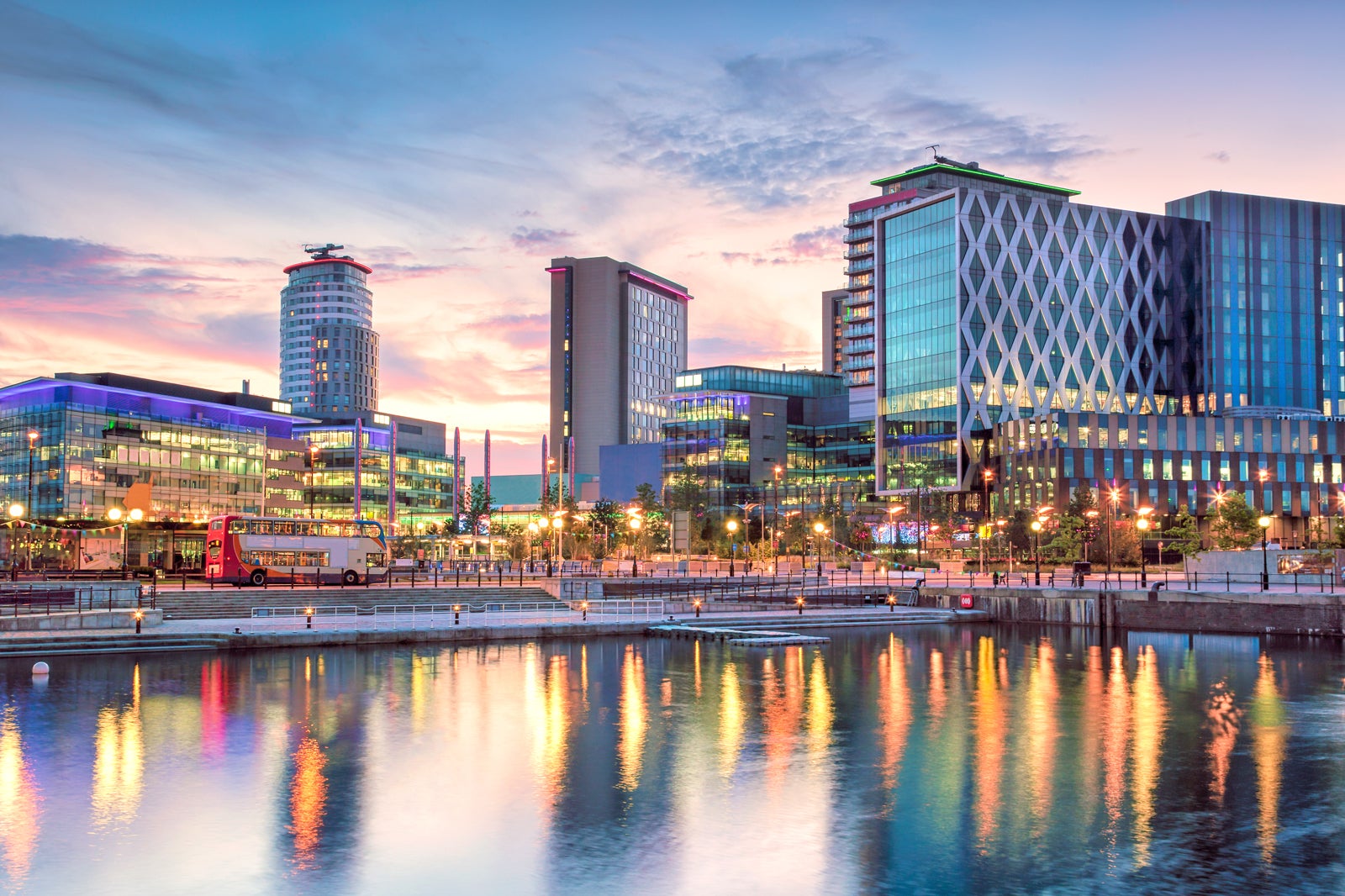 Good to know before visiting Salford Quays
Salford Quays is about 3 miles from the Manchester city centre. Parking is available at various car parks throughout Salford Quays. Most carry a fee, and many are restricted to use for specific businesses. You can also reach The Quays via public transport. Just jump a tram; it's about 15 minutes from Piccadilly Station in central Manchester. The Quays can be a very family-friendly place to visit, too, between the live entertainment and museums.
Many of the spaces in The Quays are disability accessible. The promenade and sidewalks are certainly wheelchair friendly. To find out if any of the businesses, museums, or theatres can make accommodation for you, contact the individual businesses. Most are eager to offer an equally enjoyable experience for all. Dogs can be walked in most of the outdoor spaces on a leash. Some businesses may be dog friendly; call to ask.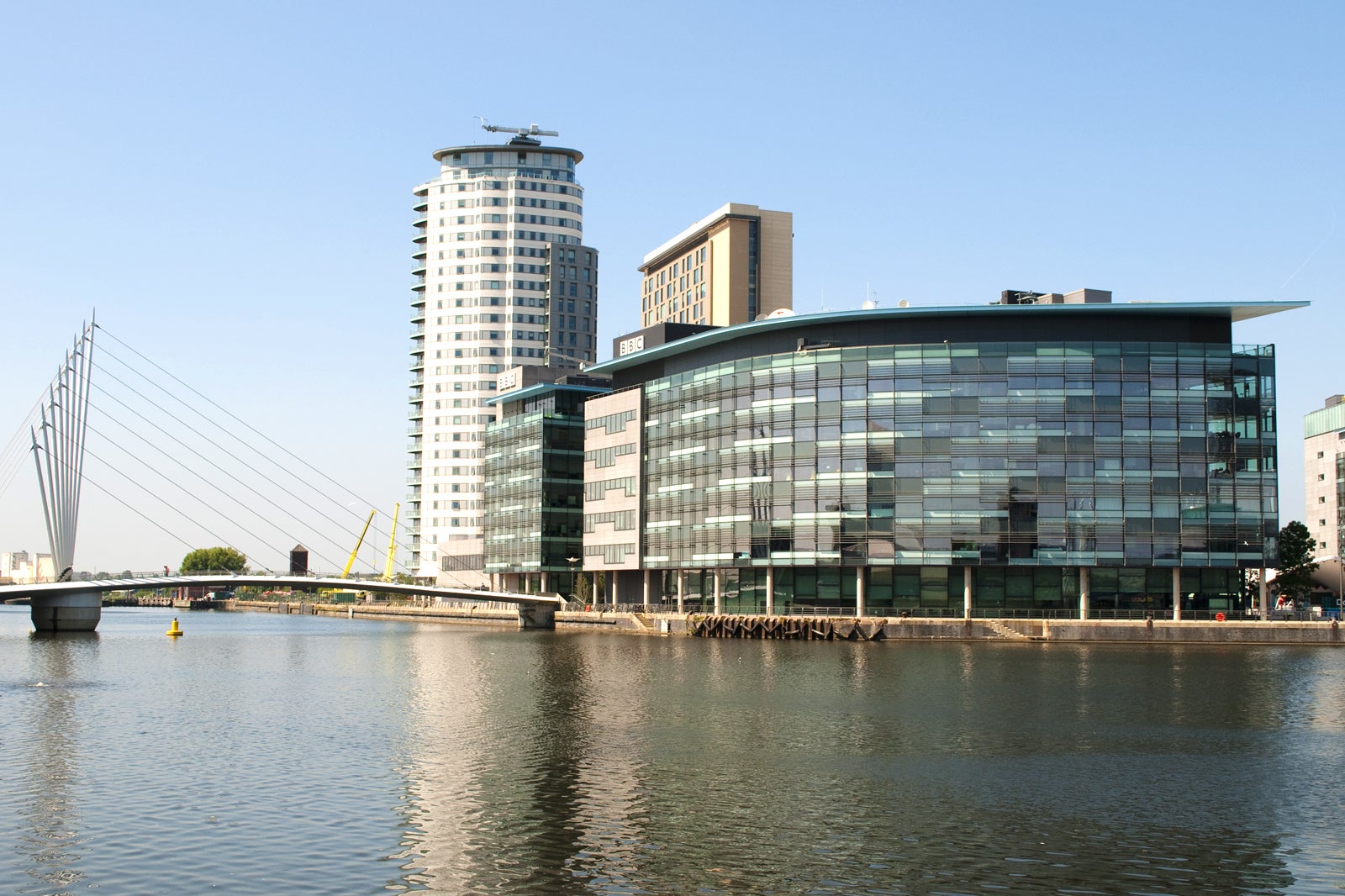 Salford Quays in Manchester
Why book with Hotels.com?