5 Best Things to Do in Tulamben
What is Tulamben Most Famous For?
Most of the best things to do in Tulamben are closely related to the ocean and beach. Right off the coast of this fishing village in East Bali, divers and snorkelers can explore a World War II shipwreck that's home to beautiful coral and exotic fish. Many dive centres organise trips to this diving haven, as well as the neighbouring Banyuning, which has a Japanese shipwreck that's now a thriving habitat of tropical fish, napoleon wrasses, and reef sharks.
Over the years, many sculptures have been deliberately sunk to aid coral growth in Bali. These underwater gardens are popular for underwater photography as you'll get to capture some worthwhile shots of rare marine life. There are also plenty of things to see above the waves of Tulamben, including the pebbly black-sand beach of Tulamben and a large hilltop complex with treehouses and a Borobudur-like structure.
What are the best things to do in Tulamben?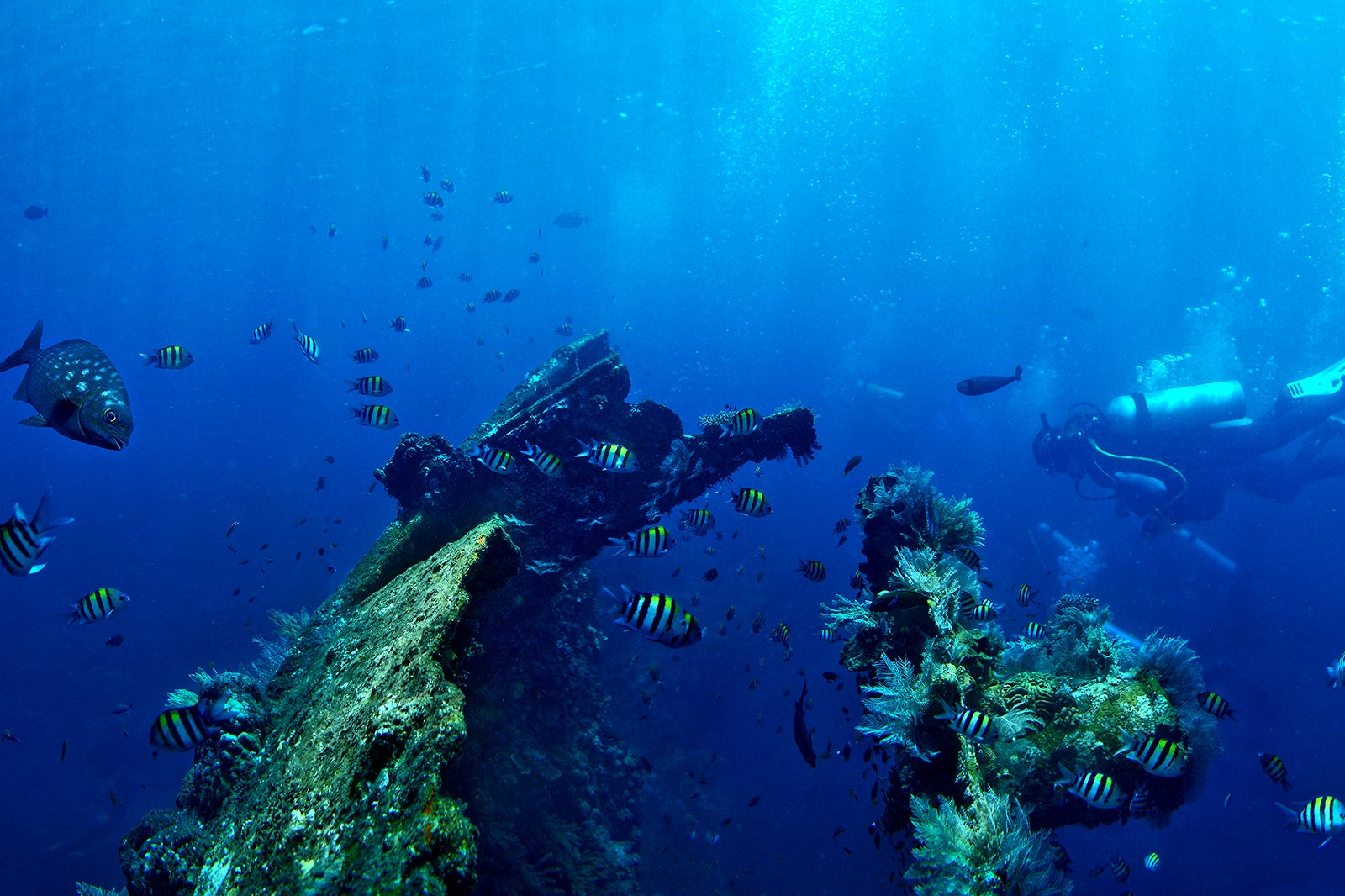 As Tulamben's main dive site, the USAT Liberty shipwreck in Tulamben has drawn divers from the world over to this quiet coastal village in East Bali. Join a diving trip to visit the spectacular remains of a military cargo ship originally built in World War I, but which was torpedoed by the Japanese during World War II.
Snorkelling over the 120-metre-long wreck is possible as the highest point of the stern is about 4 metres below the surface. Among the corals, you can expect regular sightings of parrotfish, cod and even occasional sea turtles.
Location: Tulamben, Kubu, Karangasem, Bali, Indonesia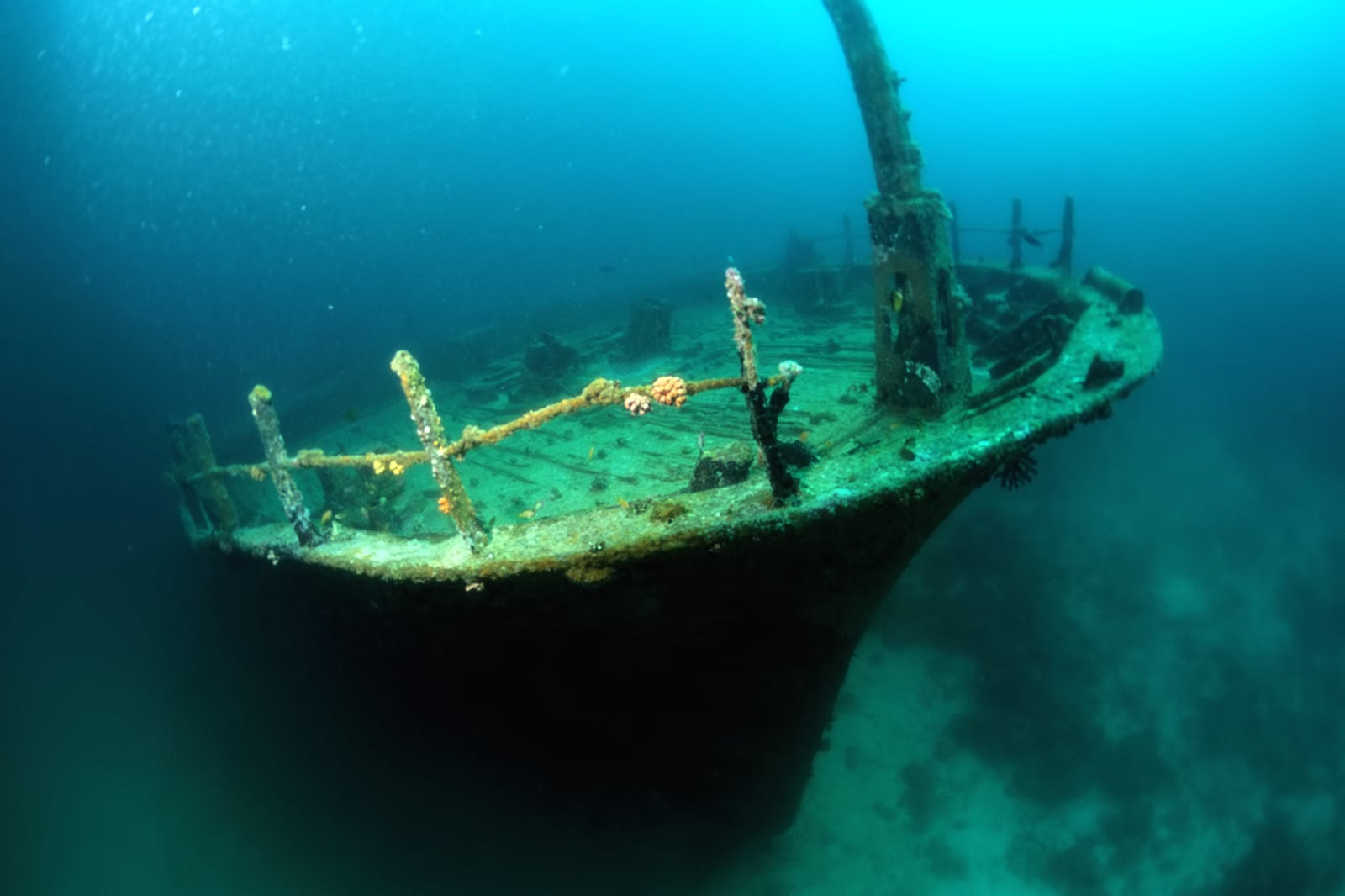 The Boga shipwreck is located off the coast of Tulamben in East Bali, at a depth of 30 metres. This World War II cargo ship was torpedoed by a Japanese submarine back in 1942. The 85-metre-long wreck is covered with algae and coral, attracting a variety of fish like sunfish, great barracuda, peacock grouper, coral trout, and angelfish. The Boga shipwreck has an intact steering wheel that's a favourite photo-op among freedivers, as well as a sunken Volkswagen 181.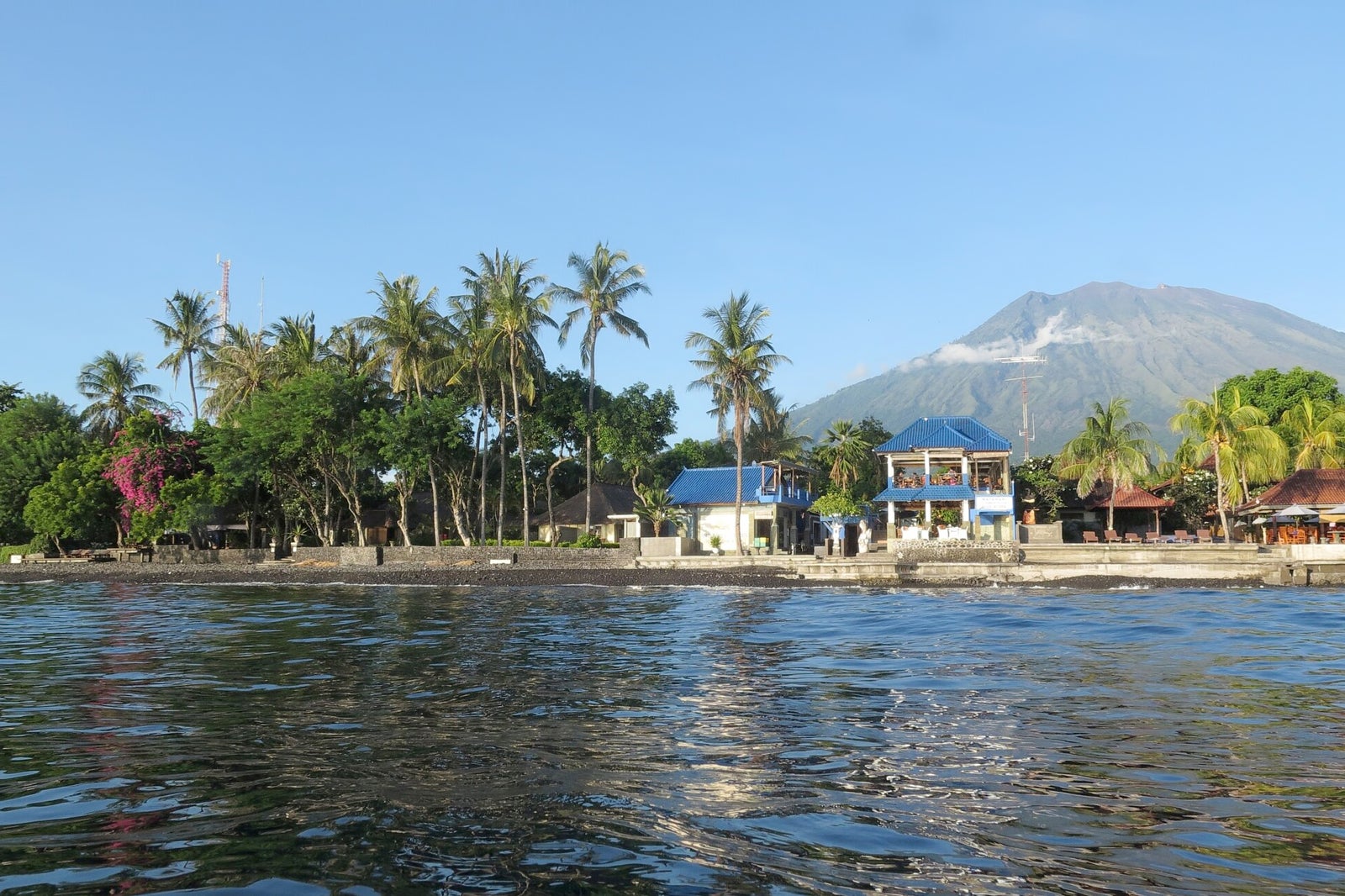 Suci Place is a beautiful diving spot right off the shores of Matahari Tulamben Resort. The site dates back to 2013, when the resort wanted to have its own house reef for divers in Tulamben. Matahari Tulamben Resort also has a dive centre that organises diving trips to Suci Place. With a depth of around 9 to 17 metres, this sunken garden is decorated with Buddha images, temples and stupas, along with Hindu gods and goddesses. Moray eels, ocean sunfish, and eagle rays have been sighted in the waters, attracting divers looking to get close to exotic marine life in Bali.
Location: Tulamben, Kubu, Karangasem, Bali 80853, Indonesia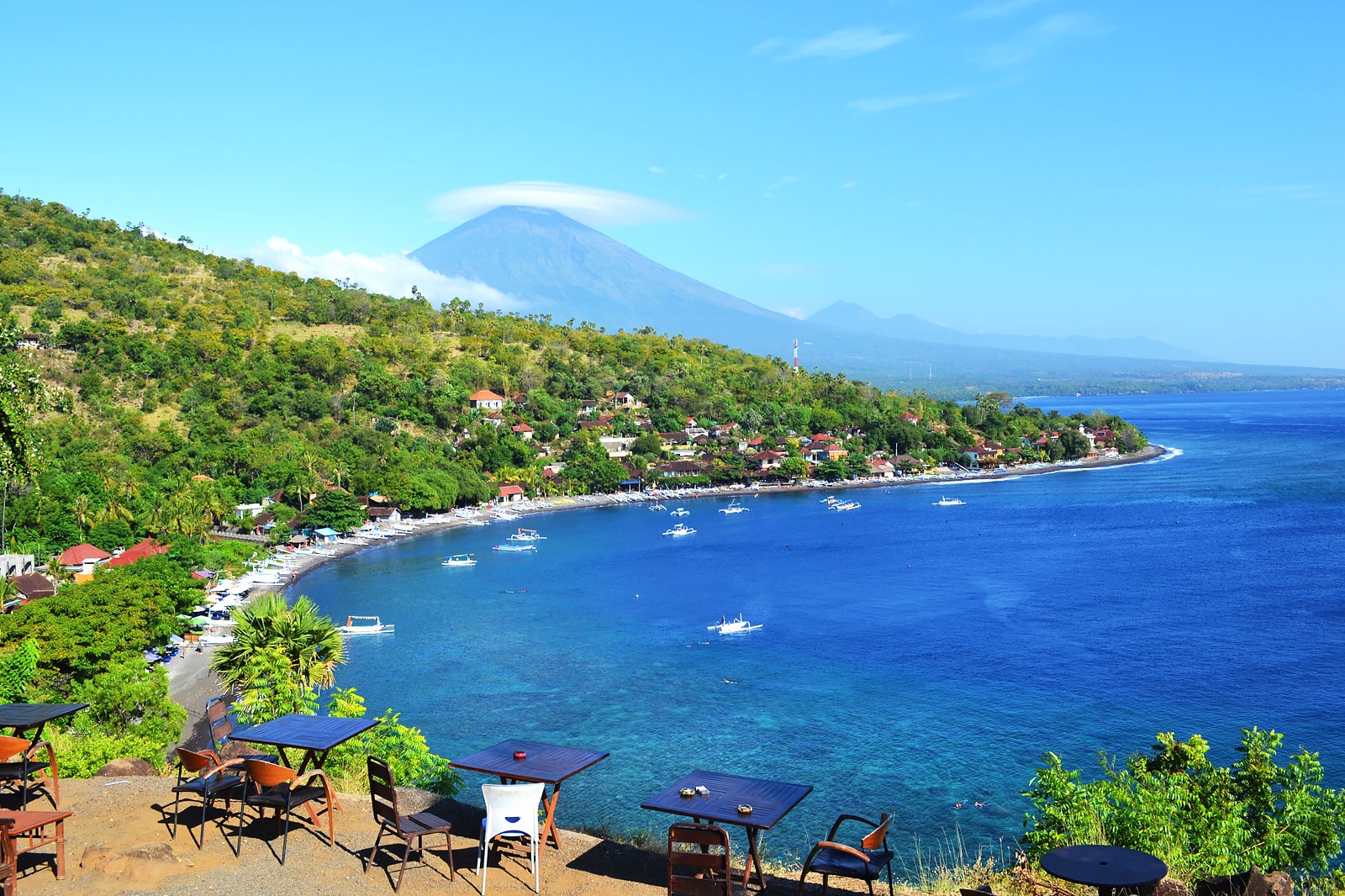 Rumah Pohon (Batu Dawa Tree House)
Rumah Pohon is a private complex in Batu Dawa Village. One of the best spots for panoramic views over the hills of Tulamben, it has 2 treehouses, a mini-Borobudur-like structure, along with high swings and suspension bridges made from bamboo and wood. Each treehouse can accommodate 6 people at a time, so it's a good idea to get there early to avoid a long queue. The many vantage points at Rumah Pohon overlook Mount Agung in the southwest, Tulamben Beach and Amed Beach in the east.
Location: Batu Dawa Village, Tulamben, Kubu, Karangasem, Bali 80852, Indonesia
Open: Daily from 7am to 6pm
Couples
Families
Photo
Budget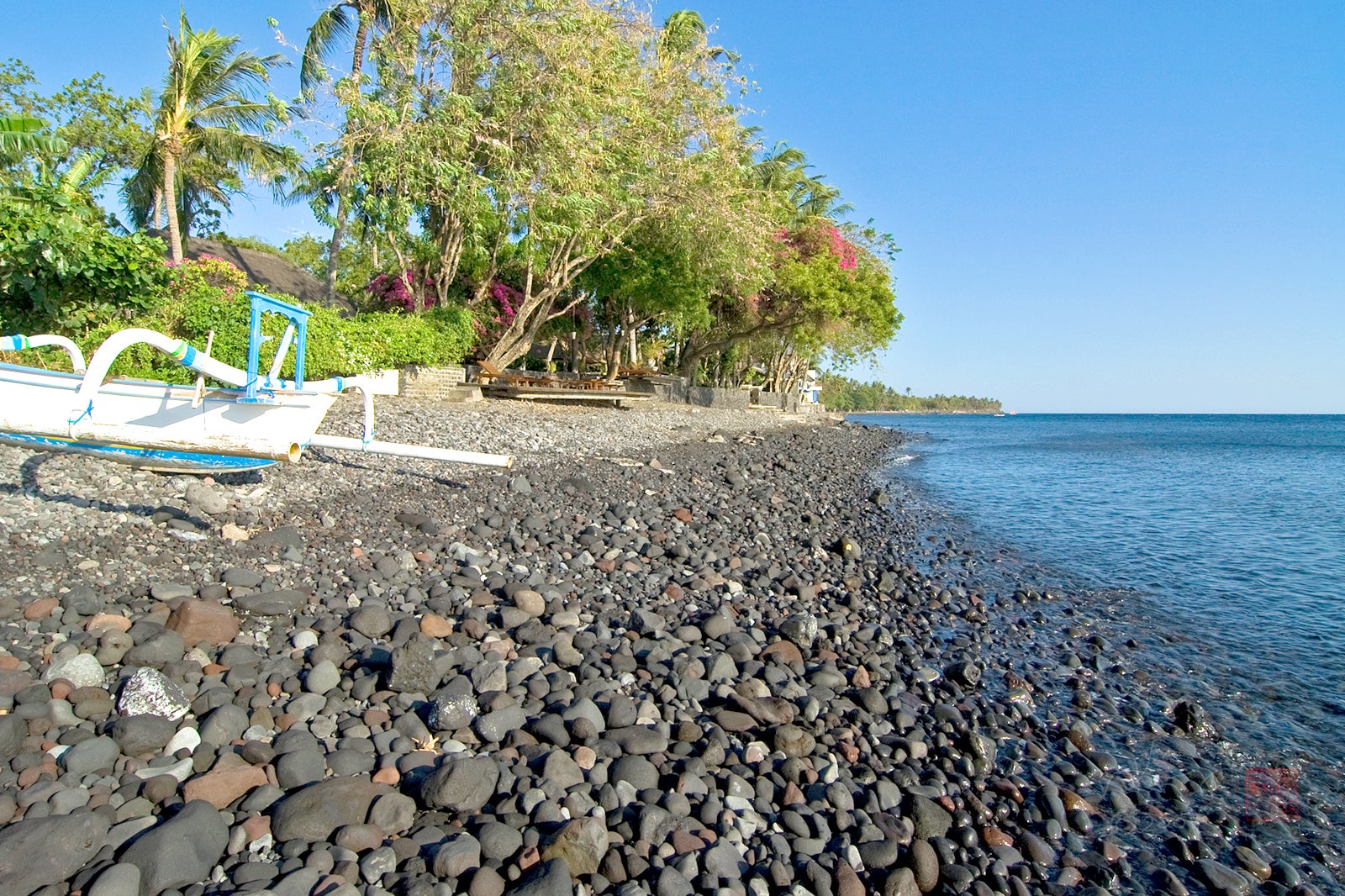 Tulamben Beach is a popular take-off point for divers and snorkelers heading to the various dive sites in the area. This palm tree-lined beach is made up of smooth pebbles and rocky volcanic boulders – a contrast to the soft, sandy, white beaches along Bali's southwestern coastline. As most of the action is underwater, the beach itself has a quiet, laidback vibe that's suitable for relaxing and sunset viewing.
Location: Pantai Tulamben, Karangasem, Tulamben, Kubu, Karangasem, Bali 80852, Indonesia
Couples
Families
Budget
Adventure
photo by Kong (CC BY-SA 2.0) modified