6 Great Apps For Your Bali Trip
Mobile Apps to Help You in Bali
Here's a shortlist of great apps to have for your trip to Bali. It includes apps to help you book the right Bali hotel that fits your budget and preferences, map apps to help you navigate from the beach to a nearby bar, and apps that'll help you become an instant millionaire (as you exchange your currencies into rupiah).
These apps are available for both Android and iPhone users, and you can easily and freely install and try them out before your trip. For mobile internet in Bali, it's more economical to switch your home SIM to a prepaid local one. Preloaded SIMs with call and data credit values are widely sold at the airport, convenience stores and supermarkets.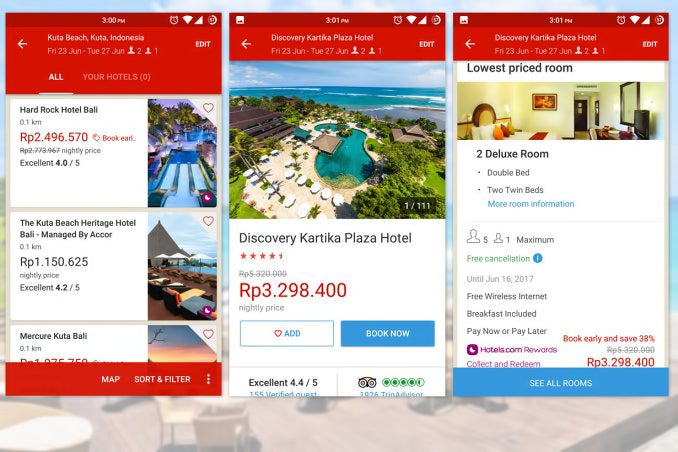 While you can easily browse for the best selection of hotels in Bali, be it a luxury 5-star resort in Nusa Dua, a budget guesthouse in Ubud or a well-appointed villa in Seminyak, you can check through the whole Hotels.com inventory of Bali hotel and villa properties on the dedicated mobile app – available for both Android and iOS.
The Hotels.com app is fast and simple, allowing you to plan your next Bali holiday with a variety of filtering options. By logging in, you can save your hotel preferences, and even further benefit by getting exclusive deals or rewards. Most importantly, your bookings are secure.
Android: https://play.google.com/store/apps/details?id=com.hcom.android
iOS: https://itunes.apple.com/us/app/hotels.com-hotel-booking-last/id284971959?mt=8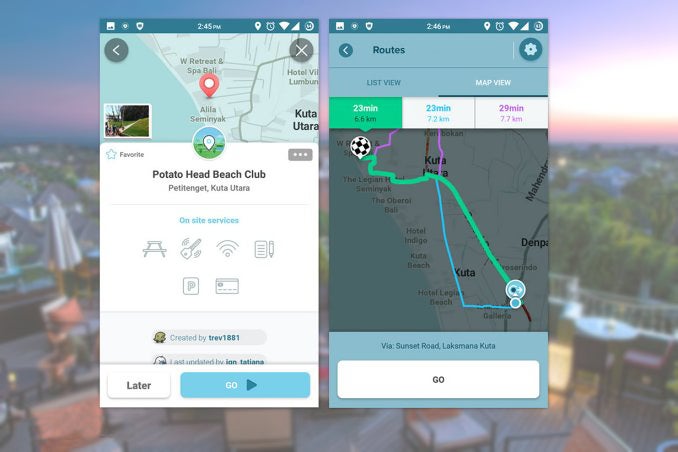 You can find many different navigation apps, with many preferring Google Maps over any other available. Even so, Waze is a great community-driven alternative that can provide turn-by-turn navigation. It also puts great emphasis on real and live routing input by real drivers who can share information on current traffic jams, detours (which are frequent in Bali), and many others.
Waze also has social network integration, so you can also send live updates with your ETA to friends, who have already arrived at the beach club, for instance.
Android: https://play.google.com/store/apps/details?id=com.waze
iOS: https://itunes.apple.com/us/app/waze-gps-navigation-maps-social/id323229106?mt=8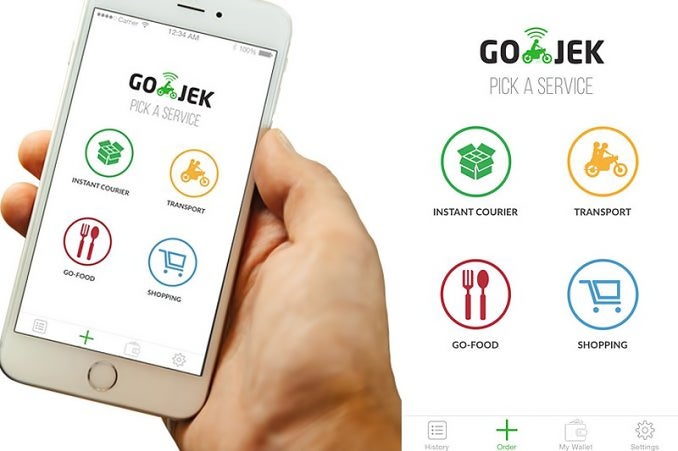 This transport and delivery app was started up by Indonesian developers and is widely used, with over motorcycle taxi drivers readily available in the main resort areas. You can order a motorcycle taxi or a conventional taxi ride (GoJek expanded their services by collaborating with Blue Bird, a reputable taxi operator in Indonesia).
You can also browse through the great selection of restaurants and businesses with options for food delivery right to your villa. You can create a shopping checklist for groceries, and even order a spa therapist for your in-villa treatment. There's also the option to set the app menus in English.
Android: https://play.google.com/store/apps/details?id=com.gojek.app
iOS: https://itunes.apple.com/id/app/go-jek/id944875099?mt=8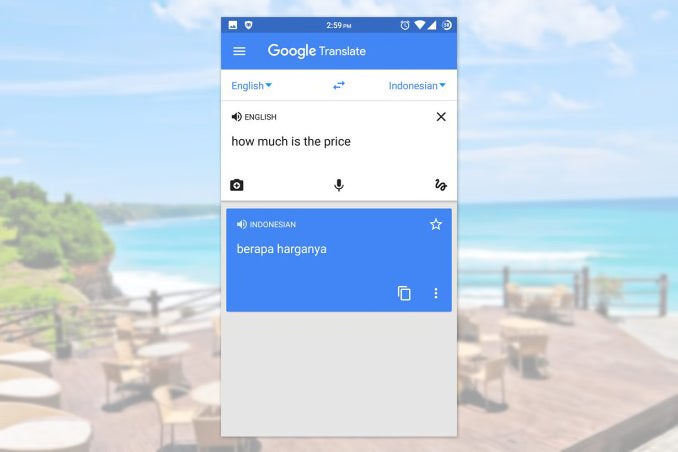 Knowing some simple local Indonesian phrases can get you out of tight situations while in Bali. Examples include asking for directions or haggling over prices at an art market or small shop. This web-based mobile app simplifies the user experience of the desktop version.
Although the translation of long contexts can result in weird sentences most of the time, you can always get your way with the closest approximate Indonesian phrases for directions, or to score a good bargain for that nice painting or knick-knack that caught your eye, for instance.
Android: https://play.google.com/store/apps/details?id=com.google.android.apps.translate
iOS: https://itunes.apple.com/us/app/google-translate/id414706506?mt=8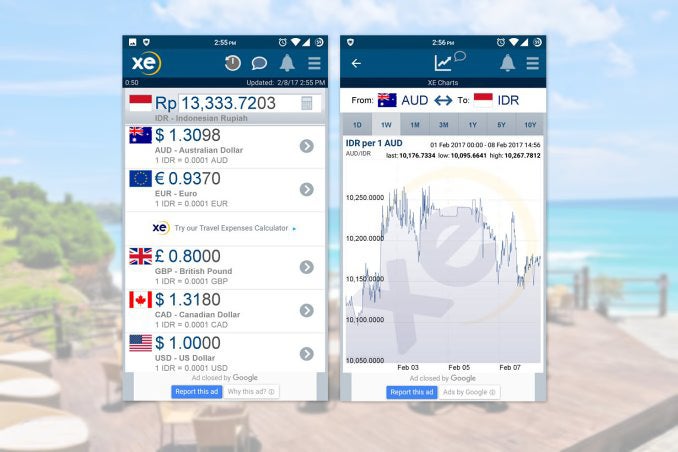 When you need to change your dollars into rupiah, this app can be quite handy in finding out the most current global rates out there. You can convert any currency with XE Currency. The app can store your last updated search, and its conversions can still work if you lose your data signal (you'll need to be connected for the realtime rates, though).
You can personalise your settings, set the frequency of live rate updates, and even create alerts so you keep notified as you go. It's especially good to use to compare what's being offered at the currency exchange chart. Don't worry, discrepancies in tens or hundreds of rupiah are still acceptable.
Android: https://play.google.com/store/apps/details?id=com.xe.currency
iOS: https://itunes.apple.com/us/app/xe-currency/id315241195?mt=8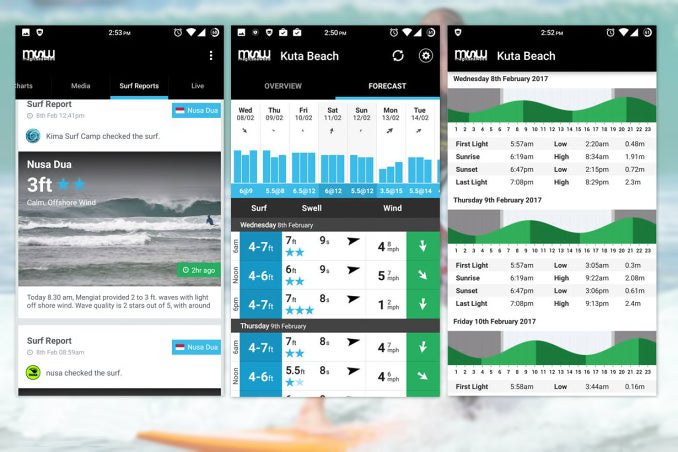 Many come to Bali for the island's world-class surf… and this mobile app is just great for getting up-to-date info. From Magic Seaweed, one of the most reliable and updated worldwide surf reports, this app provides you with detailed surf forecasts in almost every popular surfing destination around the globe – Bali included.
Forecasts include surf ratings, swell sizes, periods and wave heights, wind strength and directions, and temperature. Above all, there's forecast accuracy in percentages, and you can sneak peek what it'll be like in up to a week, so you can easily plan ahead before taking your board and setting off to your surf destination.
Android: https://play.google.com/store/apps/details?id=com.phonegap.MSWMobile
iOS: https://itunes.apple.com/us/app/msw-surf-forecast/id322103952?mt=8