10 Most Popular Streets in Kyoto
Take a Walk Down Kyoto's Streets and Squares
Kyoto has many beautiful streets where you can enjoy the ancient capital's ambience and local food. Authentic Kyoto cuisine (Kyo-ryori), including dishes such as boiled tofu (Yu-dofu) and tea ceremony dishes (Kaiseki-ryori), really extracts the maximum flavour from ingredients, and is the perfect food to enjoy while visiting temples. You can enjoy eating at the various stalls of the famous Nishiki Market, walking to visit the distinctive townhouse cafés, or even taking a short hike into the suburbs to find down-to-earth restaurants that serve great food.
Kyoto really is a foodie heaven. And if you want to make the most of Kyoto at night, be sure to check out the traditional entertainment districts of Ponto-chō and Kiyamachi. Let's take off and visit the areas of Kyoto where gastronauts are sure to enjoy a memorable trip.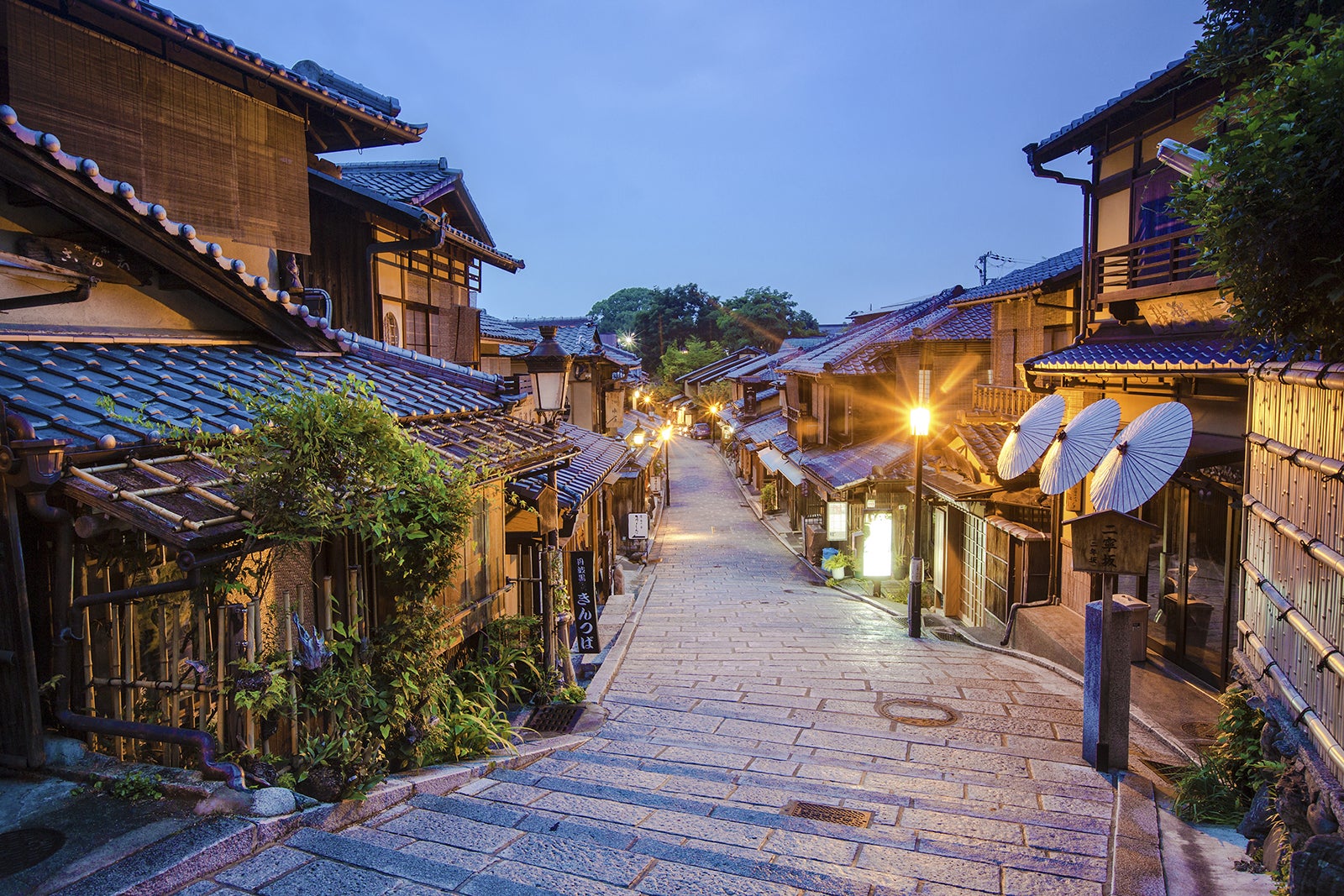 While exploring Higashiyama and Gion, where there are many famous historical sites such as Kiyomizudera Temple, Kodaiji Temple and Yasaka Shrine, why not stop by at a coffee shop or a traditional Japanese dessert restaurant for some refreshments? Another excellent option is to enjoy green matcha tea at a temple. On the slopes around Kiyomizudera Temple, such as Kiyomizuzaka, San-neizaka and Ninenzaka, you can find the quintessential scenery of Kyoto.
This is a popular area to find souvenirs in the form of Kyoto specialities such as 7-spice chilli pepper (shichimi togarashi), incense, delicate Japanese confectionery and Japanese hand towels (tenugui). Delicious starch jelly (warabi mochi) is also a must-try. It's a good idea to wear comfortable shoes when you visit this area, as it's full of things to see but has many slopes.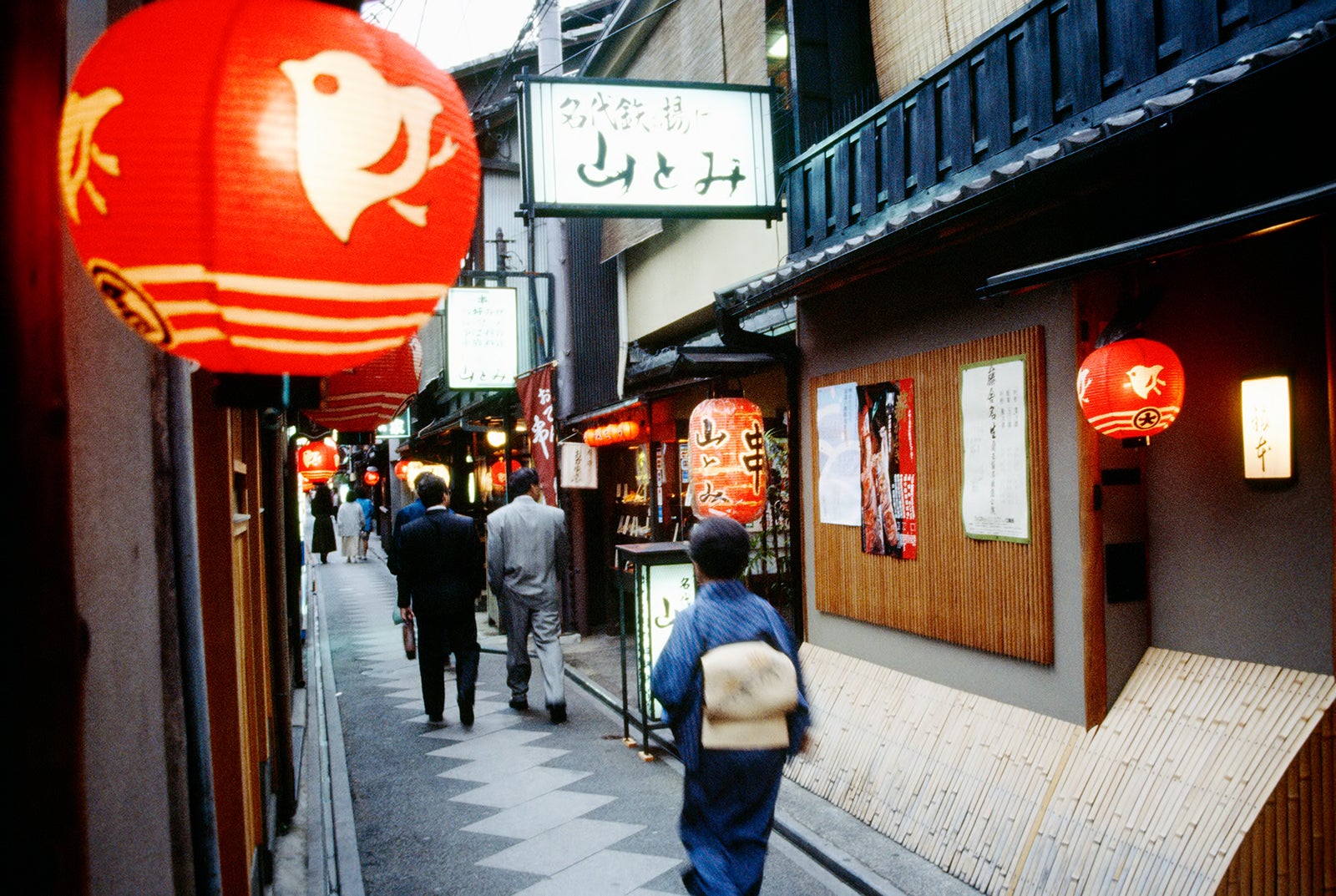 Dotted with Michelin-starred restaurants, this area is a great place for a foodie adventure. Pontocho is one of the top geisha districts in Kyoto. At night, red lanterns are lit and the cobblestone streets are beautifully illuminated. There are geisha houses too, so if you are lucky, you may be able to spot a maiko, an apprentice geisha, walking down the street. Both sides of the alley between Kamogawa River and Kiyamachi Street are lined with attractive restaurants, including luxurious traditional Japanese restaurants (ryotei) and tea houses, which are unique to the geisha district, as well as bars, traditional Japanese restaurants (kappo), small restaurants serving Japanese sake and food, as well as French and Italian establishments.
This area is more accessible to visitors than the exclusive Gion quarter, making it an ideal destination for those who want to enjoy the Kyoto nightlife. You can find more reasonably-priced and casual restaurants on Kiyamachi Street, which is one street west of Pontocho. The nearest stations are Keihan Sanjo Station, Gion-Shijo Station and Kawaramachi Station. Pontocho is just a 5-minute walk from any of these stations.
3
Tetsugaku no Michi (Philosopher's Walk)
The Philosopher's Walk (Tetusgaku no Michi) runs for about 1.5 km along the Lake Biwa Canal, from the area around Ginkakuji Bridge to Nyakuoji Bridge, where Enkando Temple is located. The area takes its name from the philosopher Kitaro Nishida, who used to ponder on things while walking along this path. The Philosopher's Walk, which has been selected as one of the best roads in Japan, is especially known for its springtime cherry blossoms and its autumn leaves, but its beauty in the snow of a cold winter is also exceptional.
The path is lined with temples and shrines where you'll find a calm and quiet atmosphere, and there are also coffee shops, famous Japanese confectionery stores, and restaurants set in renovated townhouses and Western-style buildings, making it a romantic place to take your special someone. If you fancy a break, enjoy some matcha tea and Japanese fresh confectionery on the scarlet rug of a temple teashop while appreciating the temple grounds. You can easily get here by bus from Kyoto Station.
Location: Shishigatani Honenin Nishimachi, Sakyo Ward, Kyoto, 606-8427, Japan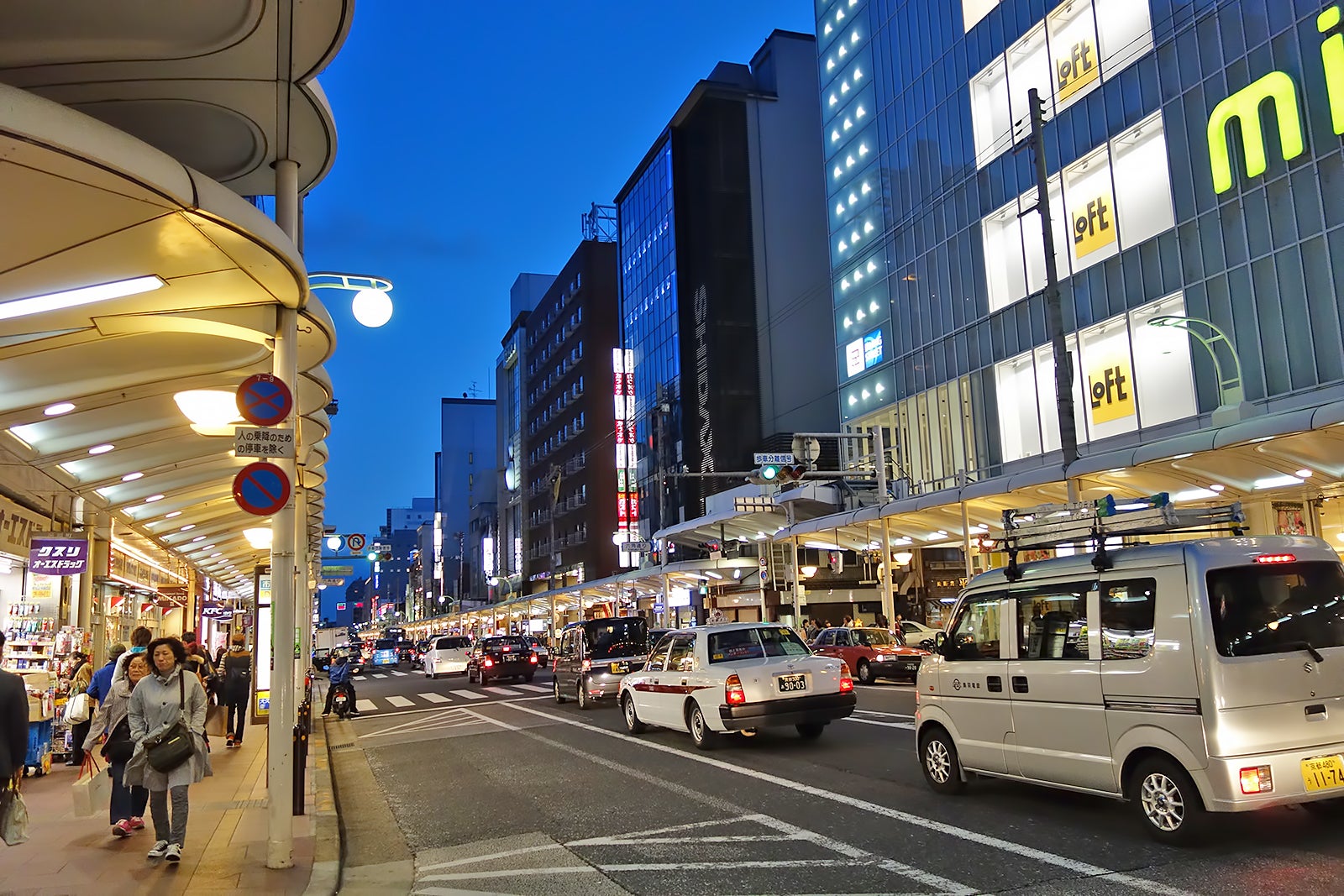 The streets around Hankyu Kawaramachi Station, from Shijo Kawaramachi to Kawaramachi Sanjo, form the liveliest part of downtown Kyoto and are packed with fashionable shops. This area has a lively atmosphere, as people meet up here with friends to have fun in Japanese-style bars (izakaya) and pubs.
This is also one of the best shopping areas in the Kansai region, and if you're not a drinker, then there are plenty of other options, including coffee shops serving Japanese sweets such as shaved ice and matcha parfait. You can also find many restaurants here that are suitable for relaxing and enjoying a delicious meal by yourself or just having a quick bite to eat.
photo by Richard, enjoy my life! (CC BY-SA 2.0) modified
5
Kamogawa River Noryo Yuka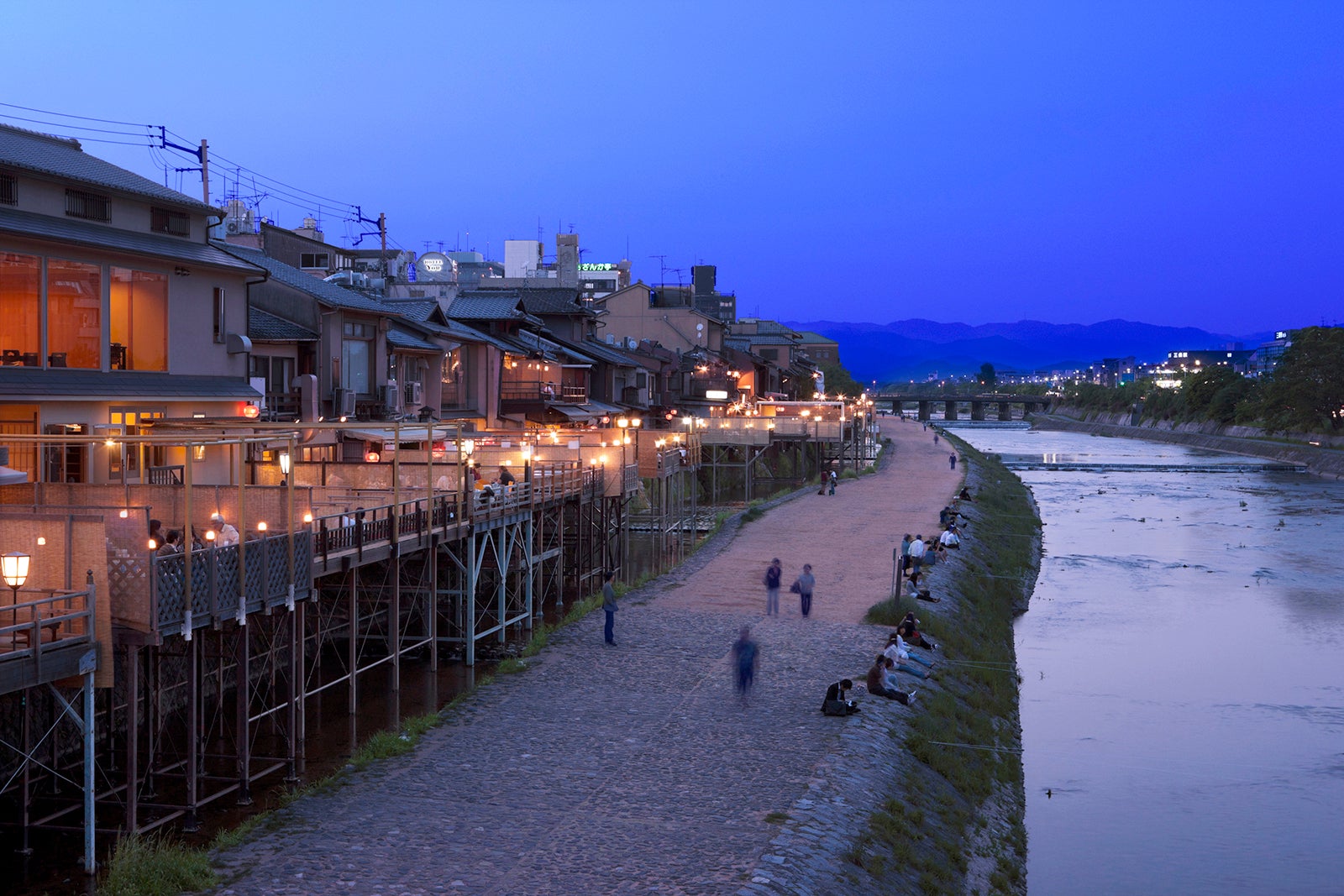 Kamogawa River Noryo Yuka plays a key role in Kyoto's swelteringly hot summers. Here, platform seats are set up along Kamogawa River from May to September every year. Known as "Kawadoko" in the mountain areas of Kifune and Takao, this concept is called "Kawayuka" or "Yuka" in the Kamogawa River setting. Noryo Yuka has a reputation for being the preserve of high-class Japanese traditional food restaurants (Kaiseki).
However, there is a wide variety of restaurants alongside Kamogawa River, including many casual establishments – not only Japanese restaurants, but also Italian and French places, and even and Japanese-style bars (izakaya). For visitors on a tight budget, lunches are very reasonably priced. Typically you will need to make a reservation to be seated at the very popular Noryo Yuka, but there's always the option of experiencing these unique platforms at chain coffee shops that don't require any booking.
Open: Open from May 1 to September 30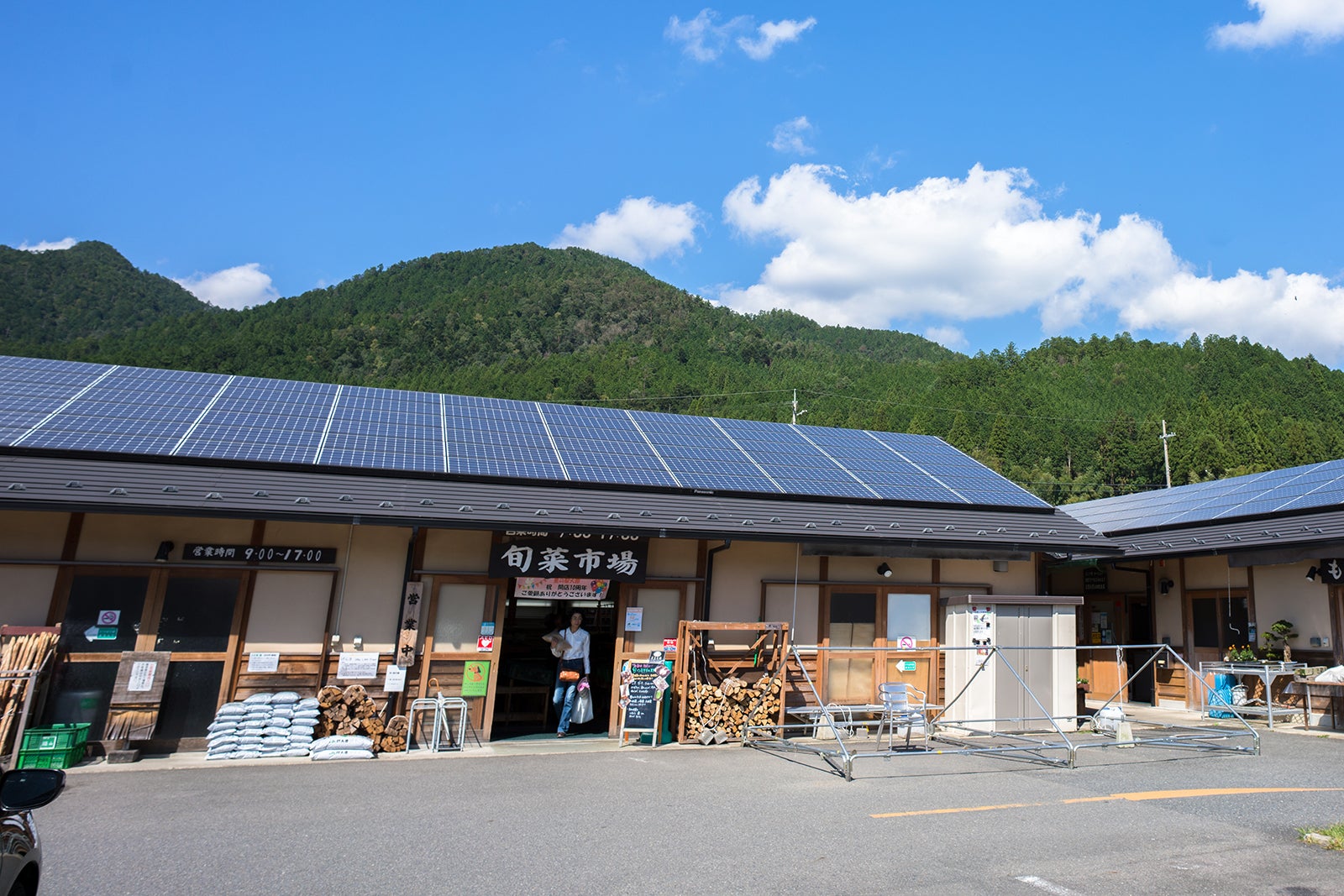 Budget
Adventure
Single
Group
Ohara is a beautiful rural village with famous, historical temples set in a stunning natural environment. It's roughly a one-hour bus ride from the centre of Kyoto. Women called "Oharame", or maids of Ohara, used to go to Kyoto and peddle local agricultural products, firewood and brushwood. Ohara still produces fresh Kyoto vegetables, and delicious Kyoto pickles are its speciality. Shibazuke pickles are most famous of all.
Ohara presents flavours in a uniquely rural way, with restaurants set in renovated old houses, coffee shops located in natural surrounds, and Japanese pickle stores in the village. Ohara has been a sanctuary for many aristocrats, writers and monks, including Kenreimon-in, the mother of Emperor Antoku, who lost the battle of Dan-no-ura and lived in hiding here. If you want to combine the enjoyment of healthy food with a taste of Japanese history, this is the place for you.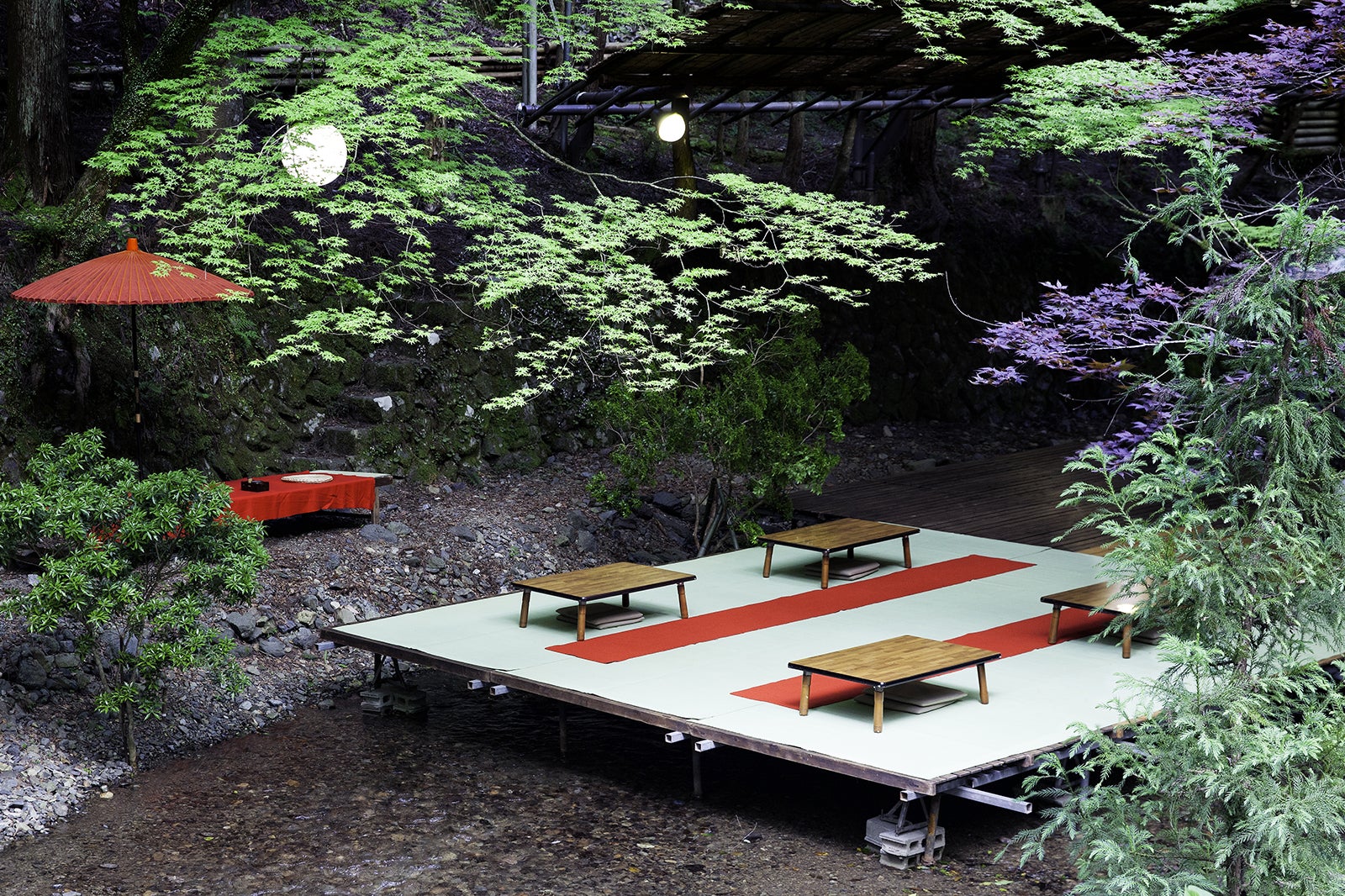 Couples
Luxury
Adventure
Group
Kifune and Kurama are famous sites for their apparent mystical energy. These Kyoto retreats are excellent for day hiking. Note that if you're coming here from Eizan Electric Railway Kurama Station, it's good to have a meal around the station because there are not many restaurants on the way until you arrive at Kifune. This area is famous for Japanese pepper preserve (sansho no tsukudani), which makes a cool souvenir.
Elsewhere, rustic mountain flavours can be enjoyed in the Buddhist cuisine (shojin ryori) restaurants and Japanese confectionery stores around Kuramaji Temple. In summer, Kifune is famous for its platformed seating, called Noryo Kawadoko. The heat seems to just disappear when you're enjoying elegant, delicate Japanese traditional food (kaiseki) on the tatami platform of a high-class, well-established teahouse or restaurant while listening to the refreshing sound of Kifune River. If you want to have a meal at Kawadoko in Kifune, do make sure you book ahead.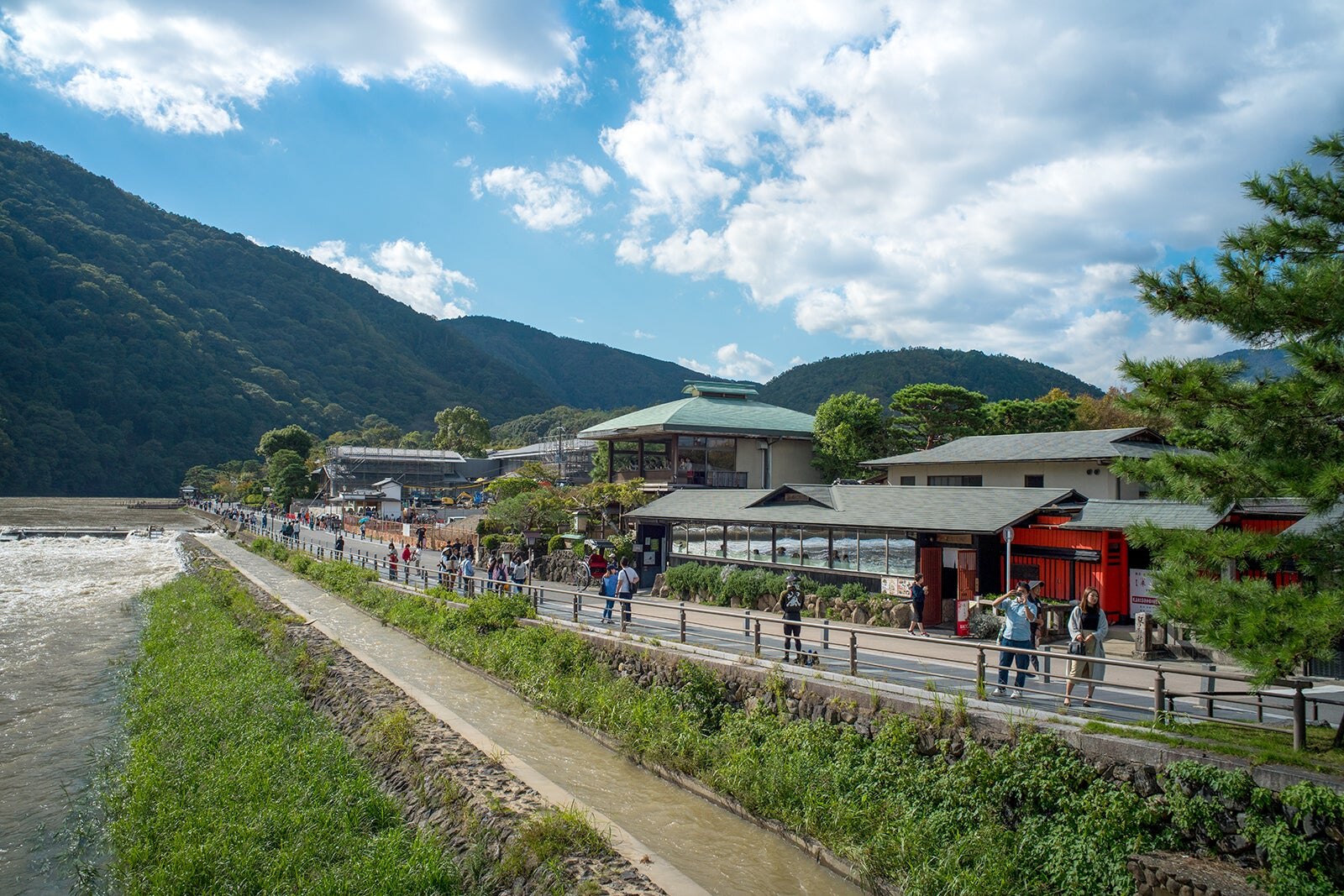 Arashiyama is blessed with picture-perfect seasons. What better way to enjoy traditional Japanese flavours than against backdrops of cherry blossoms in spring, new green leaves in summer, vivid autumnal foliage in fall, and snowy mountains in wintertime? Enjoying simmered tofu (yu-dofu) while admiring the magnificent scenery is just one way to appreciate Arashiyama. Unique Kyoto dishes such as Japanese fresh gluten cake (nama-fu) and tofu skin (yuba) dishes are equally unmissable.
Sampling the artistic Buddhist cuisine (shojin ryori) served at Shigetsu, a restaurant located in the precincts of the UNESCO-registered Tenryuji Temple, is a wonderful way to experience Zen culture. You'll need to book in advance, but it's well worth the effort. To get here, take JR Sagano Line from Kyoto Station and get off at Saga-Arashiyama Station.
Location: Ukyo Ward, Kyoto, 616-0007, Japan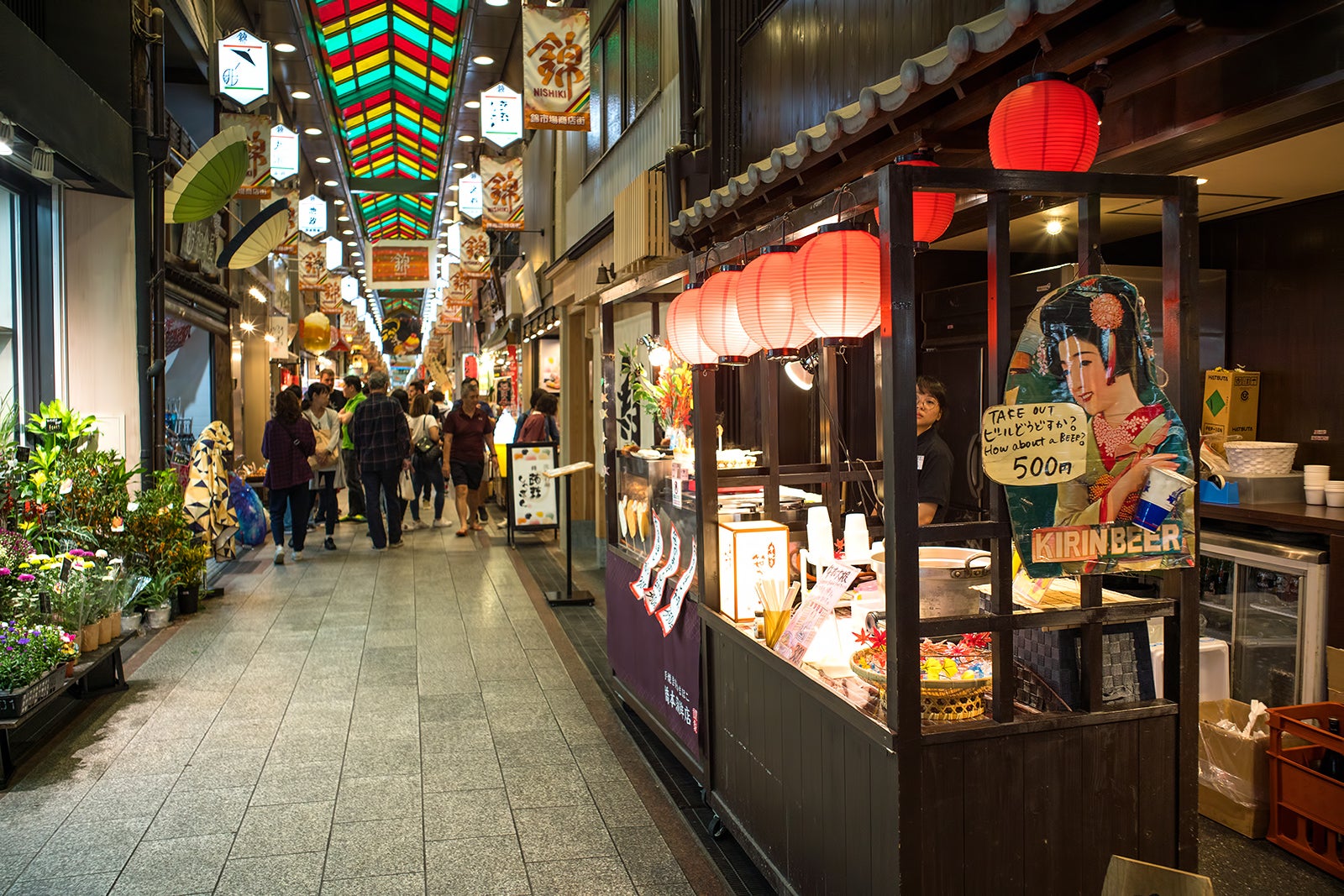 Just a 3-minute walk from Subway Shijo Station, Nishiki Market is famed for being the "kitchen of Kyoto". Both sides of the narrow 390-metre-long road are packed with shops selling anything and everything you might need for your kitchen, including seafood, Kyoto vegetables, Japanese pickles, dried foods, side dishes and desserts.
In recent years, this market has become a highly popular sightseeing spot for tourists. The number of foreign visitors has increased, too. However, this used to be a market that was closely intertwined with the lives of local people, such as chefs and housewives, who were looking for high-quality ingredients. Thanks to the arcade ceiling, you can enjoy strolling around this market at your leisure, come rain or shine.
Location: Nishikikoji Street, Nakagyo Ward, Kyoto, 604-8054, Japan
The site of the restoration of Japan's imperial rules, Nijo Castle is a central part of Japanese history and is also a UNESCO World Heritage Site. The Nijo area is close to Kyoto's Imperial Palace and is home to many long-established shops set in a surprisingly calm and quiet cityscape. There are also many famous Japanese confectionery stores, some of which will let you participate in making Kyoto sweets by hand.
Carry on to Teramachi Street and you'll find the deepest part of central Kyoto, an area that's packed with historical stores such as sweet shops founded in the Meiji period and Kyoto's famous tea shops. This area also has stylish and comfortable cafés in renovated townhouses and coffee stands that serve carefully roasted coffee. Access is easy from Subway Nijojo-mae Station.
Back to top