10 Things to Do in Sapporo on a Small Budget
Holidays in Sapporo Don't Have to Be Expensive
Visiting Sapporo on a budget is possible thanks to the endless attractions that you can enjoy for little or no money. There's an underground passageway that provides a great way of walking around Sapporo centre, and you might want to go cycling on one of its main roads. For lunch, head to one of its premier establishments where you can enjoy the full flavours of Hokkaido. And on a sunny day, nothing beats a picnic in the picturesque scenery of Asahiyama Park.
For after-dinner entertainment, there's a sake museum if you fancy a digestif or a racecourse if you're feeling lucky. You can also experience the art of the indigenous Ainu culture, and a museum where you can experience winter sports. Our list of great things to do in Sapporo on a small budget is concluded nicely with a trip to a shrine, where you can pray for good luck, as well as bathing in natural hot springs where you don't need to stay overnight.
1
Shinrin Park Spa KIYORA
A soothing place
Moor Onsen at Shinrin Park Spa KIYORA is a rare brown hot spring that can be enjoyed only in Germany and parts of Hokkaido. Even without staying overnight at a hot spring inn, you can enjoy a reasonably priced natural hot spring experience on a day-trip. It's effective in treating neuralgia and joint pain, and it's great for recovery when you're feeling tired.
There are indoor and open-air baths direct from the source, and a sauna too. If you want a little extra luxury, try a family bath. Shampoo and body soap are provided in the bathroom, and bath towels can be rented. You can drop in whenever you feel like it.
Location: 7-1-1 Atsubetsu, Higashi 4 Jo, Atsubetsu Ward, Sapporo, Hokkaido 004-0004, Japan
Open: Daily from 11 am to midnight
Phone: +81 (0)1-897-4126
2
Sapporo Olympic Museum
For a full-on Olympic experience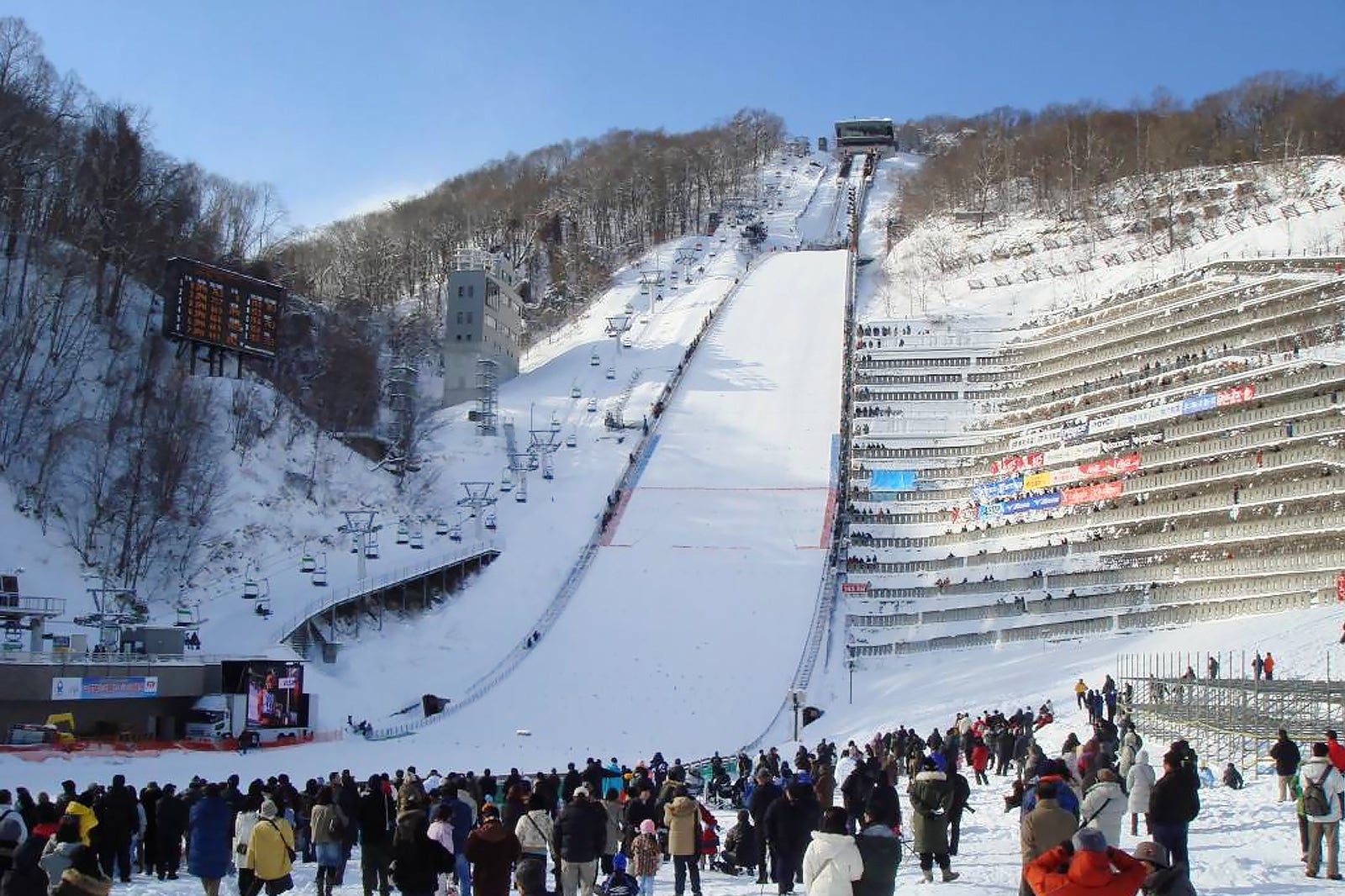 Sapporo Olympic Museum at the Okurayama Jump Stadium offers a full-on Olympic experience. On the first floor, you'll find 6 types of winter sports experience booths. Here you can experience a virtual ski jump in front of a large screen and ride a full-size bobsleigh at 130 km/h. You can also become an ice hockey goalkeeper or train for speed skating.
The Winter Sports Theater and Panorama Theater are full of impressive images and dramas from past competitions. There's also an exhibition of the equipment used by Japanese Olympic athletes, which is well worth a close look. Admission is ¥600 yen for adults, but junior high school students and younger can enter for free.
Location: 1274 Miyanomori, Chuo Ward, Sapporo, Hokkaido 064-0958, Japan
Open: April 28–November 4: daily from 9 am to 6 pm. November 5–April 26: daily from 9.30 am to 5 pm
Phone: +81 (0)11-641-8585
photo by Bmeg氏 (CC BY-SA 4.0) modified
3
Hokkaido Shrine
The largest shrine in Hokkaido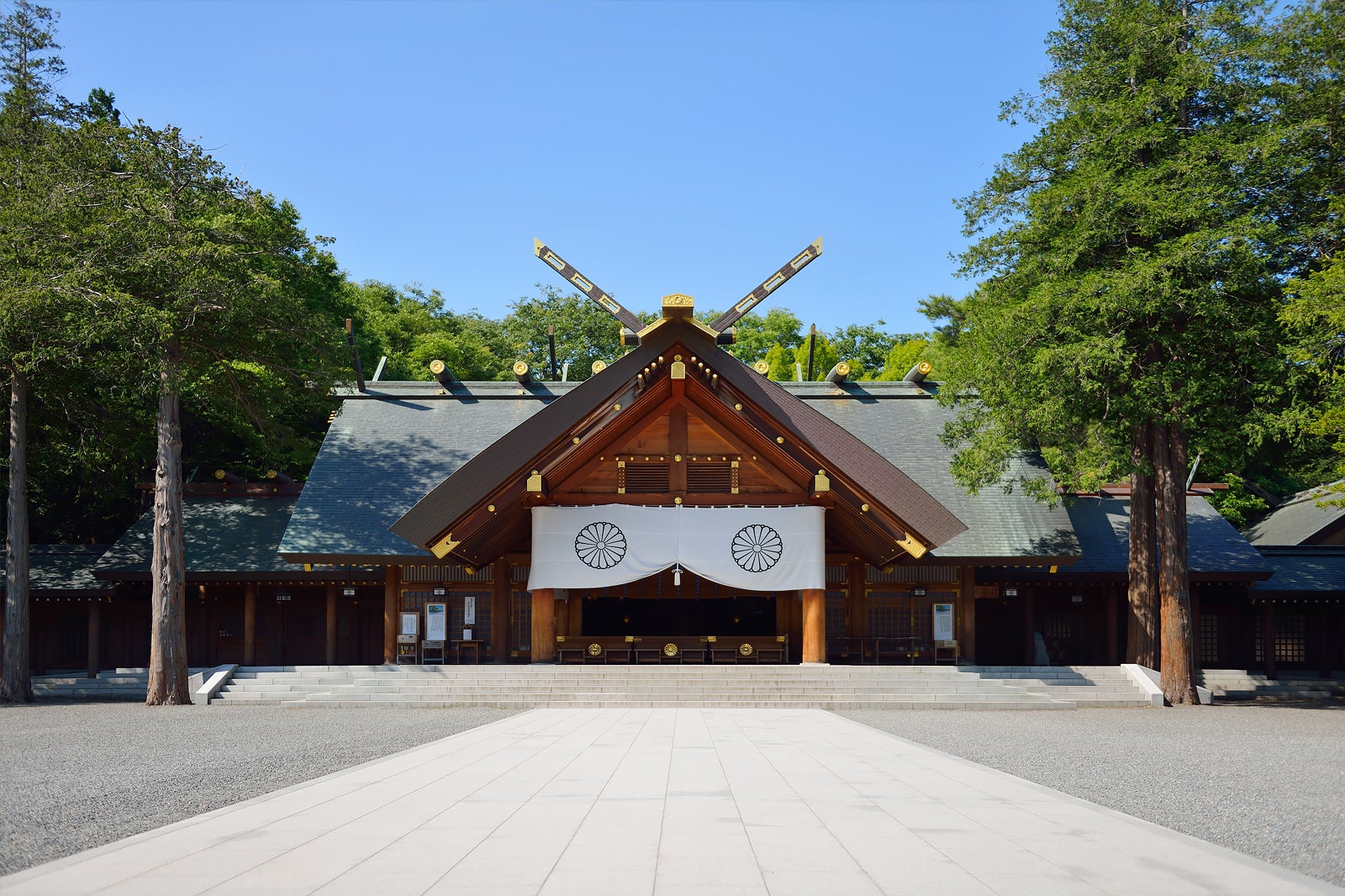 Hokkaido Shrine is a sightseeing spot where you can take a stroll free of charge. Maruyama Park is just next door and well worth a visit in its own right. Take a 15-minute walk from Maruyama-Koen Station on the Tozai Subway Line, and follow the straight Omotesando path through the Torii gate. If you visit in early May, you can also enjoy cherry blossom viewing on both sides at the same time.
Head through the shrine gates and you'll come to the main shrine. In the precincts, you can see lovely squirrels running around, wild birds such as woodpeckers, and red-spotted squirrels. Sapporo Festival, which is held every June, has been going for more than 100 years at this largest shrine in Hokkaido. Gorgeous floats and portable shrines made in the Meiji and Taisho periods parade around the city to the sound of Taiko drum beats. In the precincts, you can also enjoy street performances, old Japanese court music, and stalls.
Location: 474 Miyagaoka, Chuo Ward, Sapporo, Hokkaido 064-0959, Japan
Open: Hours vary by season
4
Chi-Ka-Ho Underground Passageway
Enjoy the city even in the winter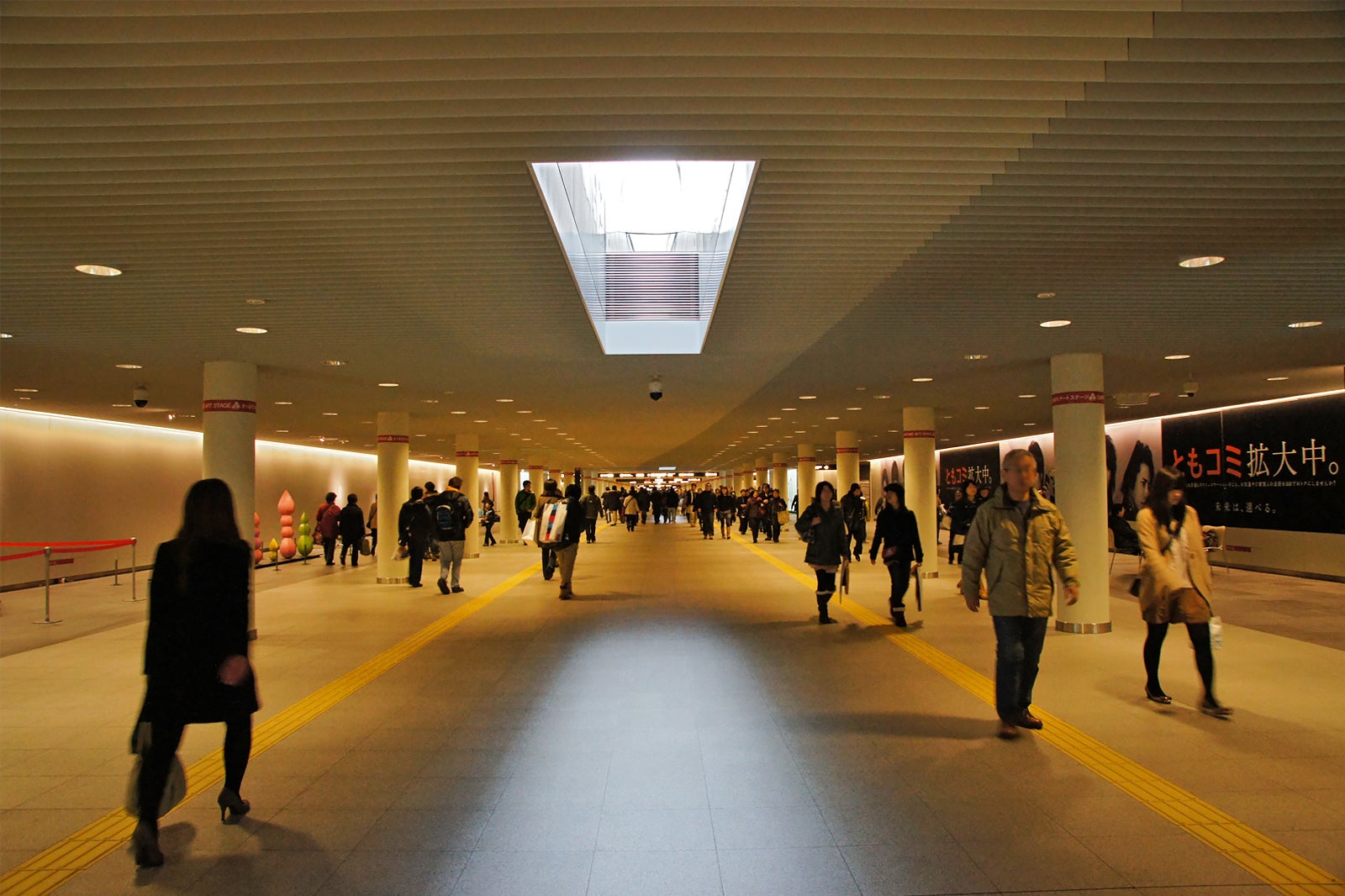 Chi-Ka-Ho Underground Passageway is a 520-metre underground walking space that connects the Sapporo Station area and Odori area, allowing you to enjoy the city comfortably even in the snowbound winter. There are 3 event spaces called "Intersection Plazas" where you can enjoy free events including exhibitions of local products, commercial promotions, and live music. There are also large screens on the walls for watching sports. Plus, photography and art exhibitions are held in the rest areas from time to time.
On the way, why not take a break at the free Shikishima Garden? There's also a bakery and a convenience store, with tables and chairs to eat at. Take Exit 4 for the Hokkaido Government Office, Exit 9 for Sapporo Clock Tower, and Exit 13 for Odori Park and other sightseeing spots in Sapporo.
Location: Chuo Ward, Sapporo, Hokkaido, Japan
Open: Daily from 5.45 pm to 12.30 am
photo by 663highland (CC BY-SA 3.0) modified
5
Asahiyama Memorial Park
For breathtaking cityscapes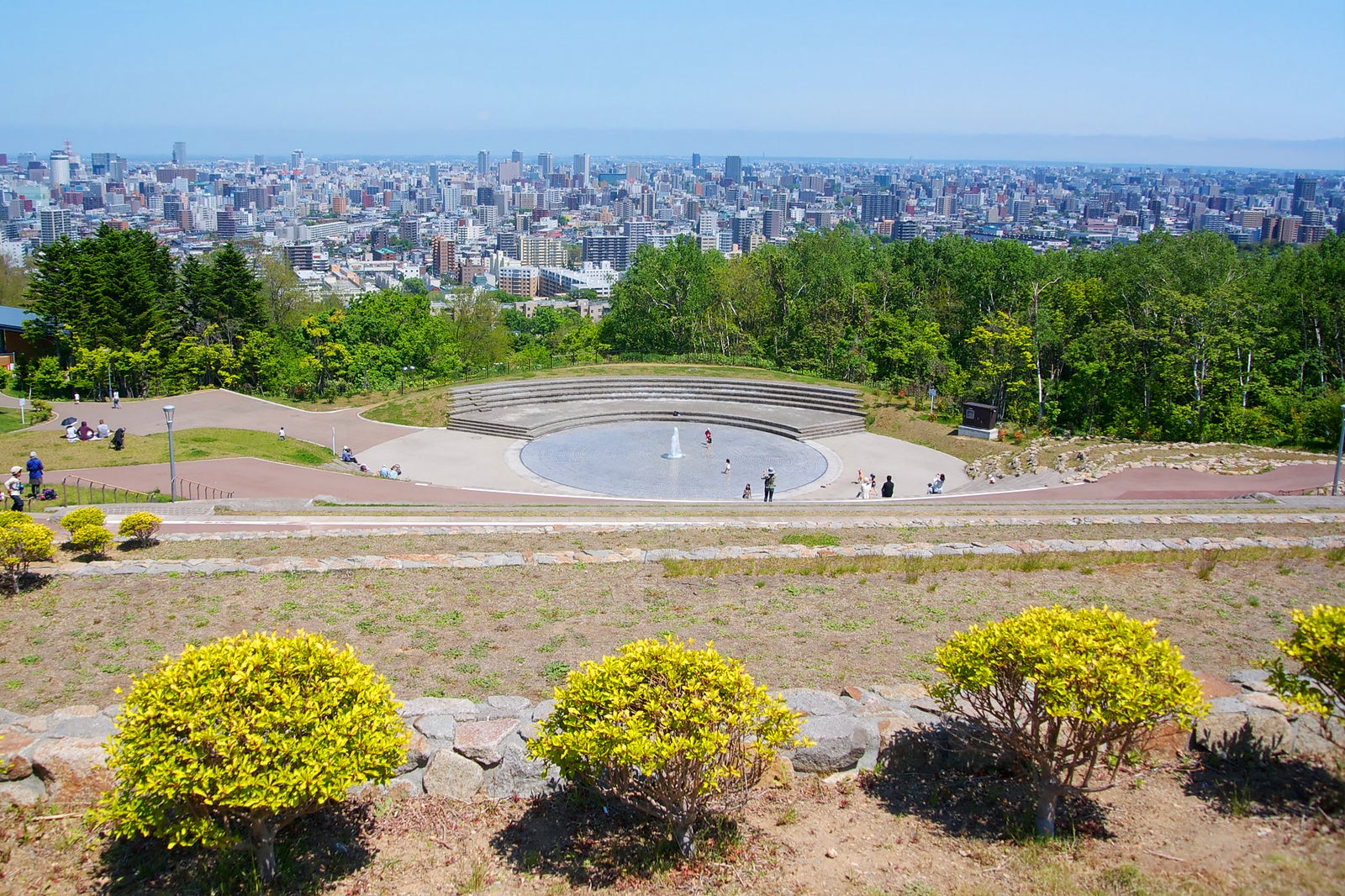 Asahiyama Memorial Park is a nature-rich park that was built on a hill next to Mount Moiwa and Maruyama in 1970. The observation deck is at an altitude of 137.5 metres and overlooks the city of Sapporo, the Ishikari Plain, and the Sea of Japan. The Learning Forest is full of typical trees found in Hokkaido like the Ezo alder, Ezo pine, and Kitakobushi. And make sure you take a walk along the "Forest Path" in search of wild birds.
With playground equipment, suspension bridges, and a small open space, it's also ideal for some weekend leisure with your children. At "Picnic Square" you can enjoy a picnic in a gorgeous setting. There's something to do here in every season: cherry blossoms in spring, fountains in summer, and sledging on the slopes in winter. It's also a popular night-view spot.
Location: 4-chome Kaikawa, Chuo Ward, Sapporo, Hokkaido 064-0943, Japan
Open: Hours vary by facility
Phone: +81 (0)11-200-0311
photo by MIKI Yoshihito (CC BY 2.0) modified
6
Chitose Tsuru Sake Museum
Sip sake and learn about its history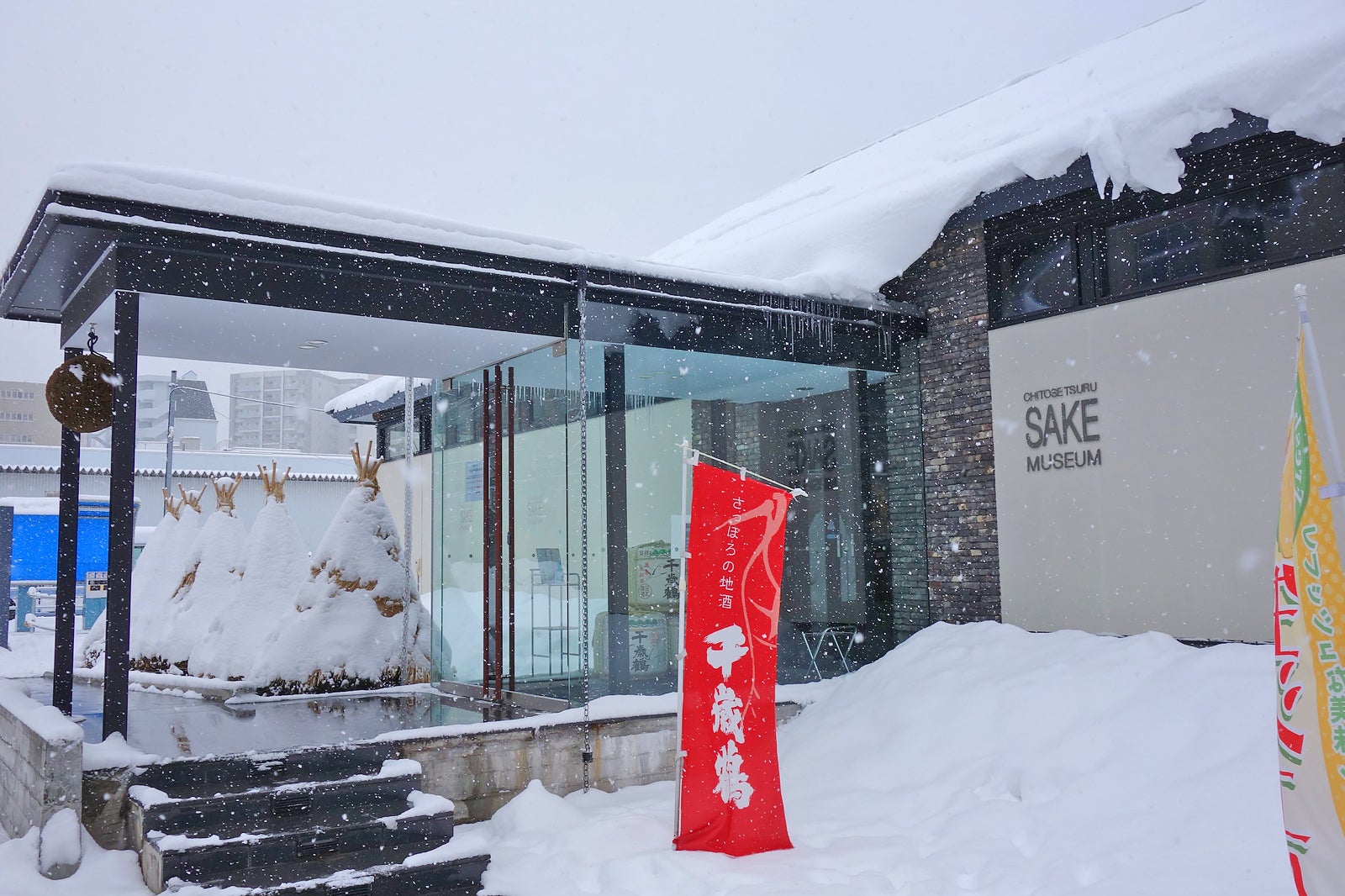 Chitose Tsuru Sake Museum, which opened in 2002, offers free admission and is a great way to learn about the history of sake and enjoy some tastings. Chitose Tsuru is a local sake from Sapporo that's made using Ginpu rice from Shintotsugawa Town and the underground water of the Toyohira River that flows 150 metres below the ground. The museum's ceiling is made of old materials from a mid-Meiji era miso soy sauce warehouse.
In the brewery's material display corner you'll find brewing tubs, brewing diaries, and PR posters that were actually used back in the day. At the tasting counter, you can compare the taste and aroma of sake, liqueurs, and amazake. If you find a favourite, why not buy some as souvenirs at the direct sales corner? There's also a corner where you can drink the prepared water.
Location: 5-1 Minami 3 Johigashi, Chuo Ward, Sapporo, Hokkaido 060-0053, Japan
Open: Daily from 10 am to 6 pm
Phone: +81 (0)11-221-7570
7
Sapporo Racecourse
Watch racing horses and more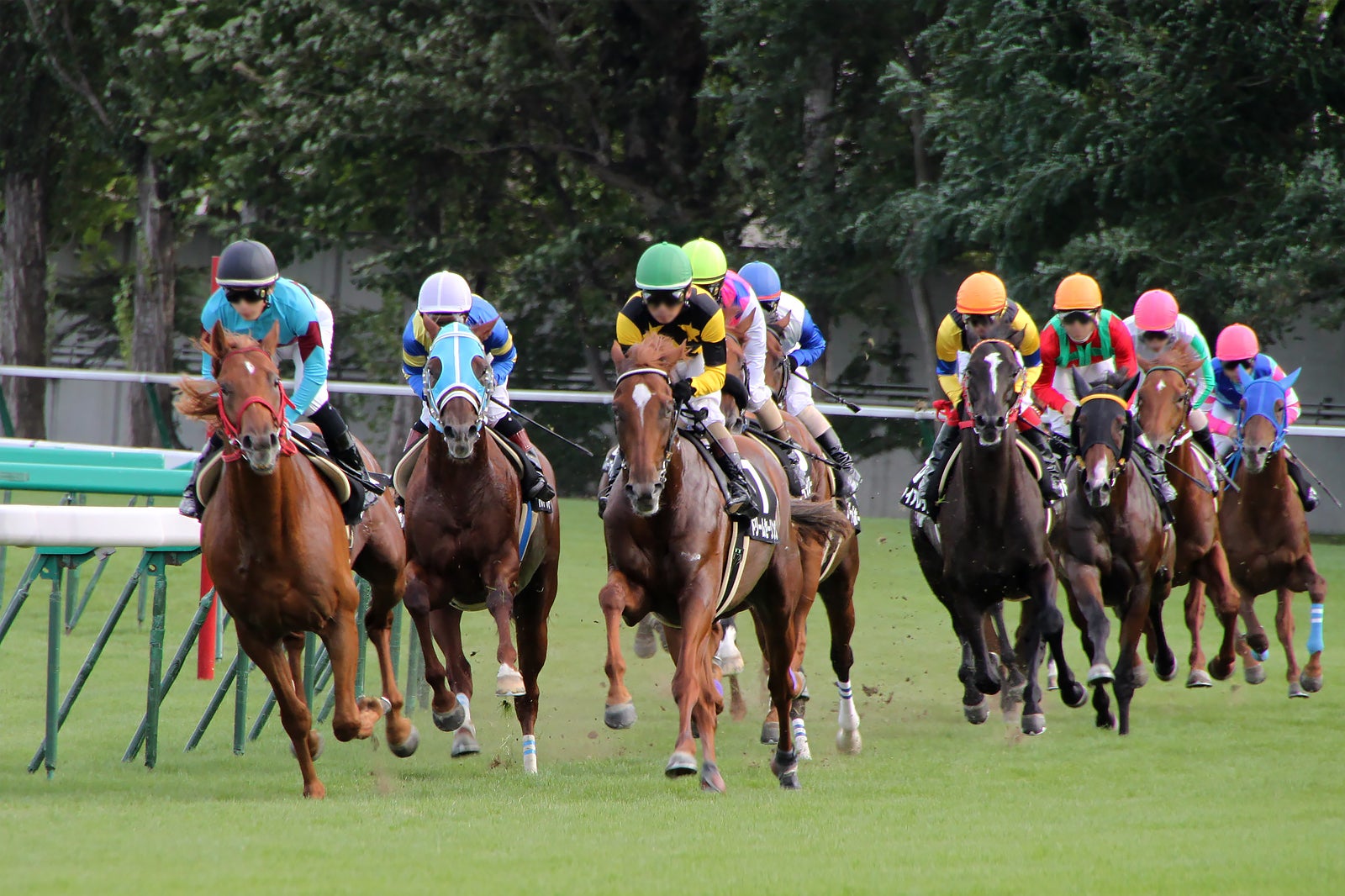 Sapporo Racecourse is home to the summer Hokkaido Series and is popular not only for watching horse racing but also for enjoying days off without spending too much money. "Turf Park" is top fun for children and adults, with buggies that can be taken out onto the racecourse, miniature horses, as well as horsedrawn carriages.
Check out the special events like shows for children, horse riding experiences, and grass course walking events. On race days you're best off using public transport because it can get really crowded. Sapporo Racecourse is about a 10-minute walk from JR Kuwazono Station, and about a 15-minute walk from Nijuyonken Station on the Subway Tozai Line.
Location: 16-1-1 Kita 16 Jonishi, Chuo Ward, Sapporo, Hokkaido 060-0016, Japan
Open: Hours vary by season
Phone: +81 (0)11-726-0461
photo by MIKI Yoshihito (CC BY 2.0) modified
8
Cycling on Shiroishi Kokoroad
Cruise under the cherry blossom trees
Shiroishi Kokoroad is a road for bicycles and pedestrians that runs from Sapporo Convention Center in Shiroishi Ward to JR Kitahiroshima Station. Along this tree-lined road are 120 Sekiyama cherry blossom trees. No wonder it's one of Hokkaido's most famous cherry blossom viewing spots. Around May, lilac flowers bloom along the roadside. There are several parks along the way where children enjoy playing in the summer. In autumn, you can enjoy the autumn leaves of birch trees.
If you're tired of walking, take a break at Azumaya along the way. The Rainbow Bridge over the Atsubetsu River connects Shiraishi Ward and Atsetsu Ward. The Atsubetsu section is called Yodamari Road and the Kitahiroshima City section is called Elfin Road. The total length of the 3 sections forms an 18.5 km cycling course that can be run non-stop without stopping at traffic lights.
Location: Shiraishi Ward, Sapporo, Hokkaido, Japan
Open: 24/7
photo by t-konno (CC BY-SA 3.0) modified
9
Dosan Saishoku HUG
Enjoy gourmet food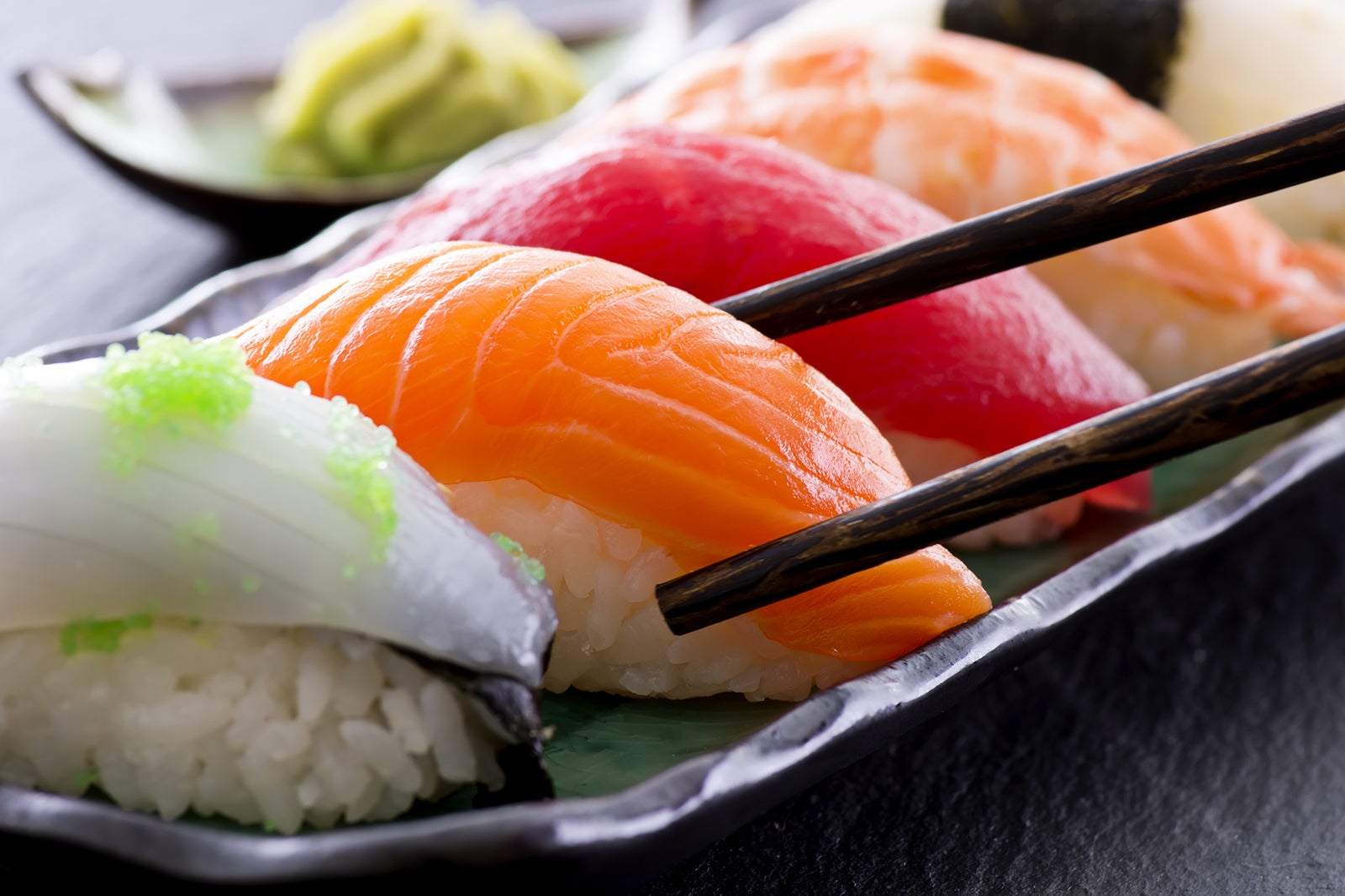 Head to Dosan Saishoku HUG if you're after the best Hokkaido foods that are served at a reasonable price. Here you'll find the HUG Eat restaurant street, which is a great option for a cheap and tasty lunch. There are 7 restaurants here where you can taste delicious Hokkaido ingredients like oysters from Akkeshi, Hokkaido seafood including the Okhotsk atka mackerel (hokke) and saury, grilled Hokkaido chicken, as well as juicy pork bowls. At night, it's transformed into a bustling Japanese-style pub (izakaya).
At HUG Mart, there are special products from various parts of Hokkaido arriving daily. You'll also find a wide variety of seasonal fresh vegetables, natural yeast bread using Hokkaido wheat, honey and yoghurt, processed products such as Hokkaido ham and sausages, marine products and organic rice. There's even a service where they'll pack things you buy at the shop and send them on your behalf, so this is an excellent way to give a distant family member or friend a taste of Hokkaido.
Location: 1st floor, Sapporo Plaza 2.5 Building, 5 Chome Minami 2 Jo, Chuo Ward, Sapporo, Hokkaido 060-0062, Japan
Open: HUG Mart: daily from 10 am to 7 pm, HUG Eat: daily from 11 am to 10 pm
10
Sapporo Pirika Kotan
Sapporo Ainu Cultural Exchange Centre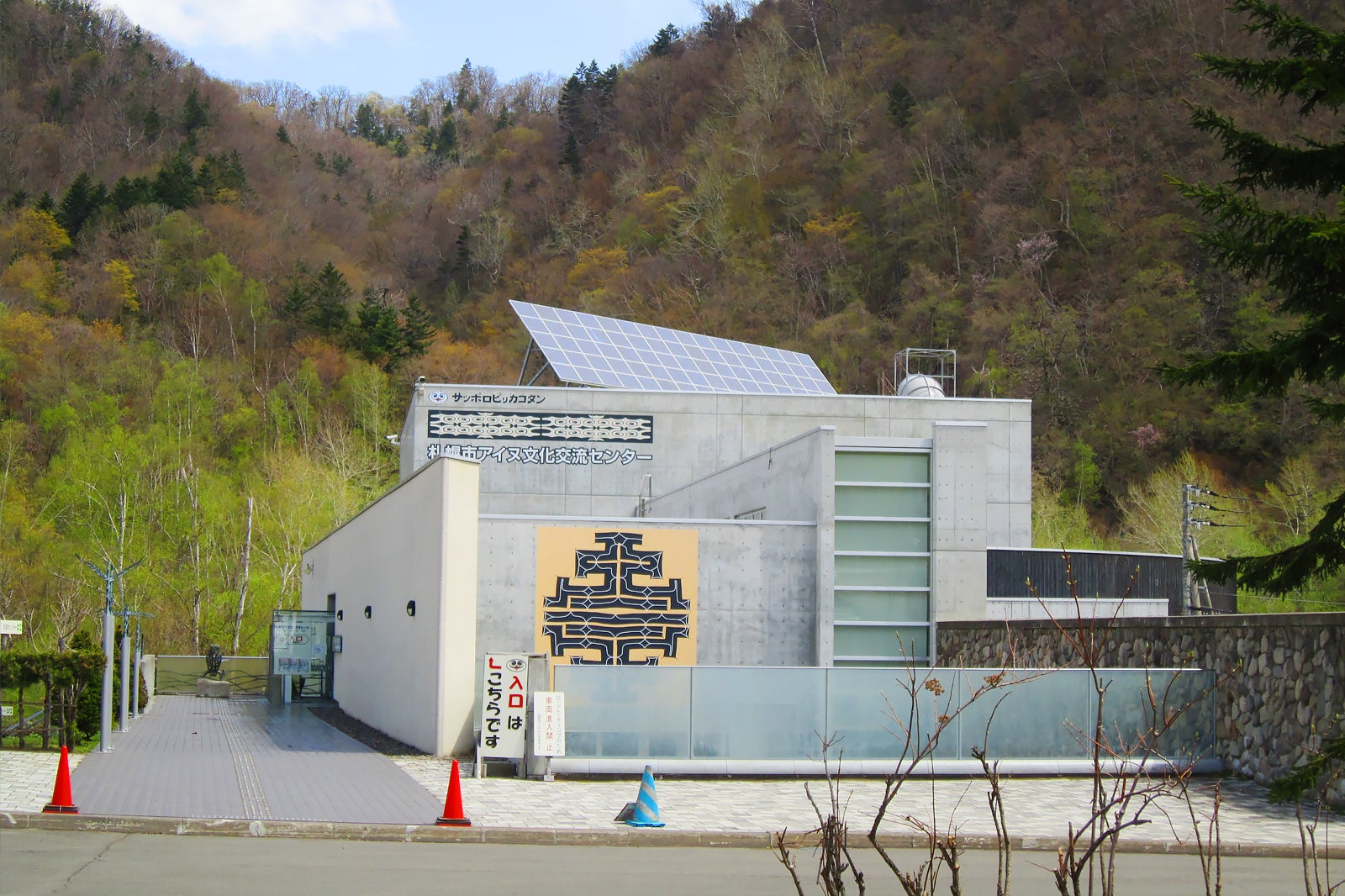 Sapporo Pirika Kotan or the Sapporo Ainu Cultural Exchange Centre is a facility that's located in front of the Toyohira River and allows you to learn about the history, culture and life of the Ainu people. A carved wooden monument welcomes you when you enter the building. The street gallery is filled with traditional Ainu crafts and modern artworks.
In the information section, you can freely browse about 500 books and picture books on Ainu culture. The exhibition room has about 300 items including traditional Ainu costumes and everyday articles that you can actually touch. Outside, the houses and breeding pens of Ainu people who lived in the past are reproduced, and there's also a restoration of a 15-metre-long ocean-going ship used for trade and fishing. There are 2 other facilities nearby where you can enjoy a day trip to the hot springs at Koganeyu Onsen.
Location: 27 Koganeyu, Minami Ward, Sapporo, Hokkaido 061-2274, Japan
Open: Tuesday–Sunday from 8.45 am to 10 pm (closed on Sundays)
Phone: +81 (0)11-596-5961
photo by 禁樹なずな (CC BY-SA 4.0) modified