George Street is one of the Scottish capital's main shopping streets, which runs through the heart of the elegant New Town. The half-mile street runs parallel to and links to Edinburgh's other major retail strip – Princes Street – helping make the New Town a prime destination for retail therapy. While Princes Street draws the crowds to its many chain stores, George Street offers a lineup of upscale boutiques with chic bars and cocktail lounges to stop for a drink at in between.
A perk of shopping walks along George Street is the sightseeing that complements the whole experience as well as the various charming backdrops that can spice up your Instagram feed. Besides the prominent grand architecture, there are notable statues to check out along its length. Two of Edinburgh's beautiful and open squares bookend the street.
George Street in Edinburgh - one of the highlights of 10 Best Places to Go Shopping in Edinburgh (Read all about Edinburgh here)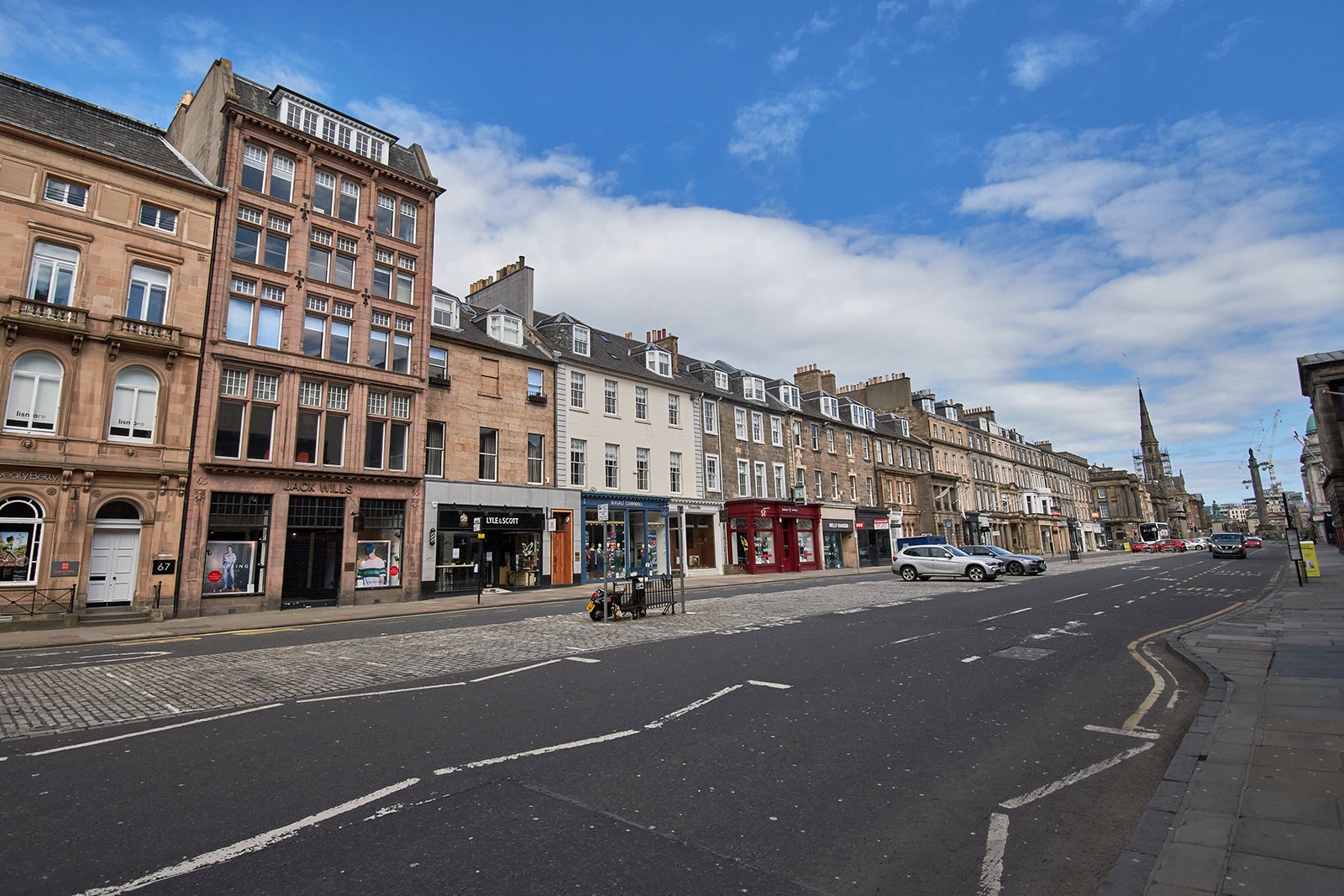 A brief history of George Street
George Street was designed in the 18th century by Scottish architect James Craig as part of his plans for Edinburgh New Town's rectilinear layout. The plan included 3 parallel main streets – the other 2 being Princes Street and Queen Street. What was first meant as a residential area saw its houses turn into various commercial buildings throughout the Victorian era over a half-century later, with many grand buildings designed by its resident and architect David Bryce.
The Caledonian Insurance Company was one of Bryce's historic designs that make up George Street's quintessential Victorian townscape. It's at 19 George Street and consisted of 5 townhouses. Today, it's known as the InterContinental Edinburgh the George hotel. Others are the Edinburgh branch of the Union Bank of Scotland, which is now The Standing Order pub and restaurant, and the imposing bank buildings on the corner of George Street and Hanover Street.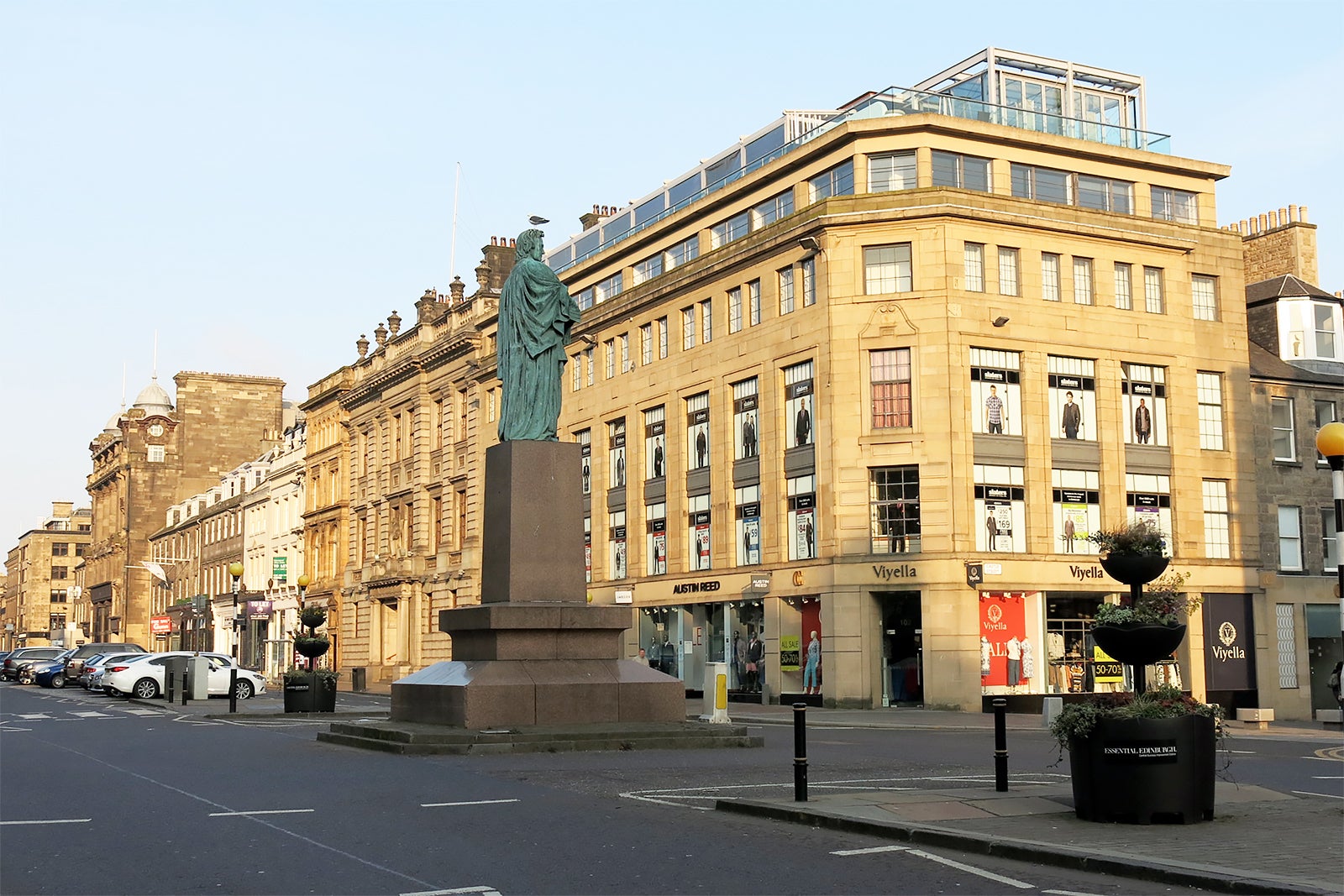 Where to shop and what to buy on George Street?
Towards the 21st century, many of the commercial buildings along George Street evolved into trendy dining spots, luxury shops and individual fashion boutiques. The whole half-mile is home to some of Edinburgh's most sought-after shops that attract a steady flow of stylish patrons, rain or shine. Most of the street is pedestrianised following the success of doing the same to Glasgow's Buchannan Street. This makes for a pleasant shopping and walking experience through one of Edinburgh's heritage sites.
From the eastern end, the shopping scene starts at the corner of George Street and Hanover Street, with most of the boutiques set side-by-side. Fashion boutique Mint Velvet Edinburgh is sandwiched by 2 pleasantly aromatic shops, namely Penhaligons where you can search for exclusive perfumes and your very own special fragrance, and Molton Brown London with its luxury bath, body and beauty products.
More selections of stylish designer fashion are found further down the street, with Anthropologie and its stunning boho-chic dresses alongside scented candles. Whistles is where you can pick up a dazzling dress for an evening out. Just across the street from it, there's the Cruise Fashion designer emporium for the gents.
To dazzle up more, there's Hamilton & Inches for designer watches and jewellery, ROX – Diamond & Thrills and the family-run jeweller Laings with their collection of luxury watches and diamonds. Pop into Space NK George Street for premium skincare and beauty products.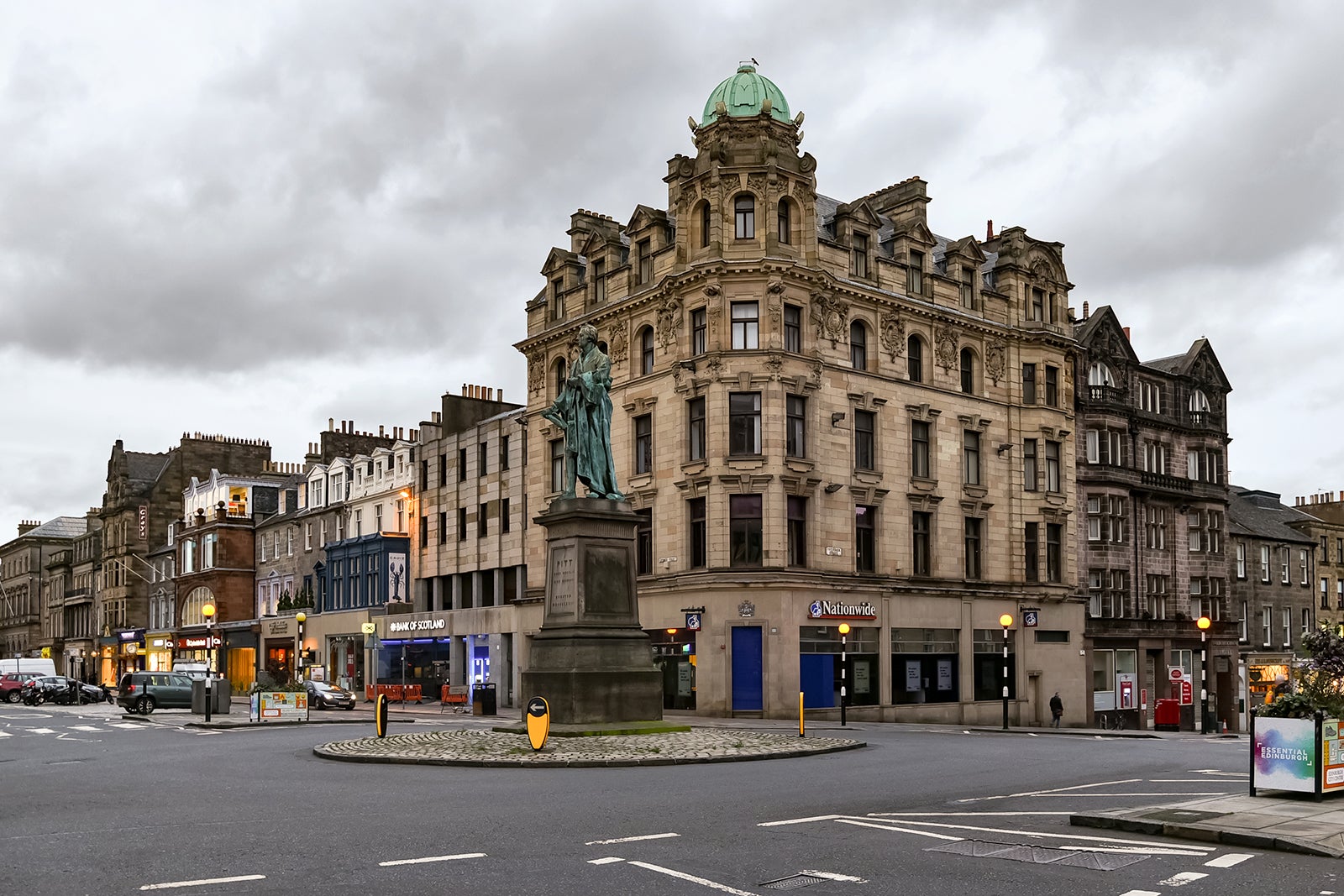 What to see in George Street?
George Street and Princes Street are linked by 3 smaller streets – namely Hanover Street, Frederick Street, and Castle Street – all of which are lined by grand, neoclassical Georgian architecture.
Besides pausing for a coffee or a bite at the cafés and restaurants, you can strike a pose for your Instagram against its old statues and the row of splendid buildings beyond. These 3 small monuments are images of Scottish physicist James Clerk Maxwell, British Tory statesman William Pitt the Younger, and great Scottish churchman Dr Thomas Chalmers.
Gorgeous gardens surround Edinburgh New Town – George Street alone features the beautiful and leafy St Andrew Square at its eastern end and Charlotte Square to its west. Just a step off George Street and across St Andrew Square, you can extend your shopping adventure a little bit more with a visit to Harvey Nichol's and Multrees Walk nearby.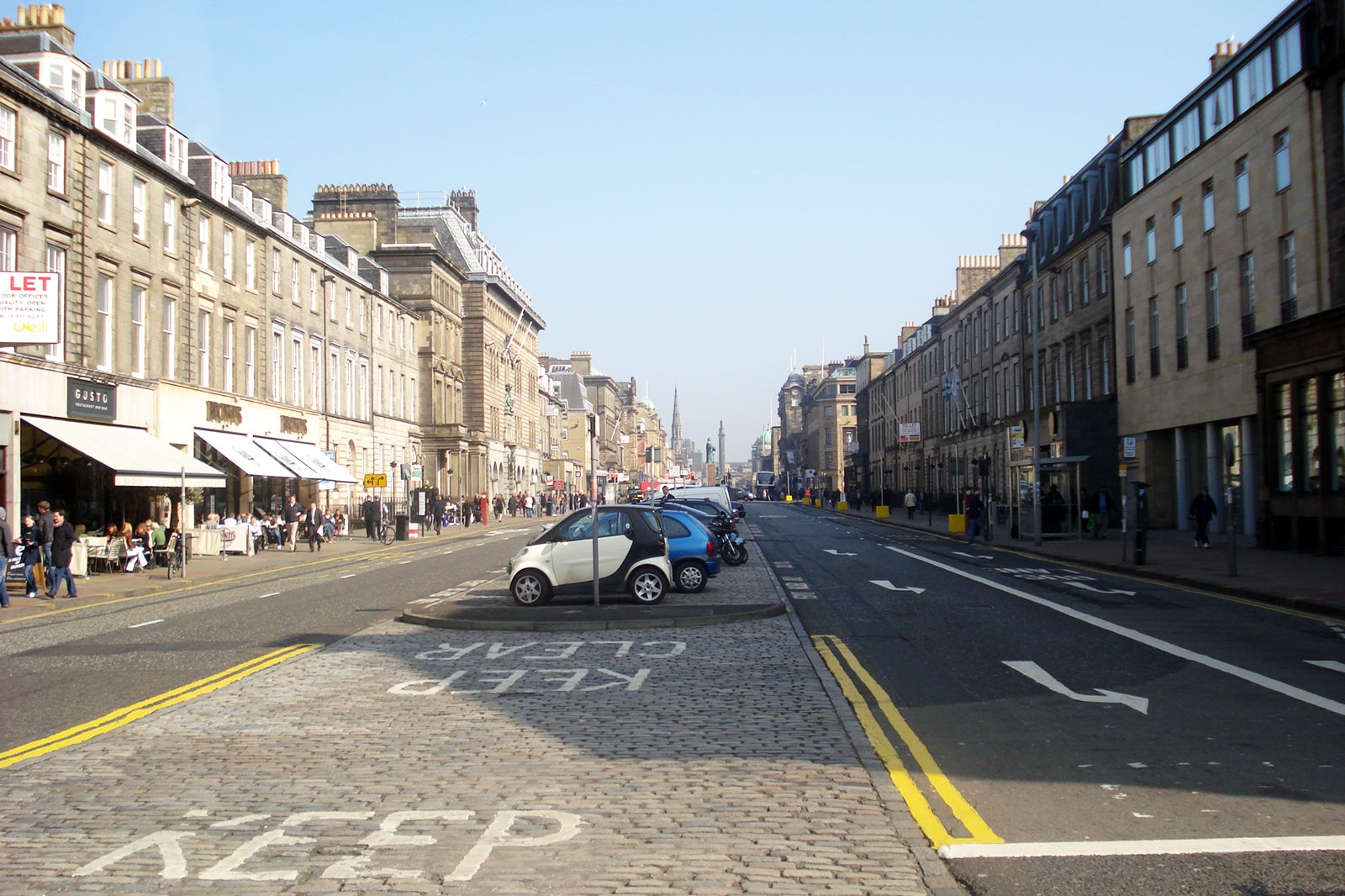 George Street in Edinburgh
Back to top