Getting Around Seoul
Seoul Information
Getting around Seoul is relatively easy thanks to the city's well-planned pedestrian lanes and efficient public transportation system. The subway is one of the best ways to travel within the city as there's usually a station within a 10-minute walk of popular neighbourhoods and sightseeing spots.
Seoul's public bus system is another popular method of transportation – there are 400 bus routes leading to the city's shopping, entertainment and business districts. You can also flag down metred taxis in Seoul, with fares determined by distance and time. If you're looking to explore other regions in South Korea, Seoul is also connected through a number of high-speed rail systems and express buses.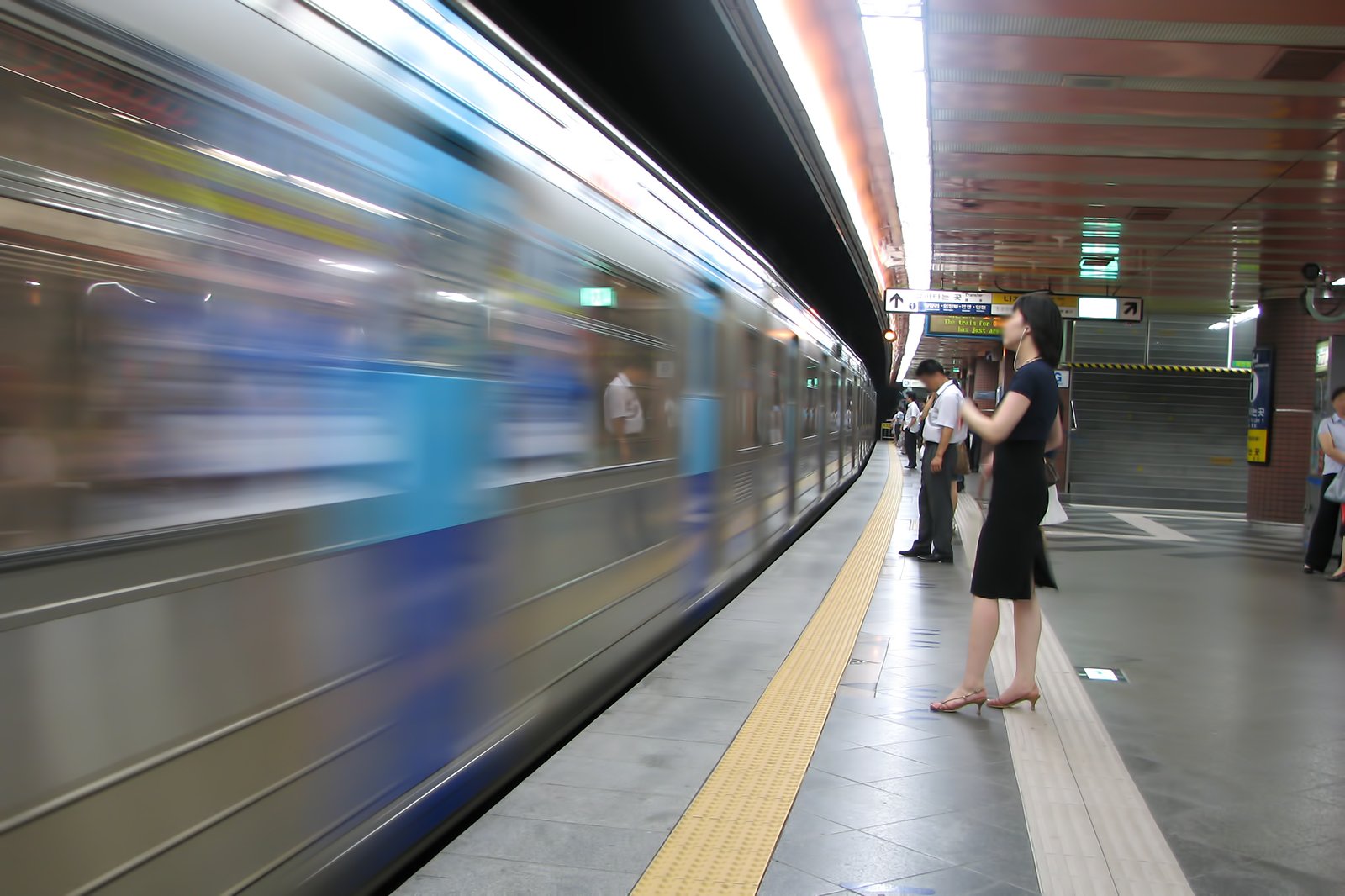 The Seoul subway system offers a convenient way of getting around Seoul, featuring colour-coded subway lines, comprehensive maps, and display signs in Korean, English, and Chinese. Consisting of Seoul Lines 1 through 9, Jungang Line, Bundang Line, and Gyeongui Line, the trains here operate practically non-stop from 5.30am until midnight.
A'REX is Seoul's airport railway line that connects Incheon International Airport and Gimpo International Airport to downtown Seoul. Operating from Incheon International Airport, express trains charter travellers to Seoul Station in just under 50 minutes.
Subway fares vary according to age range, where visitors can opt for the single-journey transportation card or multiple-journey transportation card. A deposit is required for the former, which you will receive by returning the ticket to a deposit refund device at your destination. The price for a single-journey transportation card is priced around 1,150 won (adults), 1,000 won (teens), and 500 won (children). Multiple-journey transportation cards cost about 1,050 won, 900 won, and 450 won.
Seoul subway stations also has onsite amenities and facilities, including tourist information centres, currency exchange, self-storage lockers, phone-charging stations. You can also find convenience stores, restaurants, and shopping outlets at these stations.
photo by Ian Muttoo (CC BY-SA 2.0) modified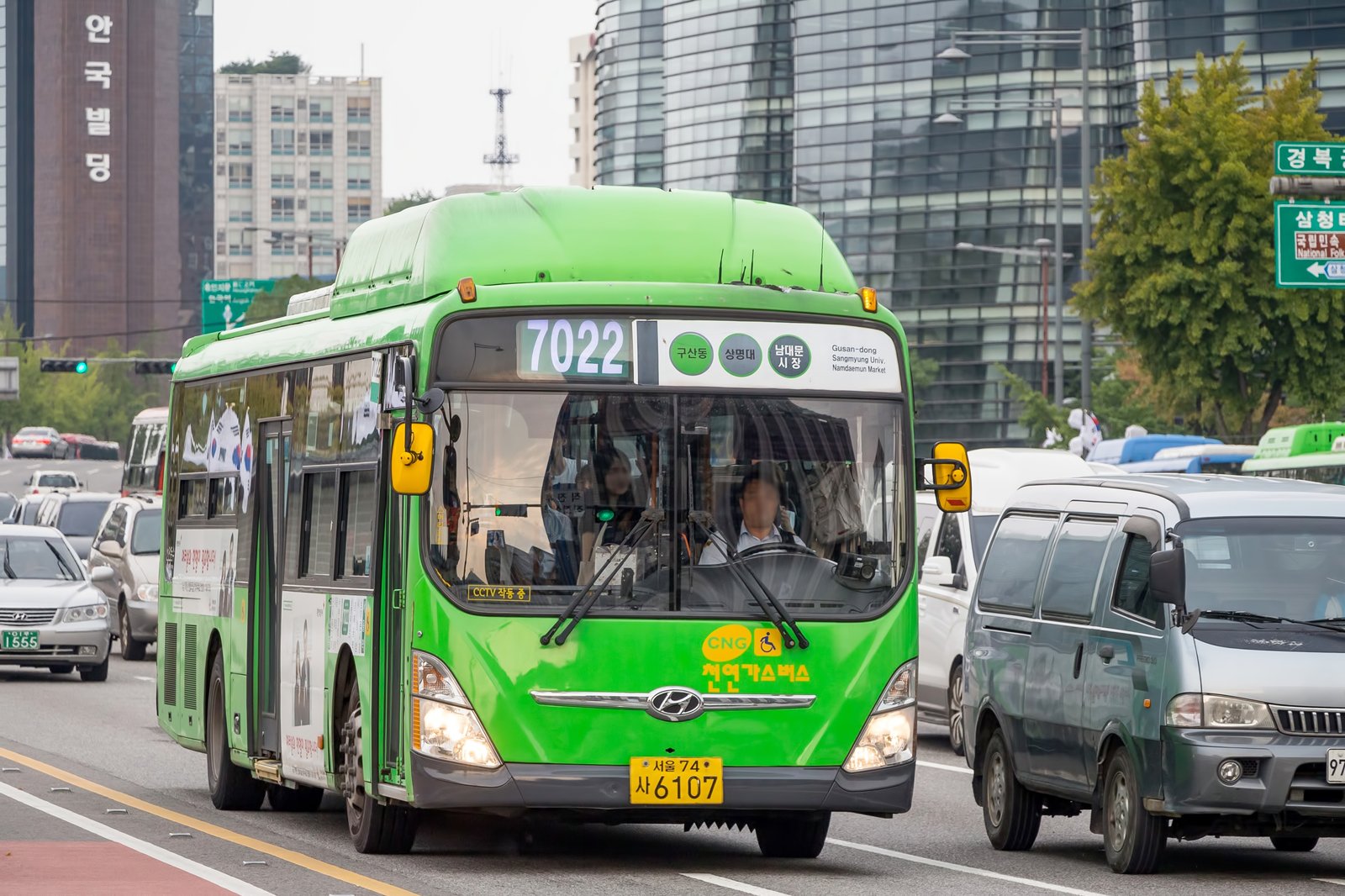 Similar to the subway system, buses in Seoul are colour-coded according to routes. Blue-hued buses travel on major roads within Seoul while green buses travel shorter distances and charter passengers between transfer points, such as subway stations. Buses marked in yellow travel on a circulation route within central districts of the city, and red buses travel from central Seoul to suburban areas.
Passengers can choose between paying cash when they get onto the bus or use T-Money, a prepaid transportation card that automatically deducts the fare upon swiping. T-Money cards can be loaded in amounts ranging from 1,000 won to 50,000 won from an automated machine.
photo by Ilya Plekhanov (CC BY-SA 4.0) modified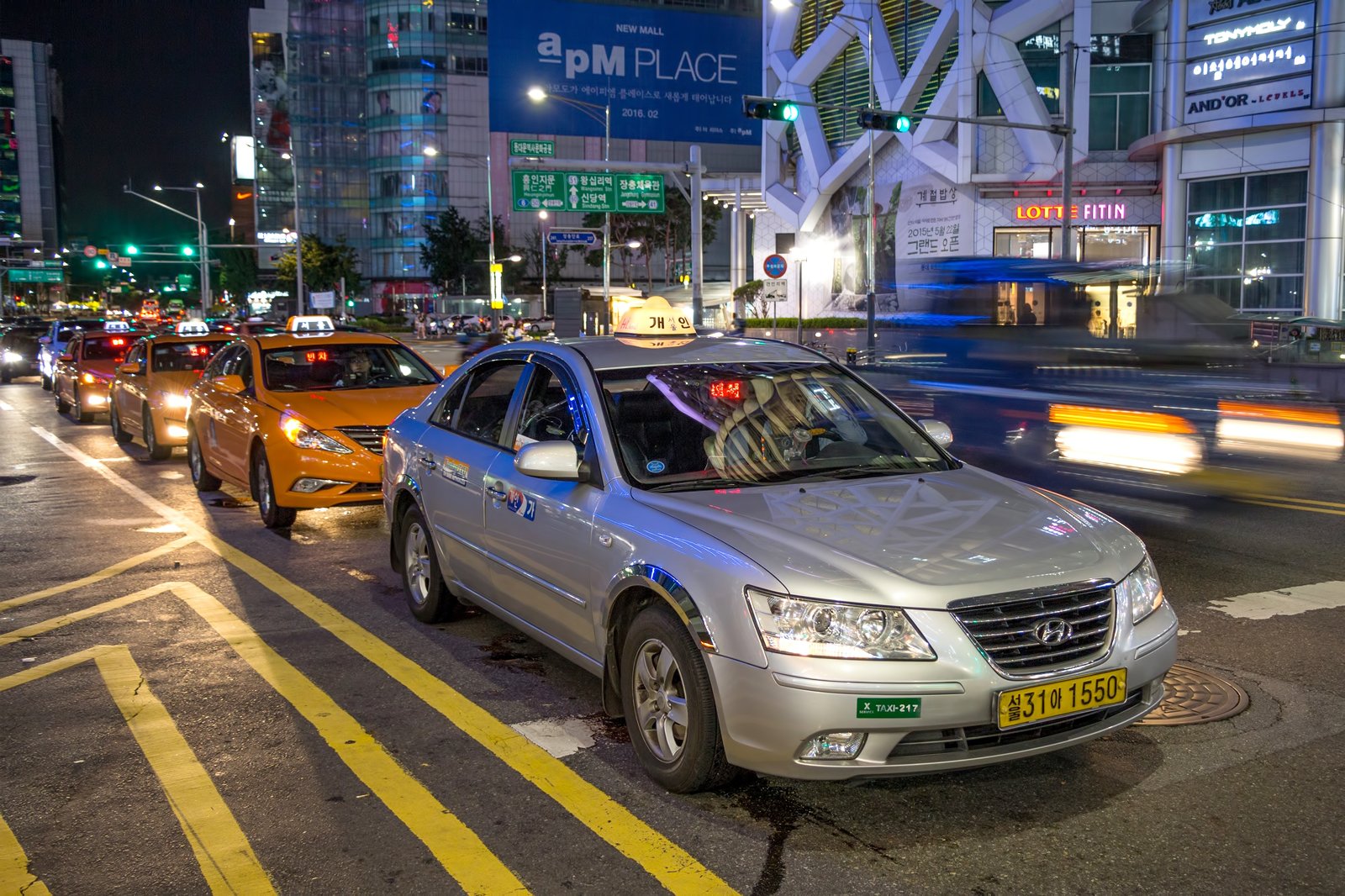 Taxis in Seoul can be found just about everywhere in the city. There are 3 main types of taxis here, all of which are metred with fares determined by distance and time. Virtually all taxis operating in Seoul accept cash, credit card, and the pre-paid public transportation cards (T-money card).
During peak hours and past midnight (when subways and buses are not operating), you can find taxi stands near major attractions, shopping and nightlife districts. Do note that rates are 20% higher during this time, so make sure to plan your late-night travels in advance. Tipping is not necessary in Seoul, but rounding up the total fare and letting the driver keep the change is highly encouraged.
Regular Taxi
The cheapest taxis in Seoul are the regular or standard taxis, which are orange in colour. Yoll be charged with a basic fare of 3,000 won for the first 2 km, with additional 100 won for every 142 metres. Seoul taxis can be easily flagged down on the streets.
Deluxe Taxi
Deluxe taxis are often close to established hotels and tourist destinations. Fares are usually between 40% and 50% higher compared to regular taxis. The plus side of these vehicles include English-speaking drivers, more spacious seats, safer service, and no late-night surcharges. To identify a deluxe taxi in Seoul, look out for vehicles in black with golden stripes and the 'Deluxe Taxi' sign on each side.
International Taxi
Catering for foreign tourists, Seoul offers special international taxis, which are driven by taxi drivers who are proficient in foreign languages such as English, Japanese or Chinese. Similar to deluxe taxis, international taxis are black in colour but are marked with an 'International' sign on both sides. These taxis usually operate on a reservation basis, but you can also hail an international taxi from the streets. International taxis are metred, but a flat rate fare of 65,000 won to get to central Seoul from Incheon International Airport is also available.
photo by Ilya Plekhanov (CC BY-SA 4.0) modified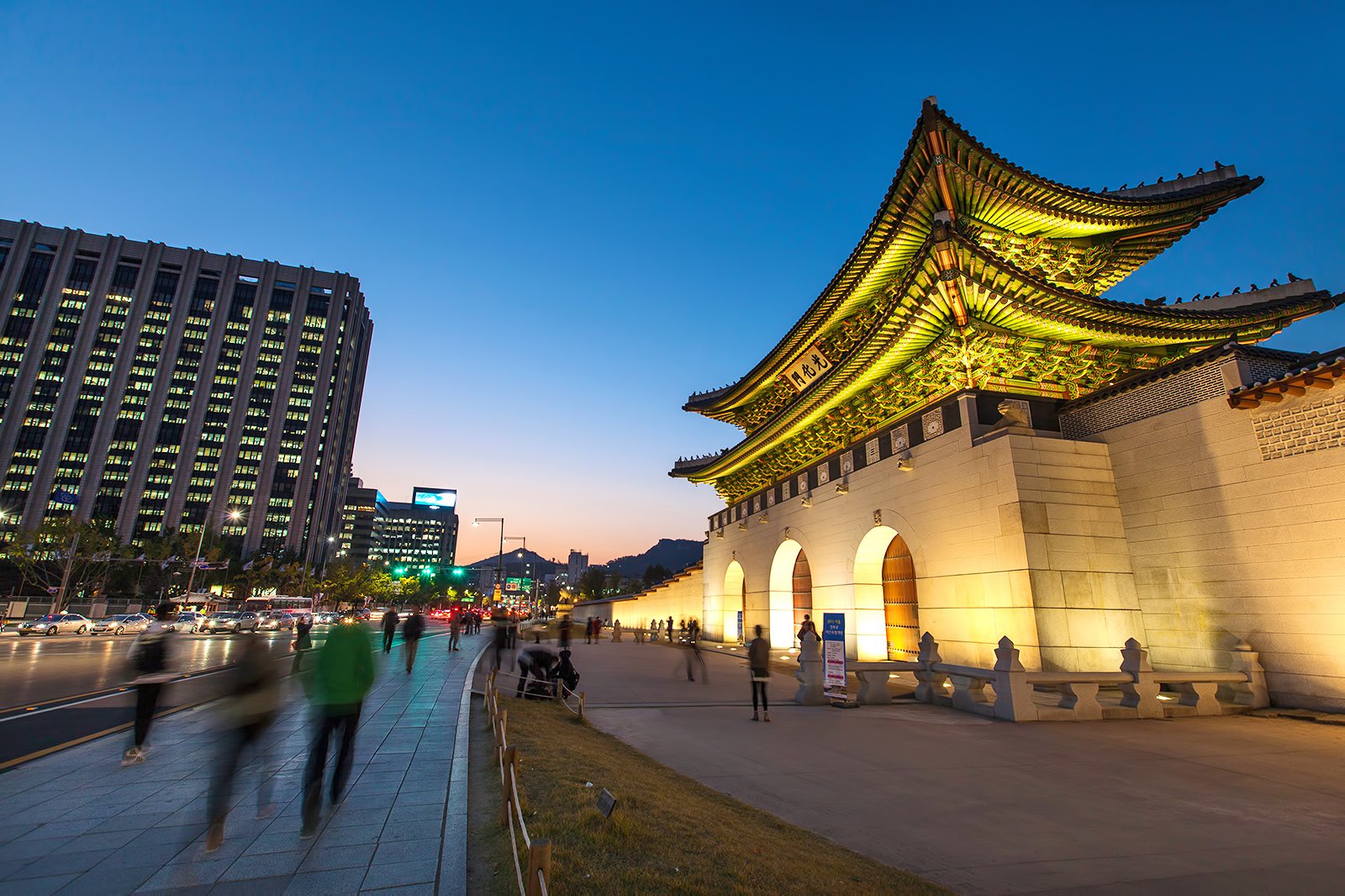 Seoul travel passes are available at most convenience stores, subway stations, and tourist information centres. Carrying this pass helps you get around Seoul easily and avoid common travel hassles such as long queues and lack of small change. Priced at 3,000 won onwards, these cards can be used to pay for subway, bus and taxi fares as well as certain transactions at convenience stores. There are 3 types of Seoul travel passes: T-Money, T-Money Mypass, and Seoul Citypass Plus.
T-Money Card
The T-Money card is a standard transit card that can be used on any public bus, subway, taxis, and many convenient stores in Seoul. T-Money cards also offer a 100 won discount for buses and subways, as well as transfer discounts between buses and subways. Valid for 30 minutes between transfers, just tap your T-Money card on the sensors as you get on and off the subway or bus, and your total fare will be calculated as if you were on a continuous ride.
T-Money cards have no expiration date and any unused balance will remain on your card until used. For balances below 20,000 won, refunds can be made at convenience stores at a surcharge. Balances exceeding that amount can only be refunded at the T-Money headquarters at Seoul City Tower Building.
T-Money Mpass
For multiple journeys, the best option is the T-Money Pass which is available at tourist information centres in Incheon International Airport, Seoul Global Culture & Tourism Centre in Myeongdong, and Gangnam Tourist Centre. The card can be used for a maximum of 20 times a day for subways and public buses.
Seoul Citypass Plus
The Seoul Citypass Plus has similar functions to a T-Money card but comes with additional tourist benefits. Not only can travellers can travel within Seoul via public transportation for up to 20 times a day, it can be also used for transactions at the royal palaces of Gyeongbokgung, Changdeokgung, Changgyeonggung, and Deoksugung, Jongmyo Shrine, and many convenience stores. Cardholders can also enjoy discounts at dozens of major attractions, restaurants, exhibitions, and beauty salons.
Back to top