10 Best Things to Do in Cádiz
What is Cádiz Most Famous For?
Cádiz may be a small port town, but it brims with Spanish history and culture. Take in the town's historical charms in its old town by the sea. Beachfront promenades connect you to majestic cathedrals, with bell towers that you can climb up for panoramic views. Lush town gardens and island castles also let you enjoy the calm and open seascapes.
Compact and mostly flat, exploring Cádiz is a breeze. There's a small but stunning beach that's great for sunbathing and a swim, and which offers more during and after the sun sets. Here's a roundup of great things to do in Cádiz in a day or two, showing you a pleasant escape that's worth the half-hour transfer southwest from Jerez Airport.
What are the best things to do in Cádiz?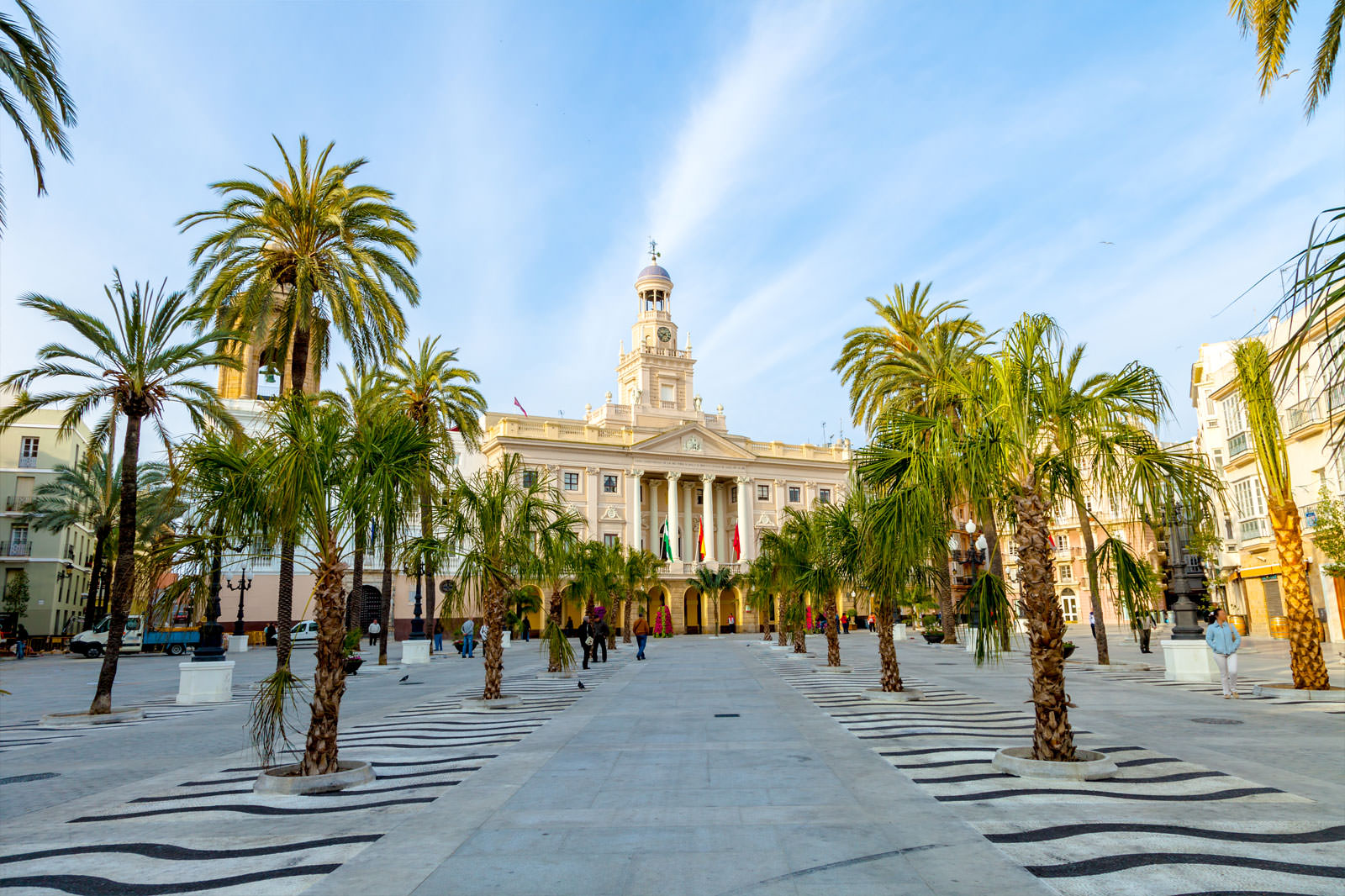 Start the day at Plaza de San Juan de Dios
The central city square of Cádiz
The lovely and spacious Plaza de San Juan de Dios is lined with tall palm trees, featuring monumental statues, water features, and the magnificent clock tower of the Casa Consistorial town hall in the background. It's a great place to chill and people-watch. Sit on the steps around the statues, or escape the daytime heat at any of the café terraces surrounding the plaza. The square is charming by night, with subtle lighting from classical lampposts and a multi-coloured LED-lit fountain.
Location: Plaza de San Juan de Dios, Cádiz, Spain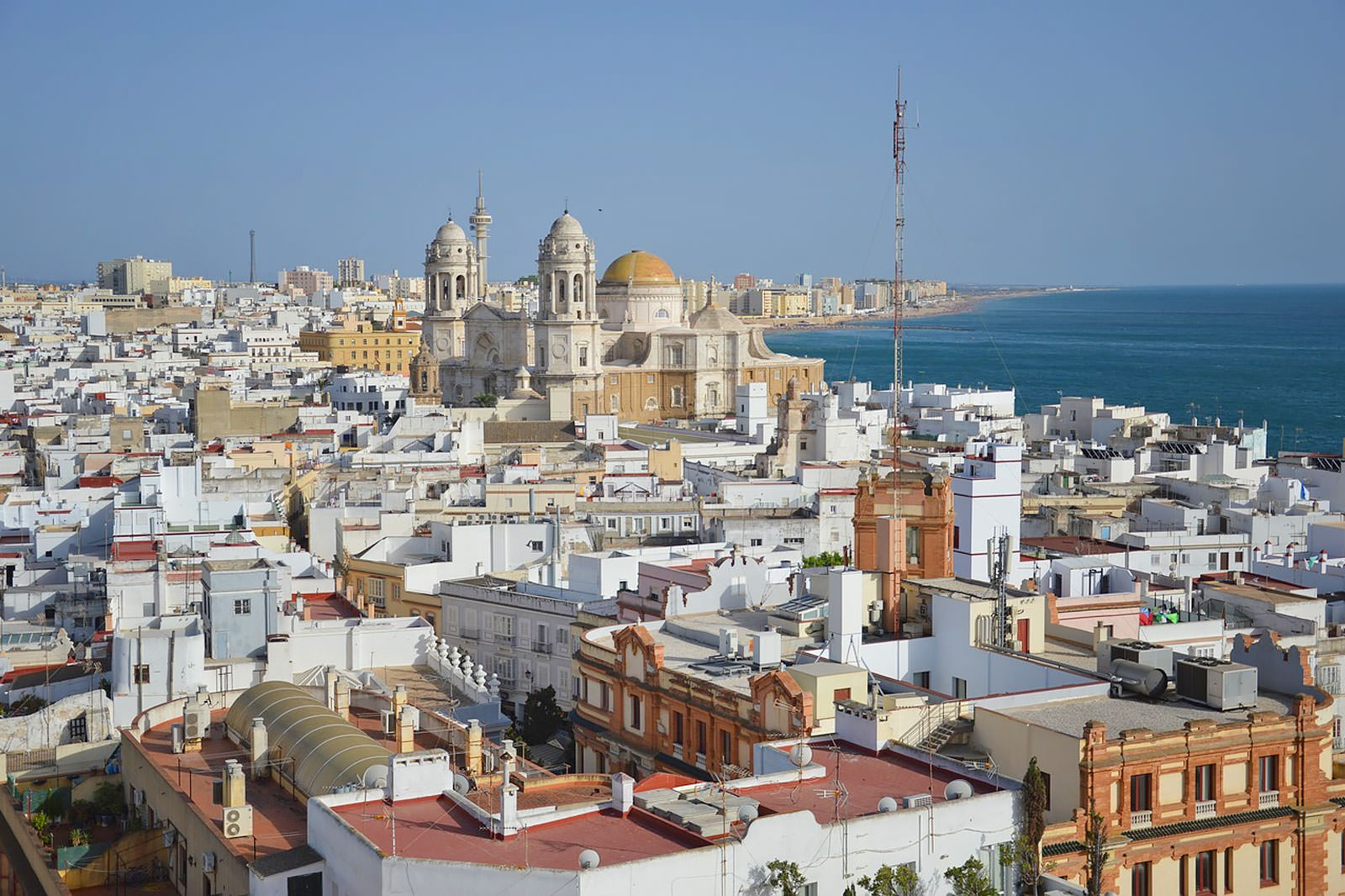 Enjoy the view from Torre Tavira
Peek through its camera obscura
You can climb up this 18th-century watchtower in downtown Cádiz for bird's-eye views from the city's highest viewpoint. Alongside the cityscape and the cooling breezes, a fascinating modern feature you can enjoy here is its camera obscura. It has large focal lenses that project real-time imagery of the city's 360° panoramas onto a concave screen inside a dark room. It can get quite hot outside in the summer, so the camera obscura is a great alternative. The tower also houses 2 separate exhibition halls in its midsection. Tickets are around €6.
Location: Calle Marqués del Real Tesoro, 10, 11001 Cádiz, Spain
Open: Daily from 10am to 6pm (open till 8pm from May to September)
Phone: +34 956 212 910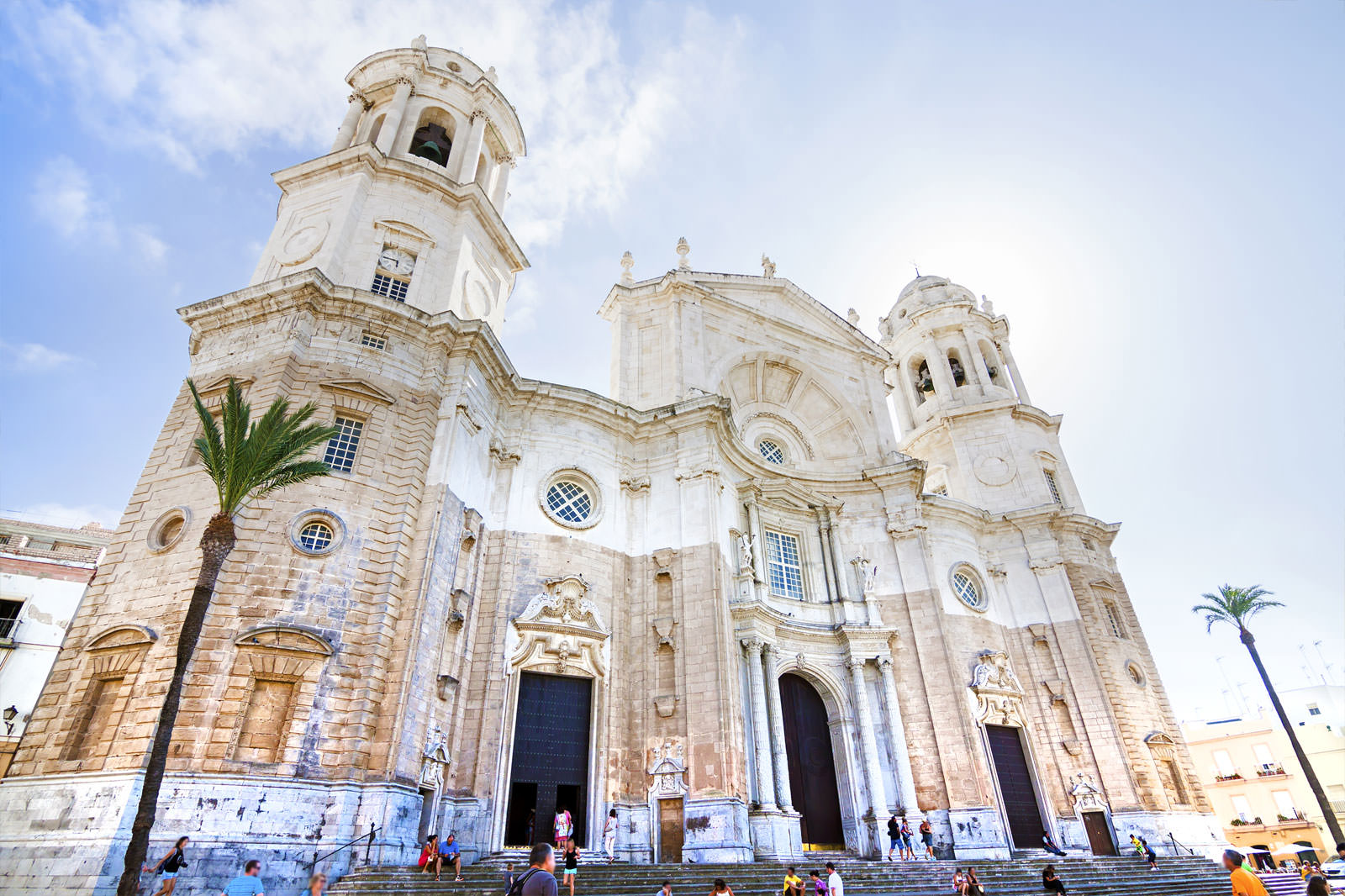 Must-see: Cádiz Cathedral
Climb the bell tower for a different angle of Cádiz
This magnificent Baroque and neo-classical cathedral by the southern seaside of Cádiz overlooks its own quaint plaza. There are tapas bars, ice cream shops and cafés with terrace setups around Plaza Catedral, with the imposing landmark in view. Climb up the adjacent bell tower – Torre de Poniente – for dramatic views over the city, with the blue waters of the Bay of Cádiz on the other side. Inside, admire the impressive vaults over its high altar and choir, all adorned with neoclassical art and sculptures. Entry is from €6 per person.
Location: Plaza Catedral, 11005 Cádiz, Spain
Open: Tuesday - Friday from 10am to 1pm and from 4.30pm to 7pm, Saturdays from 10am to 1pm (closed on Sundays and Mondays)
Phone: +34 956 259 812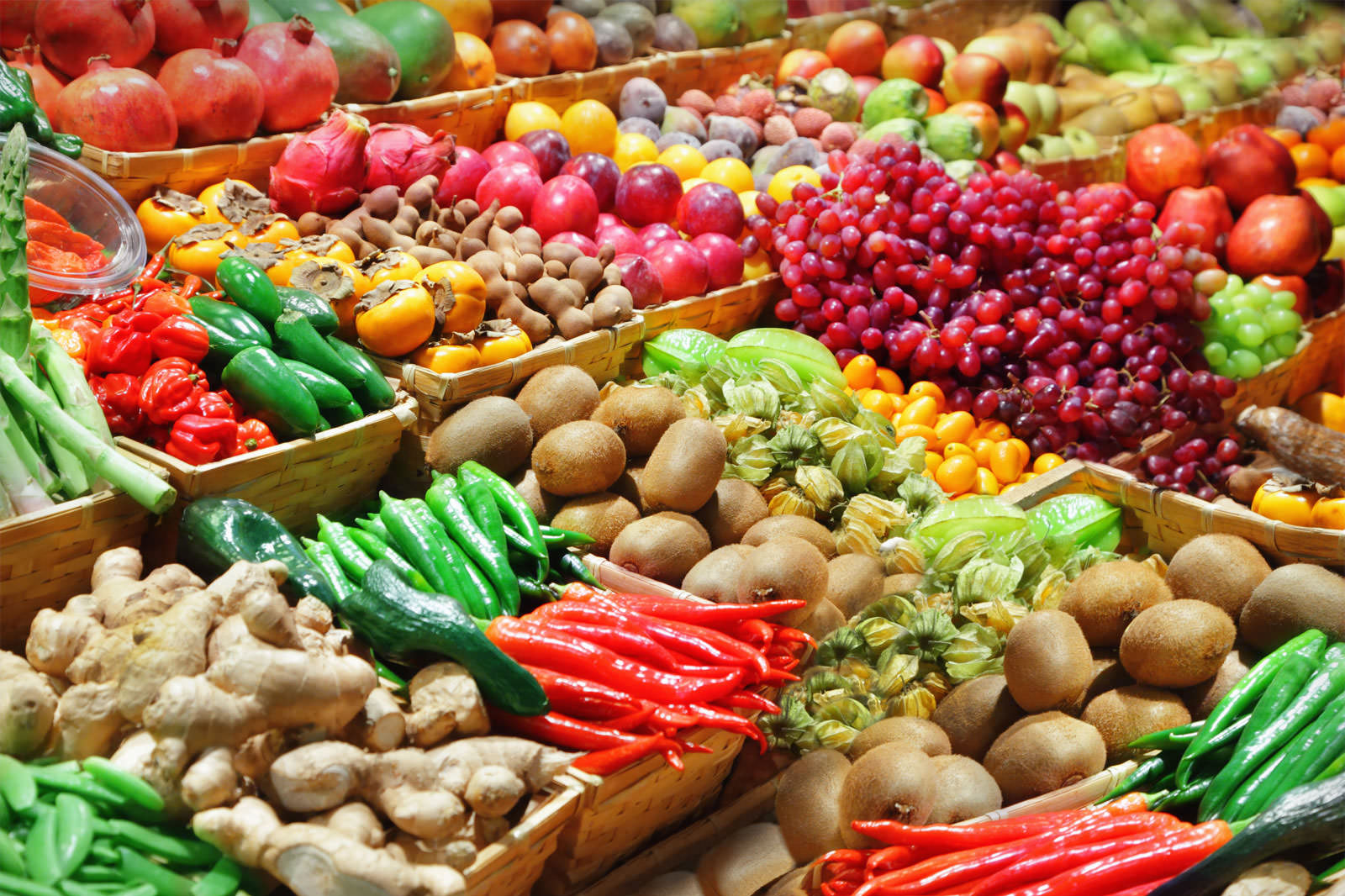 Window-shop at Mercado Central de Abastos
The fresh market of Cadiz
Cadiz's Mercado Central (central market) is a fun stop where you can witness a full array of fresh local goods. These range from seafood, cold cuts, and colourful fruits, vegetables, and spices. The market is on the site of an old orchard and features various stalls set under colonnades. There are plenty of shops where you can buy cheeses, drinks and local snacks such as crackling pork chicharrón, and you can enjoy them at small open-air table setups under the sun. Other stalls sell souvenirs worth looking at.
Location: Mercado Central De Abastos, 11005 Cádiz, Spain
Open: Mondays from 9am to 4pm, Tuesday - Friday from 9am to 3.30pm and from 7pm to 12am, Saturdays from 9am to 4pm and from 8pm to 1am (closed Sundays)
Phone: +34 670 750 837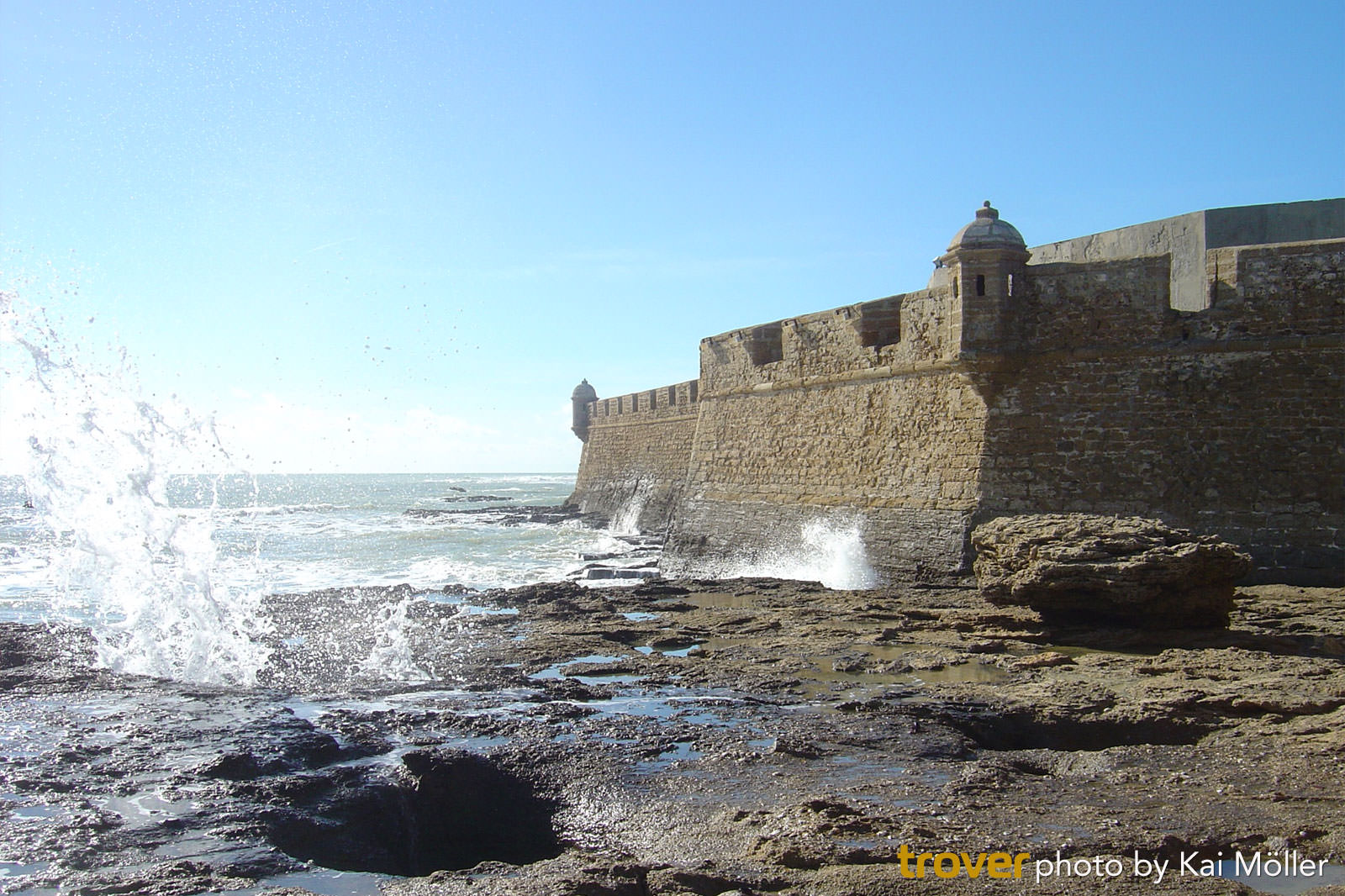 Must-see: Castillo de San Sebastián
Scenic fortress surrounded by sea
You can find this castle on top of a rocky islet on the westernmost point of Cádiz, right at the end of La Caleta beach. It's connected to the town by the scenic concrete and stone brick causeway of Paseo Fernando Quiñones. This path provides one of the most scenic walks in Cádiz, with the open blue waters of Cádiz Bay on both sides. The grounds of Castillo de San Sebastián (Sebastián Castle), with its 20th-century lighthouse, sometimes hosts concerts and cultural shows. The site may be closed without prior notice for gradual renovations.
Location: Paseo Fernando Quiñones, Cádiz, Spain
Open: Daily from 9.30am to 5.30pm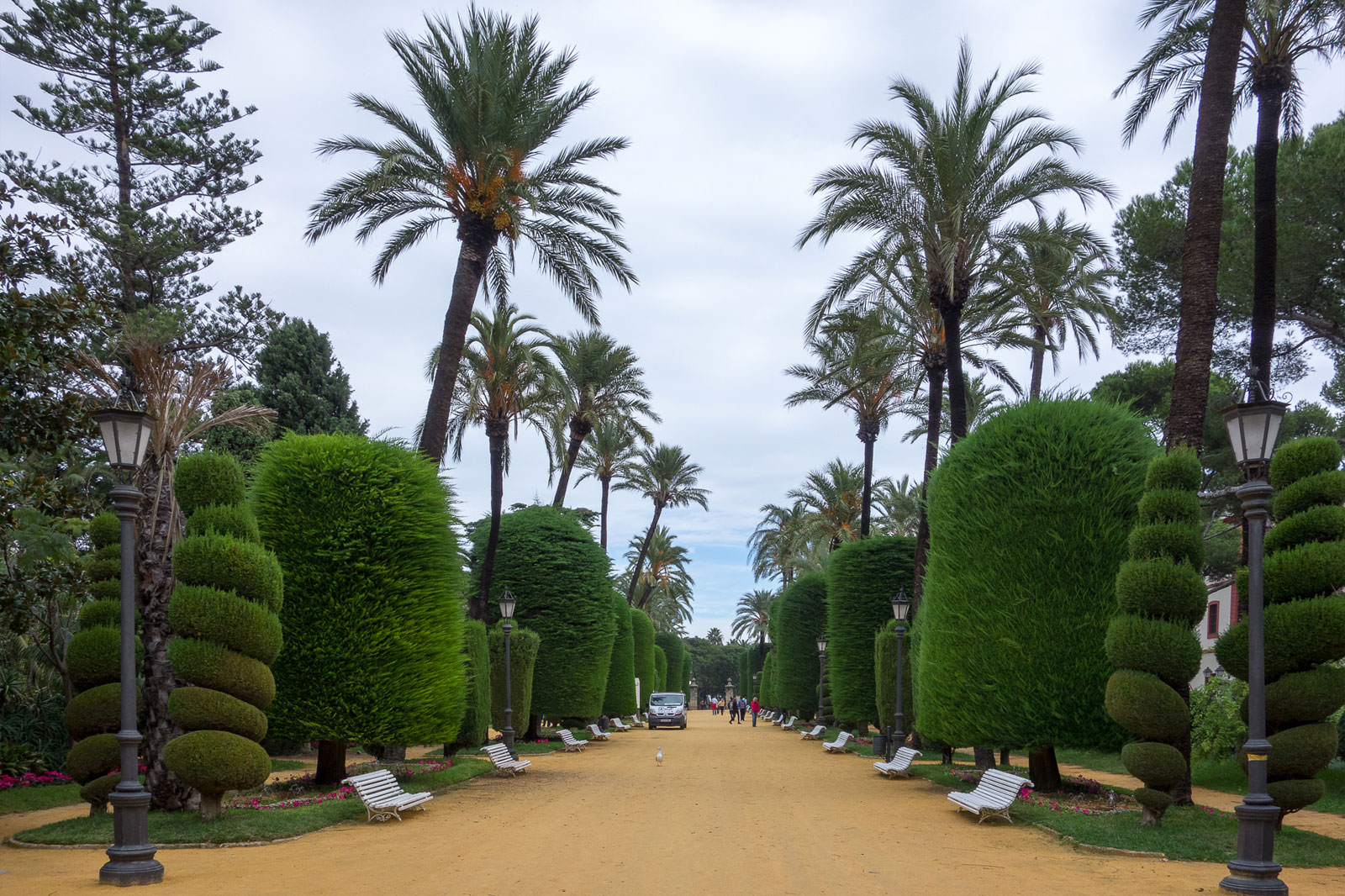 Relax at Genovés Park
Charming seaside garden with shaped trees and lakes
This lush green space on the north-western tip of Cádiz is filled with sculpted gardens and paths lined with prettily shaped trees, some of which are ancient and massive. You'll also find ponds and artificial waterfalls where you can feed ducks, and even a small kids' playground with benches in the shade where mum and dad can relax. Genovés Park is technically cliffside, and you can enjoy pleasant, quiet walks while taking in the seascapes along its oceanfront promenade.
Location: Av. Dr. Gómez Ulla, 11003 Cádiz, Spain
Open: Daily from 8am to 9pm
photo by Sergey Ashmarin (CC BY-SA 3.0) modified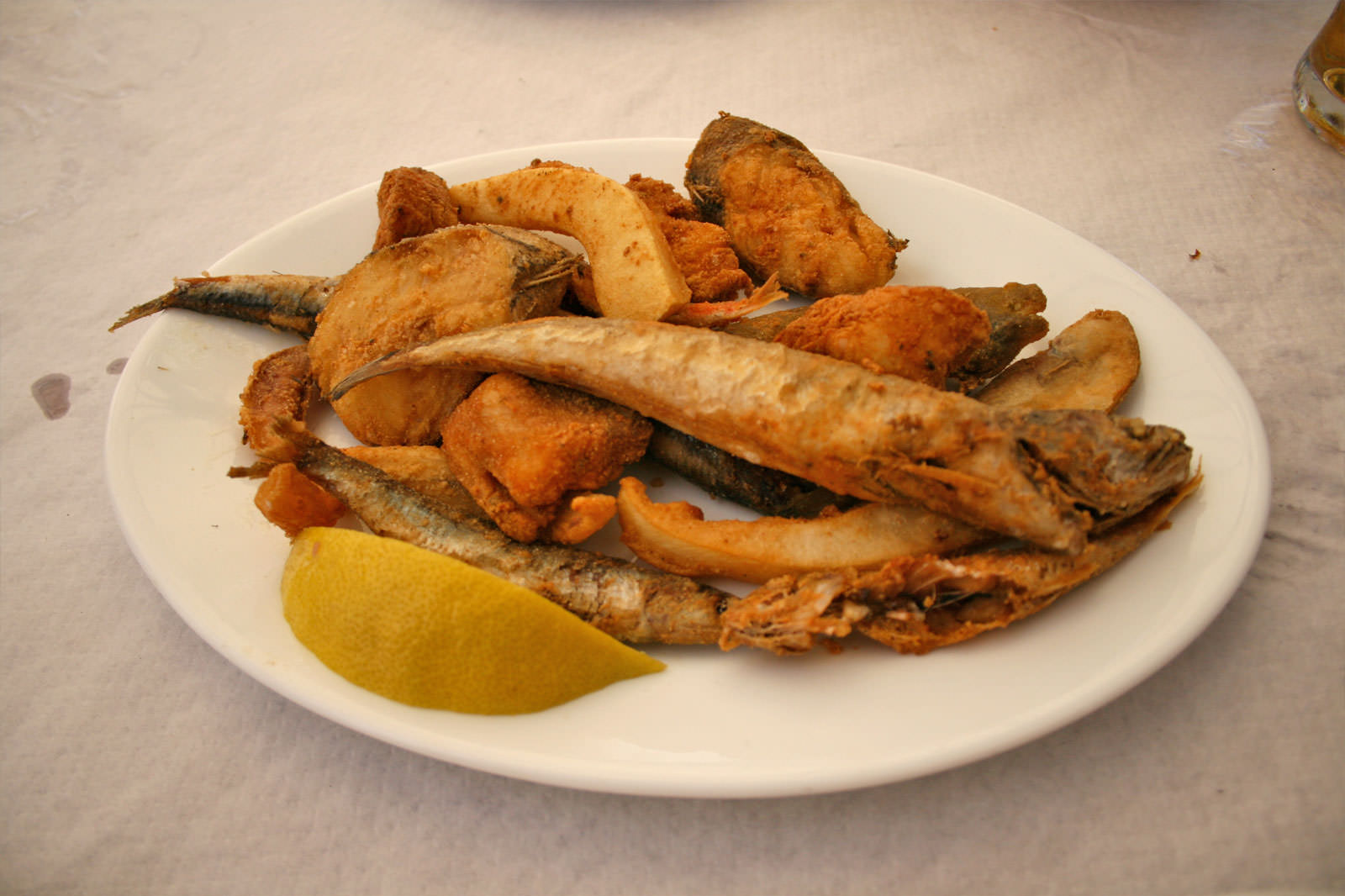 Snack on seafood at Freiduria las Flores
Spanish style fish and chips on the go
For a typical Cádiz mixed seafood snack, check out Freiduria las Flores on Calle Brasil. This small seafood restaurant is named after the flowery square in front of it. You can dine in, but most visitors prefer getting in line for takeaways of hearty packets of deep-fried goodies. Selections range from thinly battered pieces of dogfish in spicy vinegar, calamari, and crispy prawns. Dining in, try their ración mixed seafood platters, complete with sliced and diced vegetables and meaty clams (from around €6 per serving).
Location: Calle Brasil, 11009 Cádiz, Spain
Open: Daily from 9am to 12am
Phone: +34 956 289 378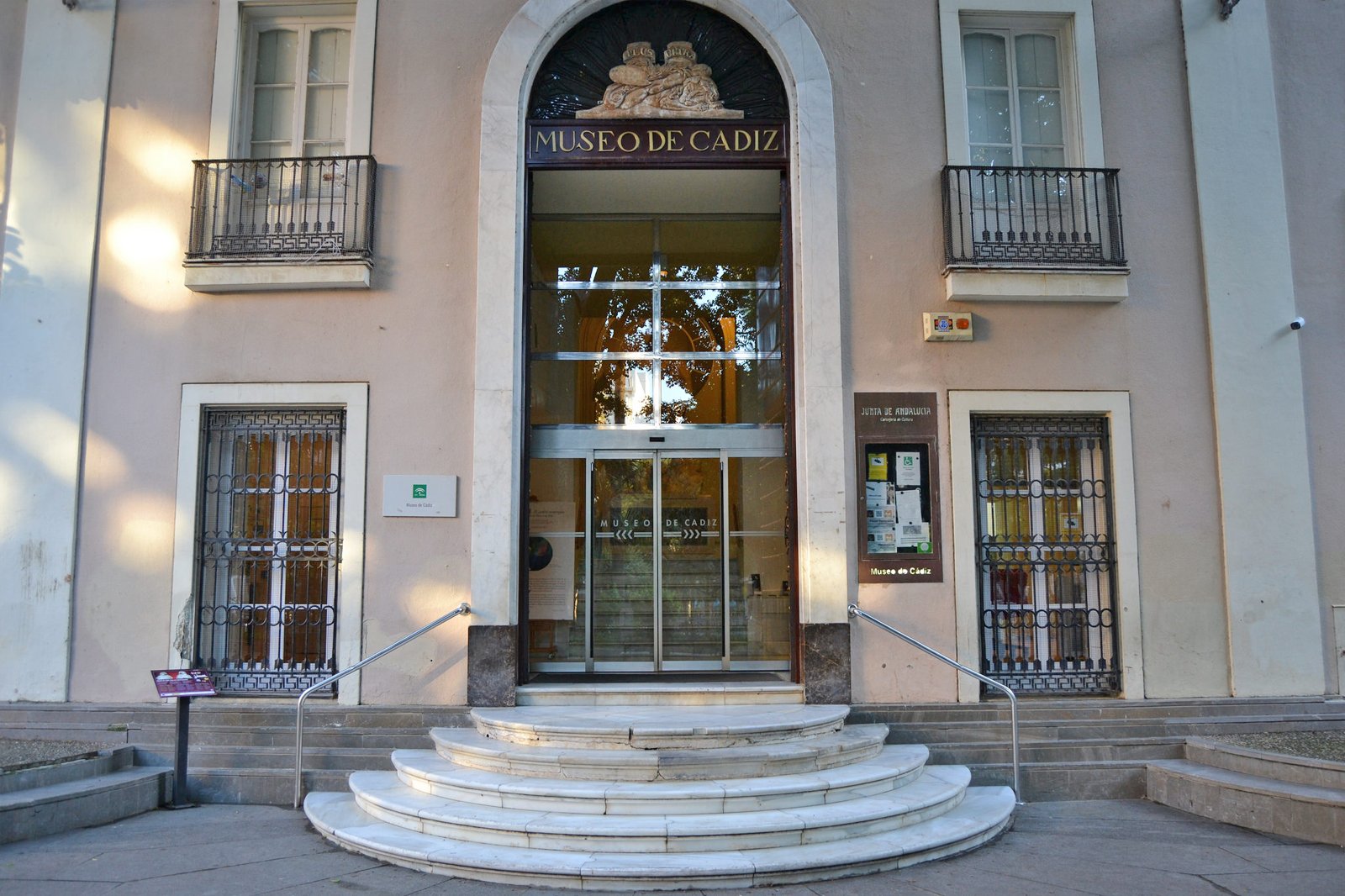 Must-see: Museo de Cádiz
Cadiz's fascinating historical collections
The Museum of Cádiz houses a significant collection of historical art items and archaeological finds over 3 levels, collected over a century with some confiscated from charterhouses. Important artworks include classical paintings by Spanish Baroque painter Bartolomé Esteban Murillo and Flemish Baroque artist Sir Peter Paul Rubens. Among the notable archaeological finds is a Phoenician sarcophagus that was uncovered in Cádiz's San Fernando Navantia shipyard. On the museum's 2nd floor, check out the impressive La Tía Norica string puppets. Admission for non-European citizens is around €1.50.
Location: Plaza de Mina, 11004 Cádiz, Spain
Open: Tuesday - Saturday from 9am to 9pm, Sundays from 9am to 3pm (closed on Mondays)
Phone: +34 856 105 023
photo by Emilio (CC BY-SA 2.0) modified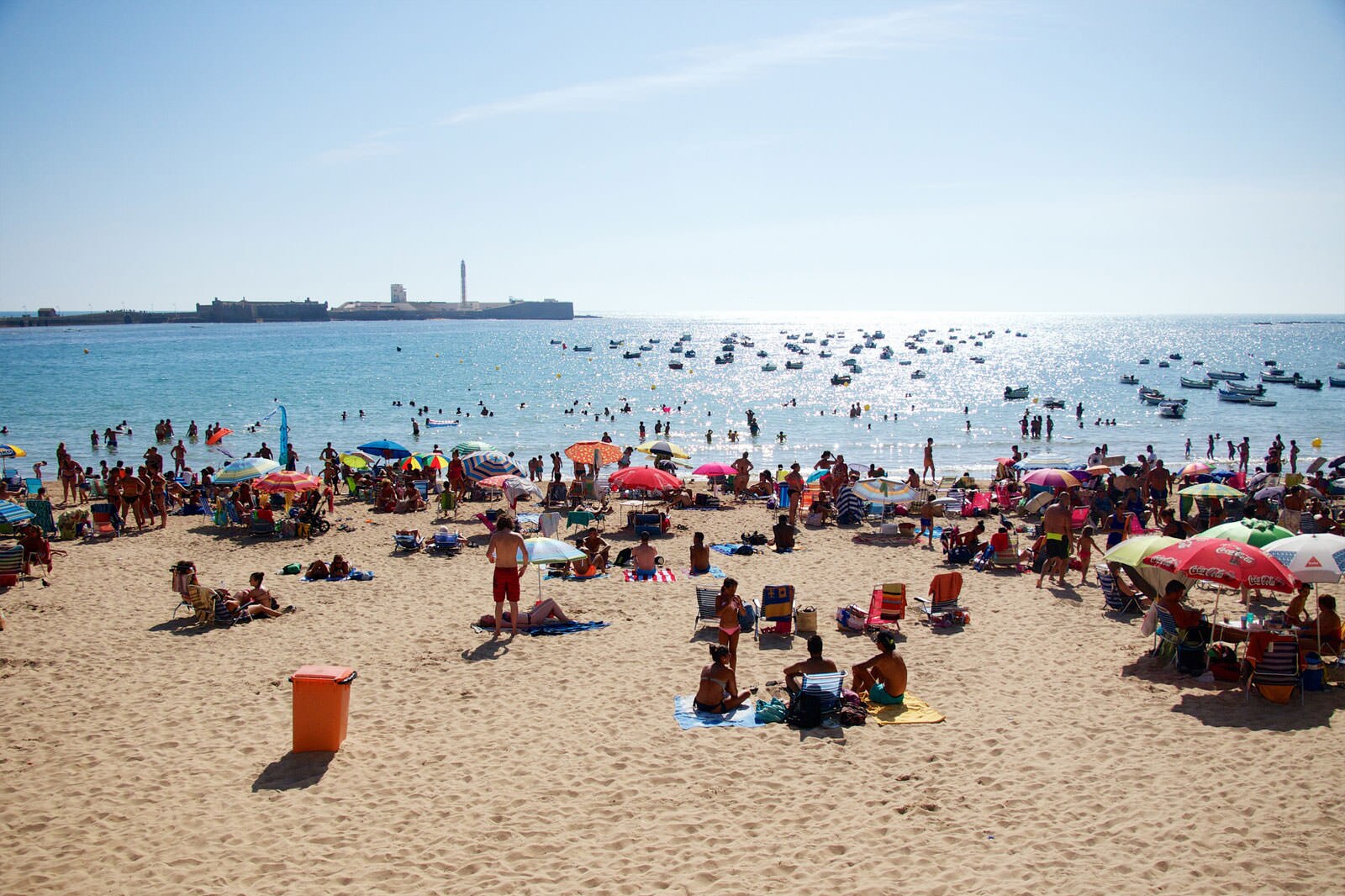 Sip cocktails at Playa La Caleta
Cool drinking spots around the main beach of Cádiz
Playa La Caleta features a 300-metre stretch of golden sand flanked by the Club Marítimo Gaditano La Caleta yacht club and the causeway entry to the San Sebastián castle. Soak up some rays or swim in its calm blue waters by day, and enjoy magical sunsets with a cocktail or cold one at hand at the few great bars nearby. Bar Club Caleta on the northern end has an outdoor terrace overlooking the beach and yacht club. On the southern end, there's Juanito Villar Peña Flamenca, a good choice for Spanish cuisine with cold beers on tap, live music, and with the castle on the horizon.
Location: Paseo Fernando Quiñones, 11002 Cádiz, Spain
photo by kanbron (CC BY-SA 2.0) modified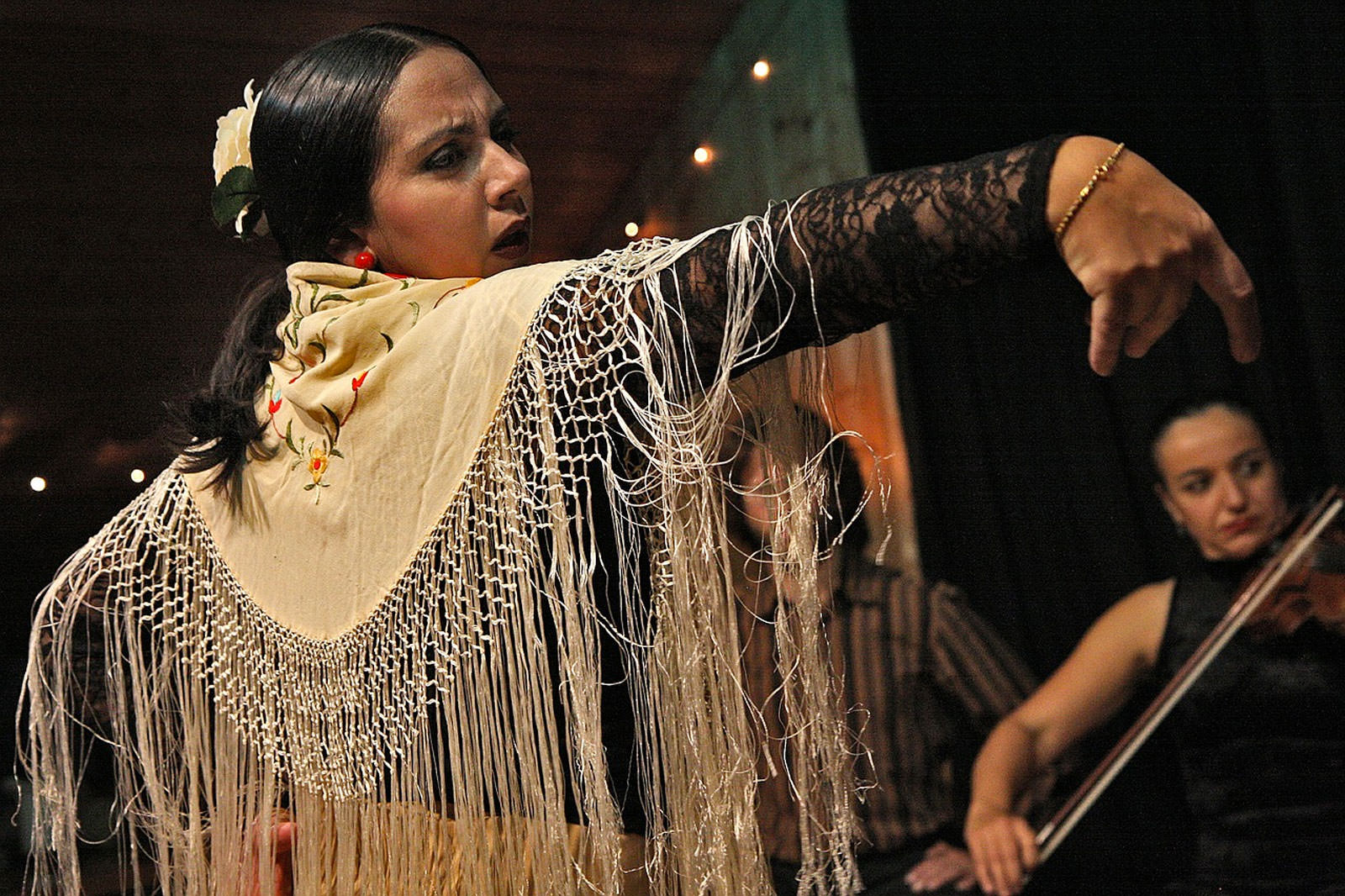 End the day watching flamenco at Peña Flamenca la Perla de Cádiz
The Spanish dance spectacle you ought to experience
There are a few flamenco clubs around town that can provide you with a memorable evening in Cádiz. Worth checking out is Peña Flamenca la Perla de Cádiz, which has a weekly schedule of performances. Another is the La Cava on Antonio López, around 15 minutes' walk north along Calle San Francisco. Besides usual flamenco shows, they also commonly feature dance derivations and variations, such as alegrías and tangoes, as well as competitions that put maestros from Cádiz, Seville, and Madrid to the test, showing their best moves on the dance floor.
Location: Calle Concepción Arenal, 0, 11006 Cádiz, Spain
Open: Showtimes vary, but performances start around 8pm or 9pm
Phone: +34 956 259 101