11 Best Things to Do in Marbella
What is Marbella Most Famous For?
The best things to do in Marbella show that there's no reason to be bored here. This is a luxurious town with the added bonus of the surrounding beaches that make the Costa del Sol so famous. The Andalusian city has a very long history (you can see a 1st century Roman Bridge at Hotel Puente Romano), but embraces modernity, with great nightclubs and facilities for boats and yachts.
You can enjoy the water activities on Bounty Beach, sample delicious tapas washed down with sangria, visit historical buildings, and party until late in sophisticated clubs. Alternatively, if that sound too much like hard work, you can just chill in the town squares and enjoy the laid-back atmosphere in the warm Spanish sun.
What are the best things to do in Marbella?
1
Marbella beaches
Spain's beautiful southern Costa del Sol
Marbella comprises 24 beaches along a 27-km coastline. Each shore is unique, but all offer a stretch of golden sand underneath a virtually year-round sunny climate. It's little wonder why Spain's Costa del Sol is one of Europe's most popular tourist attractions.
Some beaches, such as Bono Beach, Playa del Cristo and Estrella del Mar are great for families, with shallow, calm water, soft sand, and restaurants with kid-friendly menus. For a party atmosphere, Marbella Beach Club, Nikki Beach, and Ocean Club provide the glitz and glamour that is so often associated with Marbella.
2
Marbella golf courses
Tee off with a beautiful view
Marbella is a hub for golf enthusiasts, with over 50 courses spanning over 100 km along the Costa del Sol. It's no wonder the area is sometimes called the 'Costa del Golf'. This means you're sure to find a golf course that suits your ability. The serene settings and gorgeous views are par for most Marbella golf courses.
Some top-rated venues of mid-difficulty levels include Los Naranjos and La Quinta. The former is a championship-quality golf course with beautiful views of La Concha Mountain. The latter is a well-kept golf course that has received rave reviews from members and guests alike.
3
Plaza de los Naranjos
Feel out the city of Marbella on one of its liveliest squares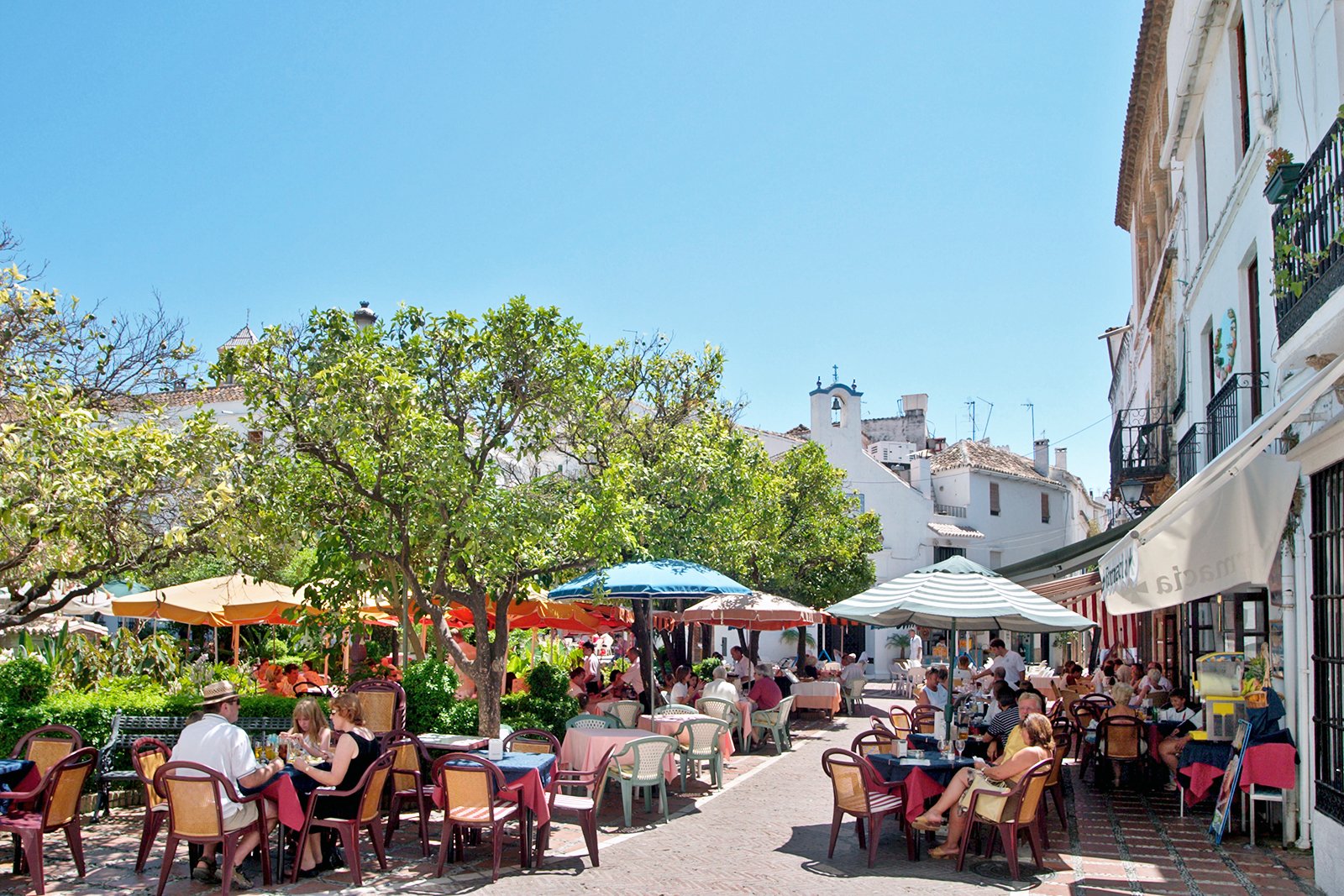 Families
Photo
Budget
Couples
History
Framed by historic buildings and classic white Andalusian houses, Plaza de los Naranjos is the hub of Marbella Old Town. Taking its name from the orange trees that surround the Renaissance fountain that sits in its centre, the square is mostly occupied by the umbrella-shaded tables and chairs of nearby restaurants. Just take a sit and take the pulse of the city. Plaza de los Naranjos is the perfect place to start your tour of Marbella Old Town.
Location: In the centre of the Old Town, about 600 metres north of the Old Port of Marbella
4
Marbella Old Town
Lose yourself in a flowery vintage district
Families
Budget
Couples
History
Named Casco Antiguo de Marbella (Ancient District of Marbella) in Spanish, Marbella Old Town dates back to the 15th century, right after the Christian Reconquista. Featuring winding streets, typical Andalusian houses with balconies decorated with fresh flowers, historic buildings and a great choice of cool restaurants and small boutiques, the Old Town offers something to see and enjoy at every corner. Colourful and tidy, Marbella Old Town has a warm and pleasant atmosphere.
Location: Just north of the Alameda Park in the city centre
5
Avenida del Mar
Stroll on an outdoor museum-like walkway
Families
Photo
Budget
Couples
Avenida del Mar (Sea Avenue) is a 5,500 sq m rectangular square that stretches between the Alameda Park and the beach, right next to Puerto Deportivo de Marbella, the oldest port of the city. Lined with shops, bars and restaurants with terraces shaded by wooden pergolas, Avenida del Mar is also an open-air museum, home to 10 Salvador Dali sculptures. Take a refreshing drink at one of the restaurants and watch the world go by.
Location: Between Alameda Park and the beach, right next to the Old Port of Marbella
6
Bounty Beach
Laze in the sun on the closest beach to Marbella Old Town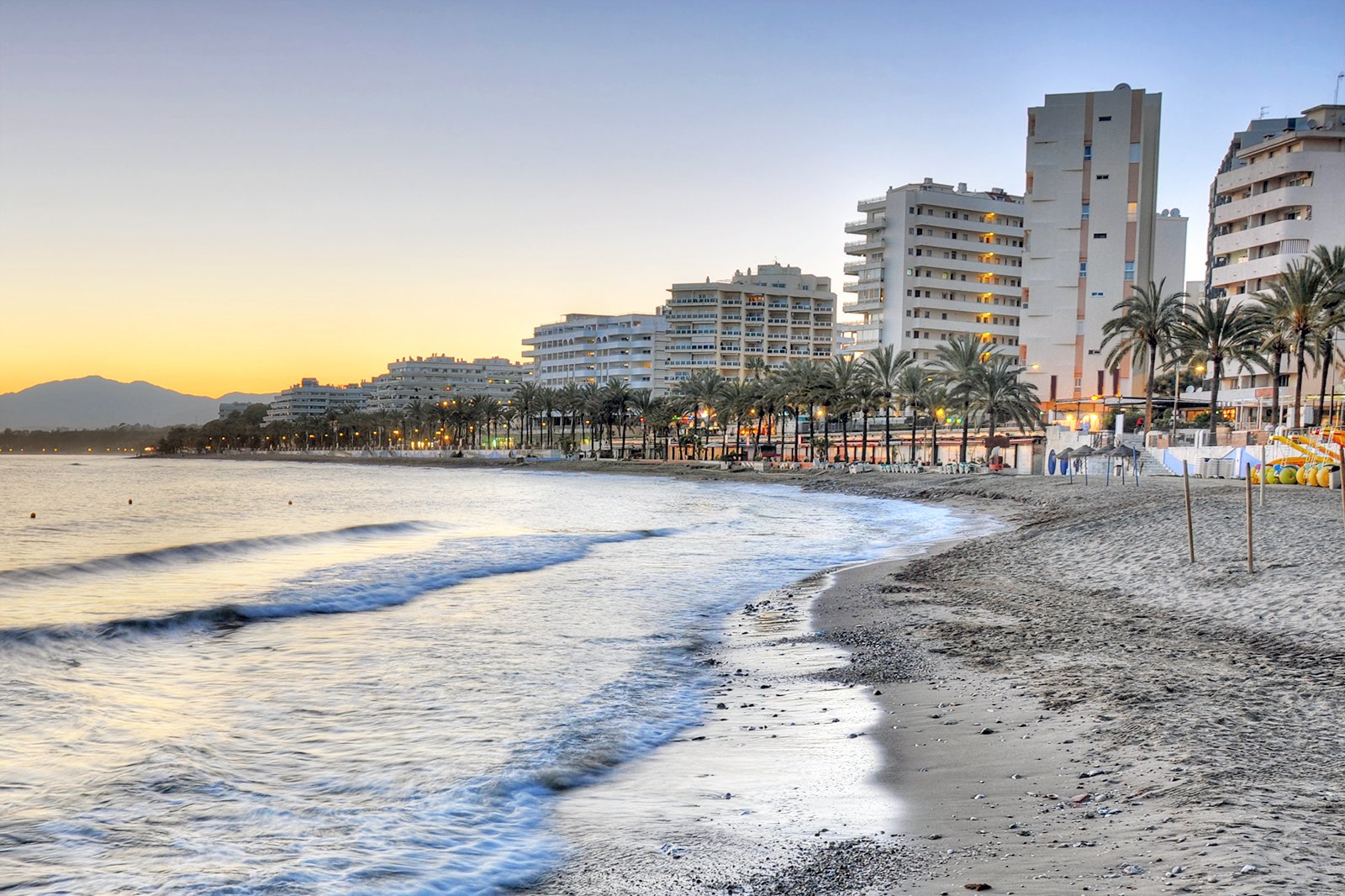 Families
Photo
Couples
History
Bounty Beach is one of the hippest beaches in Marbella. Located just east of La Bajadilla Marina, its real name is Playa del Cable, but it owes its nickname to one of the chiringuitos (beach restaurants) established on its 1,500-metre length. Cleaned regularly, it's relatively quiet until the end of the afternoon, when it comes alive with joggers, volleyball players and water sports enthusiasts. The beach restaurants are affordable and public toilets and showers are available. It stays busy until late at night.
Location: 1.4 km east of the Old Port of Marbella
7
La Cañada
Browse through the gigantic shopping centre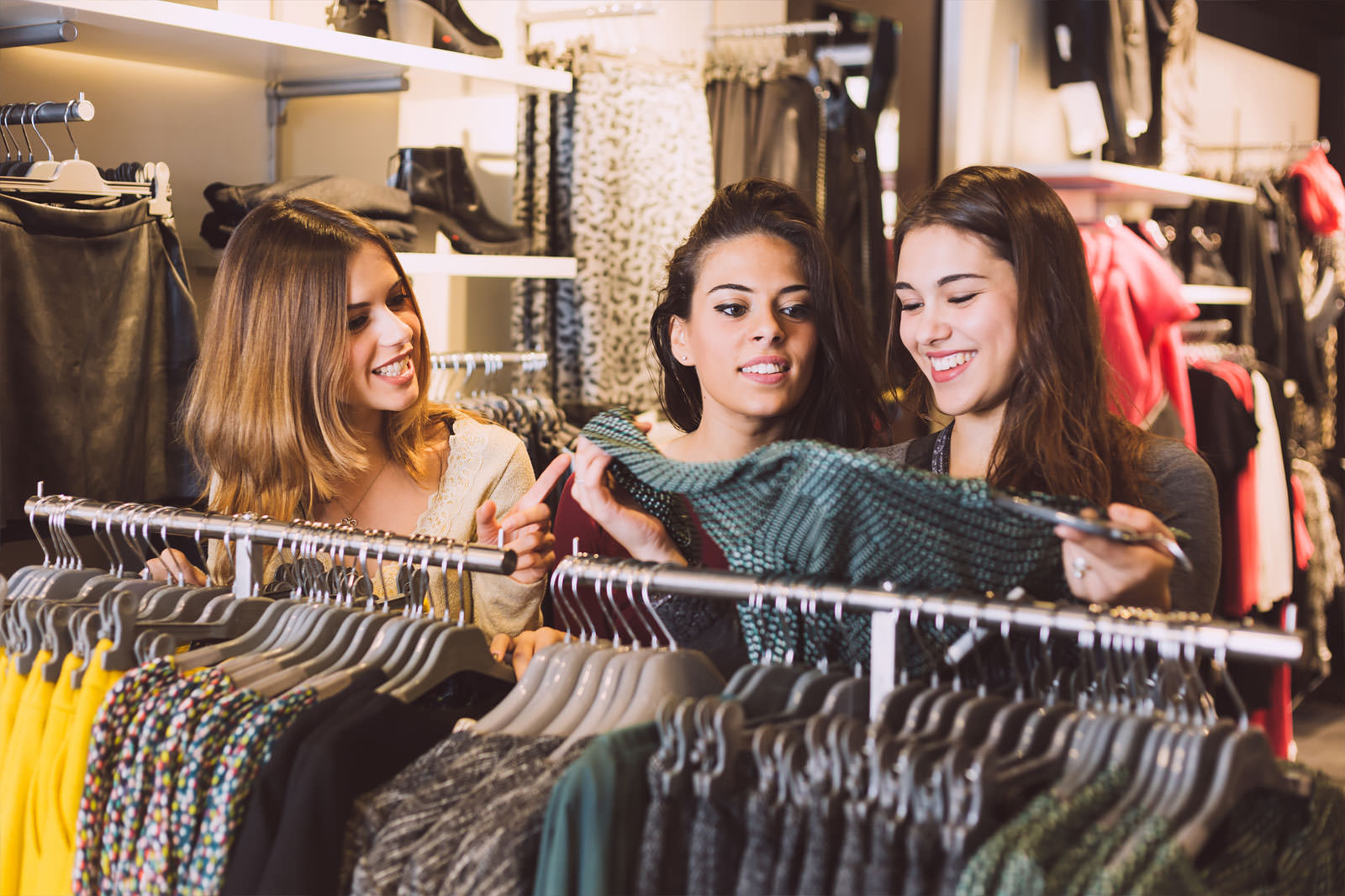 Locally known as Parque Comercial La Cañada, this is a huge shopping complex just a 5-minute drive northeast of Marbella Old Town. Covering a plot of something like 100,000 sq m, you'll find over 300 shops including a large supermarket and international brand stores such as Zara, Geox and Hugo Boss, just to name a few.
The complex doesn't lack of dining opportunities and leisure entertainment options. There's a movie theatre and children playgrounds, which make good ways to enjoy rainy days.
Location: 1.5 km northeast of Marbella Old Town
Open: Monday – Saturday from 10 am to 10 pm, Sunday from 10 am to 5 pm
8
Church of Our Lady of the Incarnation
Stop by the 'Cathedral of Marbella'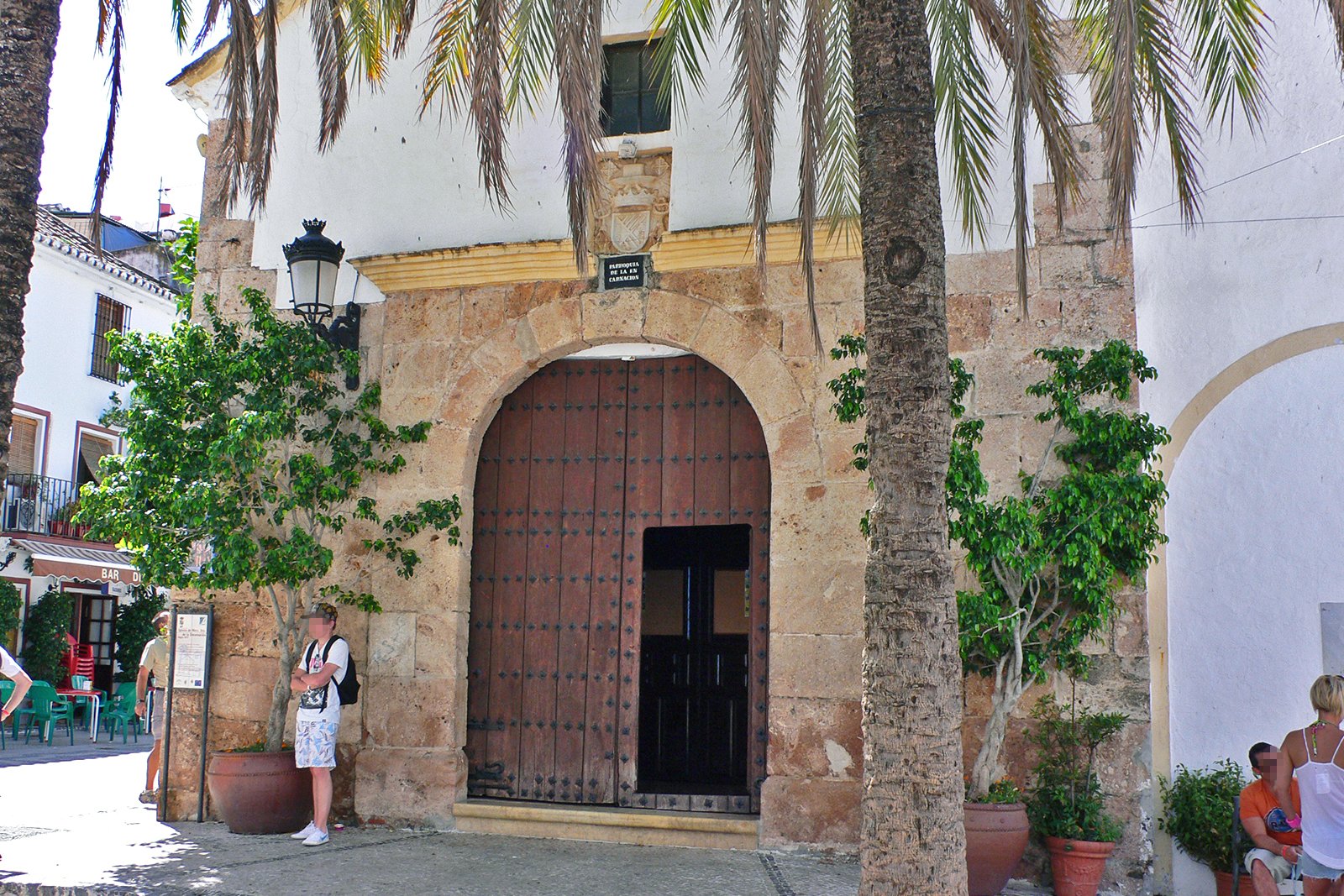 Families
Photo
Budget
Couples
History
Located a 2-minute walk southeast of Plaza de los Naranjos, in Marbella Old Town, the Church of Our Lady of the Incarnation is a majestic white building that dates back to the 17th century. Also called the 'Cathedral of Marbella', it's nicely ornamented with paintings and statues, and the Rococo sculpted front door's frame is worth special attention.
The square on which the church sits offers a pleasant seating area in the shade. It's a cool place for a break while you stroll the Old Town, with the church making a brilliant backdrop.
Location: Just southeast of Plaza de los Naranjos
Open: Monday – Saturday from 8 am to 10 pm, Sunday from 9.30 am to 10 pm
photo by Heather Cowper (CC BY 2.0) modified
9
Paseo Maritimo
One of the liveliest areas in Marbella
Also known as Marbella Promenade, Paseo Maritimo is a seaside walkway that stretches for almost 7 km between Puerto Deportivo de Marbella and Puerto Banús. It's a lovely pathway to stroll, lined with boutiques, tapas bars and restaurants for all budgets. It's also shaded, in some parts, by palm trees. One of the busiest areas of the city, it features street musicians and other performers during summer.
It roughly takes 2 hours to walk the entire Paseo Maritimo. Along the way, you'll come upon landmarks such as Marbella Lighthouse and a great view from near Hotel Puente Romano of Gibraltar and the African coast in the distance.
Location: Between Puerto Deportivo de Marbella and Puerto Banús
photo by Manuel González Olaechea (CC BY-SA 3.0) modified
10
Cabopino Beach
Tranquil beach within a protected natural area of sand dunes
Escape to Cabopino Beach (sometimes known as Artola Beach) for a tranquil day soaking up the Costa del Sol sunshine and listening to the waves quietly lap the shore. This is a fantastic place for some time to yourself, to read a good book, meditate, or just laze about and enjoy the sunshine.
This special beach is located within a protected area of the Artola dunes, so it is pristine and most definitely spectacular. You'll appreciate the true beauty of your surroundings and feel totally relaxed in the unique natural landscape. If you are feeling adventurous, check out the nearby nudist area, where you can enjoy nature in your most natural state – and work on a full-body tan, of course.
Location: Urb. Artola Baja, 8, 29604, Marbella, Málaga, Spain
11
Puerto Banús Marina
Party like a rockstar in one of Marbella's hottest night spots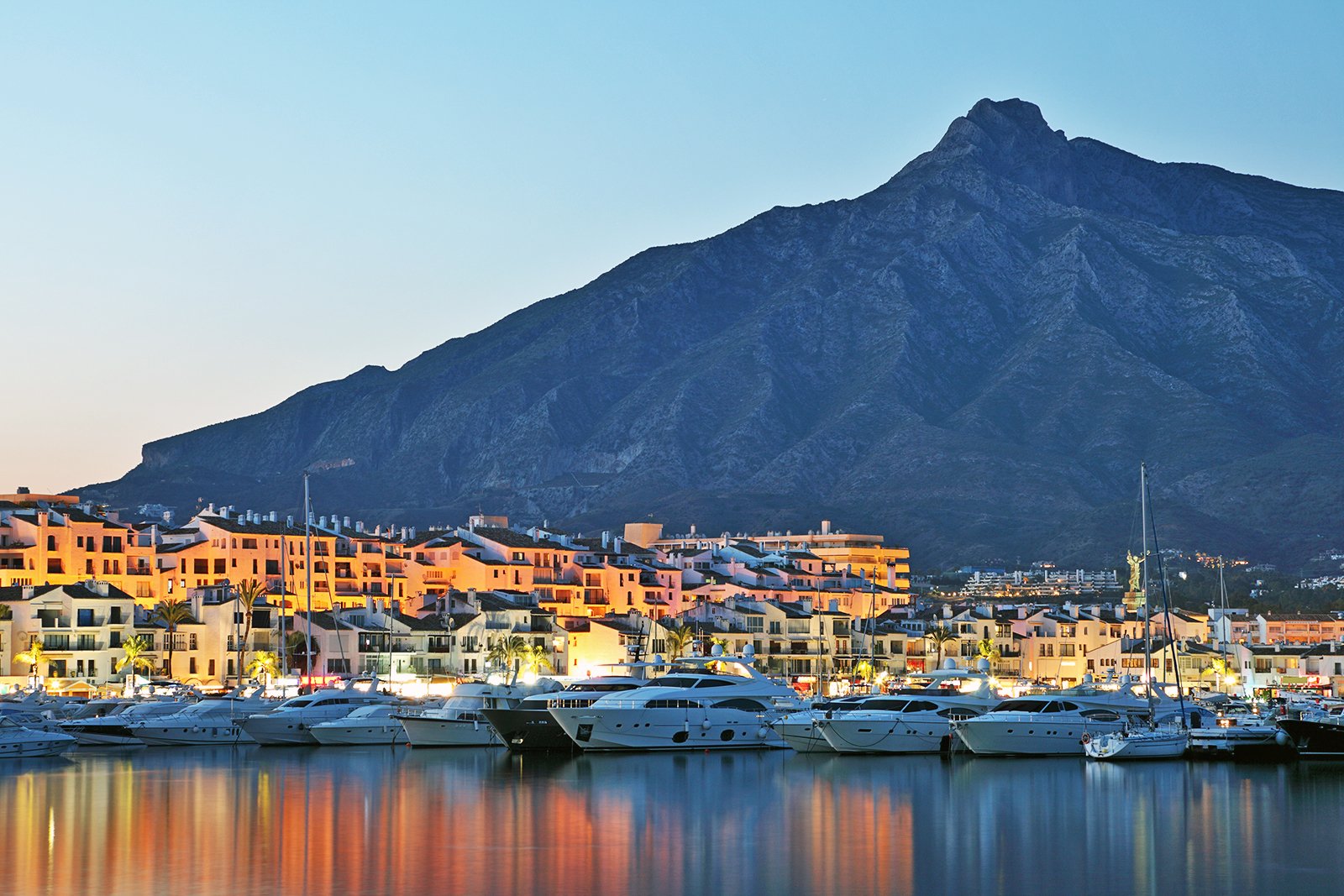 Located 7 km west of the Old Town, at the other end of Paseo Maritimo, Puerto Banús is an upscale marina lined with stylish bars and clubs. You'll likely spot celebrities in famous venues such as Pangea and Sinatra's, and you can dance the night away in sophisticated nightclubs like Aqwa Mist and Kube, just to name a few.
Besides these posh venues, Puerto Banús also hosts a fair deal of more affordable bars and clubs, including the cool and long-established O'Grady's Irish Pub and Joy's Live Pub.
Location: At the western end of Paseo Maritimo
Back to top