10 Best Dubai Foods Everyone Should Try
Real Dishes Locals Love in Dubai
Emeriti cuisine is a combination of Lebanese, Iranian and even Indian flavours, with plenty of both vegetarian and meat-based dishes to enjoy. Packed full of herbs, Dubai dishes are both healthy and flavoursome.
Famous dishes like hummus and falafel are world-renowned, but we have gathered some genuine local dishes that are perhaps less well known to most travellers. This list of the best food to eat in Dubai is likely to be a great introduction to genuine Arabic cuisine.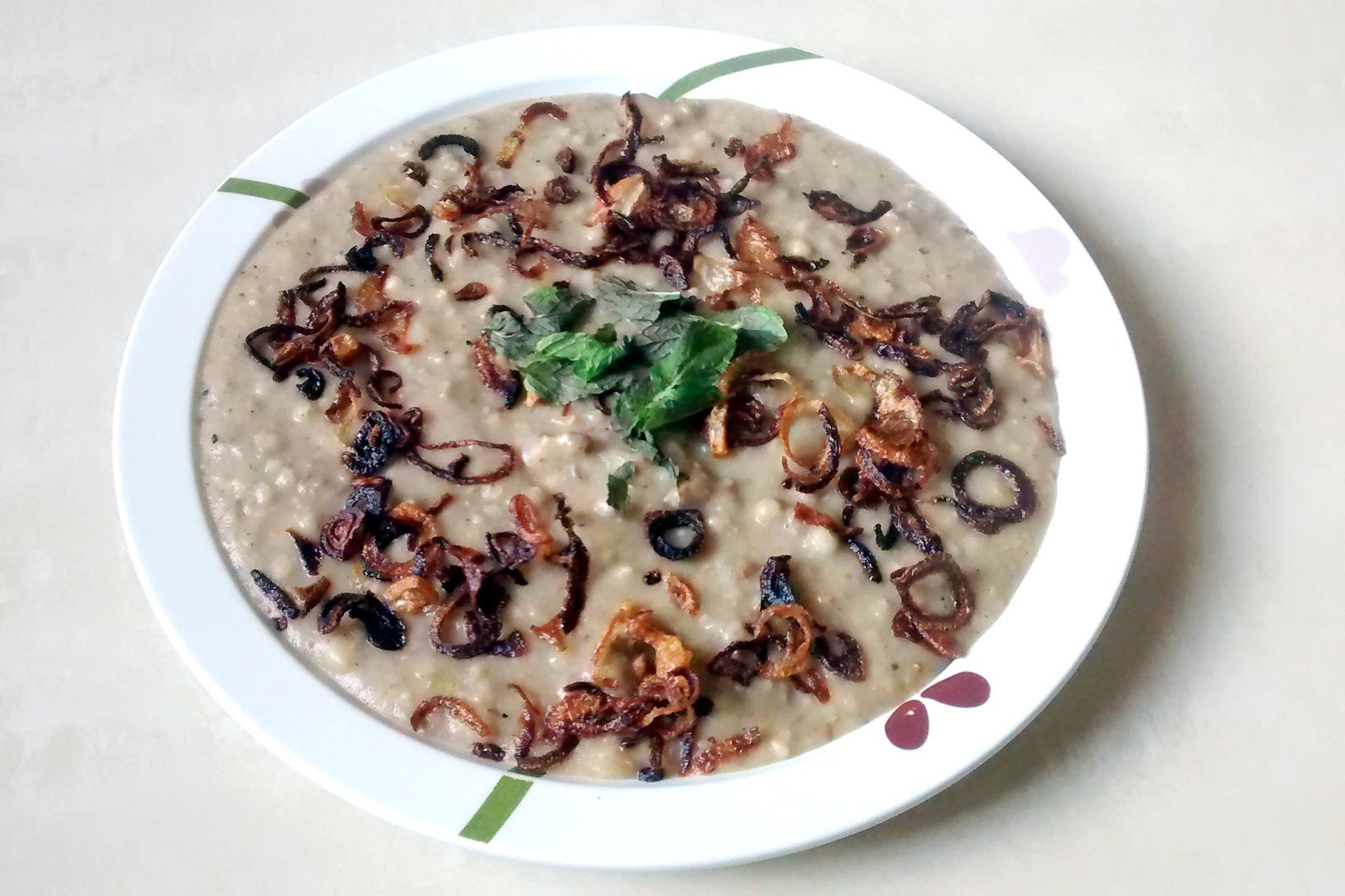 Harees is one of the most famous dishes in Dubai. It can often be found on many an Emirati dinner table, as well as on the menus in some of Dubai's finest restaurants. Its preparation requires a great deal of time and skill, so it's commonly presented at special occasions, weddings, and banquets.
The ingredients for harees are crushed wheat, minced meat (sometimes chicken), as well as onions, ground cumin, a generous amount of water, and salt. Emirati harees is considered one of the country's best-known traditional dishes. It's an important part of the local culinary heritage and recipes continue to be passed down through the generations.
photo by Haisameldawi (CC BY-SA 4.0) modified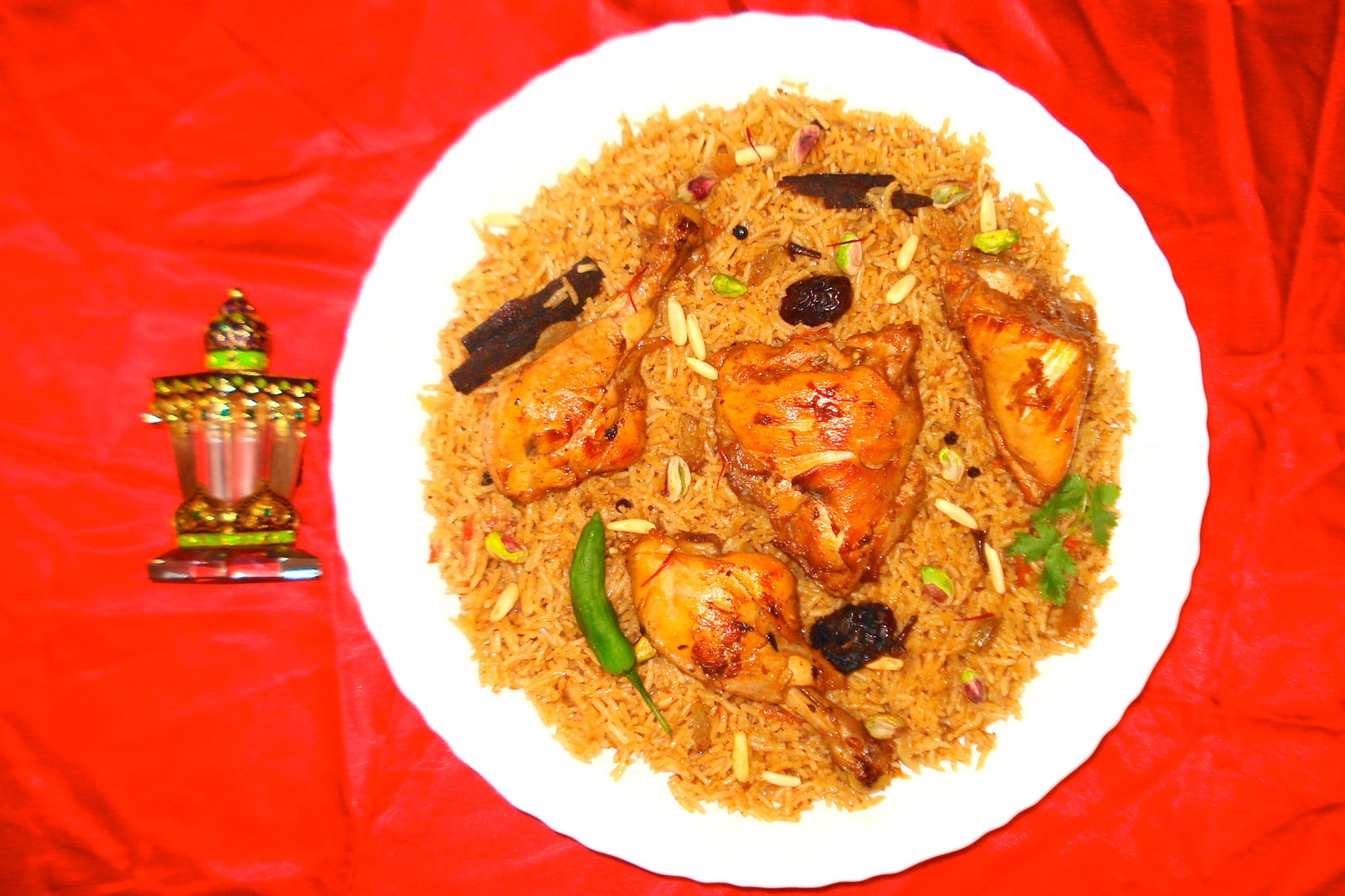 Many of Dubai's visitors enjoy majboos as it's very popular among Emirati people. Family recipes are passed on from generation to generation.
The dish includes basmati rice served with various types of meat. Emirati majboos are frequently served with chicken, with the distinctive flavours of powerful Arabian spices and assorted vegetables. Chicken or meat majboos are served at all kinds of family events and it also features prominently at Iftar meals during Ramadan.
photo by Miansari66 (CC0 1.0) modified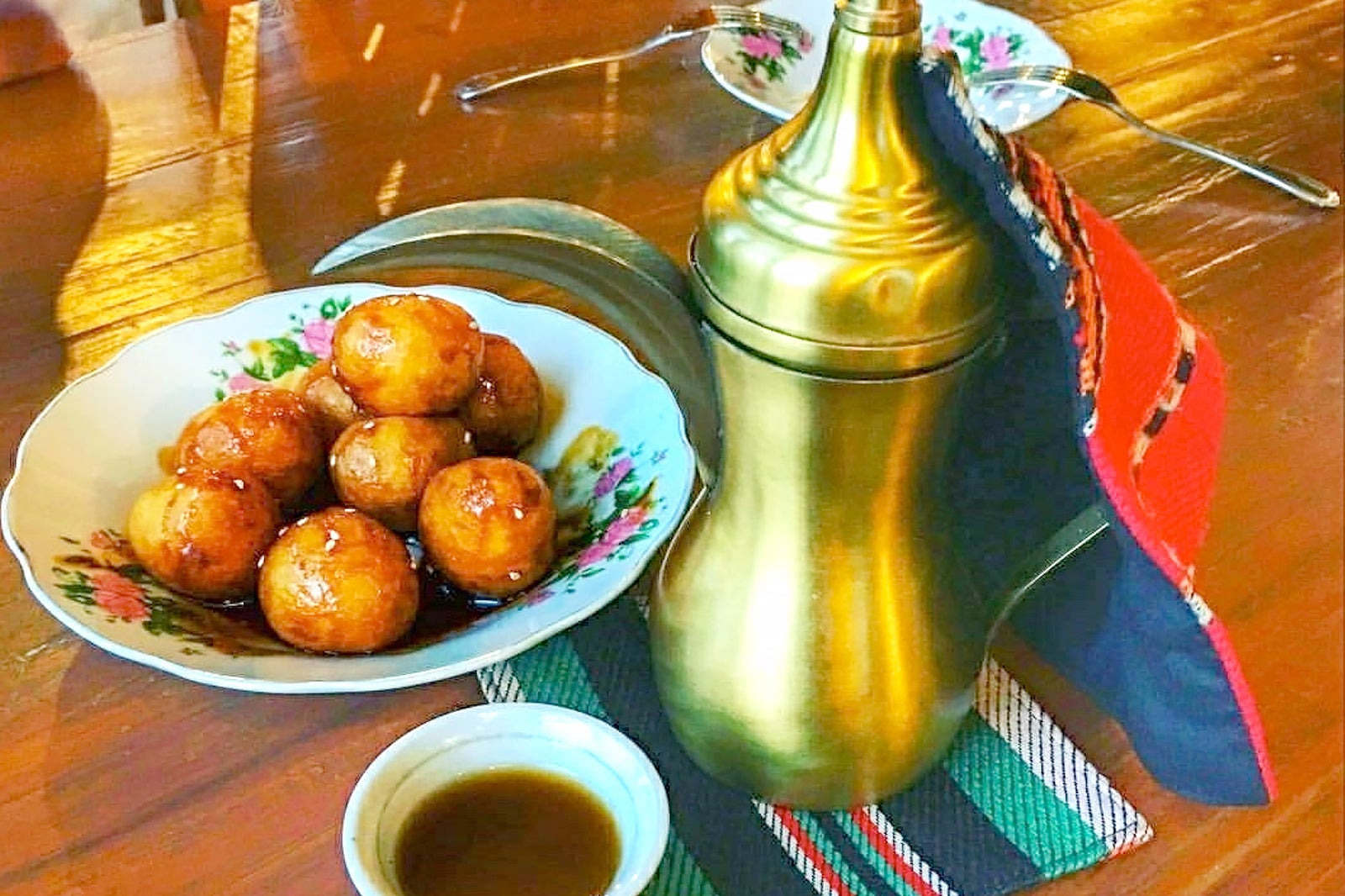 Luqaymat is a well-known aspect of Dubai's traditional cuisine and they're prepared for various cultural events held across the Emirates. They're considered to be a 'must-have' pastry in the home or restaurant, especially on special occasions.
These homely sweet pastries are shaped into delicate golden balls that melt in the mouth. They're made from flour, sesame seeds, turmeric, milk, sugar, salt, and a little yeast. The batter is kneaded and then left to rest for a while, before being fried in oil and drizzled with syrup. Some believe that luqaymat originated in the Arab world, where it's known as halwa al-luqaymat or 'awama, although the Greeks too have a version which they call loukoumades. The honey-like syrup (sharbat) used to finish luqaymat originally comes from Turkey.
photo by Wikiemirati (CC BY-SA 4.0) modified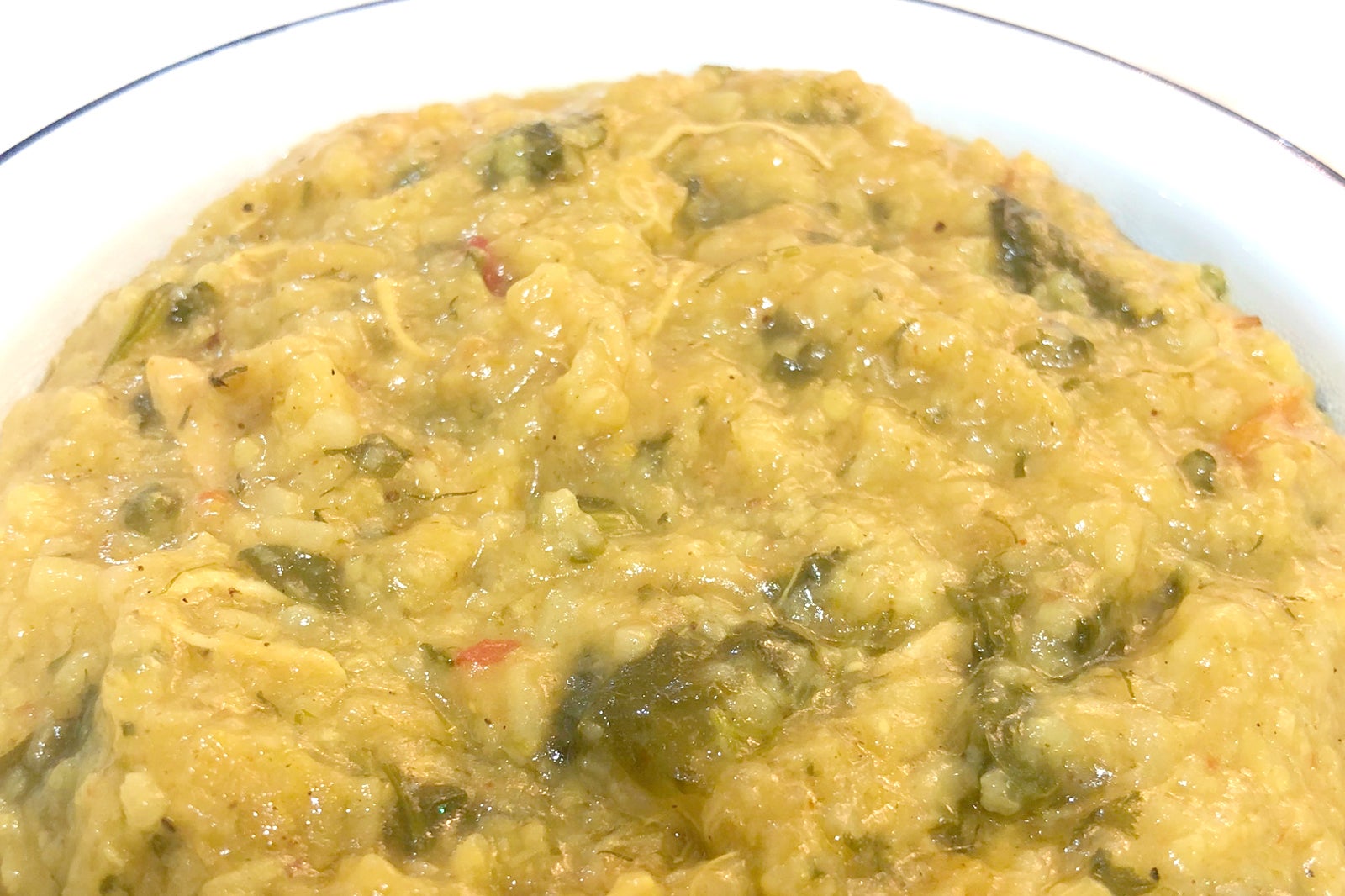 Madrouba is one of Dubai's most popular foods, and it also has its fans in Bahrain and Oman, too. Madrouba with chicken is the best-known variety, though it's also served with fish, lamb, and crushed grains. It's prepared using rice, garlic, onion, tomatoes, yoghurt and seasoning. Butter is also used in moderation.
The dish is named 'madrouba' (meaning 'beaten' in Arabic) because, in the last stage of the recipe, the ingredients are beaten together to form a smooth mash. This dish is ideal for all ages as it's easily digestible.
photo by AmnaMF (CC BY-SA 4.0) modified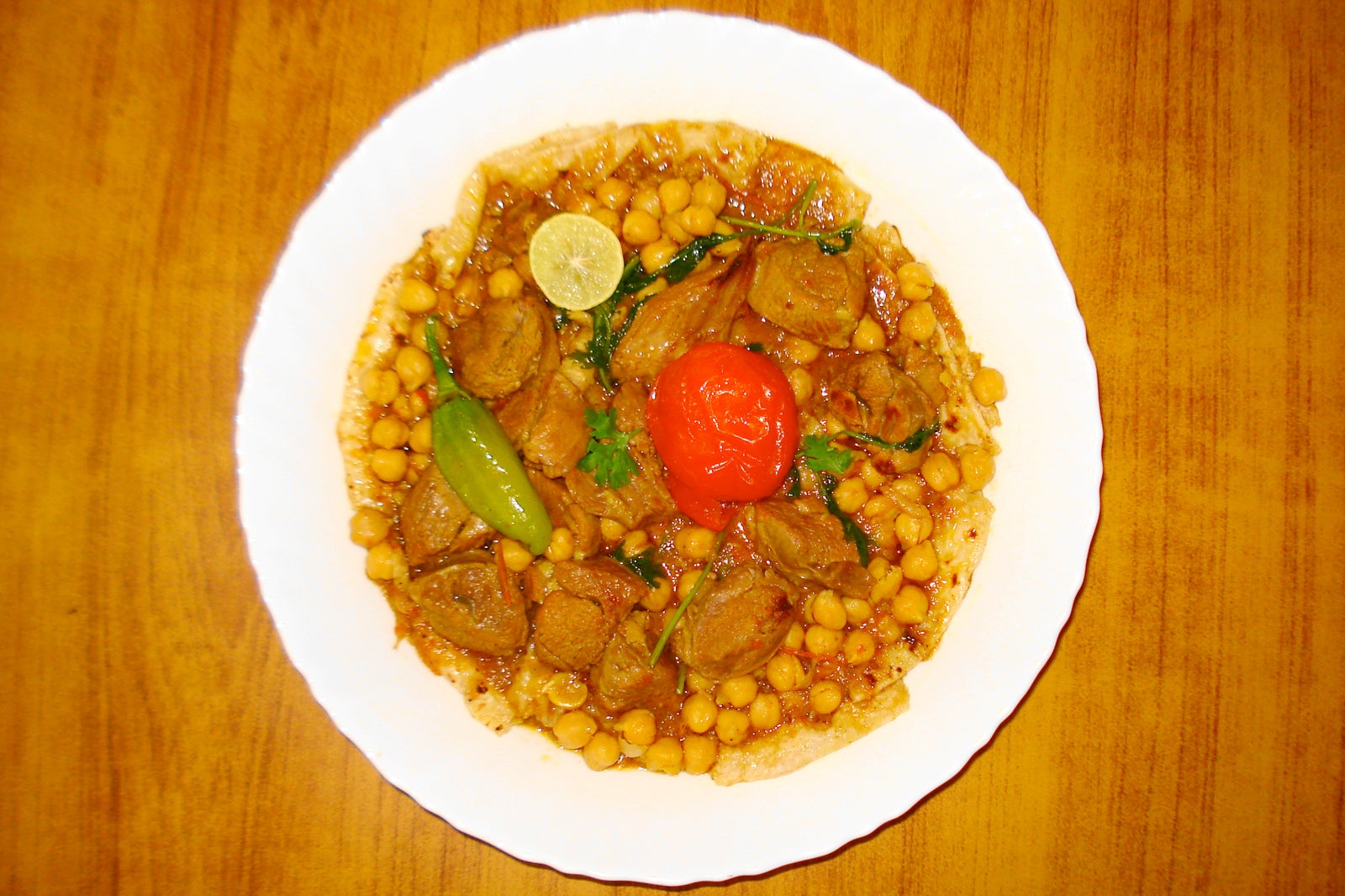 Emirati thareed (or fareed) with meat is characteristic of Gulf cuisine in general and is particularly typical of Dubai. It's made with bread and vegetable chunks soaked in a meat broth. The dish is served at special occasions and it's rich in vitamins and protein.
Thareed is made with meat and its broth contains wholewheat bread and vegetables. It's a great energy-providing food that's reputed to have many health benefits, particularly due to its high quantity of vegetable protein.
photo by Miansari66 (CC0 1.0) modified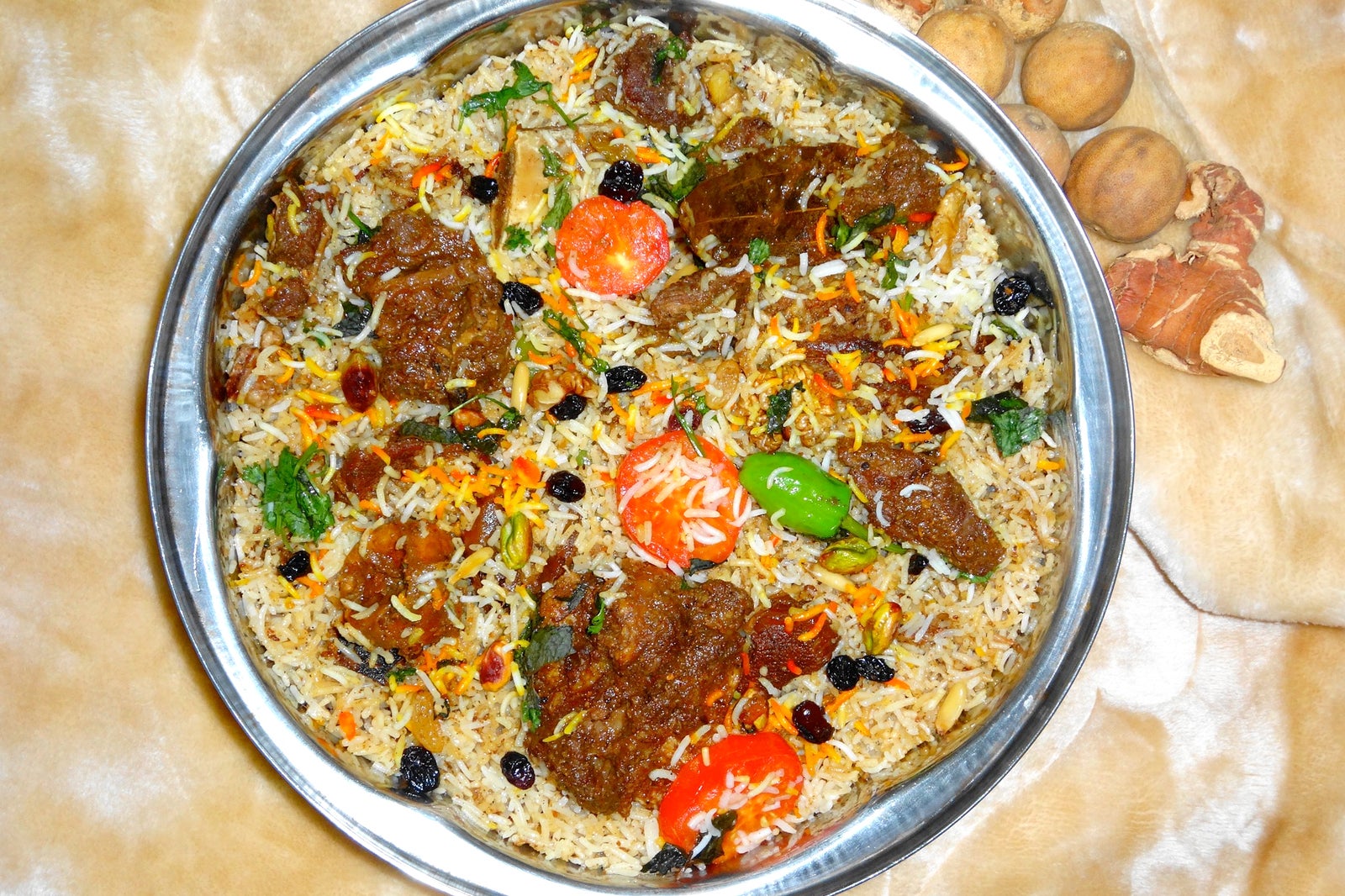 Biryani is a dish that's found throughout the Gulf region – and Dubai is no exception. Originating in Indian cuisine, this dish spread first to East Asia before arriving in the Arab world, where it became very popular thanks to its delicious savoury taste. It's made with Indian spices renowned for their strong aromas and flavours.
There are several varieties of biryani, including: Iranian, katchi, Sri Lankan, and Southeast Asian. Made with a mix of basmati rice and spices, meat biryani can be served with chicken or other types of meat.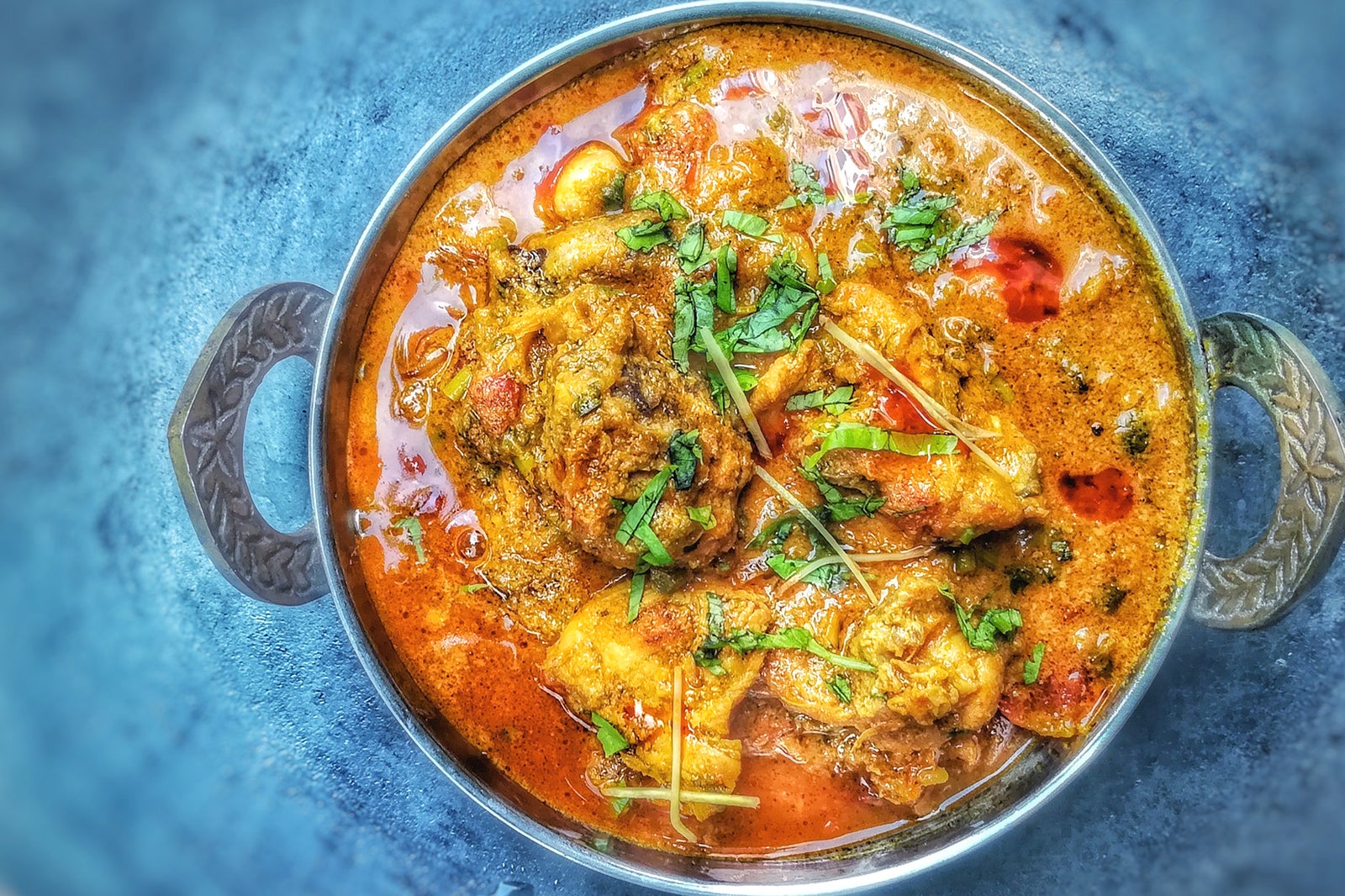 Despite the influx of western cuisine into restaurants in the Emirates, saloona has kept its place in the hearts of the people of the United Arab Emirates, and is proudly featured on many a dinner table. So, when you're in Dubai, make sure you discover this Emirati stew, known for its simple preparation, wonderfully delicious taste and amazing flavour.
It's prepared with pieces of chicken, turmeric, olive oil, grated ginger, minced garlic, onion, chilli, spices and white rice. It's a dish rich in vitamins and protein, and features at almost every special occasion or feast in the Emirates, occupying a special place in the hearts of both locals and visitors.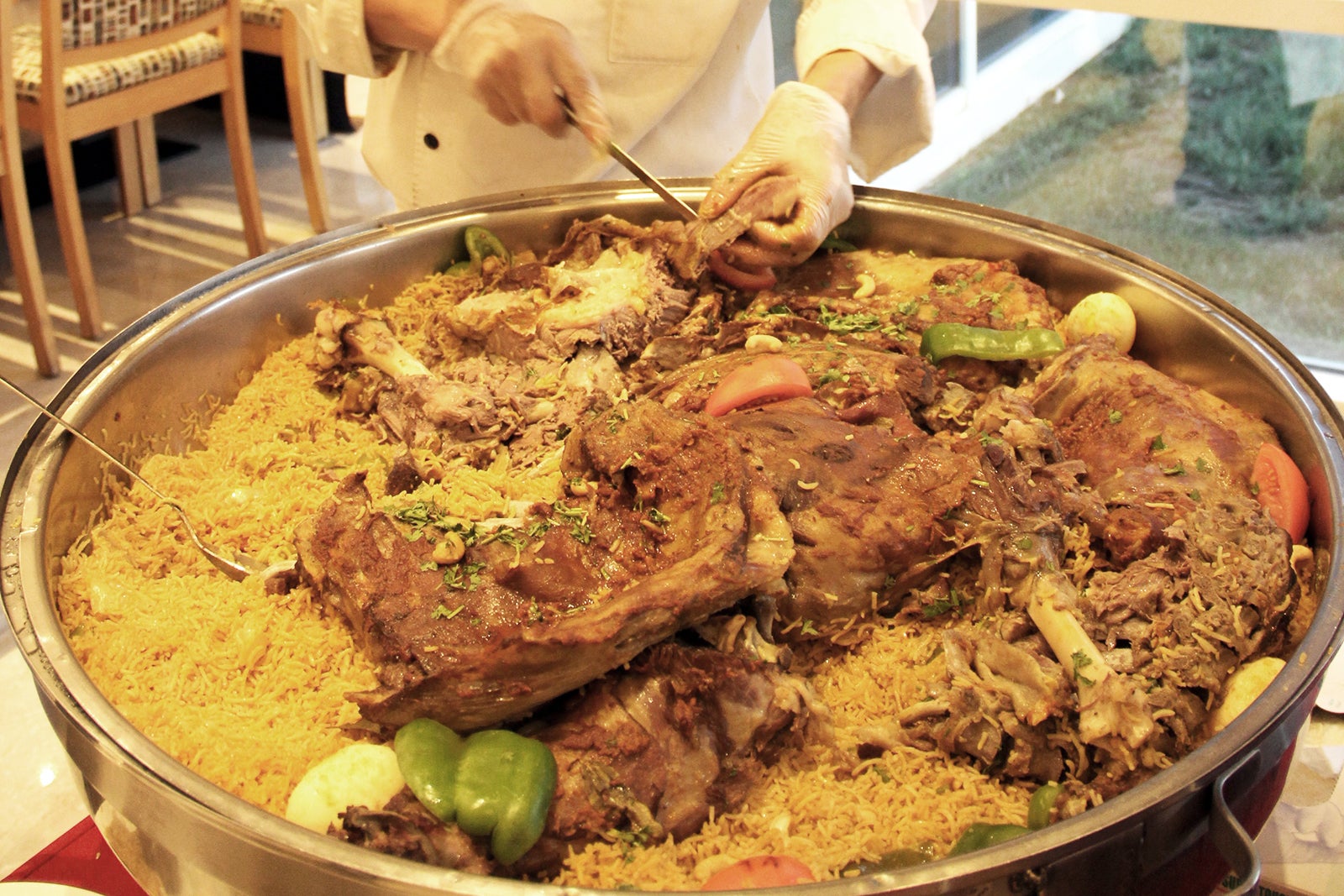 Oozie is one of the best-known dishes from the Gulf region. It features prominently at special occasions such as wedding parties and festive celebrations. Oozie with meat also has a special presence at the Emirati meal table during Ramadan, when family and friends gather together to break their fast.
This dish is made with rice and can be stuffed into delicate pastry pockets, or it can also be served with chicken. Sometimes, it's also served with salad and yoghurt, or garnished with a mixture of fried or roasted nuts.
Jasheed is one of the more popular dishes in the Gulf region. Not surprisingly, fish has a particularly important place in Emirati cuisine, especially in coastal regions where fresh fish features in many meals.
It's made from small sharks, or other fish if these aren't available, and eaten with rice. It's served with white 'aysh (rice) and clarified butter. The fish is covered with water and cooked with spices for around 30 minutes until the skin peels off. It's then cleaned and put into another pot with bazaar spice mix, cinnamon, ginger, ground dried lemon, cardamom, chopped onion, and garlic. The next step is to finely chop the pepper, shred the fish, and mix it with a blend of spices for around 15 minutes. The mix is then cooked until well done, covered, and it's then ready to serve.
Tahta malih is a traditional dish of Dubai that's still popular today. Its original flavours have been preserved, just like the fish that is used to make it. Preserved, salted fish, known as malih, was traditionally used in the Emirates when there was little fresh fish or other food available.
Some fish are better suited to the salting and preservation process than others. Popular varieties include mackerel, tuna, herring, or queenfish. People with high blood pressure should avoid eating too much of this dish due to the high salt content. Malih is frequently found in Dubai, with the most commonly available variety being made with yellowfin tuna.