The Art Deco District of Miami Beach is a colourful place to explore with more than 800 historic Art Deco buildings lining its streets. Set in the South Beach neighbourhood, mainly along Ocean Drive, Collins Avenue and Washington Avenue, the Art Deco District is lined with pastel-toned hotels, mansions, restaurants and shops in the Art Deco style that many now associate with Miami's vibrancy and sun-drenched glam.
Most of the buildings went up around South Beach between the 1920s and 1940s, and thanks to spirited preservation efforts, many still look as fresh and fabulous as they did at their grand openings. Visitors could easily explore the Art Deco District on their own by foot, or for a more in-depth guide to its history and architecture, join a walking tour by the Miami Design Preservation League.
Art Deco District in Miami - one of the highlights of 10 Things to Do in Miami Beach (Read all about Miami here)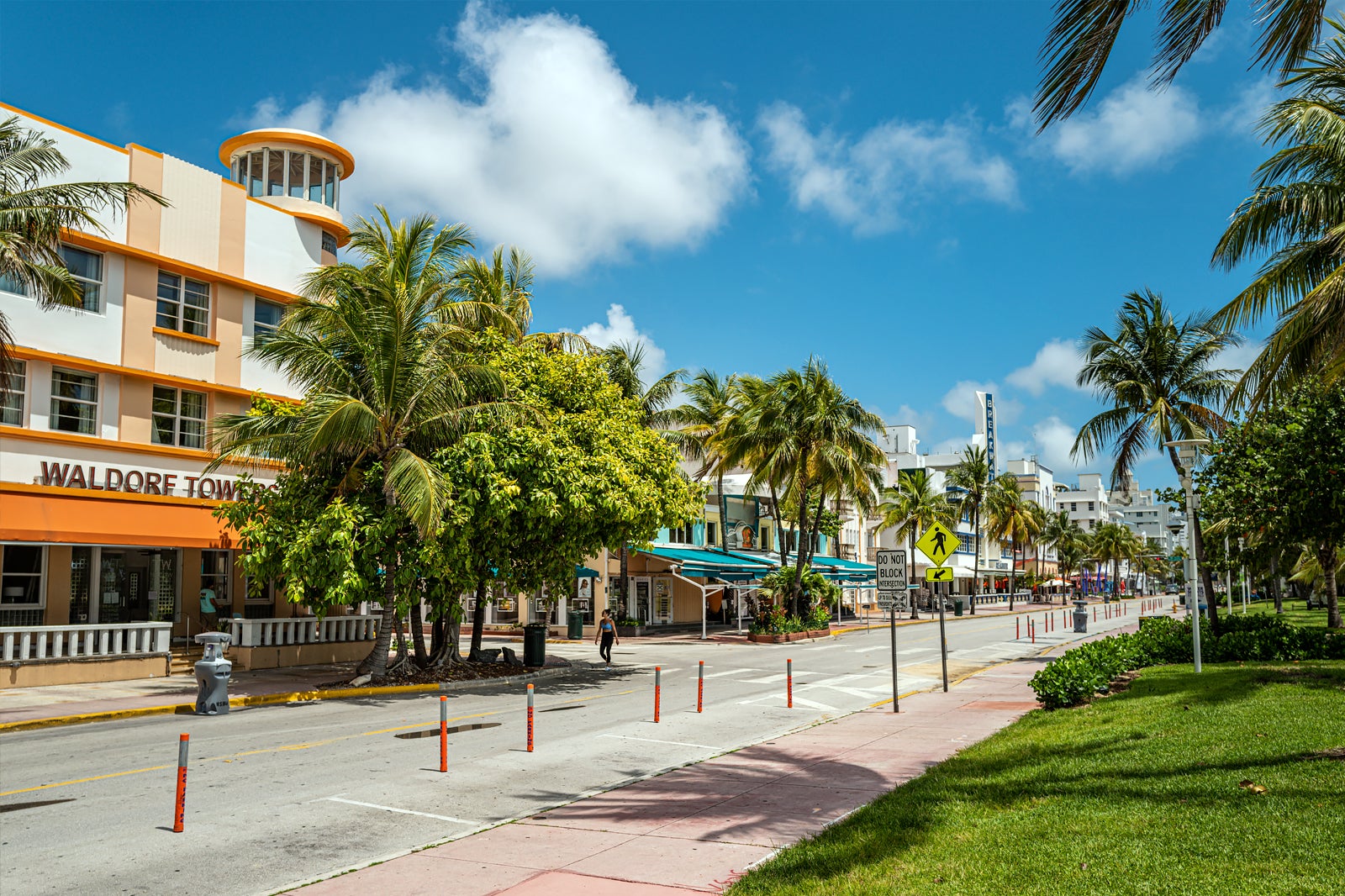 Highlights of the Art Deco Historic District
Some of the finest examples of Miami's Art Deco style are found along Ocean Drive, including The Carlyle, an apartment residence that once appeared in the Miami Vice TV show and the films Scarface and The Birdcage.
The Celino South Beach Hotel first opened in 1937 as the Park Central Hotel, where it was soon attracting such luminaries as Clark Gable and Rita Hayworth with its distinctive blue neon front and stylish lobby of vaulted ceilings and terrazzo flooring.
The Breakwater hotel is another Ocean Drive landmark with its striking blue neon facade, while The Betsy Hotel from the early 1940s is the district's only surviving building with a distinctive Florida-Georgian design.
Villa Casa Casuarina is said to be the third-most photographed building in America after the White House and Elvis's Graceland, not only for its exquisite Mediterranean revival architecture but for its former owner, Gianni Versace. The famed Italian fashion designer spent millions giving the mansion an extravagant makeover in the 1990s before his tragic death.
Distinctive features of Miami's Art Deco architecture
Miami Beach's playful, vibrant personality is reflected in its Art Deco skyline. Art Deco design is a modern take on neoclassical architecture that made its way to the US after it was first seen in Paris in 1925. Art Deco's whimsical styles, pastel colour tones and nautical details like porthole windows offer a stunning complement to Miami's coastal landscape and bright blue skies. The Art Deco District is also home to buildings in Mediterranean Revival and Miami Modern (MiMo) designs.
Distinctive Art Deco design details include "eyebrows", ledges set over windows that served to give shade and help keep the heat out of buildings back in the days before air conditioning. Neon lighting is also commonly used, giving buildings a colourful standout look after dark.
Most buildings are low rise with only 3 or 4 storeys, due to regulations that would require installing expensive elevators if built any higher. Details like flora and fauna motifs, geometric statues, fountains and terrazzo floors are also seen in the lobbies and exterior spaces of many Art Deco buildings.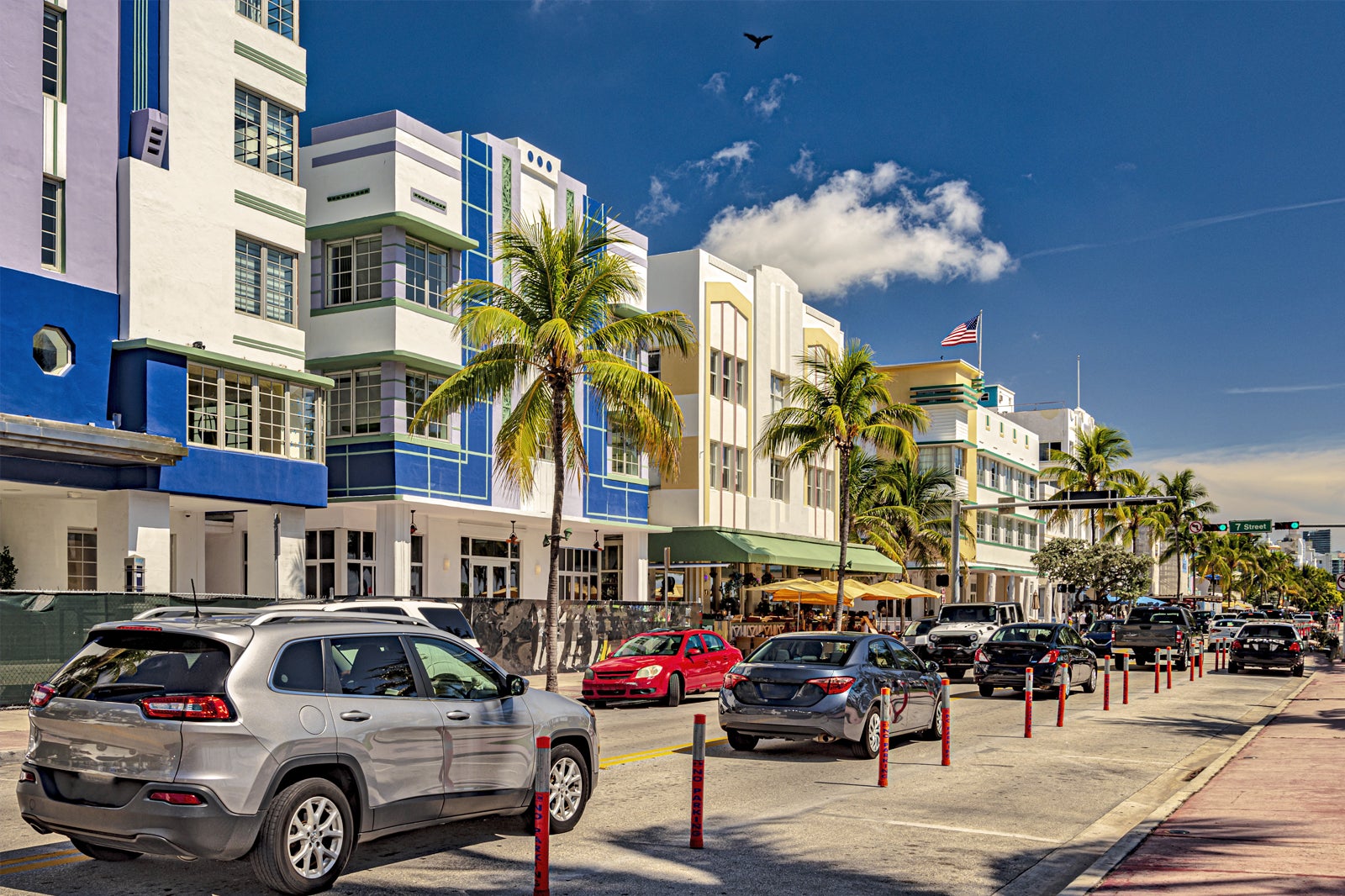 How to get around the Art Deco District in Miami Beach?
To best orientate yourself when visiting the Art Deco District, the Art Deco Welcome Center on Ocean Drive and 10th Street run by the Miami Design Preservation League should be your first stop. Here you can book a guided walking tour, which takes 90 minutes to 2 hours, or purchase the self-guided audio tour that you can listen to on your phone while walking around the area.
The welcome centre also has maps, books and brochures about the district, and hosts lectures and exhibits throughout the year. Other tours run from the centre include the South Beach Scandals Tour, the Jewish Miami Beach Tour, and the Gay & Lesbian Walking Tour. The Miami Design Preservation League was founded in 1976 and has been credited for reviving the neighbourhood and saving many buildings from being razed or left to crumble.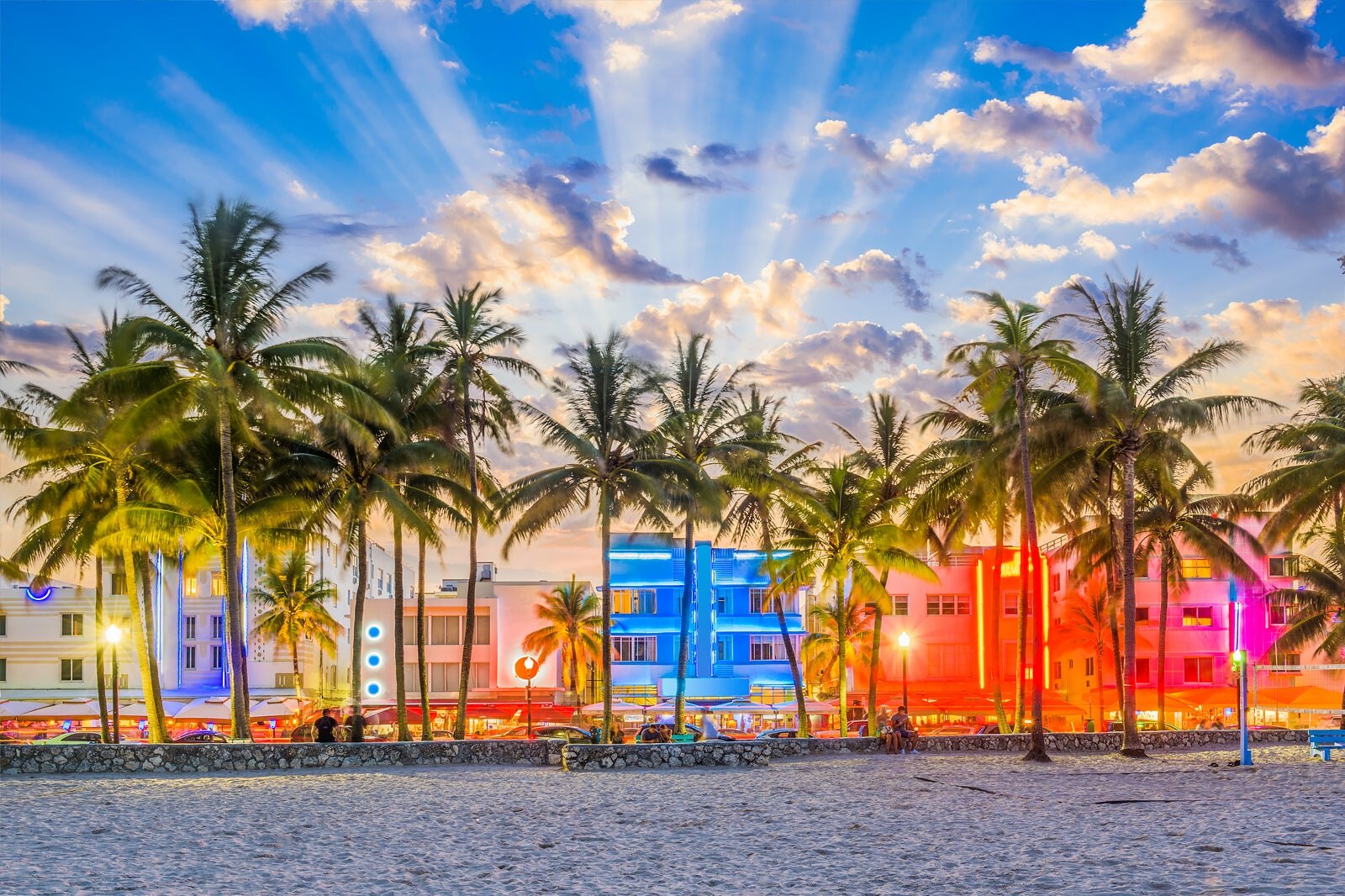 Art Deco District in Miami
Back to top