Belmont Park is a beachfront amusement park and entertainment complex on Mission Beach. The San Diego icon was opened in 1925 by entrepreneur and businessman, John D Spreckels. While its popularity ebbed and flowed over the years, it continues to attract millions of people each year.
The free-to-enter Belmont Park offers a range of vintage rides, mini-golf, an obstacle course, and a laser tag arena. Its star attraction is the Giant Dipper Roller Coaster, an original wooden rollercoaster that's listed on the National Register of Historic Places. With plenty of options for people of all ages, the theme park is one of the quintessential summer experiences in San Diego.
Belmont Park in San Diego - one of the highlights of 10 Things to Do With Your Family in San Diego (Read all about San Diego here)
What are the highlights of Belmont Park?
Belmont Park is San Diego's only beachfront amusement park and entertainment complex. Since opening in 1925, the original wooden rollercoaster known as the Giant Dipper remains the main attraction of the park. It's considered a significant piece of history in the city. The massive structure dominates the park's skyline and can be seen from anywhere in the Mission Bay area.
Belmont Park is home to 11 other rides, 6 adventure attractions and 3 oceanfront dining areas. It's known for its vintage theme, with classic bumper cars, a carousel, and Tilt-a-Whirl rides. The park also includes an 18-hole mini-golf course, a 7D interactive theatre, and a 3-level laser tag arena. As entry to the complex is free, it's a popular place to head for an evening or sunset stroll, with the oceanfront restaurants offering beautiful views over the bay.
A brief history of Belmont Park
Belmont Park has been an iconic part of San Diego's urban plan since the early 1900s. John D Spreckels was a wealthy sugar magnate who was keen on developing the Mission Beach area. In his efforts to attract real estate sales, he built the original entertainment complex on the current site in 1925.
It was known as Mission Beach Entertainment Center at the time and was later changed to Belmont Park in 1955. The star attraction at the time was the Giant Dipper rollercoaster, which was created by the Prior and Church design team. It was built in less than 2 months with a crew of around 150 workers.
After Spreckels' death, the park was granted to the City of San Diego. It remained popular until the 1950s, falling into disrepair in the 1960s and closed in 1976. After heavy lobbying by local citizens, the City Council was encouraged to allow developers to restore the park and rollercoaster. The park was reopened in the summer of 1988, with the rollercoaster fully restored by August 1990.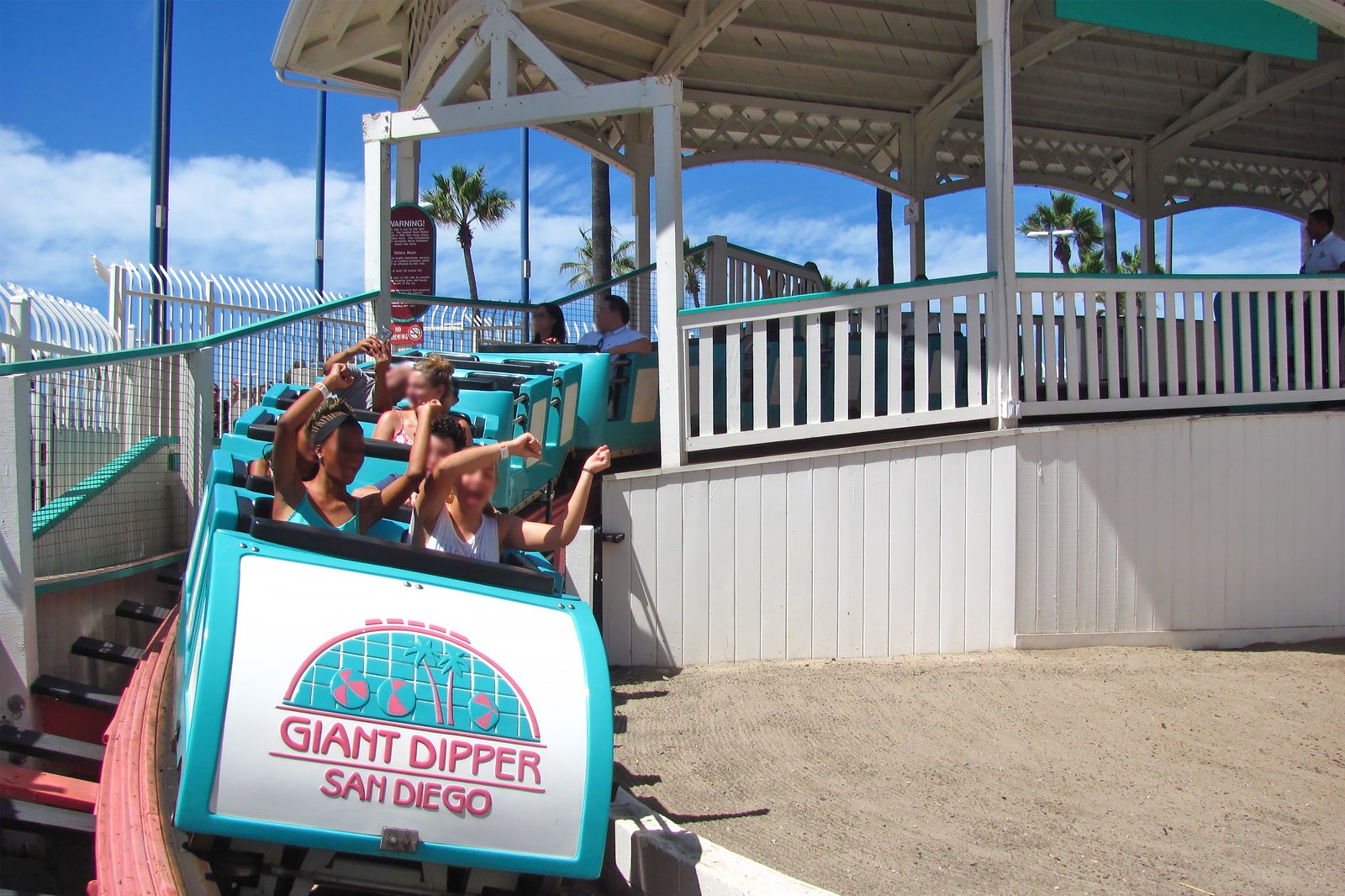 Good to know about Belmont Park
Belmont Park is open all year round, but gets being especially popular in summer. It's free to enter the amusement complex, with rides accessible via a pay-as-you-play policy. You can pay at each ride or purchase a single attraction pass, which includes most of the rides. There are also annual passes available for those expecting to return within a year.
Belmont Park lies in the heart of Mission Beach, which is relatively easy to reach from downtown San Diego. Ridesharing services can be a convenient way to get there. There are 4 free public parking lots for those visiting the amusement park and beach. For an extra fun-filled day, combine your visit to Belmont Park with SeaWorld San Diego, located just 2 miles away.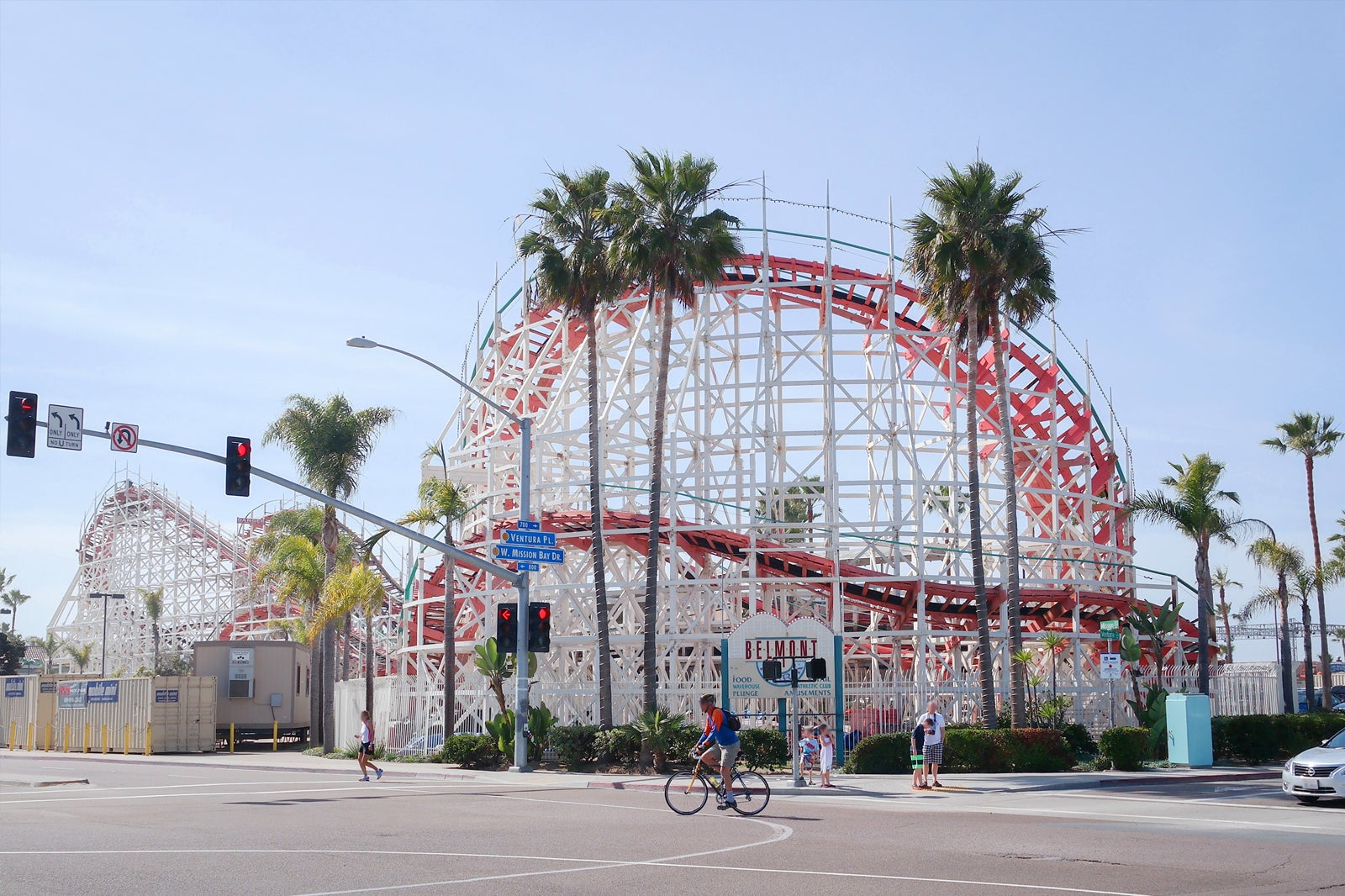 Belmont Park in San Diego
Location: 3146 Mission Blvd, San Diego, CA 92109, USA
Open: Daily from noon to 6 pm
Phone: +1 858-488-1549
Why book with Hotels.com?