12 Best Beaches in Guam
Pick the Right Guam Beach for You This Summer
Guam is an island that's blessed with a year-round tropical climate and is lapped by gentle azure waves. The Micronesian island is many people's definition of tropical beach bliss. And given there are so many spectacular options to choose from, the hardest part is deciding on which powdery white slice of coastline to unfurl your towel on.
But worry not, fellow sun lover. We've taken the guesswork out of the beach exploration game by rounding down the island's finest. From bustling inner-city shorelines to serene stretches of cotton-white sand, here are the top beaches in Guam. Grab your swimsuit and beach towel and go hit these pristine Guamanian sands this summer.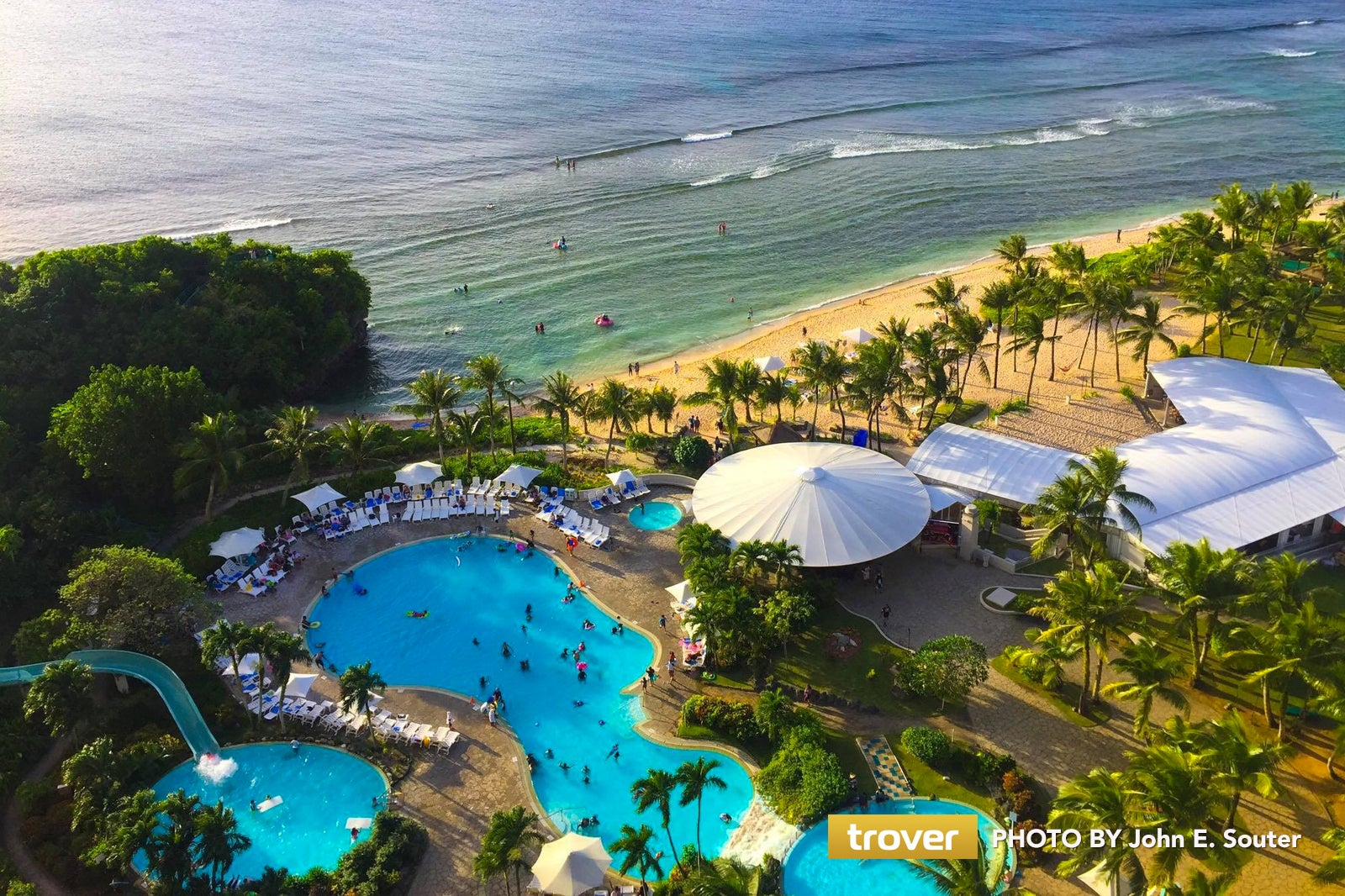 Gun Beach
Snorkelling, hiking, and beer!
Gun Beach, just a few minutes' drive north of Tumon, offers both proximity and tranquillity – perfect for those in search of a quick n' quiet beach escape. Its namesake is an old WWII artillery cannon, which you can still visit by hiking up a well-marked cliff trail on the northern end of the beach.
Snorkelling on the outlying reef is superb, while excellent diving opportunities abound a little further out. Many, though, come to sink a few beverages at the Gun Beach Bar before watching the sun go down at the nearby Two Lovers Point – the best place in Guam to admire the dazzling end-of-day display.
Location: Gun Beach, Gun Beach Rd, Tamuning, Guam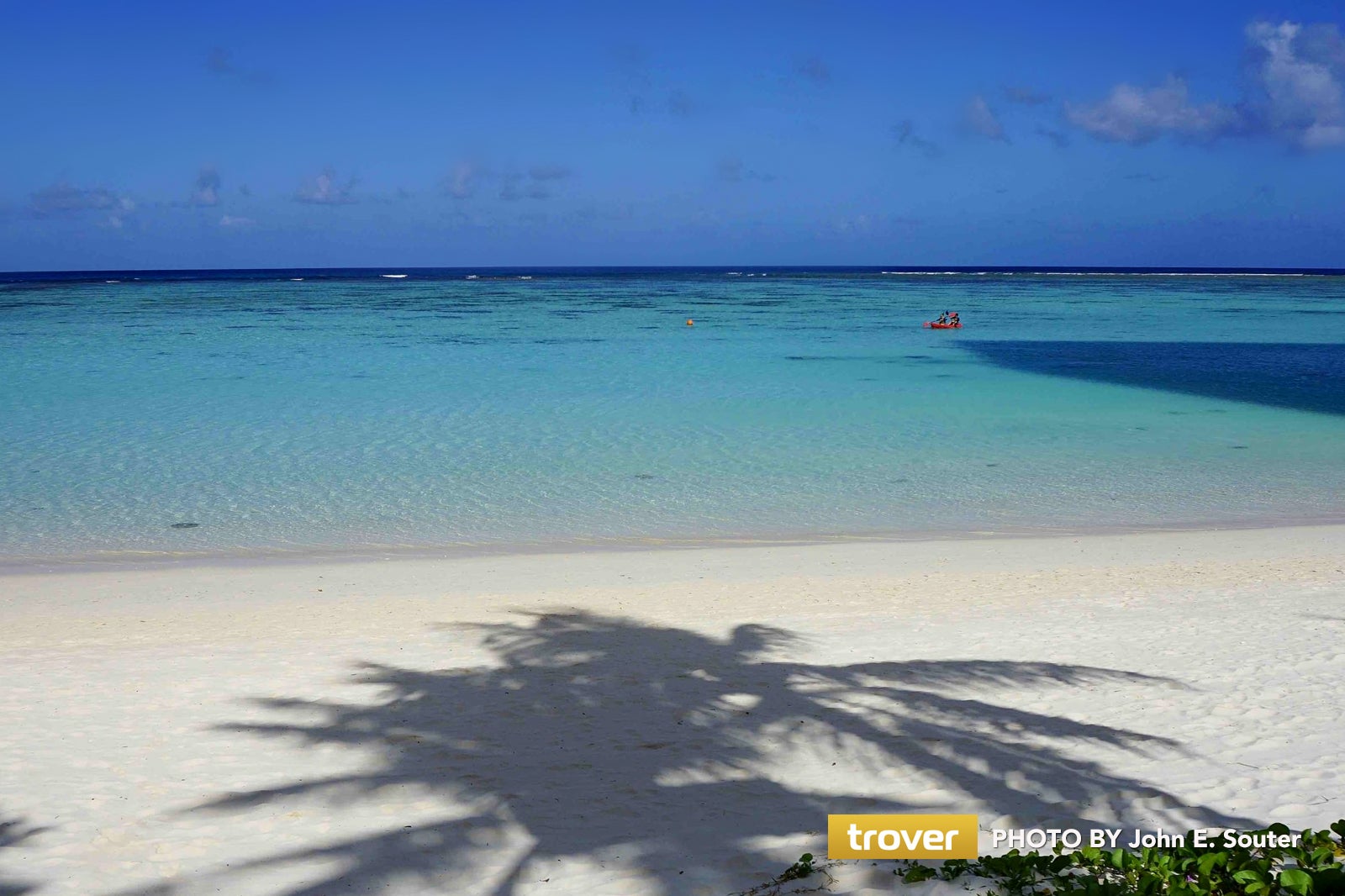 Matapang Beach
Admire the ancient rowers at work
Situated directly south of the famed Tumon Beach, Matapang is a good bet for nervous parents because there's always a lifeguard on duty here. Keep an eye on the undercurrent, though, which can prove surprisingly strong on certain days.
Given its location smack bang in the centre of town, it should come as no surprise that Matapang gets a little crowded at times. But its accessibility and picnic facilities make it an outstanding option nonetheless. If possible, aim to arrive in the afternoon when the local rowers launch their traditional outrigger canoes into the sea for a few laps of the bay. Listening to their exotic rowing chants as the sun sets over the horizon is a memorable experience.
Location: Matapang Beach, Frank H. Cushing Way, Tamuning, 96913, Guam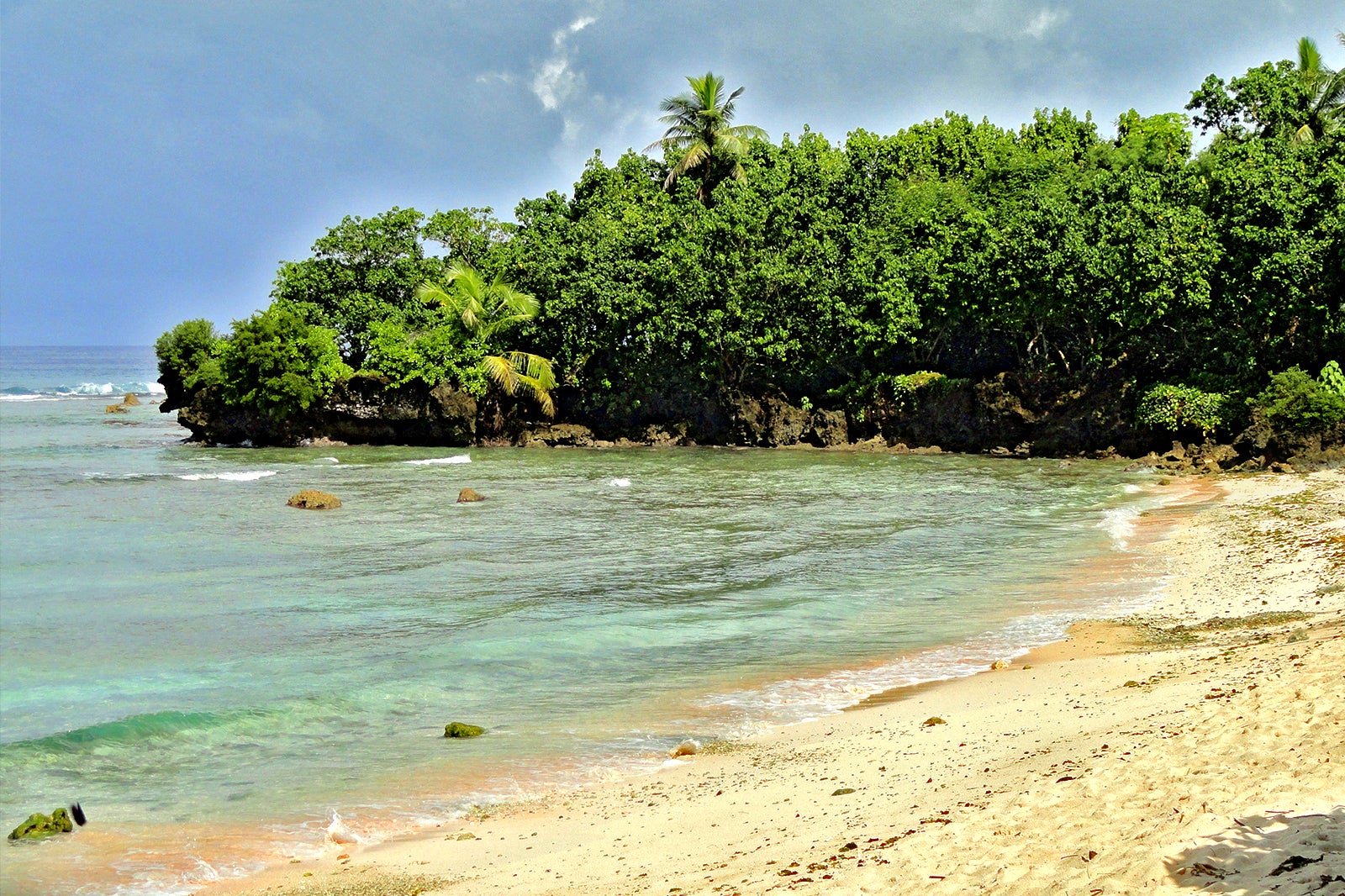 Tanguisson Beach
A secluded spot to swim
Tanguisson Beach is a little tricky to get to as you must drive along a pothole-filled road then do a short hike that may involve wading through a shallow river crossing. It'll be worth it on arrival, however, as the rugged beach boasts imposing limestone cliffs and psychedelic rocky outcroppings to complement its blindingly white sands.
Snorkelling the reef is tricky due to the strong current, although there's a pretty park and barbecue facilities to keep you happy on land. The beach only receives a smattering of tourists each day despite its proximity to Tumon, which is a 15-minute drive away.
Location: Tanguisson Beach, Dededo, Guam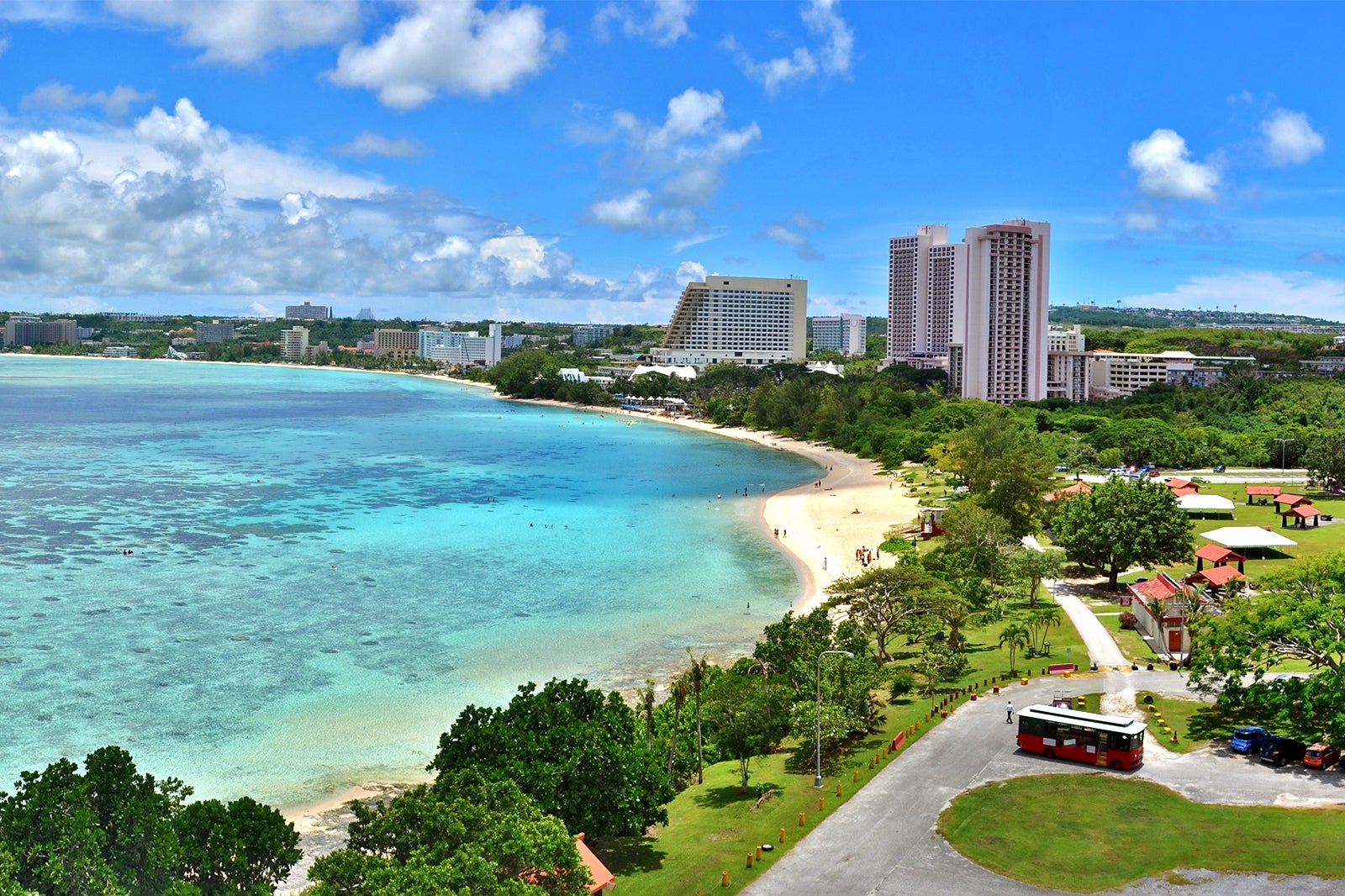 Tumon Beach
Beautiful beaches abound
Tumon is arguably the most famous of Guam's stunning beaches and serves as the country's focal point. It's lined by a palm tree-fringed promenade full of lavish beach resorts and hotels. A string of upmarket restaurants and bars line the shore, creating a festive atmosphere that continues into the early hours. And despite the crowds, Tumon is an idyllic spot to soak up some rays or partake in your favourite water sport.
Location: Tumon Beach, Tamuning, 96913, Guam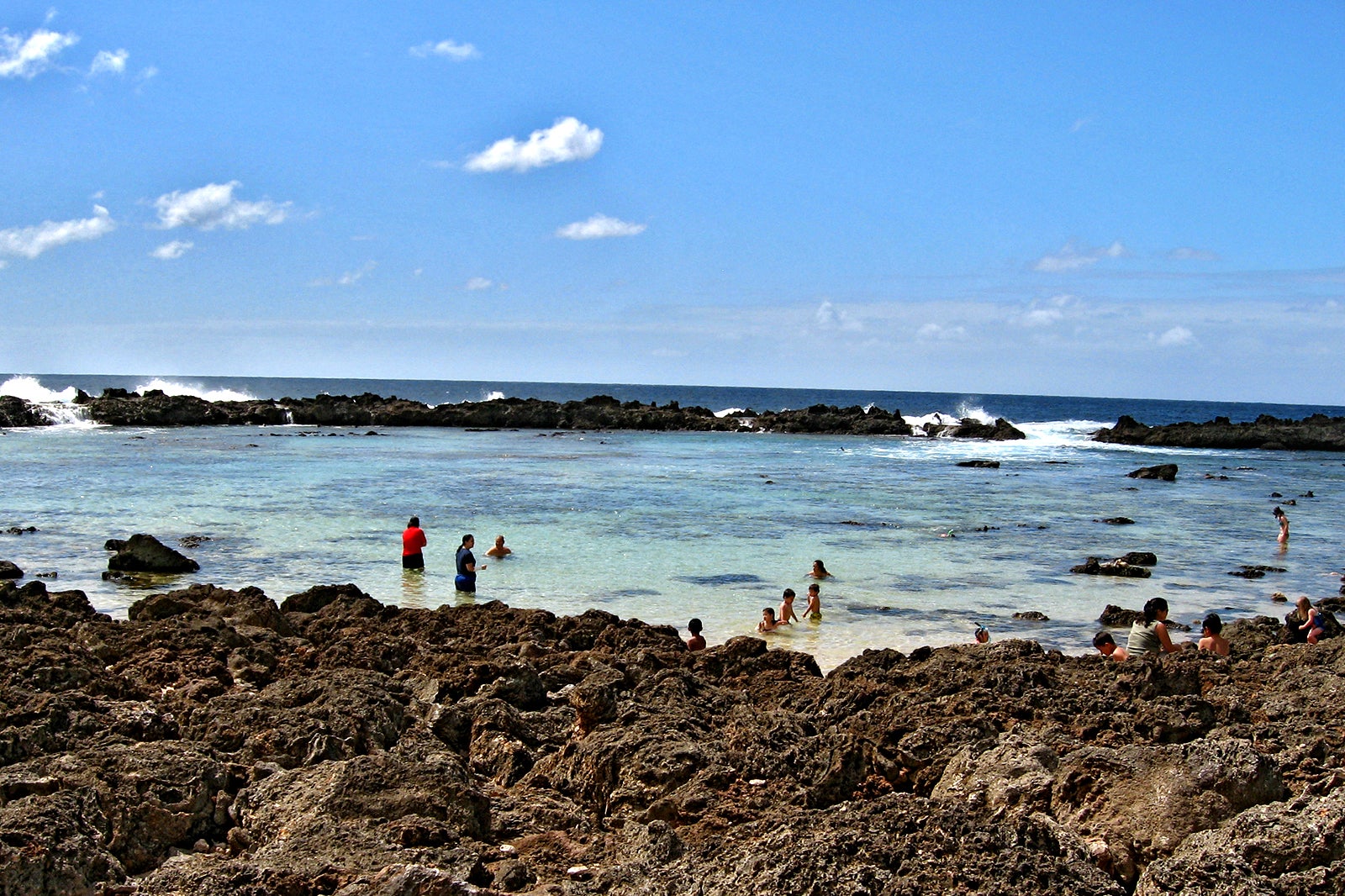 Shark's Cove Beach
Hike your way to paradise
Don't let the name scare you, it's unlikely you'll run into any sharks at this remote rocky cove (not of the man-eating variety, anyway). Even so, you'll have to embark on a half-mile hike to get here, which makes it one of the most inaccessible beaches in Guam. Such seclusion brings a refreshing lack of visitors, so there's a good chance you'll be the only people on the beach.
The trailhead starts at the northern tip of Tagachang Beach and has you trekking past the aptly named Mushroom Rock. Bring sturdy shoes and plenty of SPF: the path is rocky, and you'll likely want to spend the whole day relaxing on this beautiful bright beach.
Location: Shark Cove Beach, Unnamed Road, Dededo, Guam
photo by Ken Lund (CC BY-SA 2.0) modified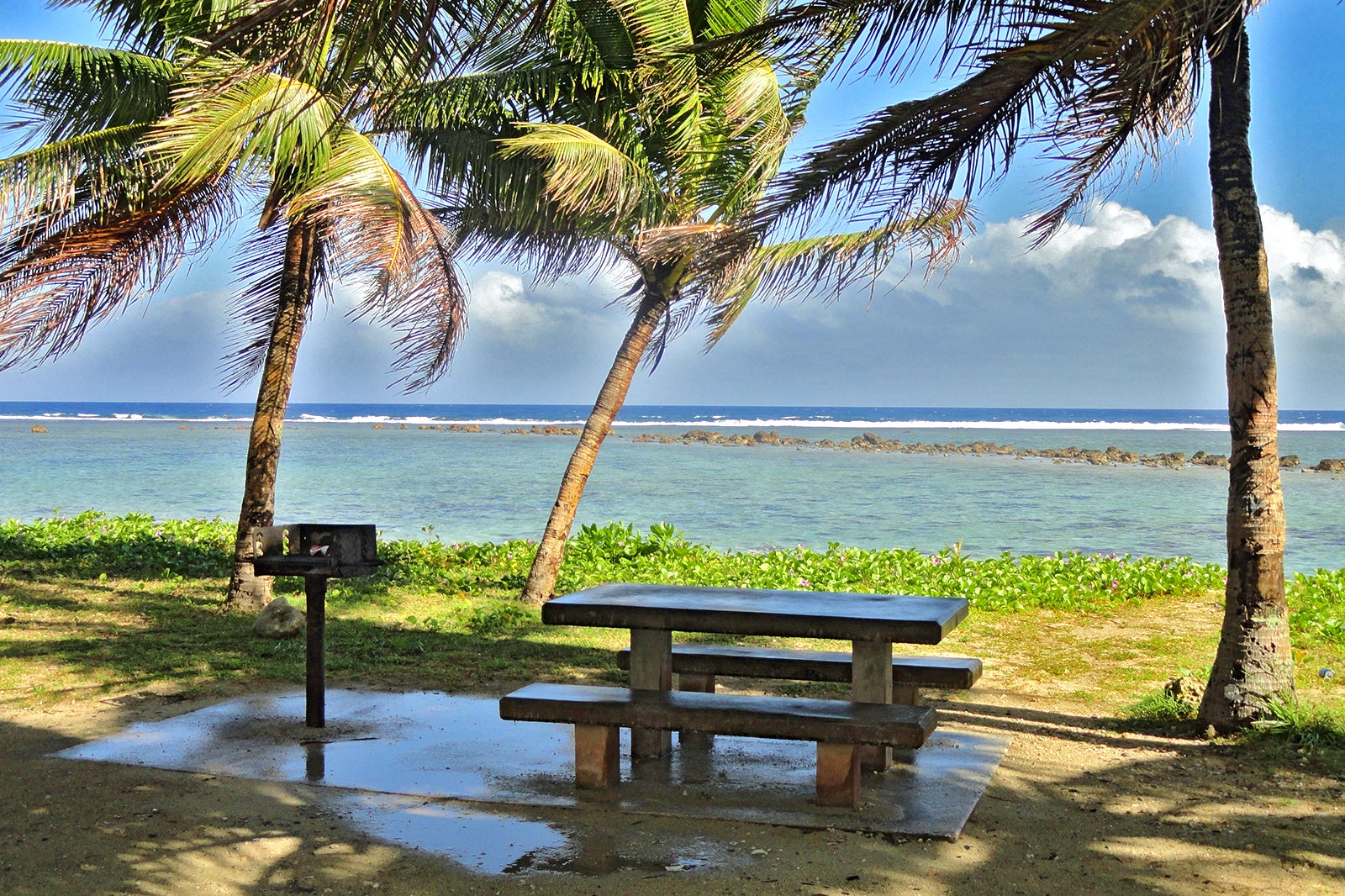 Asan Beach Park
Where history and pristine nature combine
For a WWII history fix to complement a fun day in the sun, make your way to Asan Beach Park, which is about 15 minutes west of Tumon. The park marks the spot where US soldiers stormed the beach to recapture the country from the Japanese in the Battle of Guam. Head to the War in the Pacific National Historical Park on Assan Point to learn more about the event and peruse a selection of original military artefacts.
It's easy enough to forget the history, though, as the idyllic beach boasts powdery white sand to lie in and swaying coconut trees to shade you from the sweltering sun.
Location: Asan Beach Park, Marine Corps Drive, Asan, Guam
History
Photo
Budget
Adventure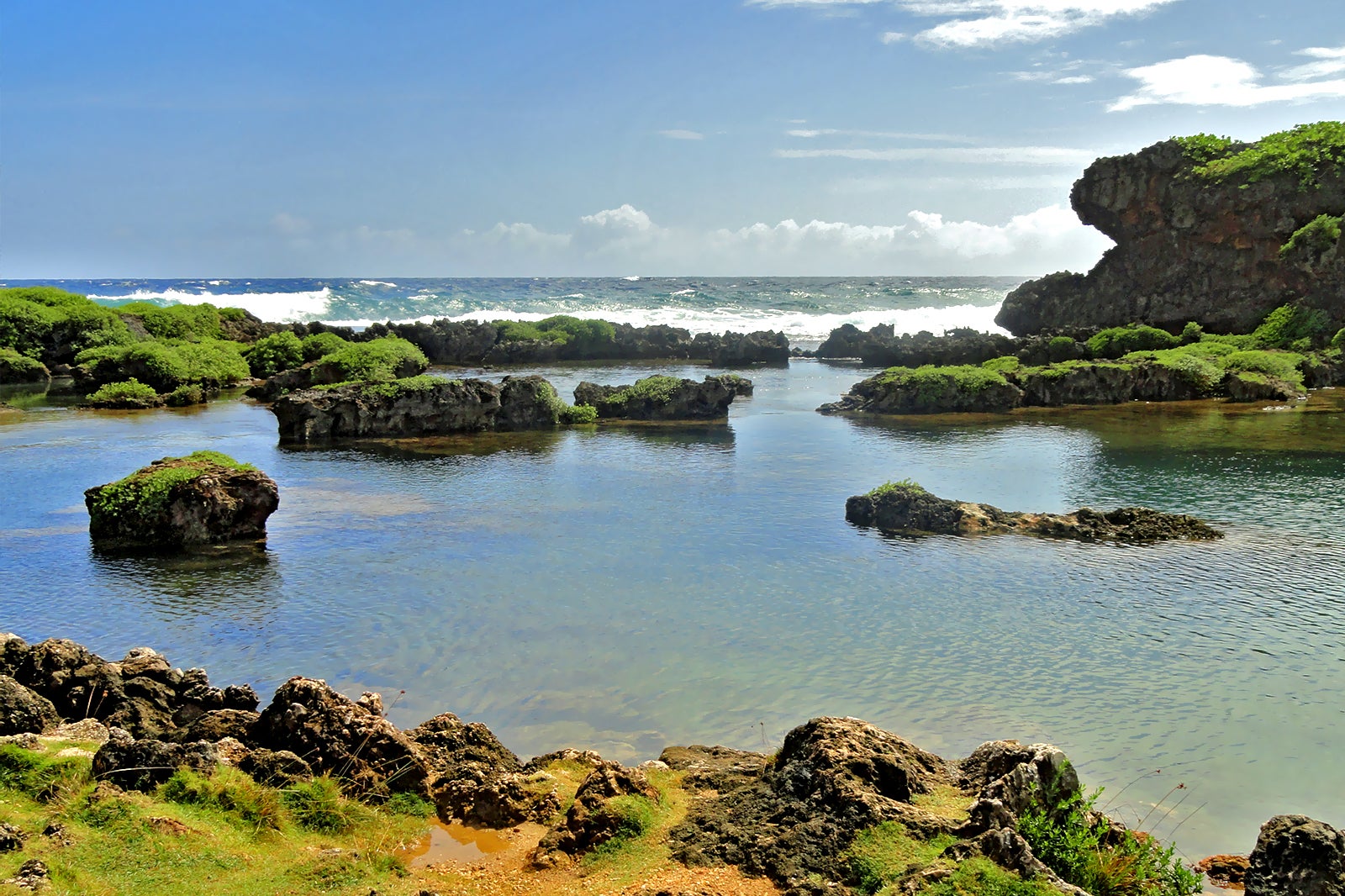 Inarajan Pools
A safe place to swim for the little ones
The perfect place for young children, Inarajan consists of a series of sheltered natural pools a few feet inland from the beach. Seawater slowly pours in through a rocky channel with each coming wave, creating a calm swimming hole that's suitable for frolickers of all ages.
Tropical fish occasionally make their way into the pool, so it's also an idyllic spot for those who want to try their hand at snorkelling but aren't quite ready to hit the open ocean. Surrounding the pools are plenty of barbeque spots and picnic tables should you wish to make a day of it. Inarajan Pools are a 45-minute drive from Tumon on the south-east corner of the island.
Location: Inarajan Pools, 4, Inarajan, Guam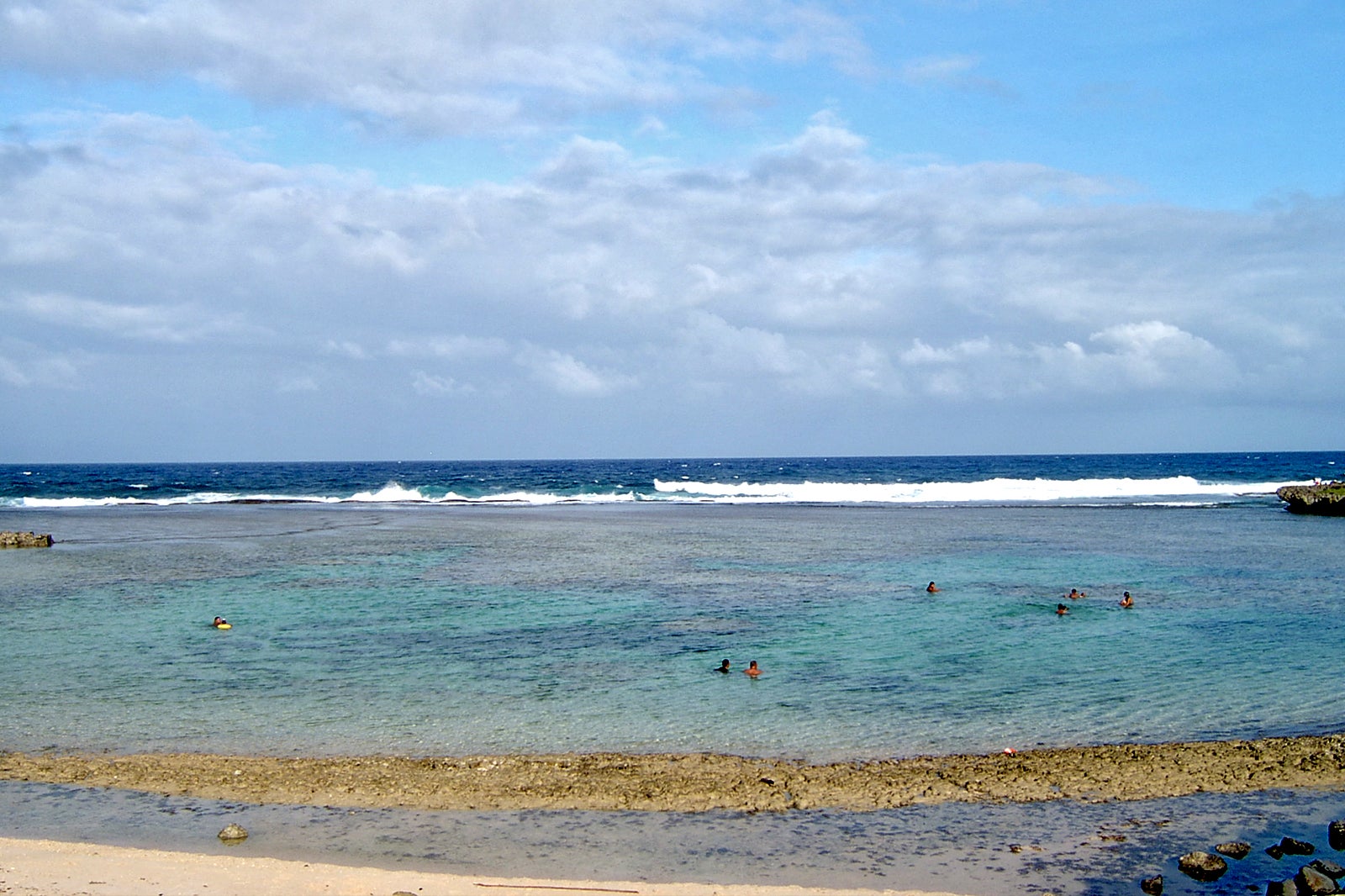 Ipan Beach
Kitesurf, fish, or kick back and relax
Located on the edge of the Talofofo village in eastern Guam, Ipan is an excellent choice for those looking for a quiet spot to get away from it all. It isn't the ideal place to swim, but strong winds make these choppy waters a playground for kite surfers, and the fishing is fabulous from the adjacent rocky headlands.
In the middle of it all, there's Ipan Beach Park, a well-maintained public facility that's perfect for cooking up a barbeque and lazing the day way. If you'd rather not cook, head to Jeff's Pirates Cove on the north end of the beach instead. This local institution serves up a mouth-watering array of classic American favourites and periodically hosts outdoor markets and concerts on its sunny patio.
Location: Ipan Beach Park, Highway 4, Talofofo, Guam
photo by melanzane1013 (CC BY-SA 2.0) modified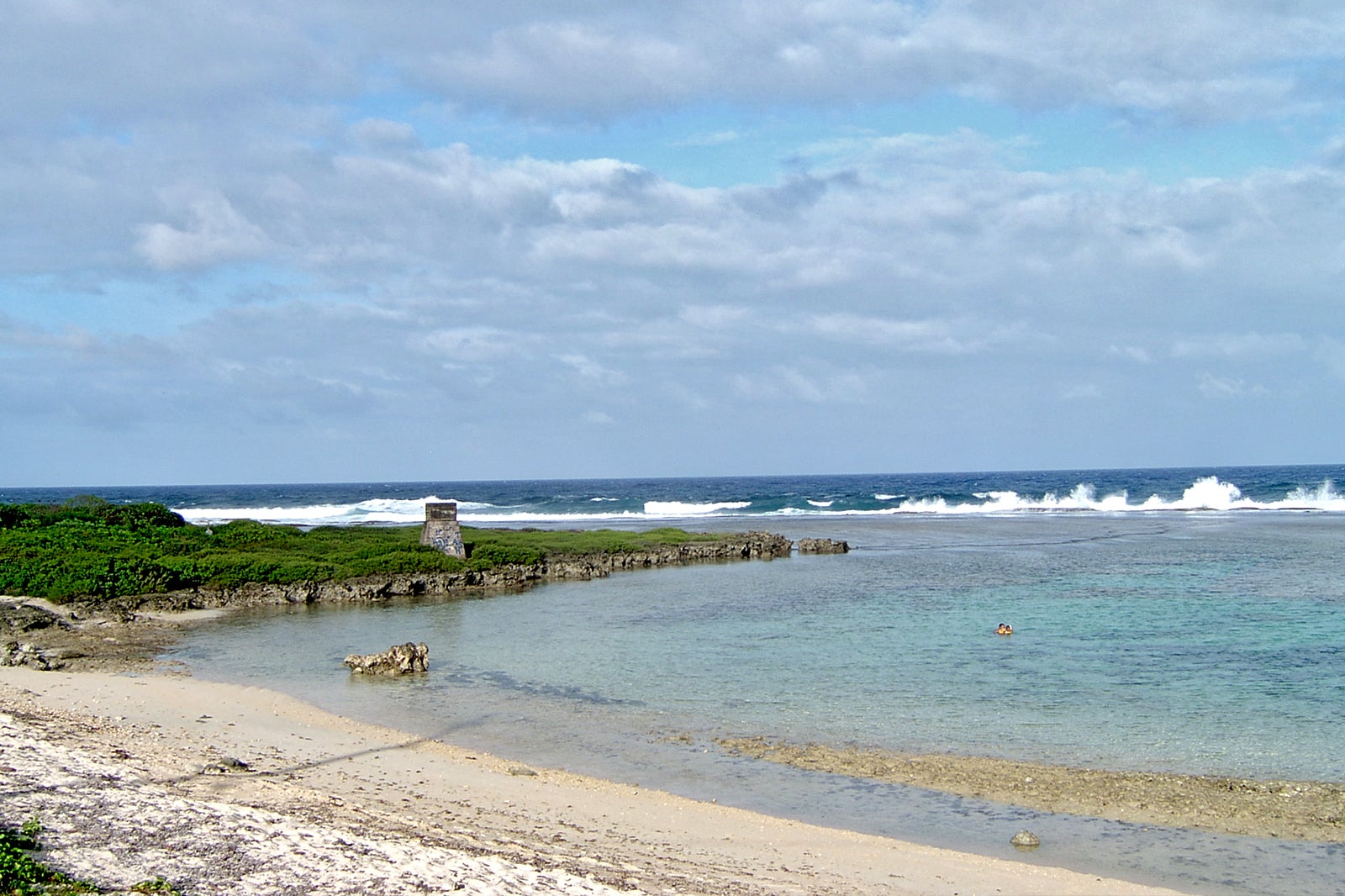 Talofofo Beach
One of four green beaches in the world
You won't find sugar-white sand on this east coast beach because Talofofo is famous for being green. Over the aeons, olivine crystals eroded from basalt lava and washed up on the shore, making it one of only 4 beaches in the world with a visible green tinge. Black magnetic sand is also found in abundance here, while dramatic limestone cliffs and a row of swaying palm trees complete the tropical scene.
Most visitors make the 35-minute commute from Tumon to surf. Talofofo is one of the few spots in Guam without a shallow reef to prevent the waves breaking close to shore.
Location: Talofofo Beach, Talofofo Bay, Guam
photo by melanzane1013 (CC BY-SA 2.0) modified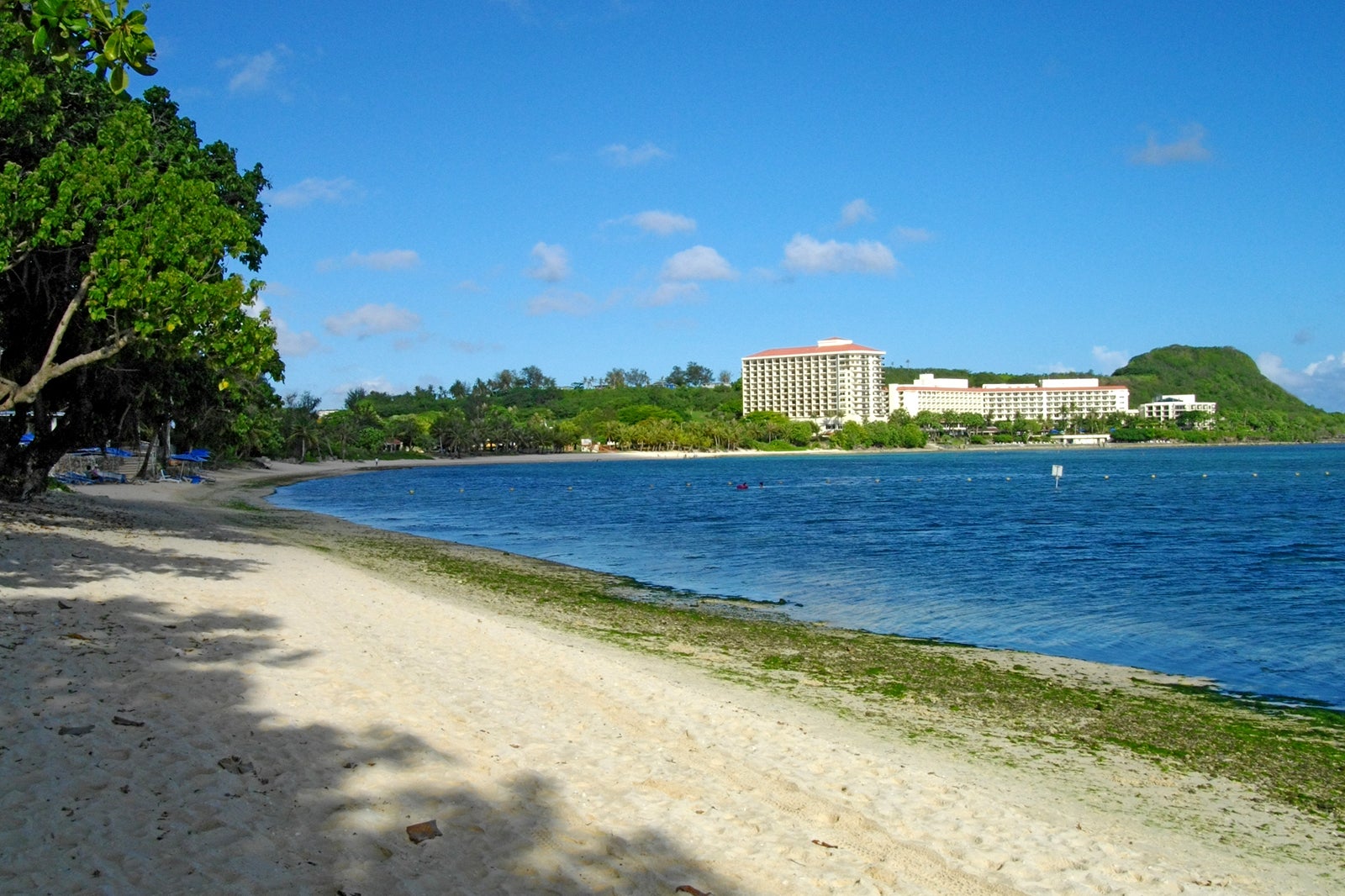 Ypao Beach
An easily accessible alternative to Tumon
Located on the southern tip of the bustling Tumon Bay, Ypao Beach is a sweet spot to hit when you just want a quick and easy place to pull up a towel. The gorgeous white sand expanse is mere minutes from most downtown hotels, yet is remarkably less crowded than Tumon Beach to the north.
Just off the shore are an array of colourful coral reefs to explore so bring your snorkel when ducking in for a swim. If you're lucky, you might arrive to see a local music festival or traditional village party at the adjacent Ypao Beach Park. If not, the leafy plaza is still a great place to chill out or devour a picnic lunch.
Location: Ypao Beach, Tamuning, 96913, Guam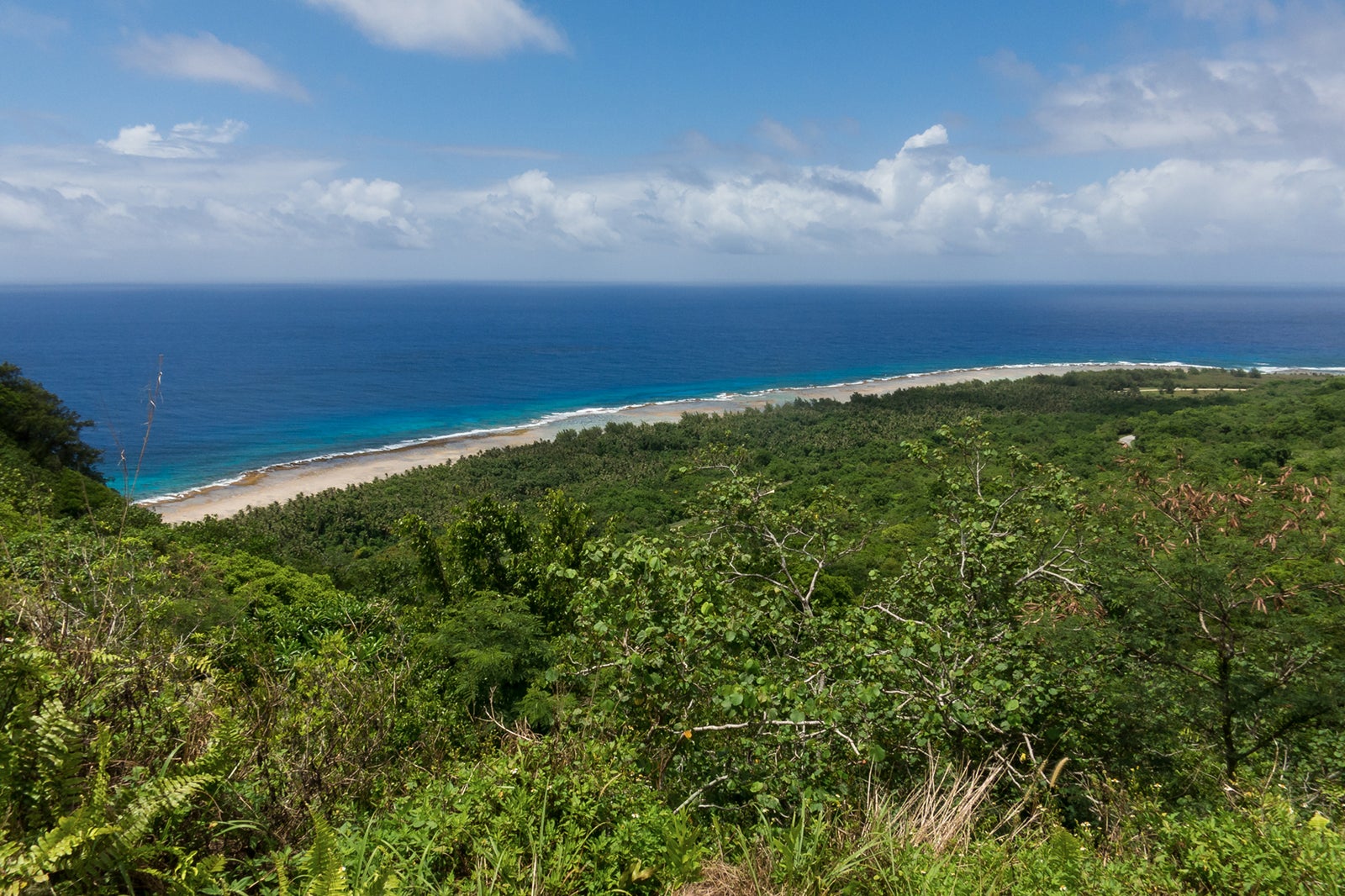 Ritidian Point
The ideal nature escape
Ritidian Point resides within the Guam National Wildlife Refuge, a 1,203-acre park that's teeming with native fauna. It's tucked away on the northern tip of the country, about 35 minutes from Tumon. Tree snails, Mariana fruit bats, geckos, toads, butterflies, and monitor lizards are just some of the species that roam the thick jungle. Exploring is easy, as the refuge has 3 family-friendly nature trails to traverse: Latte Loop (0.75 miles), Nature (1.25 miles), and Ritidian Caves (0.5 miles).
After working up a sweat on the trails, cool off in the crystal-clear waters of Ritidian Beach for some much-needed rest.
Location: Guam National Wildlife Refuge, Yigo, Guam
Open: Daily from 7.30am to 4pm
Phone: +1 671-355-5096
photo by Jonathan Miske (CC BY-SA 2.0) modified
Taga'chang Beach
An off-the-beaten-track adventure
Wedged between 2 towering cliff heads, the wild and rugged Tagachang Beach is a superb spot for beach bums after some quiet respite. This ungroomed stretch of sand is well off the tourist trail, so outside of the high season, there's a high chance you'll have it all to yourself.
Despite its remote location, Tagachang Beach is a great place to bring the kids. An outlying reef shelters these gentle waters, making it a calm spot for the little ones to swim. You won't find any public transport to this off-the-beaten-track offering, so grab a taxi or hire a car for the 25-minute drive from Tumon.
Location: Tagachang Beach, Yona, Guam