Blaine Kern's Mardi Gras World is a working studio and museum in New Orleans. It displays thousands of extravagant costumes, floats, and props for the iconic Mardi Gras celebration, which takes place at the start of spring.
This family-friendly attraction occupies a 300,000-sq-ft warehouse in the Port of New Orleans, about 1 mile southeast of the Louisiana Children's Museum. Since 1947, it has been one of New Orleans' most popular landmarks.
Blaine Kern's Mardi Gras World in New Orleans - one of the highlights of 10 Best Things to Do in New Orleans and 10 Best Things to Do for Couples in New Orleans (Read all about New Orleans here)
What are the highlights of Blaine Kern's Mardi Gras World?
Join the Mardi Gras World tour to learn about the festival's many traditions, street parades, balls, and music. The tour runs for around 1 hour, which includes a 15-minute video presentation, king cake (a Mardi Gras staple food), and New Orleans coffee.
A popular activity for kids and adults is rummaging through the costume trucks. Dress up in your favourite Mardi Gras costume before exploring the rest of the massive complex. There are also hundreds of photo ops throughout the building – themed photo areas are available for special occasions, such as Halloween and Christmas.
Blaine Kern's Mardi Gras World is responsible for creating some of the most unique floats in New Orleans. Standouts include a dragon-shaped float and massive sculptures of Disney characters. Every year, its artists and craftsmen create more than 500 floats for the lavish celebration. If you're lucky, you might even see the artisans working on their latest floats in preparation for upcoming Mardi Gras parades.
Good to know about Blaine Kern's Mardi Gras World
Tickets to Blaine Kern's Mardi Gras World include a free shuttle from several locations in downtown New Orleans, such as Canal Street and the French Quarter. As there are no fixed pick-up times, call the museum when you've arrived at one of the shuttle's designated pick-up spots.
The museum is open every day, including on Mardi Gras. It's a popular place to visit for travelling families in New Orleans, thanks to its zany displays and photo ops. An onsite gift shop offers a wide range of Mardi Gras memorabilia and souvenirs.
The spring celebration is one of the oldest in New Orleans, taking place on the weekend leading up to Fat Tuesday. Revellers dress up in lavish costumes, colourful face paints and masks, enjoying a fun bash before Lent.
Blaine Kern's Mardi Gras World has been featured in several reality TV shows, including The Amazing Race and Top Chef.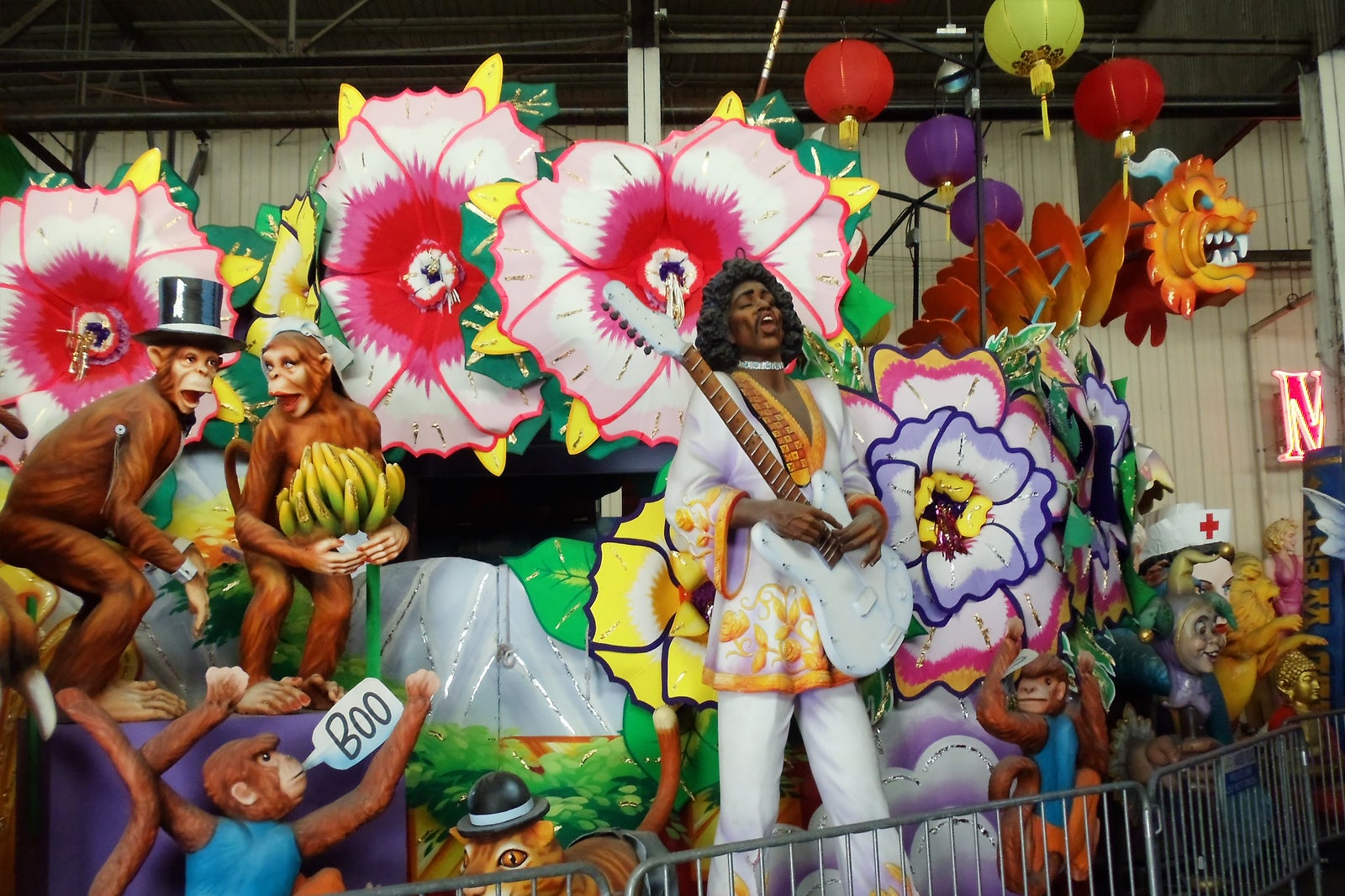 Blaine Kern's Mardi Gras World in New Orleans
Location: 1380 Port of New Orleans Pl, New Orleans, LA 70130, USA
Open: Daily from 9.30 am to 4.30 pm
Phone: +1 504-361-7821
Back to top