Fremont Street is packed to bursting with things to do – it's the original entertainment quarter of Las Vegas, after all. With glitzy gaming halls like the Golden Nugget and more cocktail houses than you can shake a Cosmopolitan at, it remains a vibrant and happening quarter of Sin City. It also has some unique experiences of its own, like adrenaline-pumping ziplines and neon-booming nightly light shows.
It's perfect if you're keen to feel the hedonism and energy of this bucket-list Nevadan escape but don't fancy the big-name casino resorts. You'll also get a bit of Las Vegas history down on Fremont, thanks to the Mob Museum and the other vintage hotspots in the surrounding Downtown area.
Fremont Street in Las Vegas - one of the highlights of 10 Things to Do in Las Vegas and 10 Free Things to Do in Las Vegas (Read all about Las Vegas here)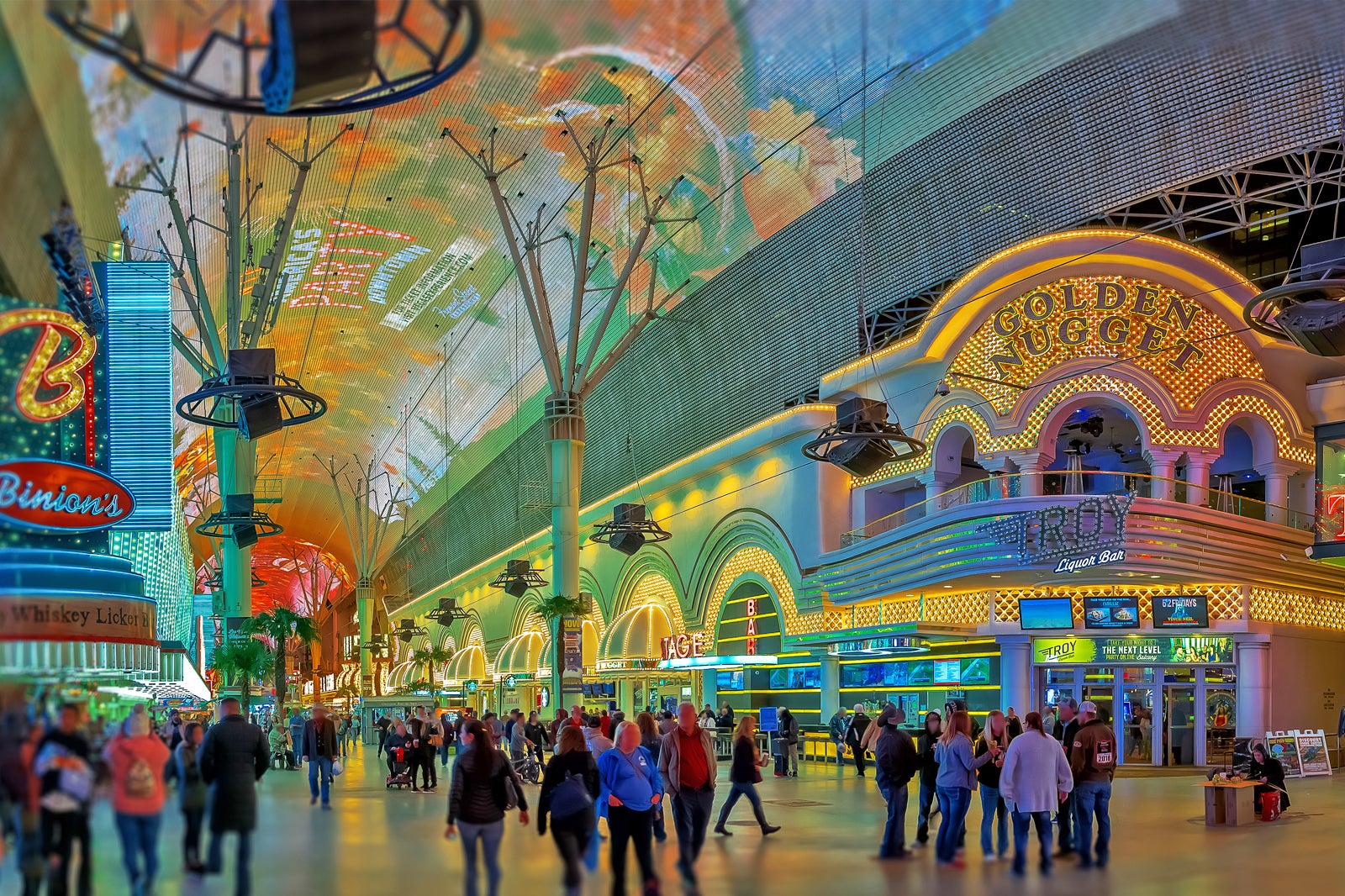 A brief history of Freemont Street
Fremont Street is where it all began for Vegas. Back in 1905, it was the beating hub of the city in the desert, with saloons and stables aplenty. In the 1930s and 1940s, it became known as the epicentre of the town's gambling scene. Much of that has now flipped to the buzzing Las Vegas Strip to the south. Even so, old Fremont remains as lively as ever.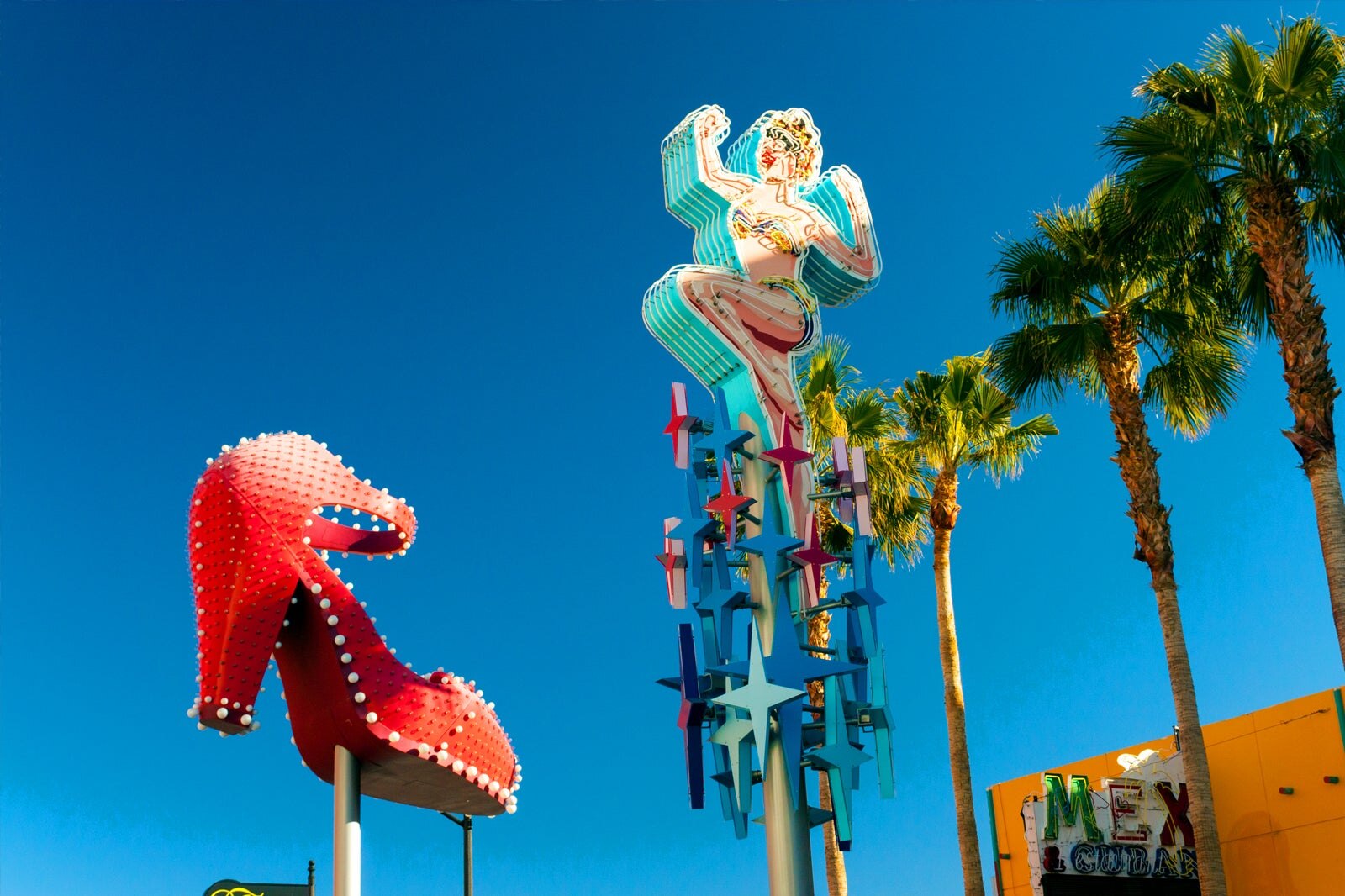 What are the highlights of Freemont Street?
During the day, you can delve right into the rich history and culture of this rollicking metropolis. You could uncover the story of that famous Vegas dazzle at the Neon Museum, where retro lights from bygone casinos abound. Alternatively, head to Binion's Hotel Casino, where you can pose for a selfie with $1 million – yes, you read that correctly. The Downtown Mob Museum also deserves a special mention. It spins tales of prohibition speakeasies and spills the beans on Al Capone.
The western end of Fremont Street is host to the enthralling Fremont Street Experience. It's the jewel of the whole district, offering awesome light shows and some truly off-beat urban pursuits. These include the likes of the SlotZilla Zip Line, where you'll launch yourself from the top of an oversized Martini glass onto zooming cables more than 100 ft above the mall. Shopping comes in a medley of famous toy stores, huge beef jerky emporiums, record sellers – you name it.
Where to go at night in Fremont Street?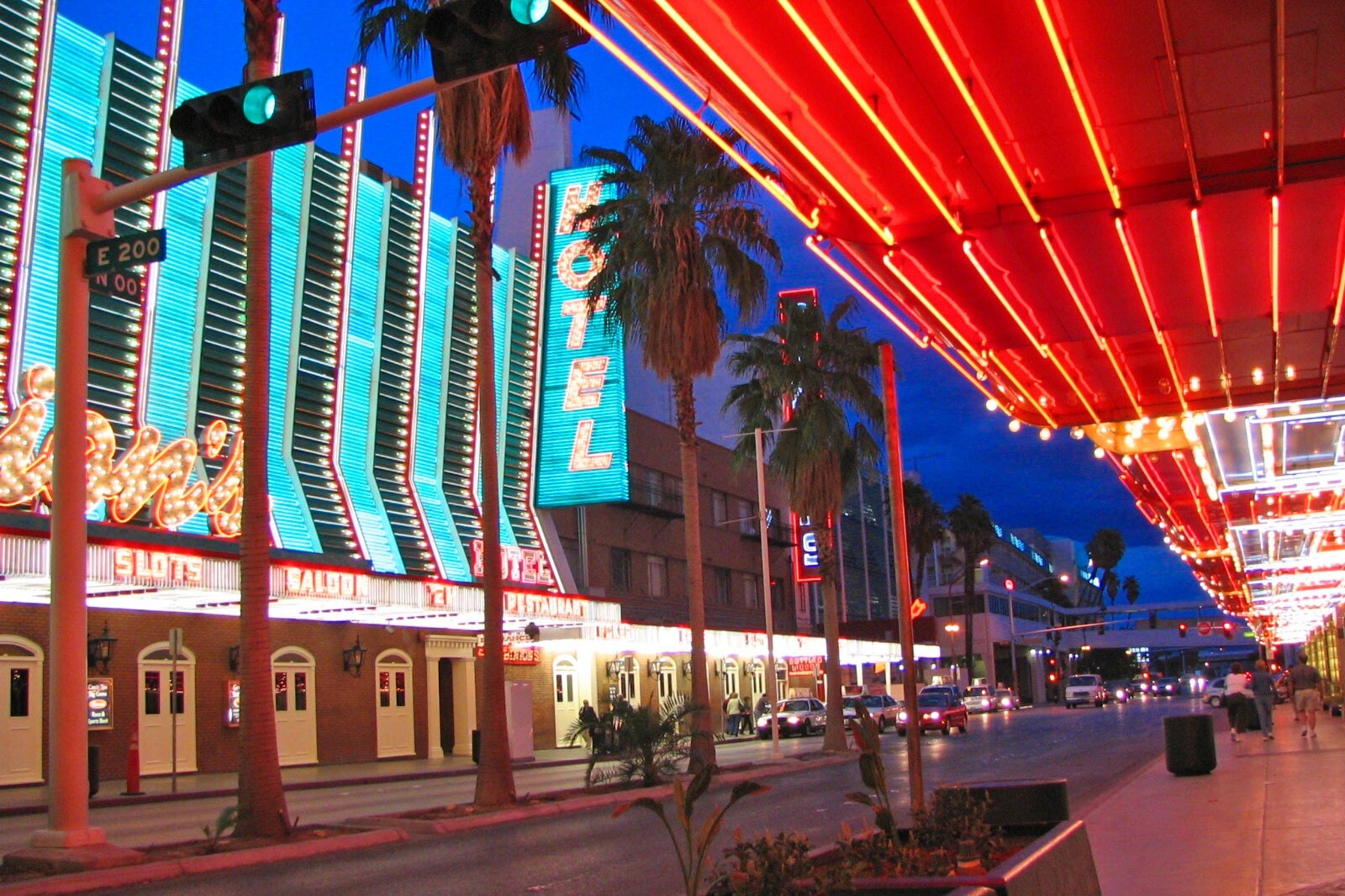 Fremont Street really comes alive when the evening hour approaches in Las Vegas. Things begin with the amazing LED shows of the Fremont Street Experience. It harnesses the power of more than 12 million lamps to create immersive audio-visual displays that last 6 minutes. They start on the hour every hour and are simply not to be missed.
After staring at the haze of neon overhead, it's time to hit the speakeasies. Fremont is a master of the noir bar. The likes of Commonwealth and the pink-tinged Troy Liquor Bar see to that. There are also some more refined options like Don't Tell Mama, where you'll encounter twinkling piano maestros and singing bartenders.
Of course, no evening in Fremont is complete without a trip to a casino. Some of the original Vegas names converge in these parts, but it's the Golden Nugget that usually comes up trumps. Duck under the shimmering façade to find endless blackjack and craps, as well as colossal aquariums filled with sharks.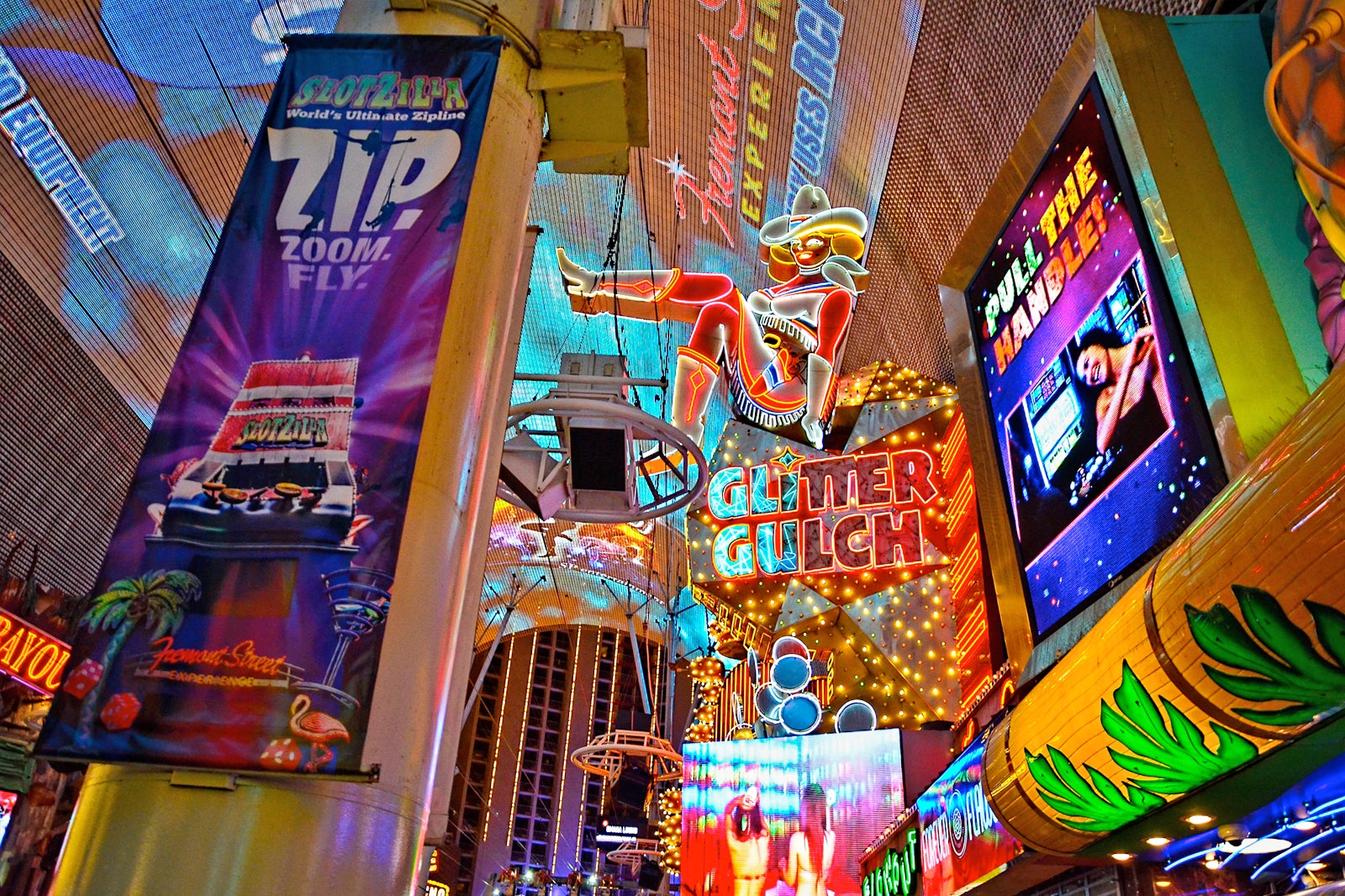 What's good to know about Fremont Street?
It's worth knowing that Fremont Street has a bit of an adult vibe after dark. It's not risque per se, but there are lots of open-air drinking and dancing. Speaking of drinking, be sure not to sip from glass bottles or cans when in public – they're prohibited.
Also, remember that you should be eligible for free beverages in most of the casinos, so long as you're betting. Don't forget to tip waitresses, waiters, bar staff and dealers. About 20% is the going rate but those on a winning streak will often do more.
Fremont Street in Las Vegas
Location: Fremont St, Las Vegas, NV 89101, USA
Back to top