The High Roller in Las Vegas is one of the world's tallest Ferris wheels. Located in Paradise, The 550-ft-tall structure overlooks Las Vegas Valley and Las Vegas Strip, the city's main street for late-night amusement. This fascinating observation wheel is so large that it takes 30 minutes to complete a full rotation – this gives you plenty of time to soak up the enchanting views of Las Vegas. No less than 28 air-conditioned cabins are attached to the wheel, each of which can accommodate up to 40 passengers.
The High Roller is along South Las Vegas Boulevard, within walking distance from beloved tourist attractions like Gondola Rides at the Venetian and Madame Tussauds Las Vegas.
High Roller in Las Vegas - one of the highlights of 10 Best Things to Do for Couples in Las Vegas and 10 Things to Do in Las Vegas (Read all about Las Vegas here)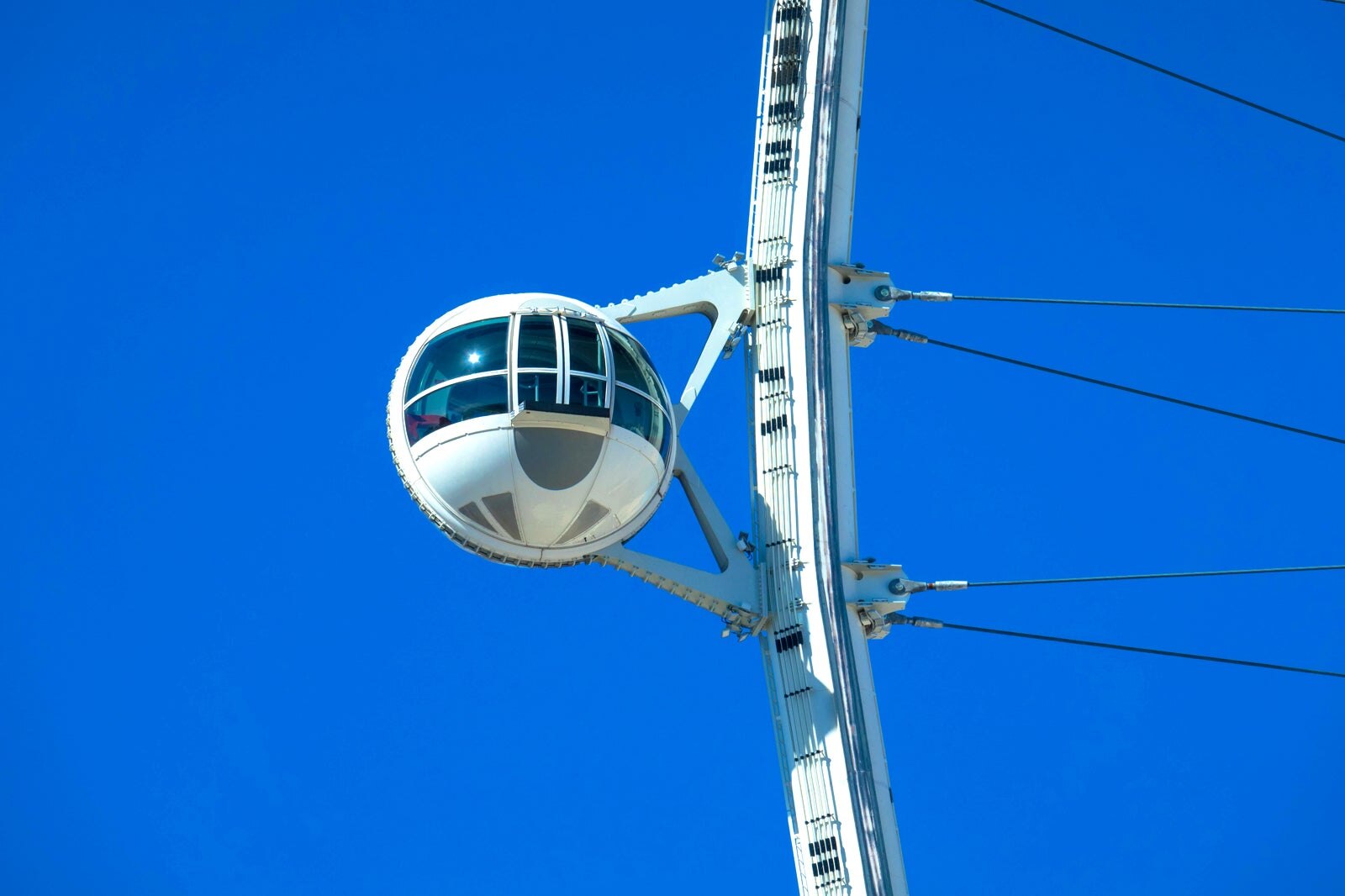 What are the highlights of High Roller?
While most of Las Vegas' lively parties and activities happen on street level, the High Roller shows you a different angle of this world-renowned metropolis. At its highest point of 550 ft, the Ferris wheel offers majestic city views.
Since its completion in 2014, the High Roller is the tallest Ferris wheel in the world, almost 10 ft higher than its predecessor, the Singapore Flyer. The High Roller is 6.5 ft taller than the famous London Eye. Each of the 28 cabins is rotated individually, so the floors are perfectly horizontal throughout the entire ride. At the foot of the wheel, you can buy drinks at the High Roller's bar.
As it opens until midnight, you'll have a chance to ride at sunset or during the night, when the illuminated streets of Las Vegas are simply spellbinding.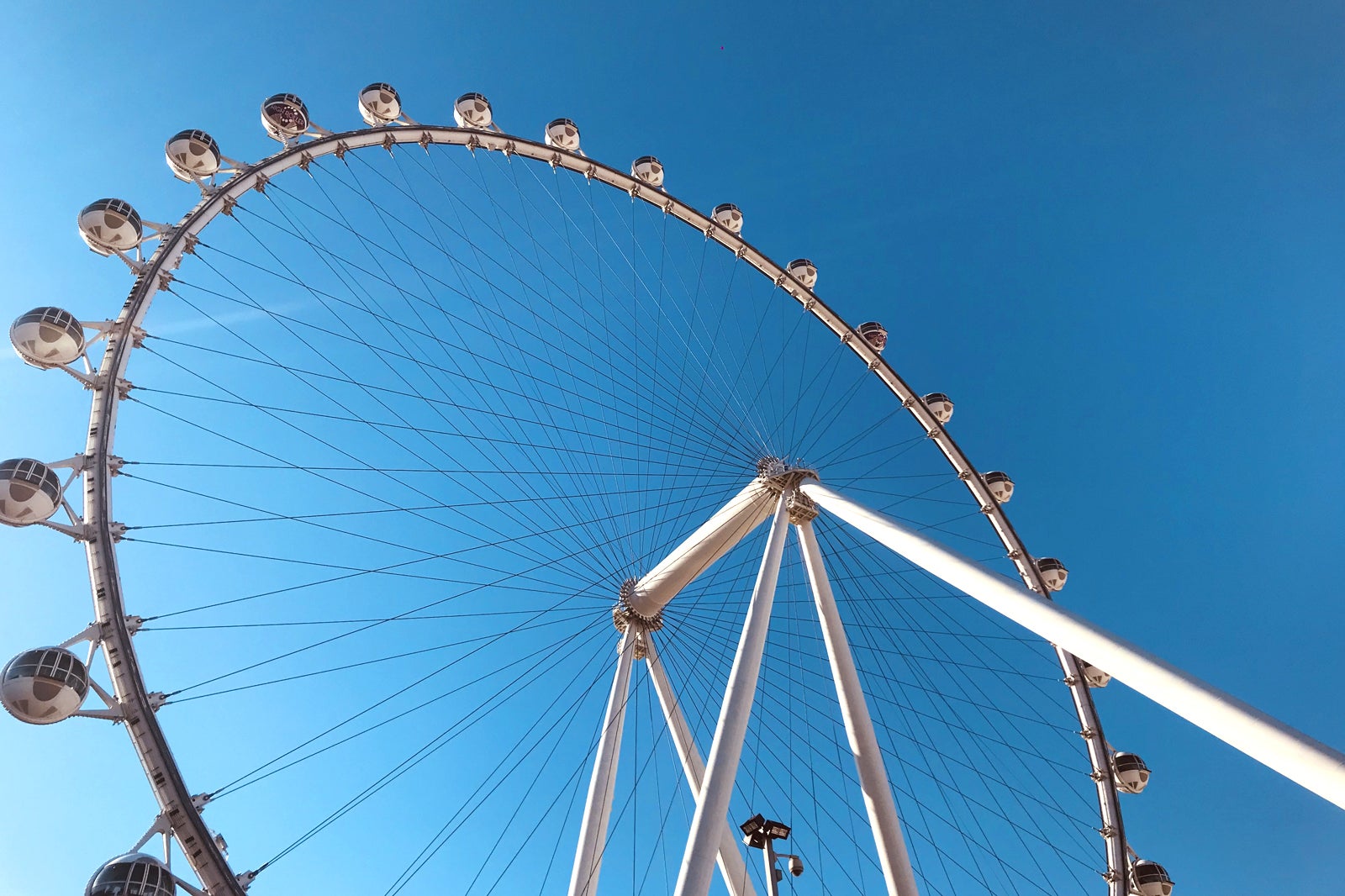 Where to shop at High Roller?
The Sky Shop is based in the massive The LINQ Hotel + Experience, just a short walk from the entrance to the High Roller. This gift shop sells almost any souvenir imaginable that will remind you of your stay in Las Vegas, from clothes to toys.
If you're targeting specific High Roller gifts, the Sky Shop won't disappoint. You can find snow glasses, key chains, fridge magnets, glasses, and mugs with the image of the world's tallest Ferris wheel on it. In addition to small-scale memorabilia, the Sky Shop also sells shirts and hoodies dedicated to the High Roller.
Good to know about High Roller
The High Roller is near Exit 38A on Road 15, which crosses the centre of Las Vegas, making it easy to reach this attraction by car. Are you planning to get married in a romantic setting in Las Vegas? The High Roller's cabins can easily host a wedding ceremony. Upon request, you can add music, flowers, and a wedding minister dressed as Elvis to your elevated festivities.
Riding the High Roller takes about 30 minutes, but it can take about an hour of queuing and boarding the cabins. The Ferris wheel is close to many popular Las Vegas sights, so you can easily stroll around the area for a day.
If you're travelling with kids, it's worth checking out the interactive Marvel Avengers S.T.A.T.I.O.N or taking photos with wax celebrities at Madame Tussauds. Alternatively, you can walk down the entire Las Vegas Strip and have a look at glitzy hotels, casinos, and imitations of world-famous landmarks.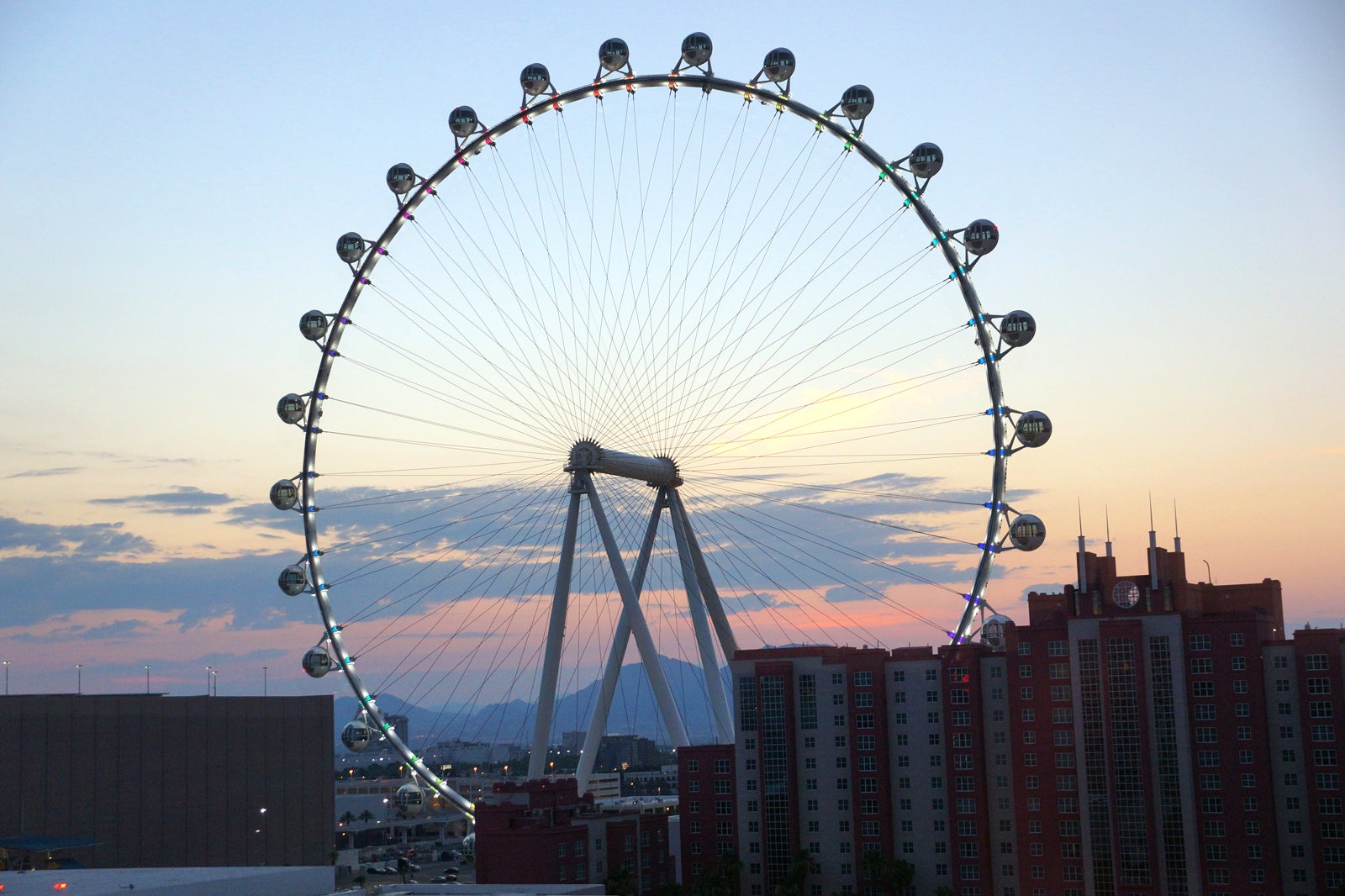 High Roller in Las Vegas
Location: 3545 S Las Vegas Blvd, Las Vegas, NV 89109, USA.
Open: Monday–Thursday from 4 pm to midnight, Friday–Sunday from noon to midnight
Phone: +1 702-322-0593
Why book with Hotels.com?