Key Biscayne on Florida's Atlantic coast is a small barrier island of soft-sand beaches, lush parks and numerous marine activities. It's a serene place just a short drive away from the hectic streets of Miami.
Within 15 minutes from downtown Miami over the Rickenbacker Causeway, Key Biscayne has a village of about 13,000 residents flanked by 2 large parks – Crandon Park to the north and Bill Baggs Cape Florida State Park at the south end. It's also home to Biscayne National Park, a protected marine wonderland of coral reefs and mangrove forests.
The village of Key Biscayne is rated as one of the best places to live in Florida, with its laid-back vibe and outdoorsy lifestyle offering an appealing escape. Visitors to Key Biscayne could easily explore the island in a day, though the luxurious Ritz-Carlton Key Biscayne resort might tempt some to stay on for a few nights. Amazingly, this quiet coastal haven is just a half-hour drive from the raucous party scene of Miami's South Beach.
Key Biscayne in Miami - one of the highlights of 10 Most Popular Neighbourhoods in Miami (Read all about Miami here)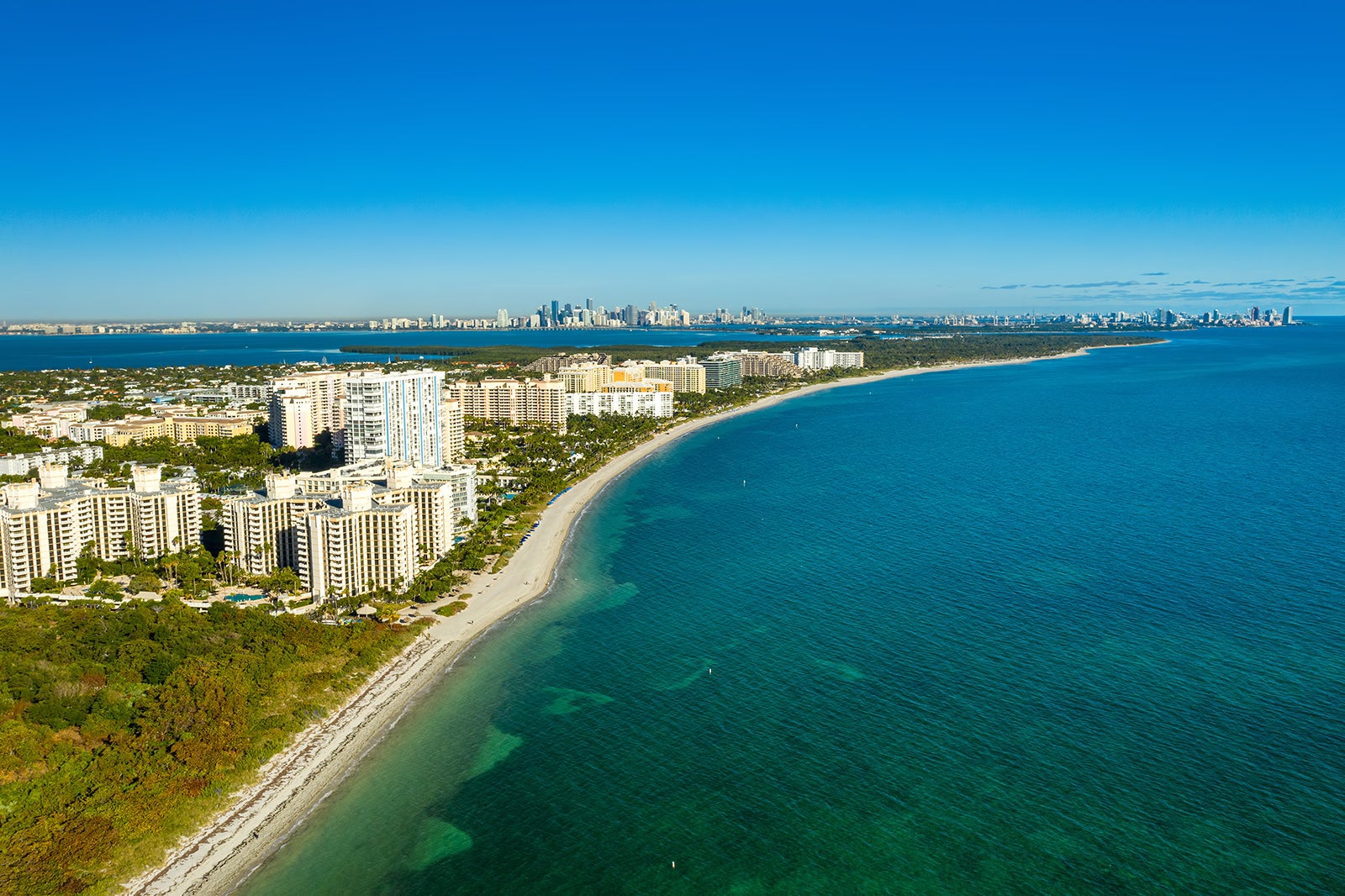 What are the highlights of Key Biscayne?
The beaches of Key Biscayne are its most well-known attraction, but there's much more to do here than just stroll the island's golden sands. You'll have plenty of water sports to choose from, including windsurfing, kayaking, jet-skiing, fishing, stand-up paddleboarding, and kiteboarding. For scuba divers, there's the thriving coral reef and fascinating shipwrecks of Biscayne National Park to explore.
Visitors could also go for a scenic bike ride around the island, play tennis, hone their golf skills at the 18-hole Crandon Golf Course, or check out the dining choices in the village. Crandon Park is great for families for its activity-filled beaches and the abandoned zoo-turned-gardens with its vintage carousel ride.
Bill Baggs Cape Florida State Park is a 500-acre nature haven with hiking trails, fishing piers, picnic pavilions, and a stunner of a beach. The park's most striking sight, however, is its historic lighthouse, which offers panoramic ocean views to those who climb its 109 steps. Guided tours of the lighthouse are offered daily at 10 am and 1 pm.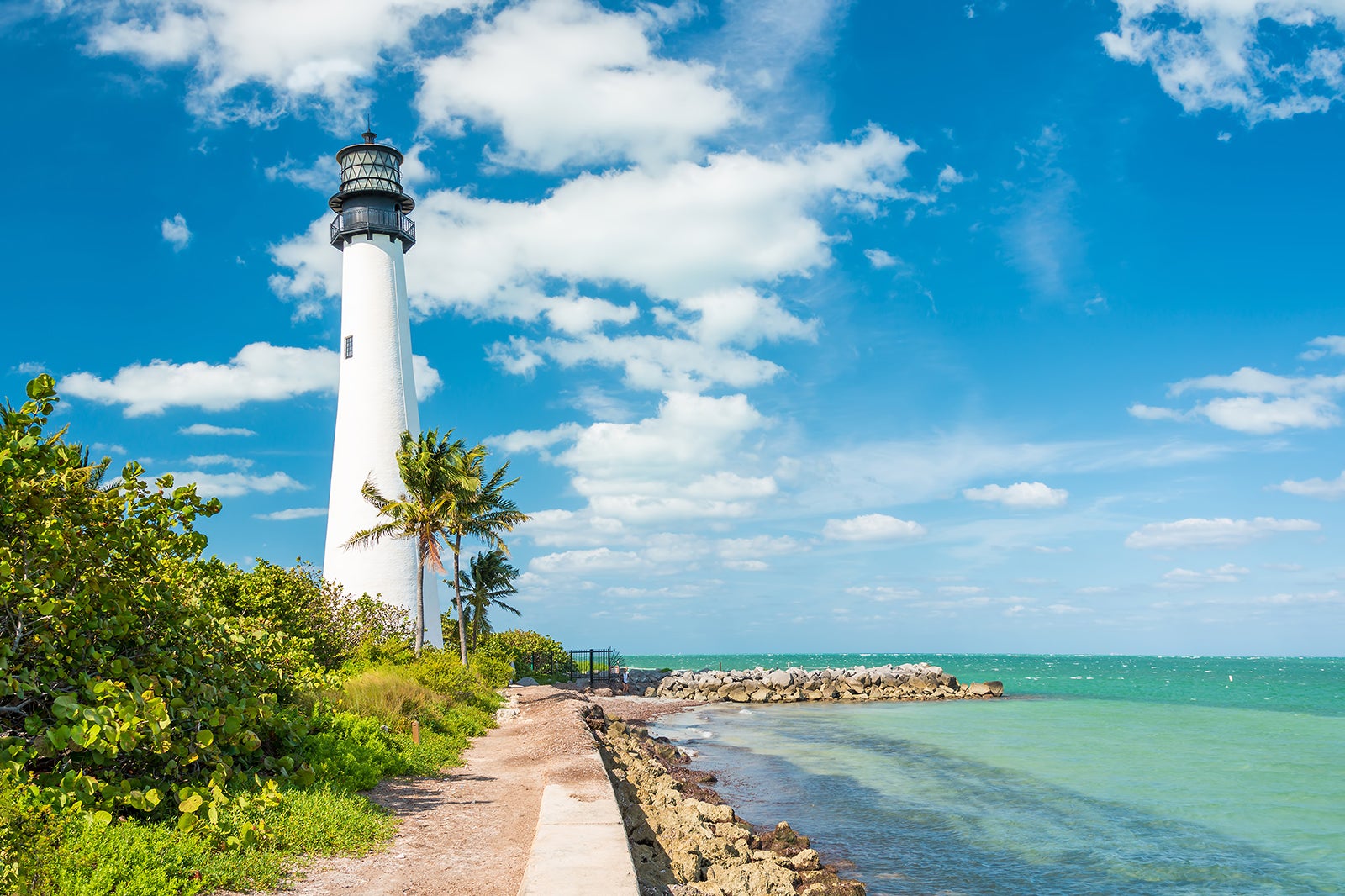 History of Key Biscayne
Key Biscayne is now known as a place for leisurely pursuits, but some parts of its history are not so sunny. It was once populated by the Tequesta people, a now-extinct hunter-gatherer community, from the 3rd century BC until the mid-18th century. European explorer Juan Ponce de Leon arrived there in 1513 and claimed it for the King of Spain.
In 1825, 4 years after Spain ceded Florida to the United States, a lighthouse was built and stood for 11 years before it was attacked and burned to the ground by the Seminole tribe. It was rebuilt in 1847 and still stands today as a prominent landmark on the Cape Florida beachfront. Cape Florida was also once a secret meeting place and port for fugitive slaves trying to flee to the British Bahamas and has since been recognized as a National Underground Railroad Network to Freedom site.
The 20th century saw Key Biscayne transform from a coconut plantation into an upscale residential community, with development accelerating once the causeway was built in 1947. Though it's far from being a celebrity hot spot like Miami's South Beach, Key Biscayne is famous for having hosted a high-profile meeting between political rivals Richard Nixon and John F. Kennedy, and later became the location for Nixon's "Winter White House".
Good to know about Key Biscayne
Key Biscayne is a small island, less than 5 sq km in size, so it's quick and easy to get around. Blessedly, traffic is not a problem here as many of its residents make use of the ample bicycle lanes along the roads and park trails. It's also common for those living here to get around by golf cart. And really, who needs a car when you can just climb aboard your yacht to explore the coastline?
Getting to Key Biscayne from Downtown Miami, visitors can catch the Line 102 bus for a journey that takes about 25 minutes. If driving or going by taxi, it takes less than 15 minutes to get there. There's a toll fee charged for vehicles entering the island on the Rickenbacker Causeway. The causeway also leads to Virginia Key, an 82-acre barrier island worth a stop for its quiet beach, bike paths, and nature trails.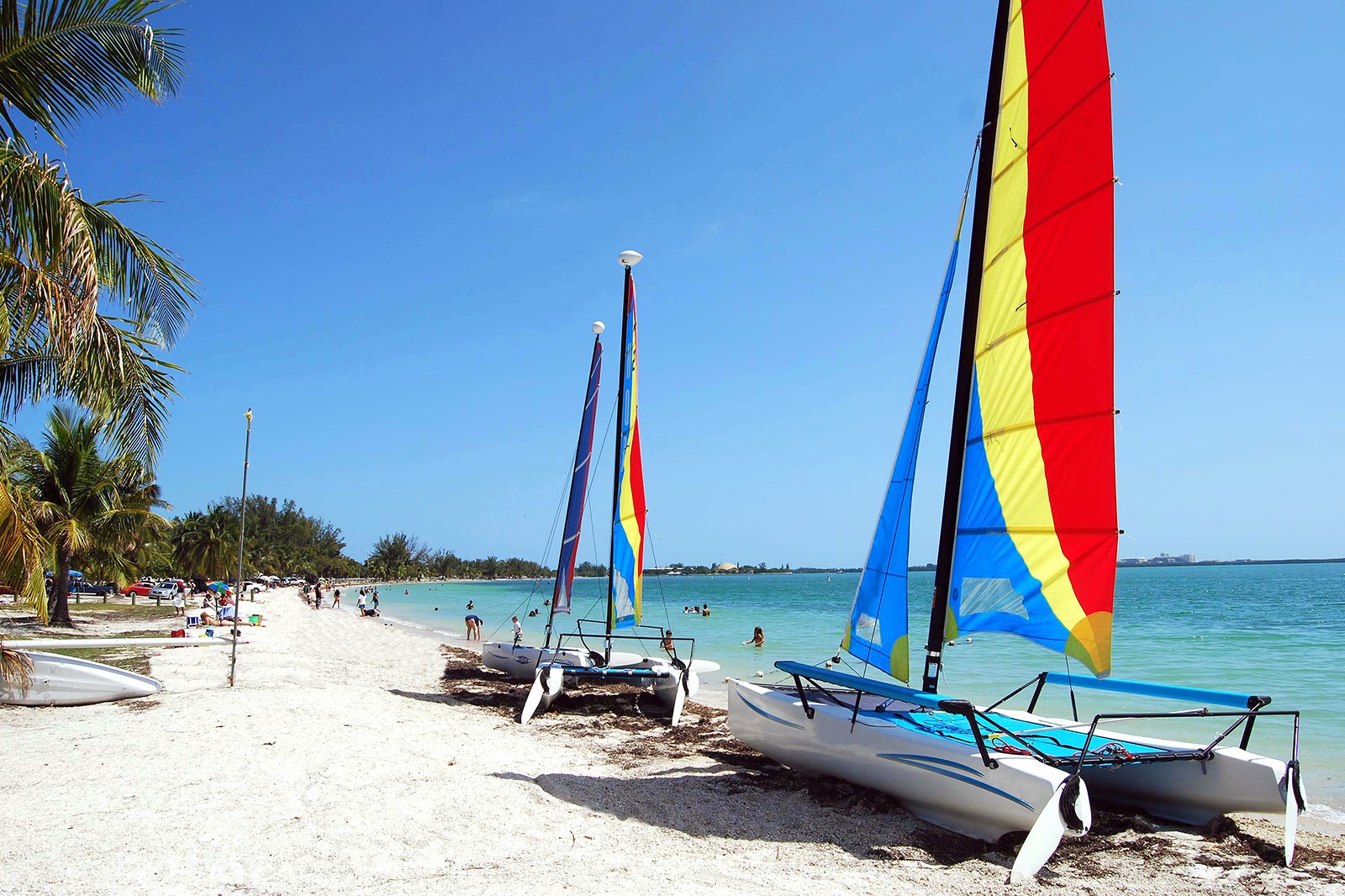 Key Biscayne in Miami
Location: Florida, USA
Back to top