9 Best New York Food Markets (and Food)
Where to Fill Your Belly in NYC
New York has an expansive, ever-changing dining scene that continues to surprise locals and tourists in its diversity and quality. Whether it's a crisp autumn day or a sweltering day in the city, a visit to a market or food hall can offer some respite whilst satiating your hunger. It's well known that the food available in New York is some of the best in the world and a visit to a market or food hall is the perfect way to experience New York's culture and cuisine.
With so much choice available at almost any time of day, how do you decide where to go and what to eat? Don't fret… the list below narrows it down to the best markets and halls that New York has to offer, including what dishes are worth trying.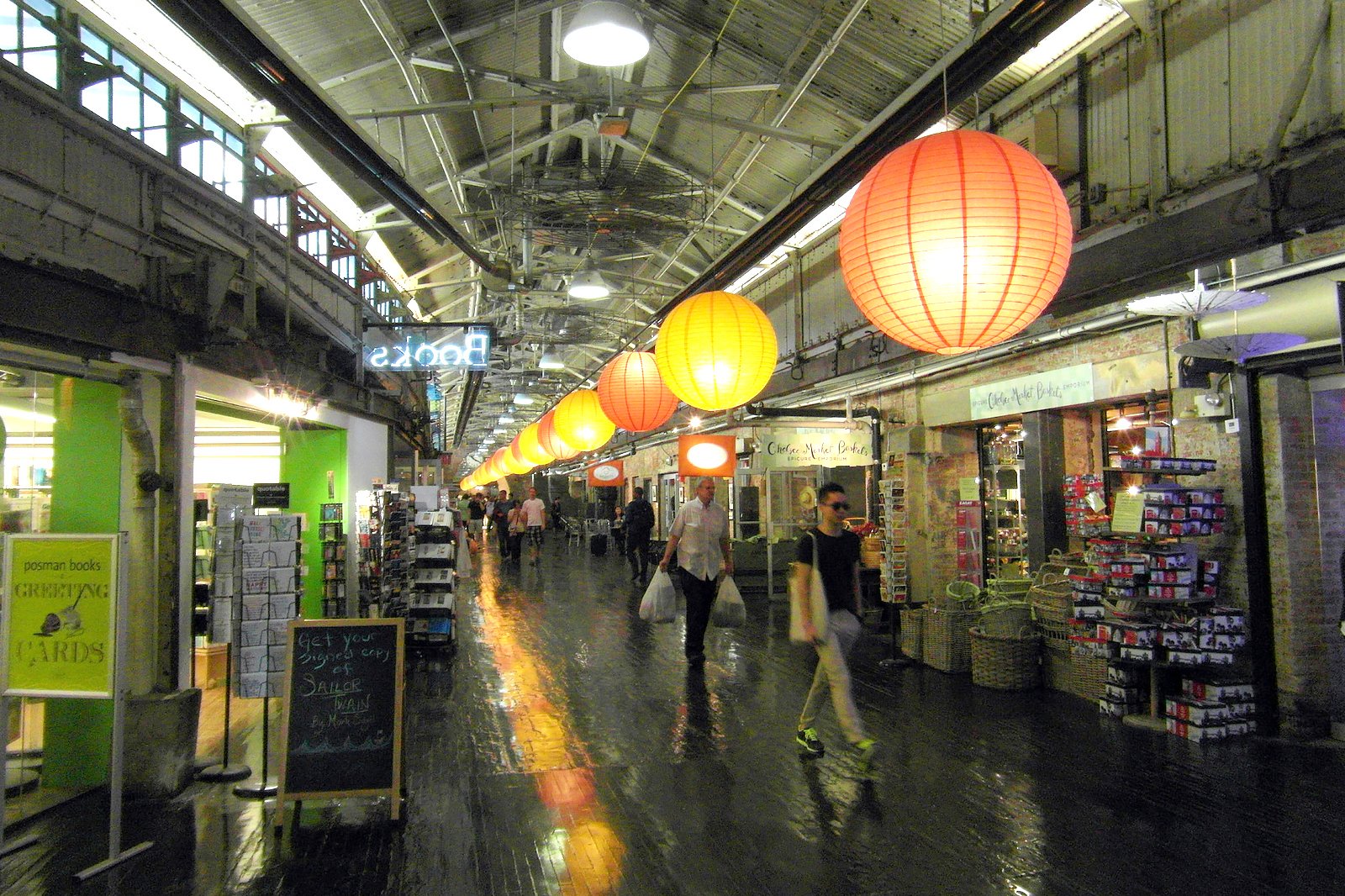 Chelsea Market
A must-visit market along the High Line
Chelsea Market is set in a repurposed factory, where the first Oreo cookie was ever made. Today, you'll find corridors of stalls selling delicious food and artisanal products. They sell everything from cheese to fresh lobster to variations of fresh pasta. It's not unusual to find local businessmen sipping on coffee next to tourists chomping down a taco. Los Tacos No. 1 offers some of the best tacos in the city in an understated, small setting. Don't be frightened by the queue – it moves quickly.
Location: 75 9th Avenue, New York, NY 10011, USA
Open: Monday–Saturday from 7am to 2am, Sundays from 8am to 10pm
Phone: +1 212-652-2110
photo by Reading Tom (CC BY 2.0) modified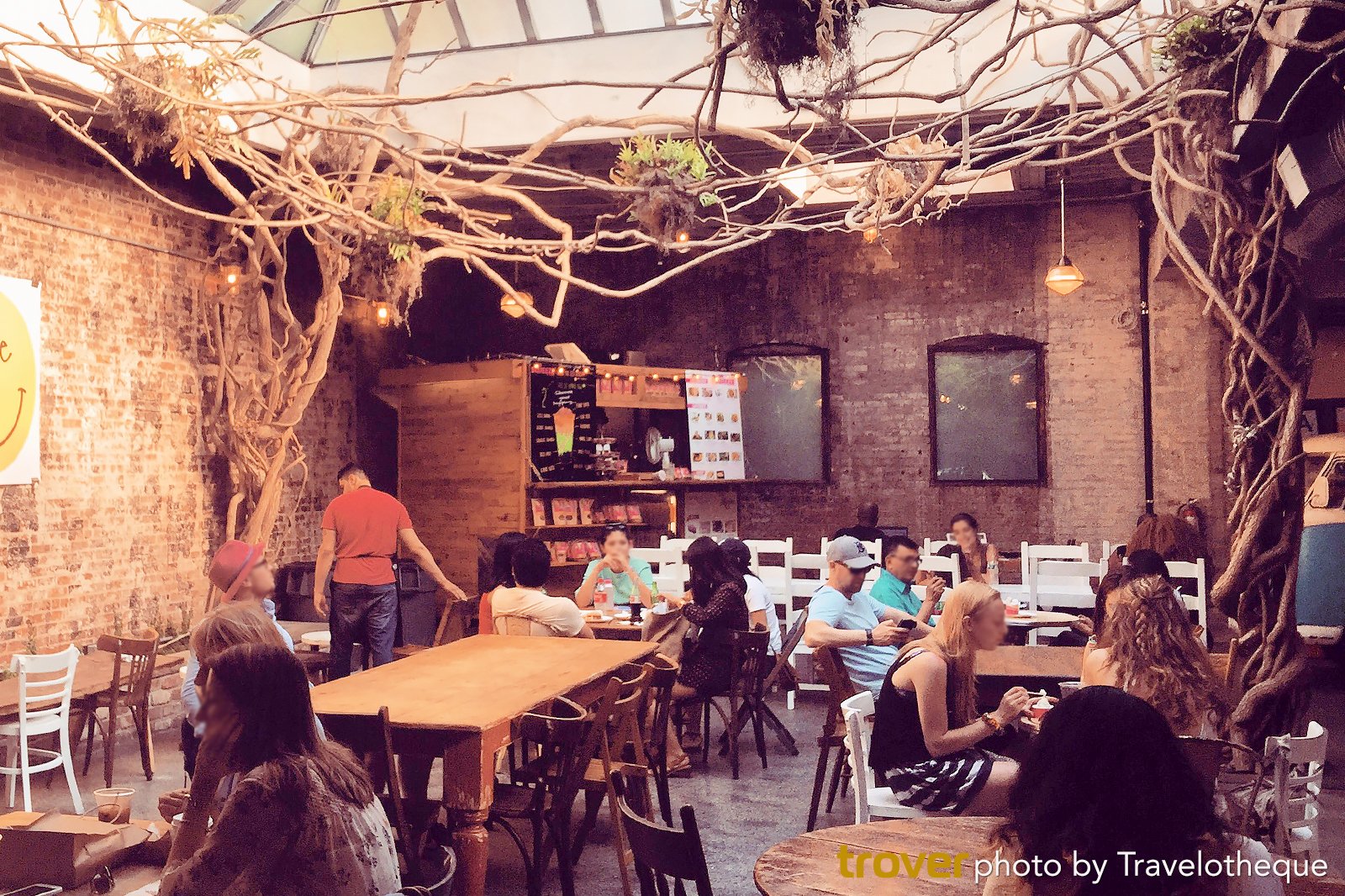 Gansevoort Market
A more relaxed alternative to Chelsea Market
Gansevoort Market is found just 5 minutes away from Chelsea Market, so a visit to both in an afternoon is achievable. The market is a rustic-industrial food hall with a range of different food cuisines being sold – from Korean wings to classic American burgers to giant gooey cookies. This smaller space, which was once occupied by a nightclub, has a glowing skylight that's adorned with intertwining branches and flowers. The seating area sits below basking in natural light; there's much more seating than in the Chelsea Market. If you're feeling decadent try the marrow burger at Burger, Inc. NYC or order Aji de Gallina at Mission Ceviche.
Location: 353 West 14th Street, New York, NY 10014, USA
Open: Daily from 7am to 9pm
Phone: +1 646-678-3231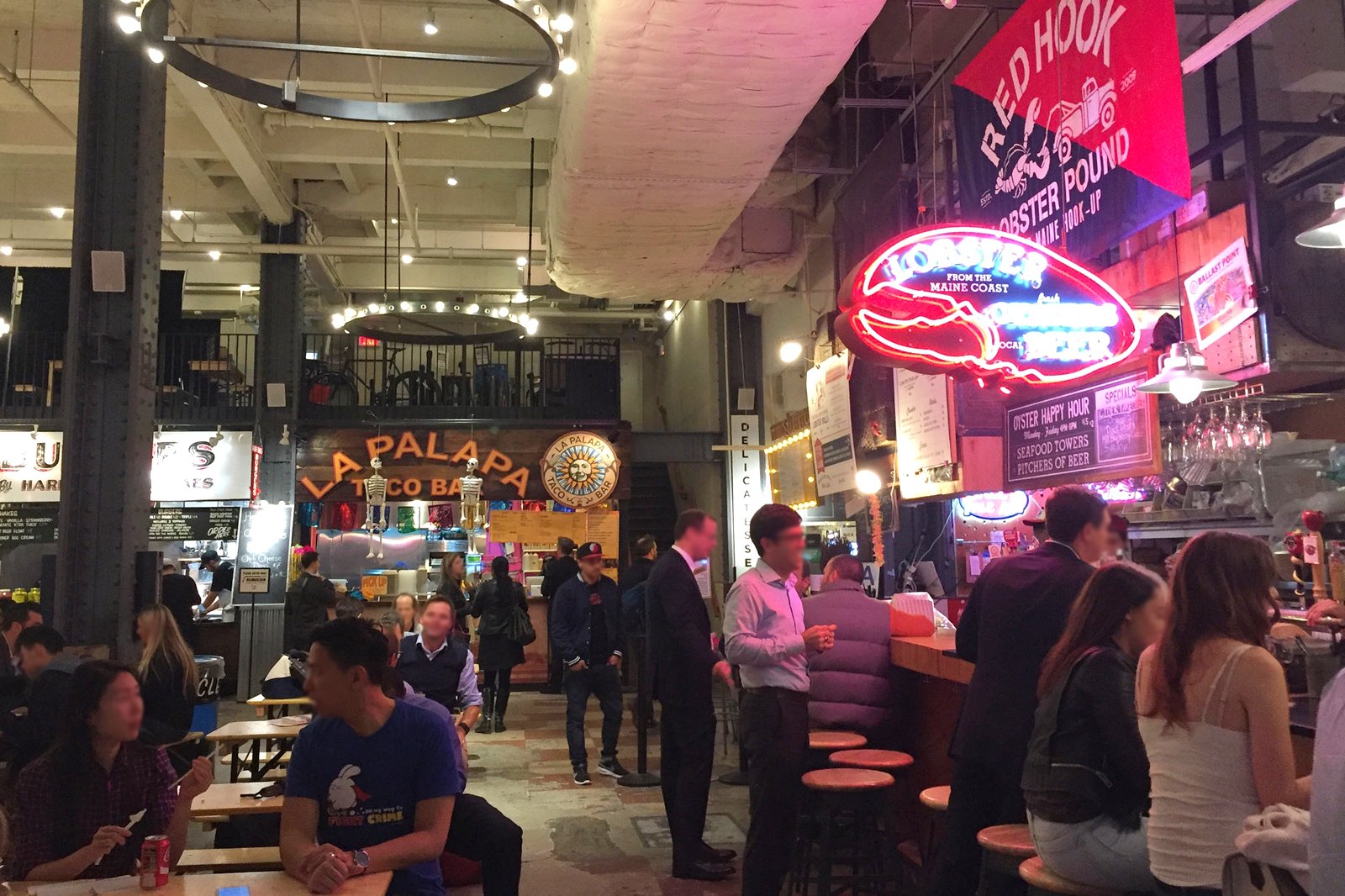 Urbanspace Vanderbilt
A hip, modern space catering to all tastes
Urbanspace Vanderbilt is an ideal place to stop for a meal when exploring Midtown New York. You'd have to be extremely picky to not be able to find something here; there are countless vendors serving vegetarian, vegan and health-conscious options. If that doesn't appeal to you, the food hall also has taco bars, cocktail bars, sushi, burgers… you name it. With tall, glass windows and dim, golden lights, the food hall is an attractive space with a casual, high energy atmosphere. Get your fingers dirty and indulge in the honey sriracha wings at Hong Kong Street Cart. Other Urbanspaces can be found on Lexington Avenue and in the Garment District.
Location: East 45th & Vanderbilt Avenue, New York, NY 10169, United States
Open: Daily from 7am to 10pm
Phone: +1 646-747-0810
photo by Bex Walton (CC BY 2.0) modified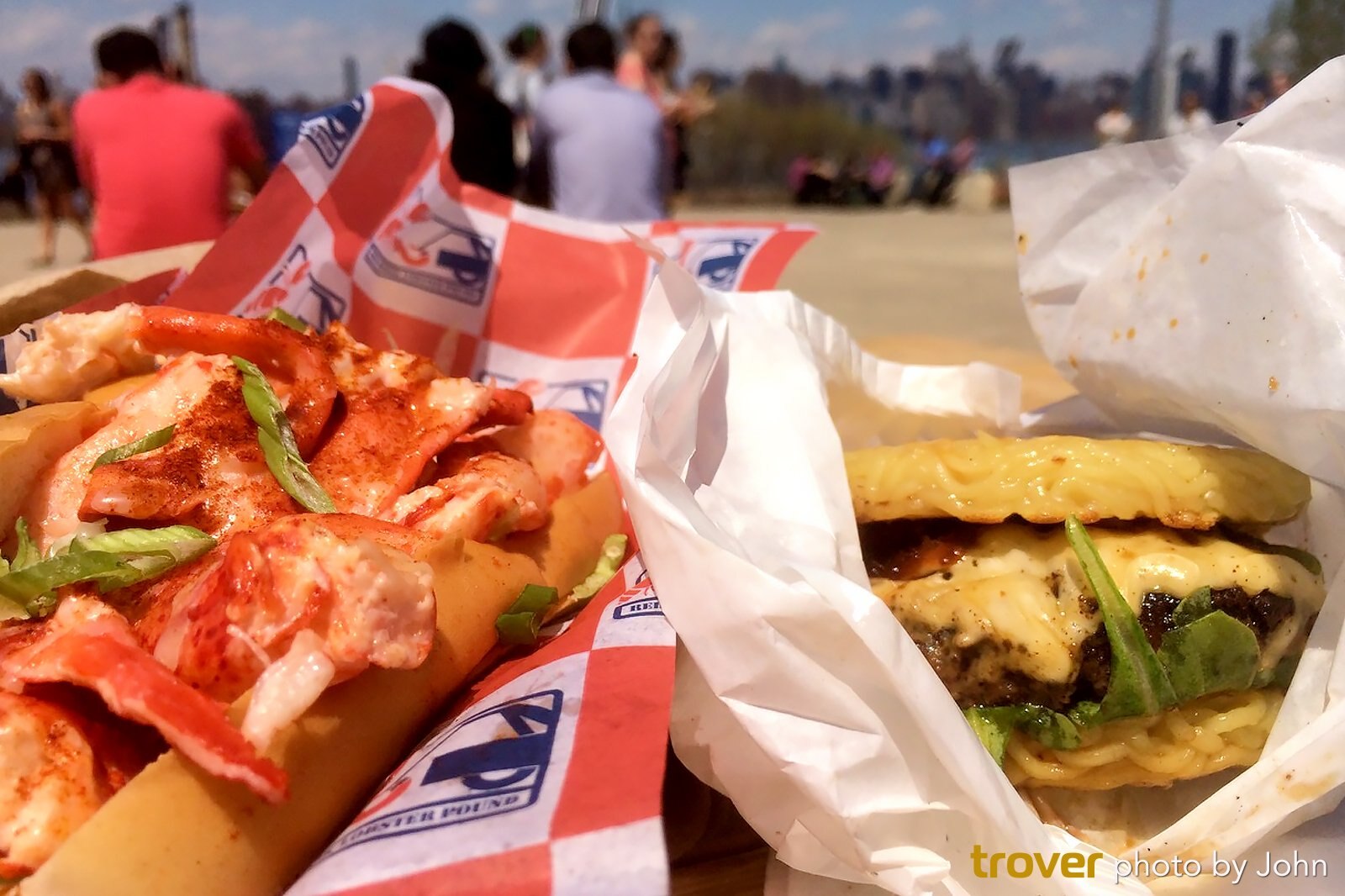 Smorgasburg
100 food vendors on Williamsburg's waterfront
Smorgasburg is the largest weekly, open-air food market in the US, so you'll be spoilt for choice. Often said to be ground zero for New York's famous fusion food, an afternoon at Smorgasburg will be one of the most unique food experiences in the city. Come with friends and split dishes so you can try as much as you desire. In the summer or spring months, bring a parasol and some sunscreen as there's not much shade.
There are countless dishes that are worth trying but one to mention is the famous Ramen Burger. The market is held in East River State Park on Saturdays from 11am to 6pm and at Prospect Park on Sundays at the same time. Take in the gorgeous city views of Manhattan Island and remember to bring cash and an empty stomach.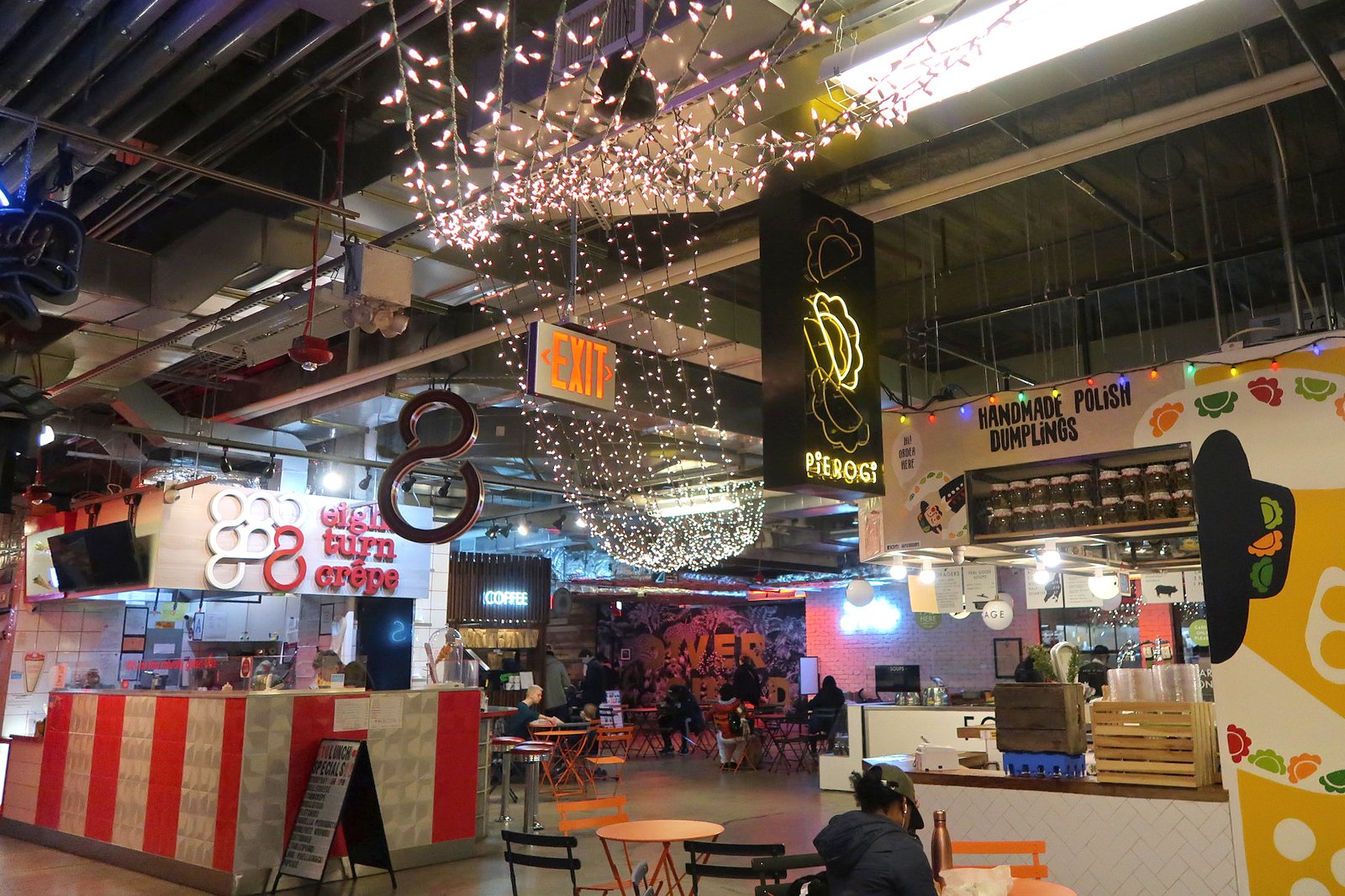 The bustling DeKalb Market Hall
A hidden gem in downtown Brooklyn
DeKalb Market Hall is lit up with neon lights directing you to vendors full of mouthwatering food. This maze of food vendors is formed with narrow halls filled with chatty crowds, somewhat reminiscent of the lively food markets found across Asia. Each of the 40 vendors have their own signature dish, which reflects the rich cultural and ethnic diversity of the area. Order a chopped brisket sandwich at Fletcher's; this simple treat couldn't be more delectable, with thickly sliced smoked beef brisket that can also be mixed with barbecue sauce and pickles.
Location: Basement Level of City Point, 445 Albee Square West, Brooklyn, NY 11201, USA
Open: Sunday–Thursday from 7am to 10pm, Friday and Saturday from 7am to midnight
Phone: +1 929-359-6555
photo by Bex Walton (CC BY 2.0) modified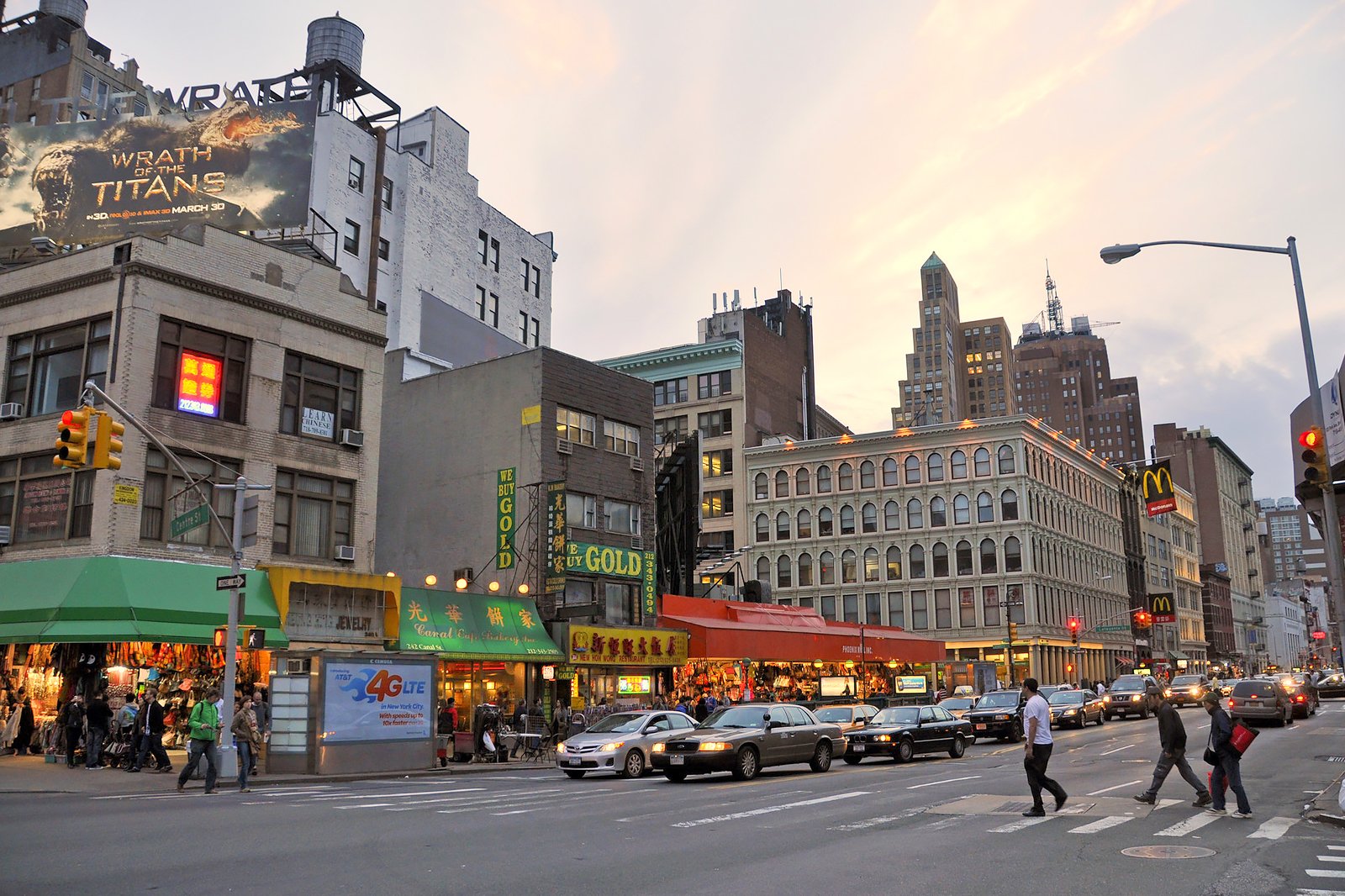 Chinatown's Canal Street Market
A tribute to the area's distinct charm
Canal Street Market was previously a flea market that was reimagined into a trendy, modern food market. It sells delicious food and artisanal products amid the craziness of Chinatown and Canal Street. This market hosts a number of food vendors and shops each separated into their own sections. Given its whereabouts, the cuisine is Asian-inspired with the hearty ramen soups from Ippudo Kuro-Obi.
Grab a seat at one of the raised counters within the market or at the back of the retail area where it's quieter. The airy space is completed with a skylight which shines onto the seating area that sits affront an abstract pink mural by Alexandra Proba.
Location: 265 Canal Street, New York, NY 10013, USA
Open: Monday–Saturday from 10am to 10pm, Sunday from 10am to 6pm
photo by James Willamor (CC BY-SA 2.0) modified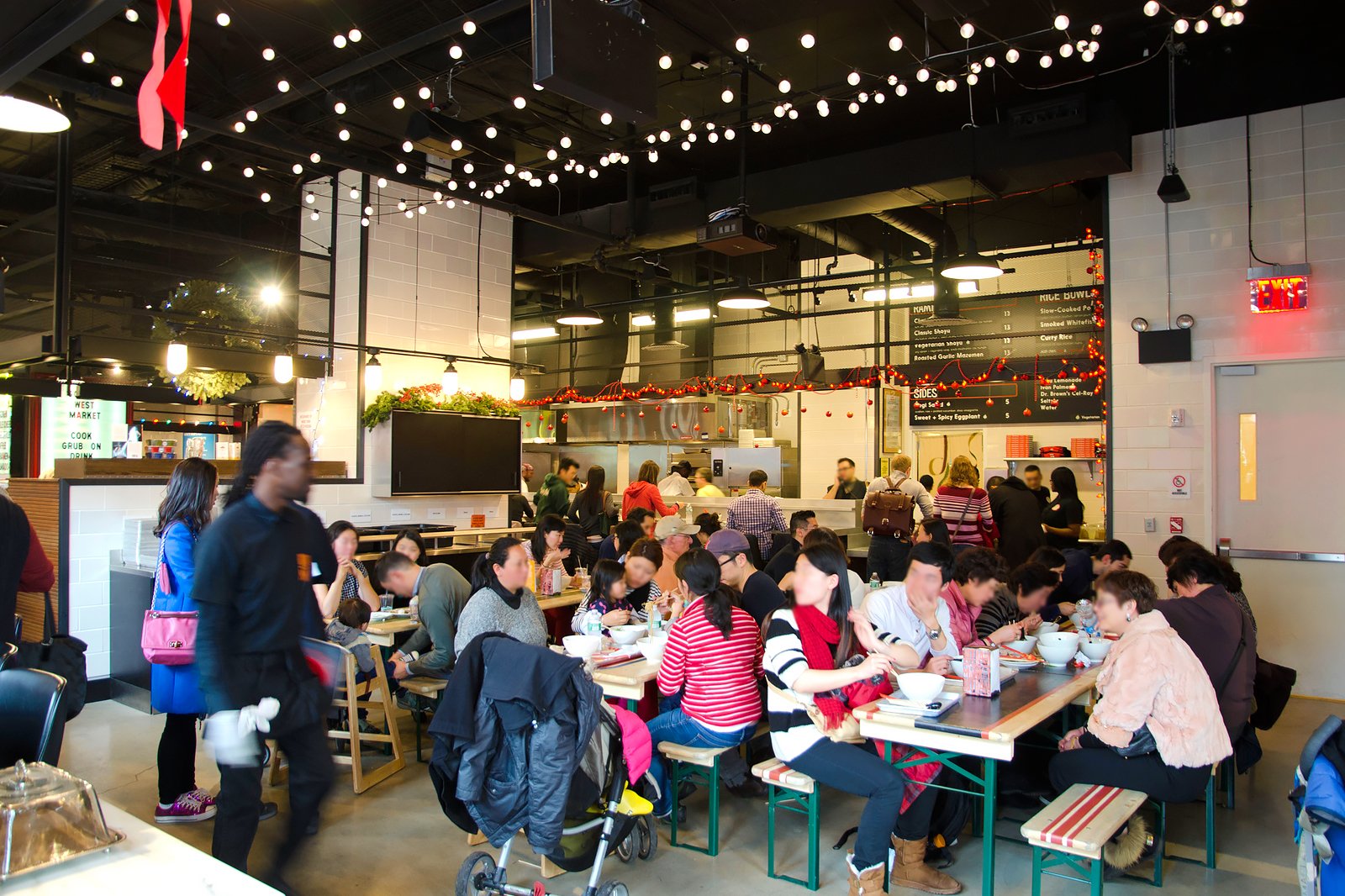 Gotham West Market
A stylish street-level food court in Midtown
Gotham West Market hosts a chic, but casual collection of popular food vendors frequented by tourists and locals. Its location near Chelsea Pier and Times Square makes it a nice place to stop whilst you see the city's sights. Go Asian and order the roasted garlic mazemen with egg and chili-garlic oil from Ivan Ramen Slurp Shop or go American with local dishes.
Location: 600 11th Avenue, New York, NY 10036, USA
Open: Monday–Thursday and Sunday from 8am to 10pm, Friday–Saturday from 8am to 11pm
Phone: +1 212-582-7940
photo by edwardhblake (CC BY 2.0) modified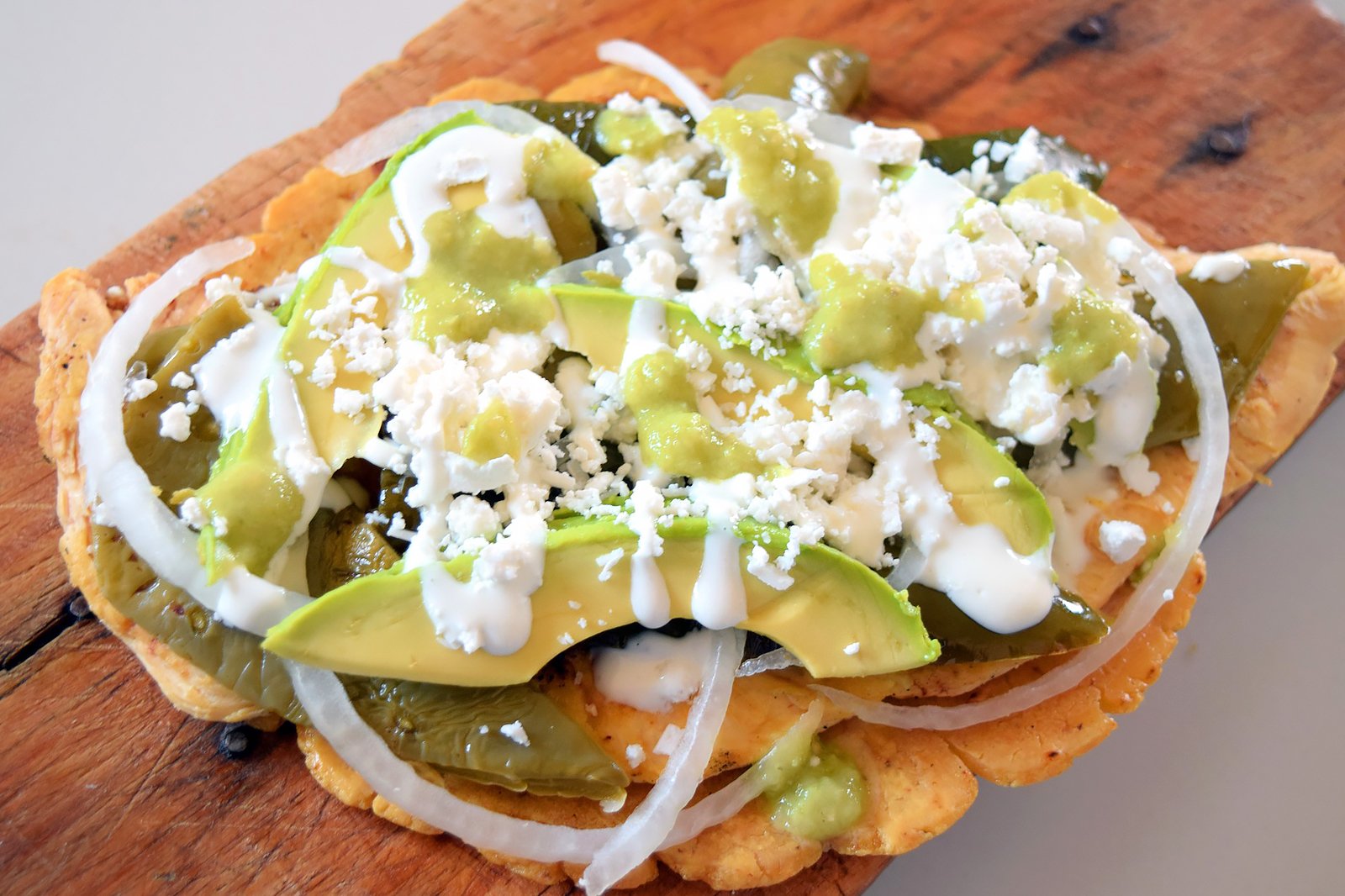 Get hooked at Red Hook Food Vendors
Food cooked for Latins by Latins
You might not be Latino but that doesn't mean you can't enjoy the amazing Latin food that Red Hook Food Vendors cooks up. The market offers some of the best Latin-American food in the city, with vendors taking on a 'no frills' attitude to their cooking. Food is prepared in front of you and the atmosphere is similar to that of an open-air mercado. Although a bit of a trek from Manhattan, the food found here is authentic and truly satisfying. Definitely queue up for a huarache from the well-known Country Boys food truck. The vendors are only open on Saturdays and Sundays.
Location: 160 Bay Street, Brooklyn, NY 11231, USA
Open: Saturday–Sunday from 9am to 9pm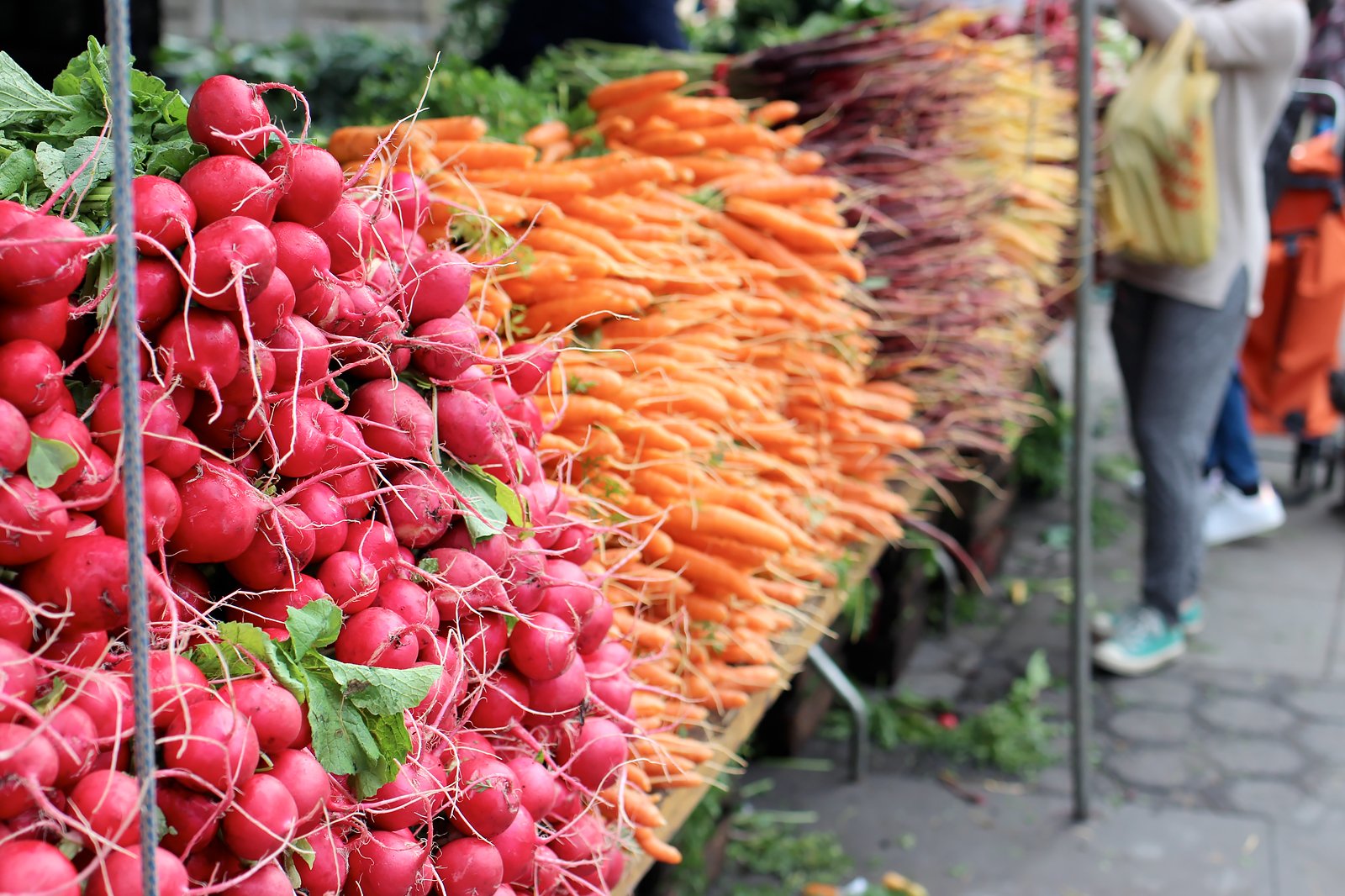 Pick your picnic at Union Square Greenmarket
A healthier option from NYC's markets
Union Square Greenmarket is a favourite among locals for its wide variety of local food produce, wine, cheeses and other food staples. You'll find many locals come here for their weekly shop of fruit and vegetables, as vendors source some of the best organic produce in the city. The market was founded in 1978 by non-profit GrowNYC to reinvigorate regional agriculture and give back the freshest produce to the community; the market is frequented by renowned chefs.
Come here and buy some food then head over to the park for a picnic and some people-watching. Come autumn, remember to pick up some apples which are particularly sweet – they're brought in from upstate. The market is closed on Sundays, Tuesdays and Thursdays.
Location: East 17th Street & Union Square West, New York, NY 10003, United States
Open: Mondays, Wednesdays, Fridays and Saturdays from 8am to 6pm
Phone: +1 212-788-7476
photo by Jjbnyc (CC BY-SA 4.0) modified