The St. James Theatre is a Broadway theatre inspired by St James's Theatre in London that showcases world-renowned productions including Disney productions. Several Tony Award-winning musicals have had their run here, such as "The Producers," "The Who's Tommy," "The King and I," and "Oklahoma!"
All sorts of people can enjoy the productions here. Some of the productions are family oriented by design, such as Disney's "Frozen," which ran from 2018 to 2020. Most shows typically run anywhere between an hour and a half to 3 hours long, so plan your visit accordingly.
St. James Theatre in New York - one of the highlights of 14 Best Theatres in New York (Read all about New York here)
St. James Theatre highlights
The St. James Theatre is one of the largest theatres on Broadway with a 1,710-seat capacity. While this makes it easier for you to grab a seat, it also naturally follows that this theatre has a massive stage. Thanks to its size, it's able to put on some truly spectacular performances designed to wow and dazzle guests.
One of the best features of this theatre is the accessibility it offers. Not only will you find accessible seating via ramps, but this theatre also offers hearing assistance devices. This includes prerecorded audio devices offered free of charge along with handheld captions.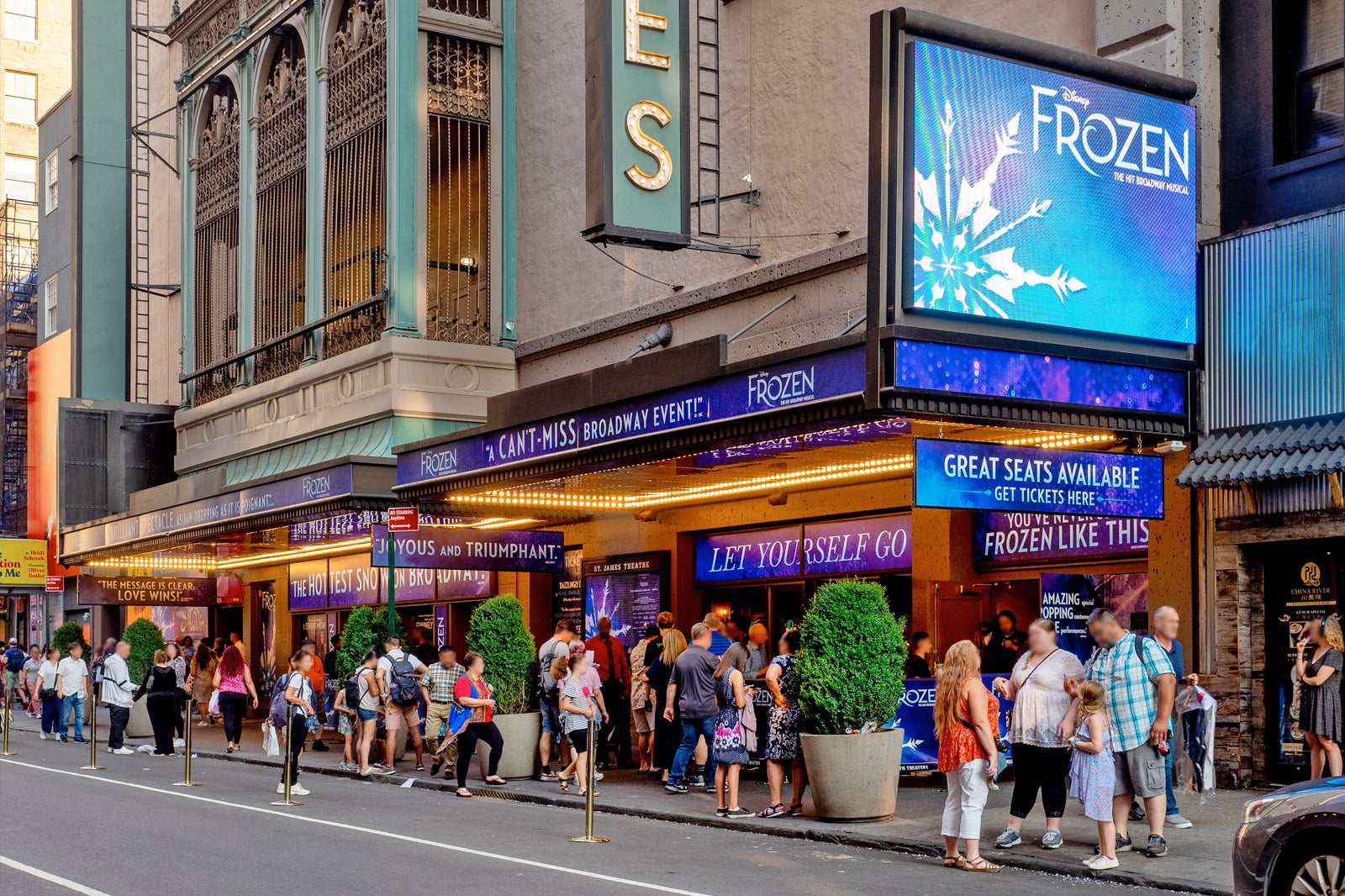 Good to know when visiting St. James Theatre
When visiting the St. James Theatre, your best bet will be to take public transport. You won't find any parking on-site, so if you do drive yourself, you'll have to utilise one of the car parks near 42nd Street, and they can be quite costly.
You'll find several options available if you take public transport. Quite a few bus lines can drop you off nearby, but the easiest option in most cases is to take the subway. The A, C, E, 1, 2, 3, 9, 7, N, R, and S lines can get you directly to 42nd Street.
St. James Theatre in New York
Location: 246 W 44th St, New York, NY 10036, USA
Open: Most shows begin at 7 pm
Phone: +1 212-840-0479
Back to top