Sunset Cliffs National Park in San Diego
A Famous Coastline with Great Sunsets and Rock Formations
Sunset Cliffs National Park is an ideal coastal destination to explore if you're looking for somewhere close to San Diego's Downtown area. Situated approximately 9 miles from the city centre, this popular landmark features an abundance of biodiverse landscapes and conservation areas spread across 68 serene acres.
Stretching along Point Loma's shoreline for 1.5 miles, Sunset Cliffs National Park's towering sandstone cliffs and untamed plant life make it the ideal spot for people looking to soak up the iconic Pacific Ocean. Known for its particularly striking sunsets, this windblown setting features everything from laidback coastal trails and hidden beaches to age-old ocean archways.
For a stellar day out along the coastline within touching distance of San Diego, Sunset Cliffs National Park is tough to beat. Join scores of surfers, coastal hikers and wildlife watchers who can't wait to explore this bountiful scenery.
Sunset Cliffs National Park in San Diego - one of the highlights of 10 Best Things to Do in San Diego for Couples and 10 Best Beaches in San Diego (Read all about San Diego here)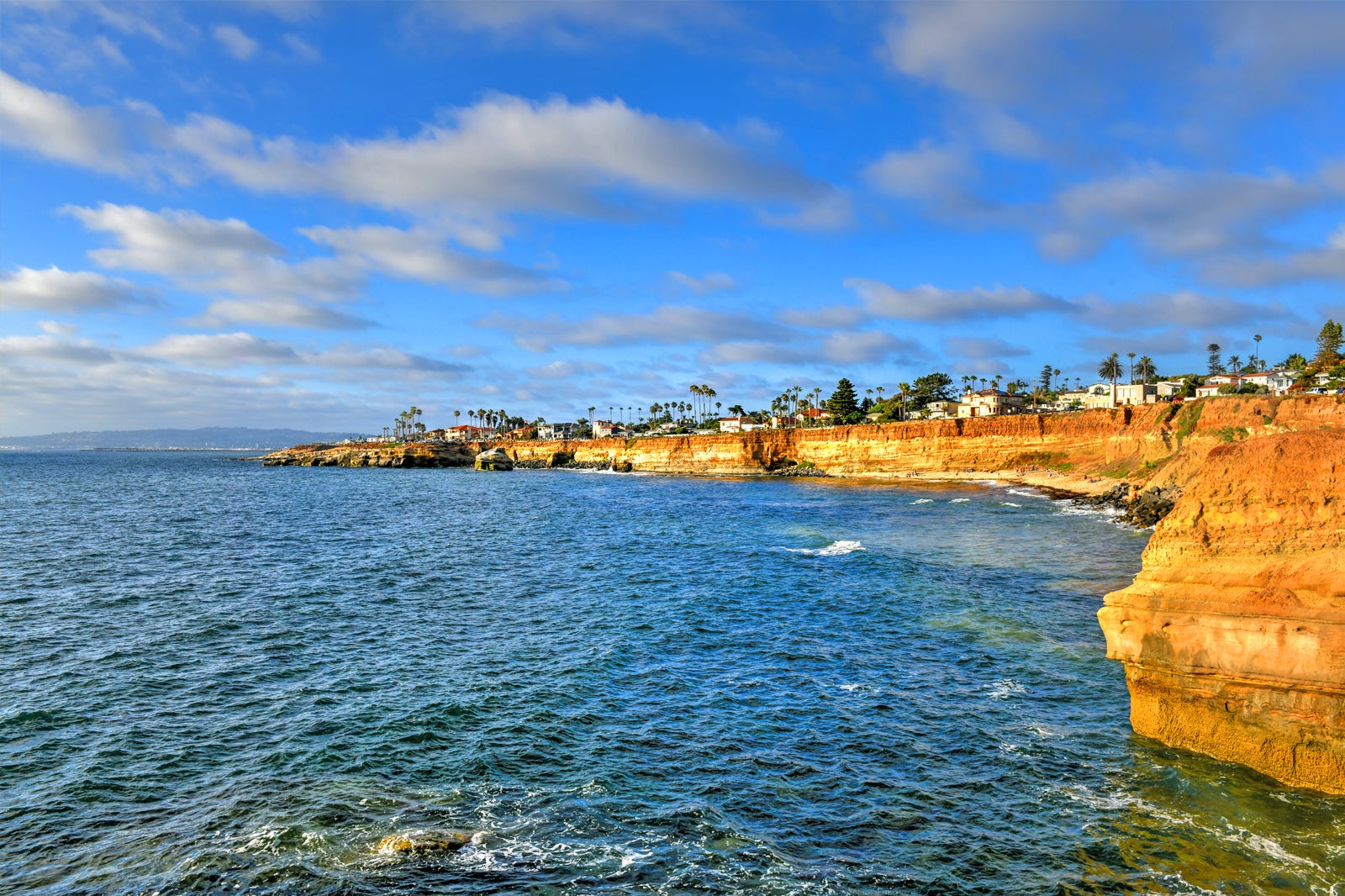 What are the highlights of Sunset Cliffs National Park?
Perhaps the most visually stunning highlight at Sunset Cliffs National Park is a widely known swimming hole known as The Arch. Situated at Pappy's Point, this remarkable rock formation stretches about 20 ft above water level and is a popular hangout spot whenever the sun is beating down. Keep in mind that the conditions here are known to be dangerously unpredictable, so take extra care if you decide to go for a dip at The Arch.
As you make your way south along the coast, you'll eventually arrive at Sunset Cliffs Beach. This stretch of sandy coastline is a little tricky to reach from the road, but you'll be grateful you made the descent once you arrive at this secluded destination. While surfers prefer other spots along the coastline, this beachfront is regarded as one of the best places for swimming and watching the sunset.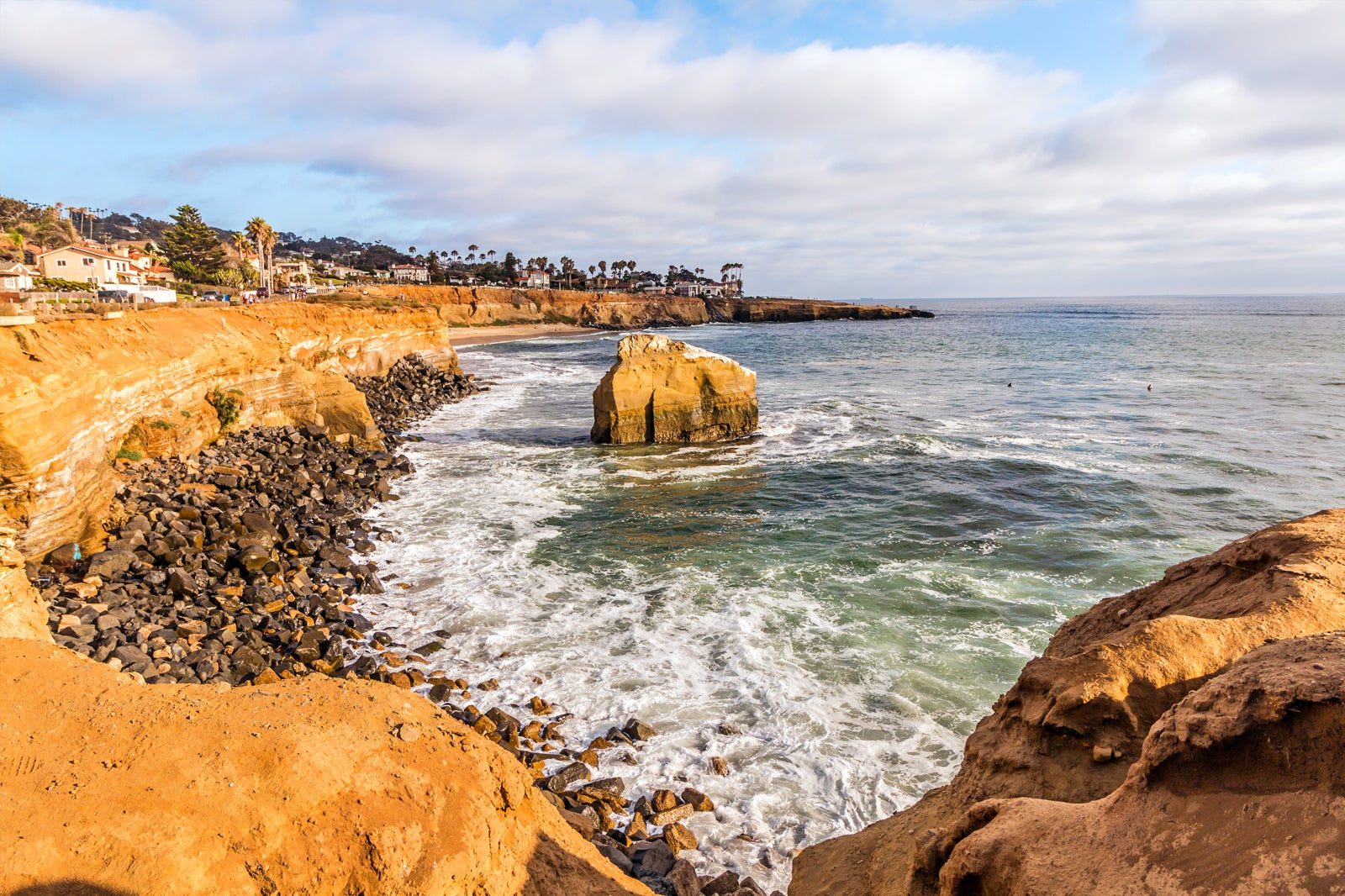 Where to eat and shop near Sunset Cliffs National Park?
You won't have to go far to find some great places for lunch or dinner, with Sunset Cliffs National Park located so close to central San Diego. Situated at the intersection of Sunset Cliffs Boulevard and Point Loma Avenue, a handful of cafes serve San Diego's famous Baja-style cuisine alongside ice-cold drinks.
For a more robust selection of dining options, head further north until you reach the fashionable coastal neighbourhood of Ocean Beach. Featuring the famous Ocean Beach Pier, which offers wonderful sunset views and sea lion watching, there's a top-notch selection of speciality coffee roasteries, trendy bars and delicious eateries.
Ocean Beach is also the best place to visit if you're looking to spend the rest of the day shopping once you've finished exploring Sunset Cliffs National Park. There's a wide array of surf shops selling clothing and sporting gear, while numerous nearby vintage stores and quirky gift stores offer the chance to buy something special to remember your visit.
Good to know about Sunset Cliffs National Park
Surfing is one of the most popular activities at Sunset Cliffs National Park, but the best waves are found at a few specific locations. These include New Break, Garbage Beach and Luscomb Point, though none of these is especially beginner-friendly.
Another main draw for this section of San Diego's coastline is whale watching. With up to 20,000 grey whales making the world's longest mammal migration from Alaska to Baja California, give yourself the best chance of a successful sighting by visiting from December to late April.
If you want to explore the area's many hidden coves like the Sunset Cliffs Cave, be sure to time your visit with low tide. Not only will you be able to capture the best sunset photos, but you won't get caught out by the rapidly rising water that can make it hard to get back to land.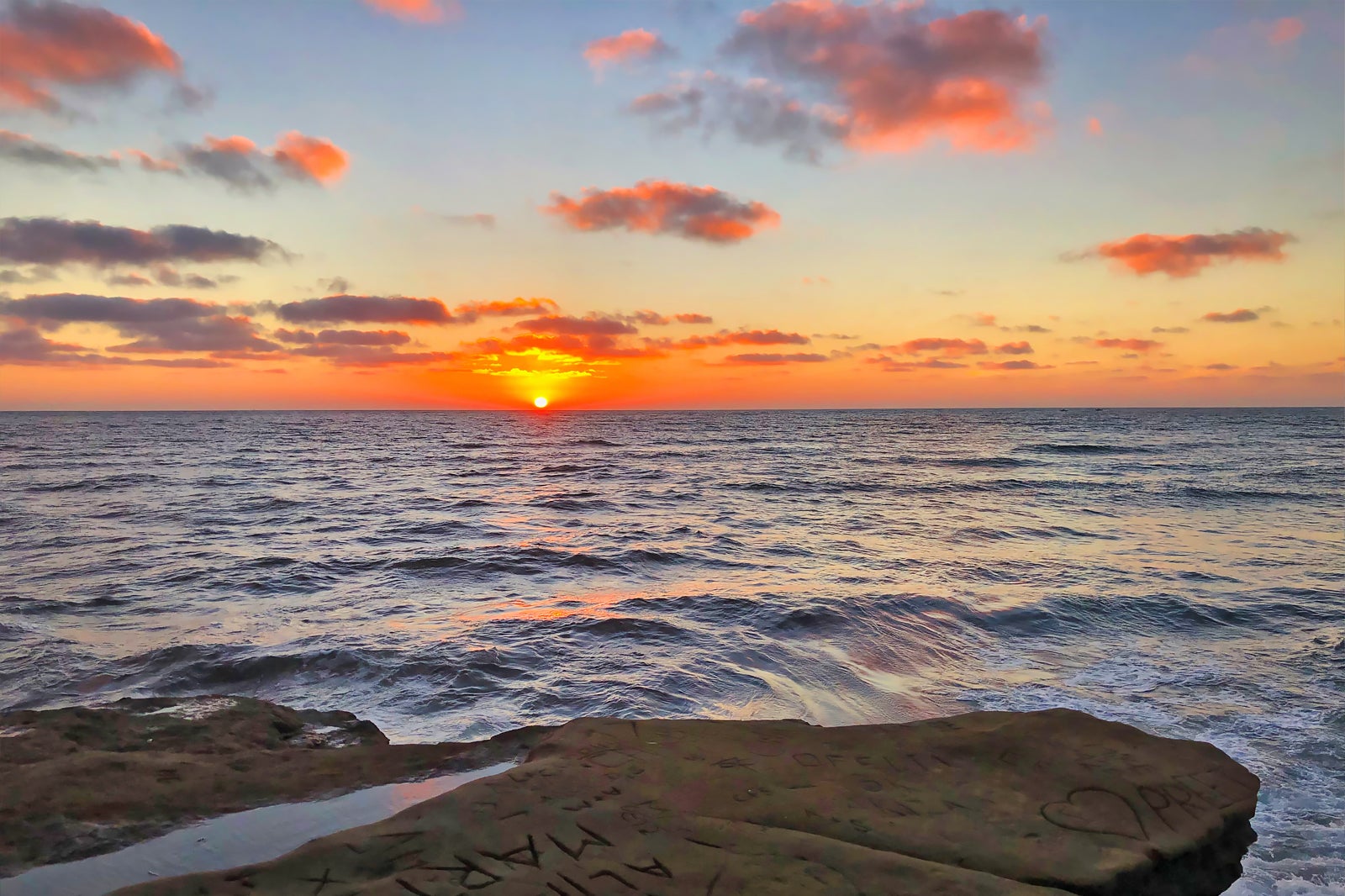 Sunset Cliffs National Park in San Diego
Location: Ladera St, San Diego, CA 92107, USA
Phone: +1 619-525-8213
Back to top