Universal CityWalk Hollywood in Los Angeles
Nonstop Entertainment Outside Universal Studios Hollywood
Universal CityWalk Hollywood is an entertainment hub for all ages. Located right next to Universal Studios Hollywood, the pedestrian-only complex in the San Fernando Valley area features restaurants, shops, cinemas, nightlife, and other exciting activities to prepare you for Universal Studios Hollywood.
Whether you're here to pick out new clothes or watch the latest blockbuster film, CityWalk offers endless options. Wander towards the park entrance, and you'll notice pictures of many beloved characters from Universal films. Street performers and live bands are common sights to build excitement for visitors entering and leaving Universal Studios Hollywood.
Stand in the central plaza and you'll see an enormous screen previewing the latest Universal film releases. Don't be surprised to find camera crews filming Access Hollywood in CityWalk and inside Universal Studios. It's not unusual to spot celebrities walking around CityWalk or inside Universal Studios. The lights sparkle after sunset and nightclubs keep the CityWalk party going well into the night. Grab a bite to eat, hear live music, and soak up the energetic vibe of this entertainment promenade.
What are the highlights of Universal CityWalk Hollywood?
Before you enter the wonderful world of Universal Studios, you can't miss the nonstop action of CityWalk. Since you're at the doorstep of Hollywood, major flicks are always on the big screens at Universal Cinemark. With 18 screens and a gigantic IMAX theatre, you can watch the latest films in style. You can also watch live bands, karaoke singers, and other forms of live entertainment. For something more adventurous, climb into the wind tunnel at iFLY Hollywood to feel the rush of skydiving.
CityWalk has dozens of eateries, and it's certainly a place you don't want to forget your appetite. Satisfy your sweet teeth at a branch of Portland's Voodoo Doughnut, sample Southern classics at Bubba Gump Shrimp Co., and let your taste buds run wild. To work off your meal, walk around the plaza to visit your favourite shops and outlets. Revamp your style with the latest fashion trends at some of the world's most popular clothing stores.
Where to shop at Universal CityWalk Hollywood?
If you're searching for new clothes, Universal CityWalk Hollywood is one of Los Angeles' top shopping venues. Many of the world's most well-known clothing stores have outlets here, so you can go home with tons of new outfits. Find casual American attire at Abercrombie & Fitch, band shirts at Hot Topic, and surfer gear at Billabong. Sketchers and Shoe Palace, LIDS, and the Los Angeles Sock Market offer a wide range of accessories and footwear.
CityWalk has much more than fashion, as you'll find lots of souvenirs for your Hollywood vacation. Stop by the Universal Studio Store to browse through the merchandise of your favourite Universal movie characters. The Dodgers Clubhouse has all sorts of team apparel, memorabilia, and collector items for baseball fans. If you're looking for an off-the-wall gift, find lots of wacky items at Things From Another World.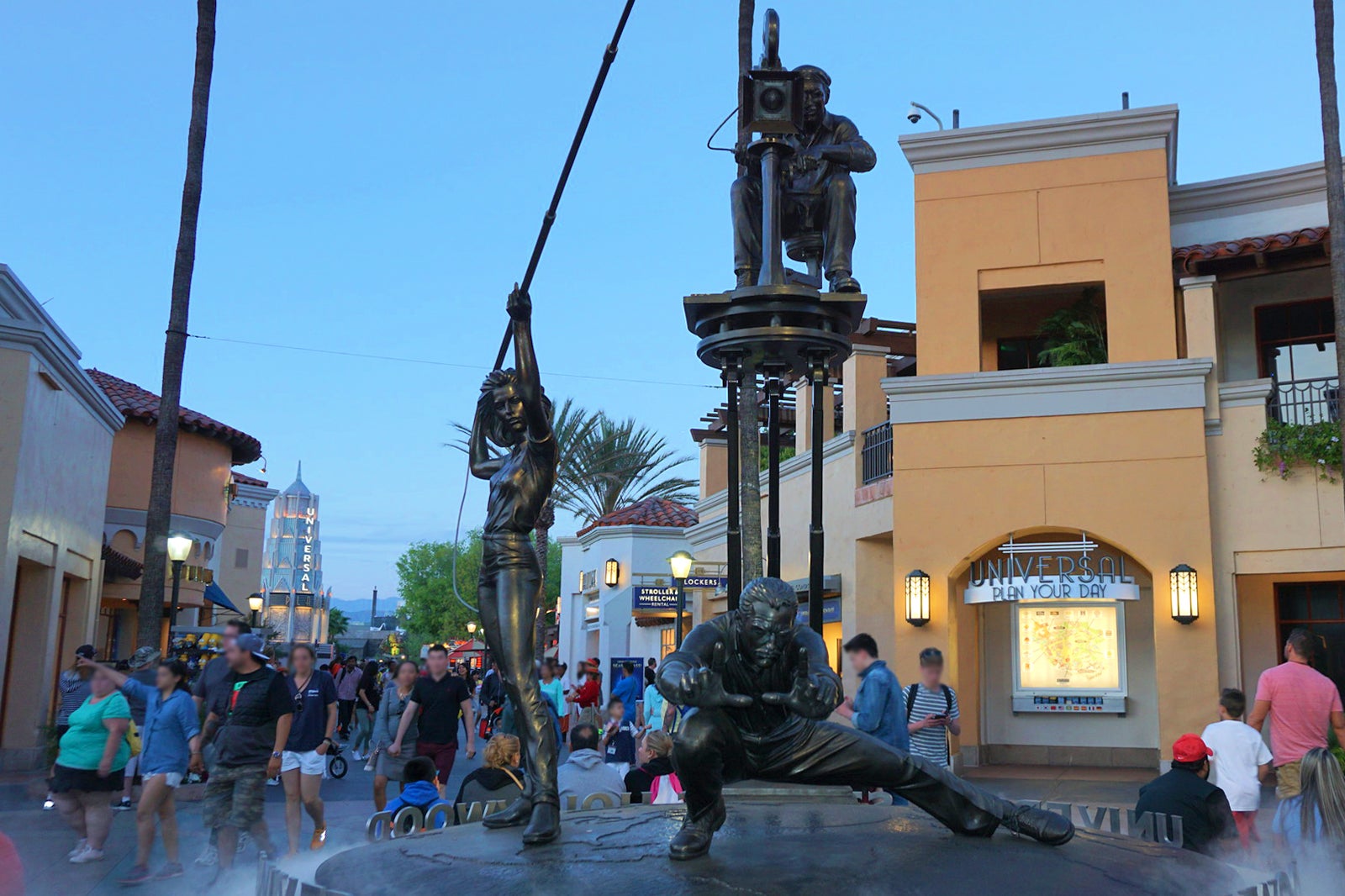 Good to know about Universal CityWalk Hollywood
While a trip to CityWalk often includes a visit to Universal Studios Hollywood, you won't need a ticket to visit CityWalk. There is no entrance fee to access the plaza but prepare to pay parking fees should you drive. If you're planning to go inside Universal Studios Hollywood, make sure to buy your tickets in advance to avoid long lines.
Choose wisely which time of year you visit CityWalk due to the massive crowds at Universal Studios. School holidays, weekends, and summers attract the largest number of tourists and make CityWalk more congested. If summer is your only option, arrive earlier in the day to escape the worst heat and crowds. You'll also see shorter lines for the dining options at CityWalk compared to the eateries inside Universal Studios. While you can move in and out of the park and CityWalk, you need to have your hand stamped and hold onto your ticket.
Universal CityWalk Hollywood in Los Angeles
Location: 100 Universal City Plaza, Universal City, CA 91608, USA
Open: Daily from noon to 8 pm
Why book with Hotels.com?